Red CentreNATS is a car show like no other
I got my first clue within minutes of jumping off the plane, when I spotted Sydneysider Layton Crambrook casually arriving at Alice Springs Airport to pick up some mates in his Summernats Top 60 HQ Monaro, HUMBLE. It's a rare and beautiful thing to see a blown car on the street these days, and it left me grinning like an idiot.
Then as we rolled into Alice in our hire car, I could hardly believe my eyes when Thomas Beltrame's FJ40 Land Cruiser, INFERNO, casually motored past us on the highway, its blown and injected big-block singing the sweetest tune. I'd heard that you could get away with driving some crazy shit on the street at Red CentreNATS, but even so, witnessing a 1300hp skid car cruising around in broad daylight like it ain't no thing is completely surreal.
Red CentreNATS organisers, NT Major Events, have a common-sense approach to such things. They impose restrictions on when and where each car can cruise throughout Alice according to how loud and how radically modified it is, but they're yet to knock anyone back for a permit.
The event extends freedoms to entrants they simply cannot enjoy anywhere else, and all organisers ask in return is that the rules are respected. Respect begets respect; entrants observe the road rules, the cops observe from a distance, and everybody has a good time. It's a winning formula.
While I was a Red CentreNATS virgin, my colleagues at Street Machine have been going since the start. So impressed were they by the opportunity to drive and enjoy wildly modified cars on the street that they decided to build a car especially for the event. It had to be something utterly unregistrable that would be a hoot to roll around the streets of Alice in. Enter the Carnage MX5.7 – a back-halfed hairdresser's car with a built LS1 and a pair of sizeable turbochargers mounted aloft.
It was a thrash to get the car finished in time for its RCN debut, and we were still madly wrenching on it in the hotel car park as the event got underway, but Scotty did plenty of cruising in the car, had a successful crack at the tarmac motorkhana, and ran a string of 11-second passes with a best of [email protected], getting out of it at around the 1000ft mark. A best trap speed of 135mph on an earlier pass is indicative of the car's nine-second potential once a few tweaks are made to the set-up.
Also on debut at Red CentreNATS was the ALLSHOW VK Blue Meanie tribute of Adam Rogash from MPW Performance. Much like the Carnage MX5.7, you can follow the build of ALLSHOW on the Street Machine YouTube channel. If you missed it on the cover of our last issue, the car is impeccably presented, and runs the twin-turbo LS engine from Adam's ClubSport, NOSHOW.
The sheets were yanked off ALLSHOW on the Friday evening of the event, and Adam wasted little time in getting it dirty, cruising it, attacking the Grand Champion driving events, winning the dyno comp and running a stonking 8.24@176mph on its first full pass at Alice Springs Inland Dragway. To build such a car from scratch in 10 weeks and have it perform so strongly on its first hit-out is no mean feat, and Adam was stoked.
But when the numbers were crunched, the coveted Grand Champion title was deservedly bestowed upon Layton's HUMBLE HQ – the very first car I laid eyes on when I rocked into Alice. "It was unexpected, but we're very chuffed to have won the title," Layton said. "The Grand Champion competition was great for us because we got to drive the car in the motorkhana, drag racing and grass driving events. It was great fun to really thrash the car and let it do what it was built to do. We're excited to have won it and it's going straight to the pool room."
The one and only downer of Red CentreNATS 2017 was unfortunately a big one. A number of spectators were injured – some quite seriously – when a fire from a skid car made its way into the crowd during Sunday afternoon's burnout competition. Mainstream media outlets jumped all over the story and everyone chimed in online with their opinion, but the outpouring of positivity from the people that mattered was incredible.
The support shown by and for those directly involved – particularly the driver – speaks volumes for just how tight-knit the burnout family really is. At the time of writing the official investigation into the incident remains in progress, and while the findings are as yet unknown, we wish those affected a speedy recovery.
LOCAL LEGEND
Gavin Timmins is an Alice Springs local and a gearhead of epic proportions. He had no fewer than three cars in the hall at Red CentreNATS, and told us that Alice has quite a vibrant car scene.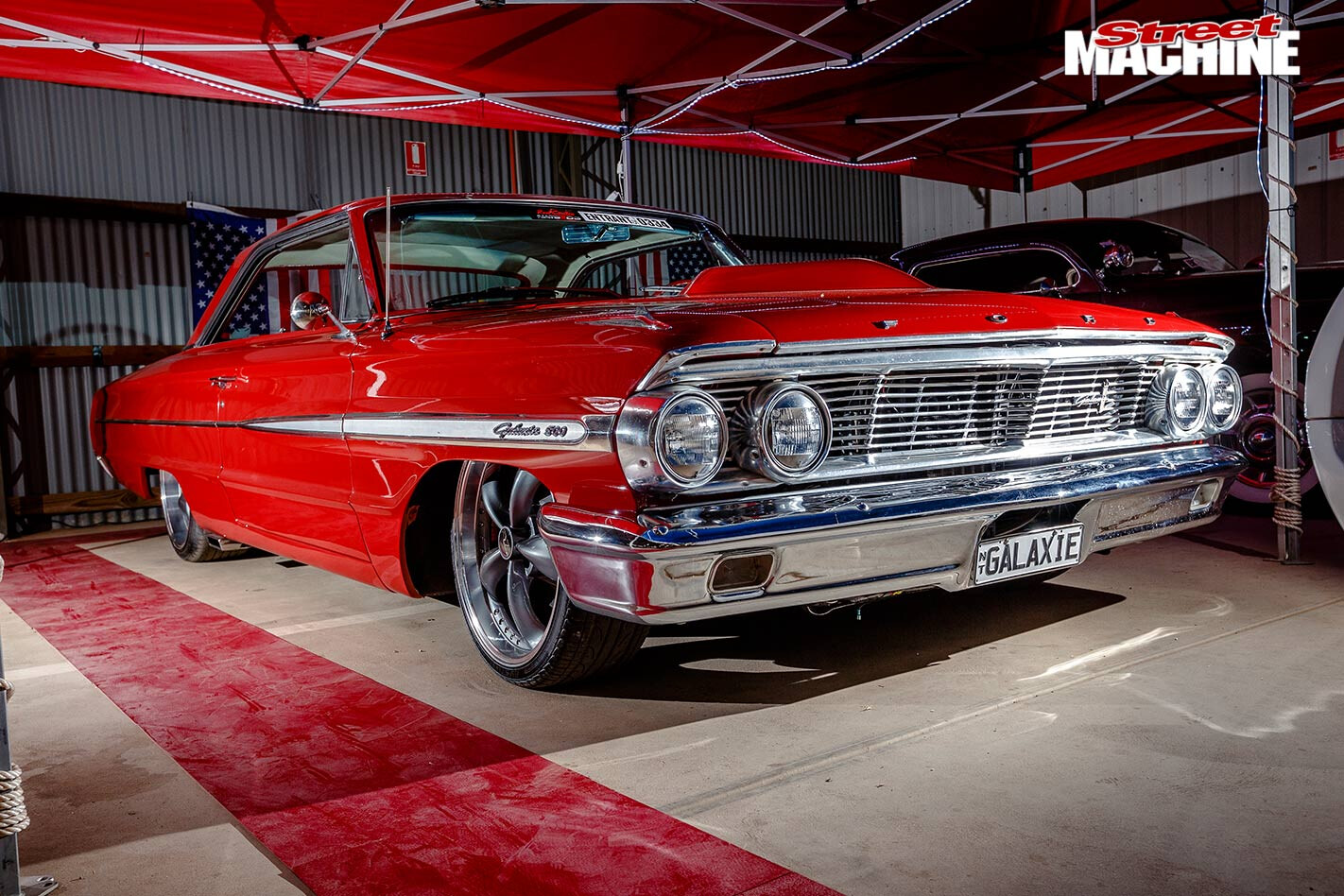 "There are a lot more cars out here than people realise," he said. "Motorsport is huge out here with the Finke Desert Race, off-road racing and sprint cars; anything to do with motorsport is really big. But there are lots of guys who have been out here for many, many years and have big sheds with lots of old cars sitting in them. It's pretty cool."
Gavin's '76 XB Falcon hardtop is a total stunner, with a host of body mods including the Eleanor Mustang-inspired front end treatment and completely reimagined rear end. She's powered by a mild, fuel-injected 351 Clevo, which Gavin pieced together with leftover bits from his drag racing days, backed by a Top Loader. "The four-speed goes with the theme of an old muscle car; some people find them a bit funny to drive, but that adds to the appeal of it for me," he said.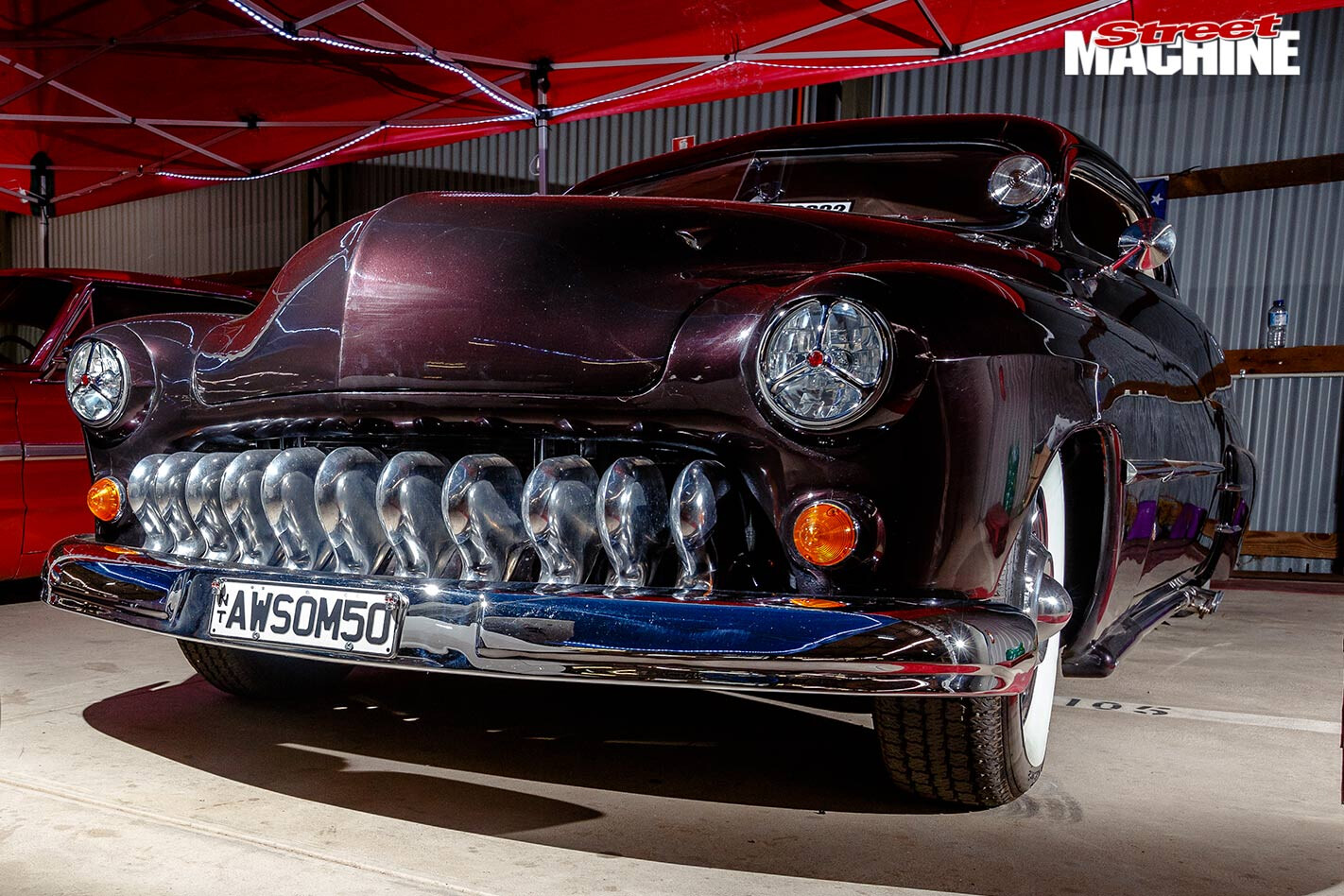 He also owns a sweet '50 Mercury for low and slow cruising, while his '64 Galaxie is a NASCAR-inspired hottie with a 547ci Ford big-block!
"I'm very fortunate to live in the part of the world I do that allows me to go for a bit of a drive!"
RED CENTRENATS – THE PEOPLE
1. A personal favourite from the event was Brad Fullwood's HT Monaro. It was first time out for the car, which runs a 23-degree, 430ci small-block with a hint of nitrous. It ran 11.1 on the motor at Alice Springs Inland Dragway, and 10.1@137mph with spray, and picked up the Top Muscle Car trophy. "I would've liked to have seen a nine out of it, but I had a good time and the car ran well," Brad said. "I'm from Darwin so it's really just 'down the road'; it's a good event for us because anywhere else from Darwin is a long haul"
2. Since we last ran into Tim Barby and his MOJO Austin A50, he's swapped the TH350 for a Powerglide, done some work to the LS1 donk and slotted a blower on top. She's a tough little thing now, making 500kW at the treads!
3. Thomas Beltrame's 1300hp INFERNO Land Cruiser out for a leisurely cruise through town. The punters packed the streets for Friday evening's official Street Parade, which made for an awesome atmosphere
4. Bill Sharkey dragged his stunning '55 Chev out to Alice from Dubbo, NSW, and was rewarded for his efforts with an Elite Top 10 placing
5. Allan James's audacious '71 Plymouth 'Cuda finished runner-up in the Pro Class drag racing competition, and looked ridiculously tough doing it
6. Your Grand Champion: Layton Crambrook's HUMBLE HQ GTS Monaro. The subject of a ground-up rotisserie build and powered by a blown 406ci small-block Chev that's good for 750rwhp, the car is an absolute stunner. Aside from the big gong, the car also picked up People's Choice and a spot in the Elite Top 10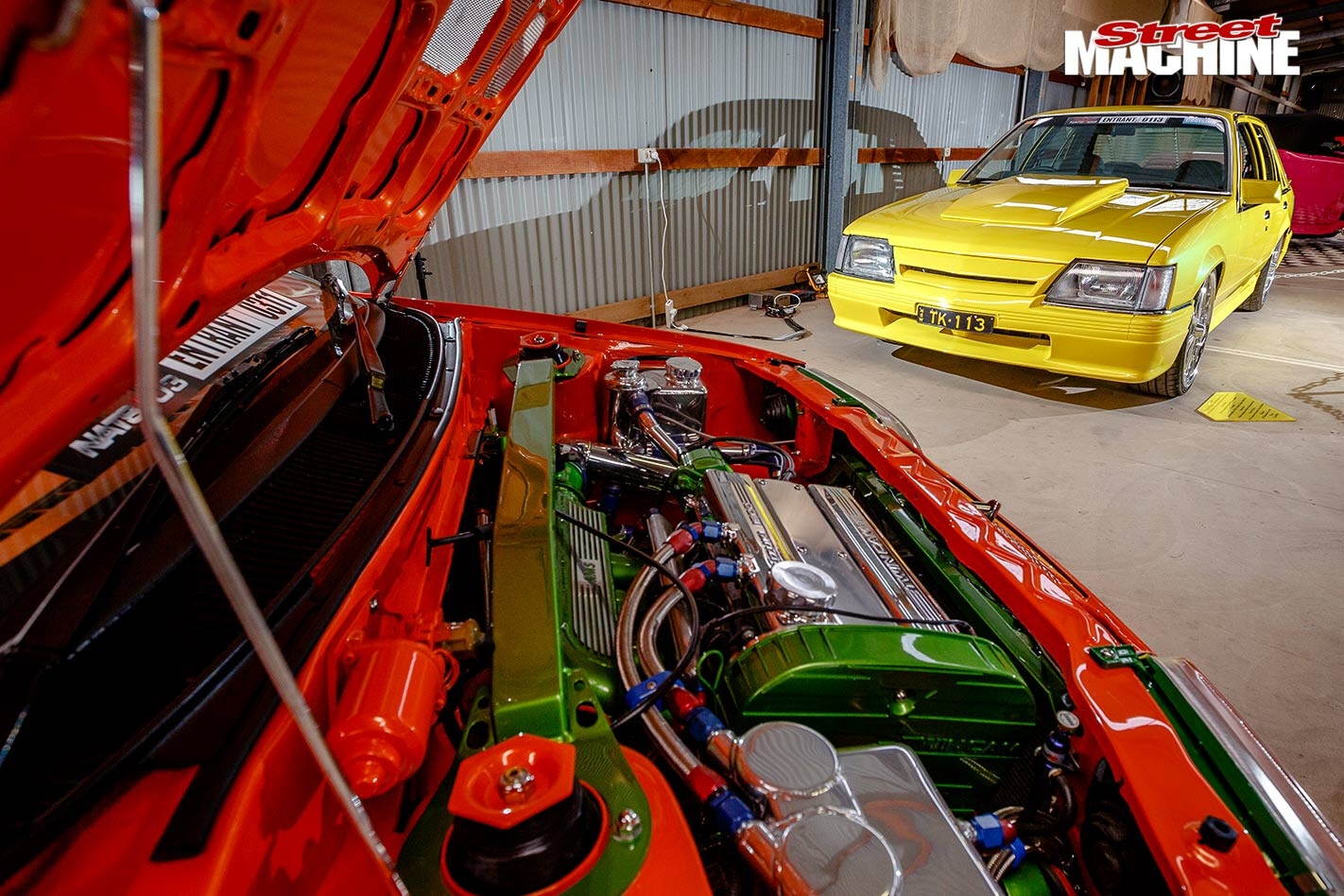 7. The family that plays together stays together, and on top of officiating at Red CentreNATS, Terry and Amiee Keys dragged their toys out to Alice, too. Terry's VK Commodore picked up Top Engine Bay, Top Paint and Top Sedan in Street, as well as landing in the Street Top 10. Amiee's Auto Salon-spec Suzuki Swift placed Top 10 in the Elite class
8. James North's FRYZEM Torana is back on the scene after a freshen-up, and looks the business in its new all-orange duco. Fewer things are more Australian than a blown Torana rolling through the Aussie outback!
9. ALLSHOW leaving the line at Alice Springs Inland Dragway for an 8.24@176mph on its first full hit. The car won the dyno comp, Top Tuff/Competition and Top Engineered in the Street class, and earned a Top 10 spot overall in Street. There's not much the car can't do well
10. Ryan Pearson's HOLDON Prem ripped an almost-perfect skid on Saturday night, coming within a fraction of a second of getting the tyres off the car before a minor fire broke out. After the fire was extinguished, Ryan gave it one stab of the throttle and blew them both!
11. Matt Watts from Geelong took out the Top Six-Cylinder trophy in the burnouts, adding to an already-impressive mantelpiece that includes the same gong at Street Machine Summernats 29. Matt celebrated with a shoey onstage at the Podium Party
12. While Scotty didn't get the 10 he was looking for in MX5.7 first time out, the 135mph trap speed shows the potential of the car. Some larger wastegates and a looser torque converter should see it go considerably faster next time out
13. Reigning Street Machine Summernats Grand Champ Mark 'Happy' Williams brought his now-EFI 2HAPPY one-tonner to Alice Springs and gave the Grand Champ gong a fair shake, punishing the car all weekend
14. Burnout legend Gary Myers hauled his Street Machine cover car AGROXA out to Red CentreNATS and took the opportunity to rack up some cruising miles in the 1000hp SBF-powered weapon
15. Top Engine Bay in the Elite class, along with a Top 10 berth, went to John Wreghitt's PROPA LH Torana, all the way from Townsville
16. Cruising a car like the MX5.7 on the street was a buzz we'll not forget in a hurry. Despite having 650rwhp to its name, the car was a pussycat to drive
17. In the Burnout Masters division of the skid comp, big-hitter Steve Nogas kicked a fair bit of arse in his KILLA-B Camaro to come in second place behind Matt Purnell