This article on Chris's HQ ute was originally published in the October 2018 issue of Street Machine
HERE'S an old saying: 'Out of adversity comes opportunity', and it certainly applies to the stunning HQ ute of Chris Clout. The car was originally owned by a good mate, Tony 'Tozza' Dwyer, who passed away in 2010. He had pretty simple plans for the ute: Slot in a 253 so his son would be able to drive it when he was old enough. But Tozza never got much further than stripping the car.
"His parents rang me and said: 'Chris, come and get this car because we know you've got the other half of it in your shed.' Even though I'm a Ford man, I do like the old Holden utes," Chris says.
Chris had been doing a bit of work on the chassis while Tozza had the body at his place, but after the offer came to take ownership of the car, Chris had to figure out what to do with it. Looking at the finished product, it's pretty obvious which path he chose: "When I got it, I thought: 'I want to go all out with this, let's build this thing right.'"
But the death of one of his best mates wasn't the only setback Chris would face: "I was still trying to get over losing my mate, my brother and my dad. I lost them all within a year and a half. Then I got stabbed on my way home from work one day, so that put me behind a year. I got a knife through my arm, nearly lost it, cut all my nerves and tendons and I've only got 40 per cent use. I had to change a lot of things in life, but you don't stop – too many people out there these days give up."
That's when Chris started getting other people to help him out with the car.
The initial plan of a 253 and four-speed was long out the window, with Chris thinking more along the lines of mini-tubs, rollcage and a blown big-block, but then he scored a cheap LS3 crate motor off a mate of his. "What am I going to do with this? Oh well, might as well twin-turbo it," Chris recalls. He'd had nothing to do with them before, so he employed the expertise of Russo Performance to convert the naturally aspirated motor to the twin-turbo monster you see now.
There's not much left of the original crate motor apart from the block and heads. The internals were all beefed up to handle the impending boost with CP pistons, Manley crank and Callies conrods replacing the factory stuff. Up top is a gorgeous billet intake manifold from Shaun's Custom Alloy, who also supplied the intercooler. The twin GTX35 turbos feed through a Plazmaman 102mm throttlebody, and Russo also slotted in one of its custom-cam grinds. With its safe-as-houses start-up tune, the engine has already pumped out 628hp at the wheels.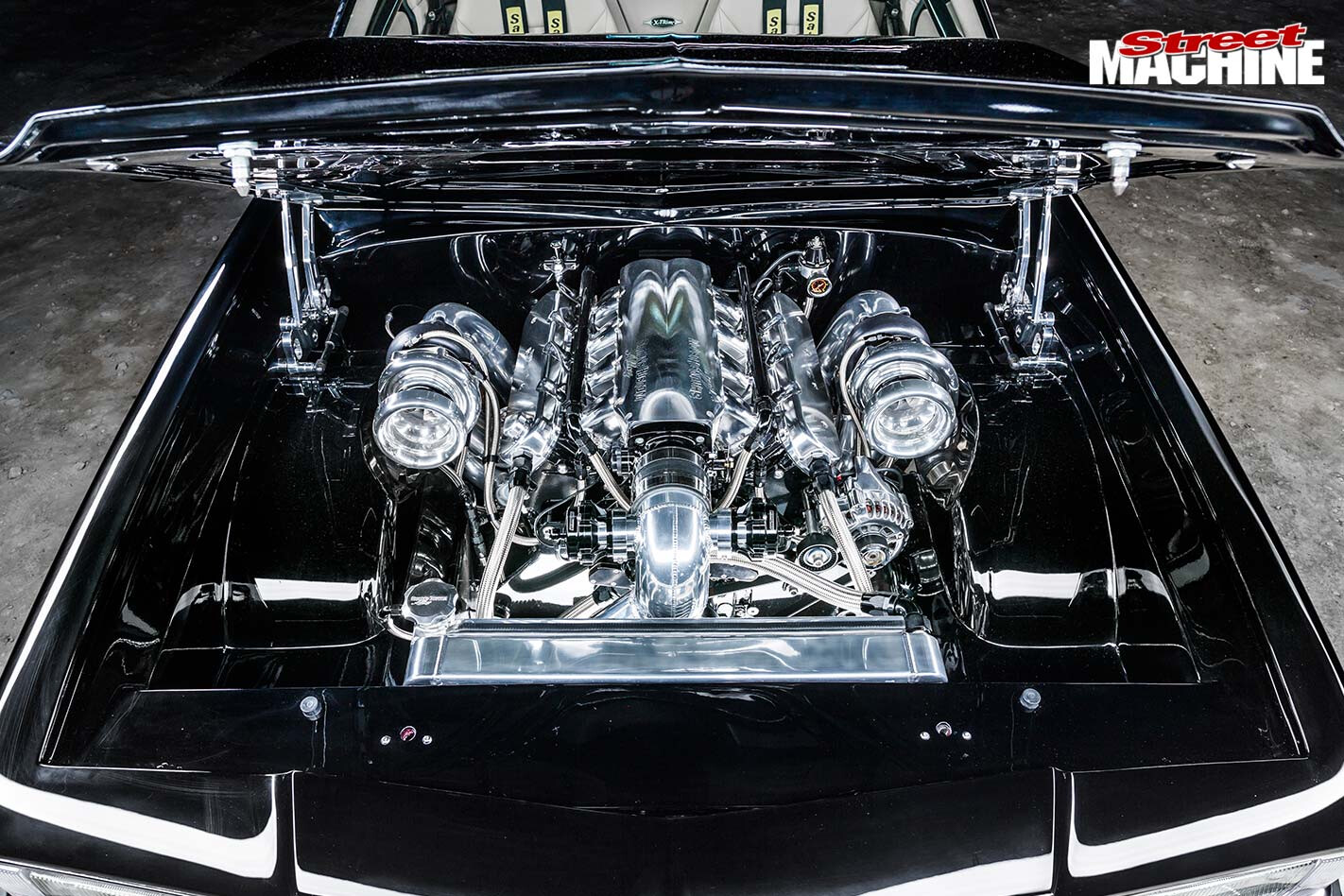 The next step was to head to Craig's Automatics so they could build a Turbo 400 trans to hold all that power. It's been fully manualised and there's a Dominator 3500rpm stall converter. Out back the nine-inch has been stuffed full of heavy-duty gear, with Strange 35-spline axles and a Pro Iron centre with 3.52 gears. Chris also sourced the four-link rear suspension kit from Strange. A tubular IFS and rack-and-pinion steering reside up front, and there are Strange coil-overs and Wilwood disc brakes on all four corners.
While the engine is quite the centrepiece, there is so much more going on with this car, especially in the fabrication and custom touches that went into the bodywork. "The WB front end was already on the ute; I just changed the guards to HZ GTS," Chris explains. "The doors and the bonnet are the only things that are bolted on; the rest is one piece, and the roof turret is the only thing standard." Every seam has been has been welded up and smoothed over and even the tailgate is now moulded into the body.
If you like the design of the bonnet, don't go looking for it in a catalogue anywhere. That baby is all steel, done to Chris's design: "I went 200mm off the back and 100mm off the front and everyone's gone: 'Geez, that's a big bloody scoop,' and I'm like: 'It'll look all right,' and that was it." It's definitely a clever design, because the extra width does make the scoop appear lower than its actual three-inch height.
With all of the fabrication and metalwork done, it was then left with Denis Hrgovic to get it smoother than a baby's bum in preparation for the Glasurit Jet Black paintjob that Chris had planned. It took Denis 18 months to complete that process, and it was then Reuben Towner's job to lay on that stunning paint and show off all of that gorgeous bodywork.
There's more custom steel work under the bonnet, with a fully custom sheet-metal engine bay. No removable inner guards on this baby; instead there are tubs built around those big 20×8 rims, with the rest of the bay fabbed out of smooth sheet metal.
Even the interior copped some custom metalwork, with the boxy stock dashboard ditched in favour of something with a few curves. "I just don't like how flat the Holden dashes were; I wanted something different and wanted to go back to the earlier styles with a hump," Chris says. That was then filled with a six-gauge panel from Dakota Digital for a very clean and modern look.
That was just the start of the custom work on the interior: "I've known Grant and Luke at X-Trim for years. They suggested the sandstone leather and the baseball stitching," says Chris. "My only stipulations were to use three different style leathers – suede, perforated and straight leather – and I wanted the leather on the floor with all the chrome details. Other than that, I let the guys run with it." Even the Kirkey race seats are like no other. They've been trimmed down to be more of a low-back bucket and fully trimmed in leather. They also have the advantage of giving Chris the maximum amount of room in the cabin, as he's six-foot-four and utes aren't renowned for their interior spaciousness.
While it was seven years in the build and there were a few speed humps along the way, there's no doubt that Chris has built a stunning tribute to a true friend. There was always one piece of advice that Tozza would give Chris, partly due to his occasional grumpy appearance: "I'm the person that doesn't smile; everyone thinks I'm cranky or grumpy, but I'm quite happy. He used to say to me: 'Smile, it's free.'"
CHRIS AND TELISSA CLOUT
1972 HQ UTE
Paint: Glasurit Jet Black
DONK
Type: LS3
Inlet: Shaun's Custom Alloy billet
Throttlebody: Plazmaman 102mm
Turbo: Twin GTX35
Heads: LS3
Valves: Stock
Cam: Russo Performance custom
Pistons: CP
Crank: Manley
Conrods: Callies
Radiator: Shaun's Custom Alloy
Exhaust: Twin 3in
Ignition: GM with ICE leads
SHIFT
'Box: Fully manualised Turbo 400
Converter: Dominator 3500rpm stall
Diff: 9in, Strange 35-spline axles, 3.52:1 gears
BENEATH
Front end: Tubular IFS
Shocks: Strange coil-overs (f & r)
Steering: Rack-and-pinion
Brakes: Wilwood discs and six-spot calipers (f), Wilwood discs and four-spot calipers (r)
ROLLING STOCK
Rims: Schott I-Force; 20×8 (f), 22×10 (r)
Rubber: 245/25/20 (f), 305/45/22 (r)