This article on Kris's blown big-block Chev-powered SS ute was first published in the September 2015 issue of Street Machine
KRIS Nothdurft has always wanted a big block-powered Commodore, a lurching burnout machine with a single-digit quarter-mile slip. And thanks to a couple of mates who shared his dream, Kris's VU ute no longer just hauls goods – it is the goods.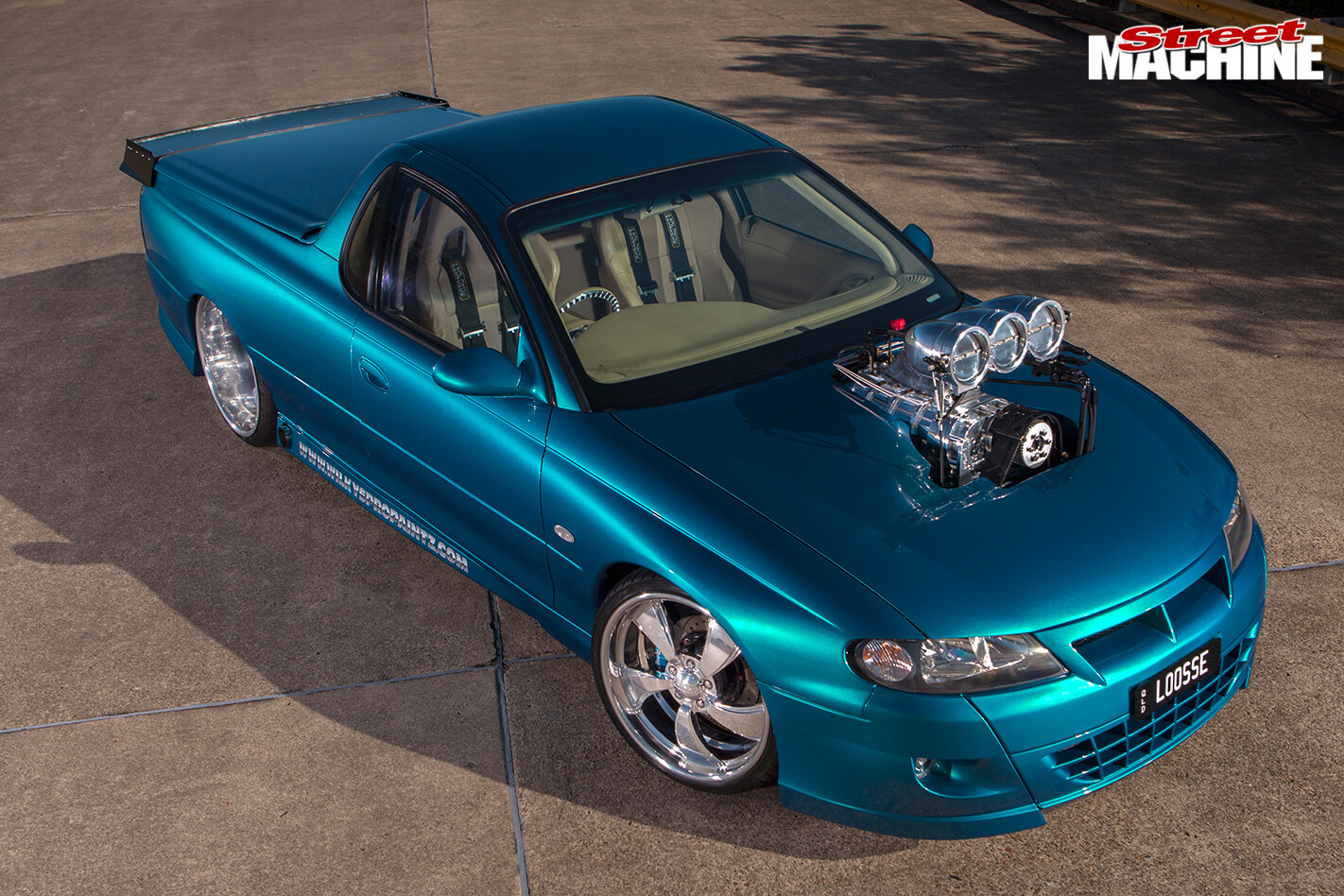 A tiler by trade, Kris purchased the stock LS1-powered SS as a work truck. But being a revhead by nature, Kris knew the ute was destined for so much more.
LS motors love a tickle, so Kris took it to Robby Abbott of Abbott Engine Reconditioning for some heads, a cam and a 150-shot of nitrous. "With a 4500rpm stally, she could blow the doors off the import boys with the work trailer still on the back!" Kris chuckles. "And she'd run 10.7s all day without it."
Kris didn't limit his fun to scaring Skyline drivers and cutting quarters, though. "I attended a skid pan day," he says, "but the ute was just too low. The front tyres tore out both guards."
Kris tasked Jason Wilkinson of Wilky's Pro Paintz with the repair; next thing you know, the VU had copped skull graphics down each side, a pearl clearcoat over the top and a full rollcage.
A few months later, the ute's tradie days finally ended when Wilky fabricated new wheel tubs and a 1.2mm sheet-metal rear floor, to accommodate a stout nine-inch. "I drove it to work occasionally after that," Kris admits. "Harnesses, tubs, fuel cell, 'cage; even with the 20x13s down the back, I never got hassled." That was until his brother Scott drove the ute to a show on his behalf and copped a defect.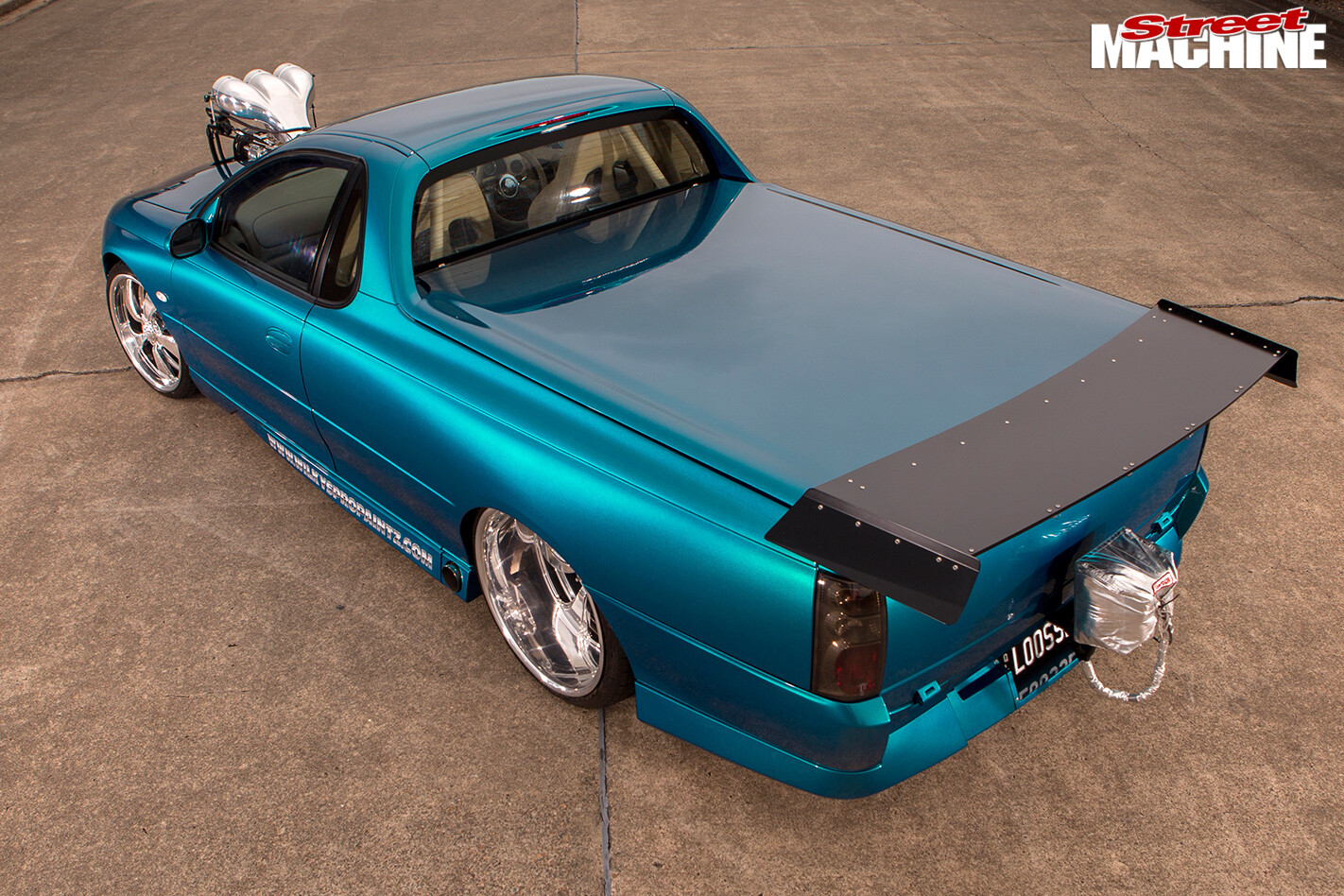 The boys got the defect lifted, but the writing was on the wall for this loose VU. "I took it off the road. It was a nice car, but it was lacking horsepower," Kris says of the 500-pony LS1, without a hint of irony. "Robby and I talked about doing more work to the LS, but I've always wanted a blown big-block in a Commodore. And Robby agreed; a big-block will take more abuse and last longer. That's the theory!"
Like many good builds, the nightmares began from day one. Robby ordered up a smorgasbord of go-fast bits from various vendors in the US, but a pallet-load of stuff went AWOL, arriving some five months later. And it wasn't just the donk: "The Showwheels took 31 weeks from go to whoa!"
With a deadline of Summernats 28 looming, things were gradually coming together, but then Kris won an argument he shouldn't have. "Wilky and I had been bickering for about a year about the colour; he wanted to keep it white, I wanted to change it." With half the engine MIA and only 90 days remaining until Summernats, it somehow seemed perfectly reasonable to remove the Senator kit, raise the floor, move the firewall, seam-weld and smooth the engine bay, box the chassis rails, extend the rollcage and change the colour inside and out.
As the parts arrived, the 540 Chev was dummied up in the engine bay, to help position the extractors and the custom-fabricated 3.5-inch exhausts. With the latter tucked up under the sills and exiting in front of the rear wheels, the floor had to be raised by 140mm, causing a classic domino effect in the process. New carpet, seat rails, sill mouldings and other detail items were affected; everything was about two inches too long!
Given the ute was to be a show, track and Powercruise weapon, untidy areas like the ignition barrel, indicator stalk and wiper switch were smoothed, removed or relocated where necessary.
Wilky's pretty handy with a welder, but that tight deadline was bearing down. "Mate, you should have seen this thing 24 hours before we were due to trailer-up and leave," Kris says. "It was a bare shell with an engine in it – no bonnet, no bodykit, no interior and the engine only running on four cylinders. I was ready to pull the pin, but Wilky never gave up on it."
Cue some mates and a montage sequence, as several days' work was crammed into 24 hours. The car was screwed back together, strapped to a trailer and dragged nose-first kicking and screaming towards Summernats 28.
"We were pretty wired," Kris says of arriving at the 'Nats. "No sleep for days and a big drive behind us, but rolling into Exhibition Park the adrenaline hit and it all went away."
Some fine tinware proved it had all been worth it – second in both the hotly contested Best Pro Tuff and Tuff Street categories, and an outright win in Engineering Excellence – Pro Tuff.
The plan now is to hit a few more shows, including Powercruise and a return to Summernats, before doing some proper testing, getting the ute tech-inspected and then unleashing it on the track. Outlaw Nitro funny car racer Paul Messineo was called in to get the 540 Chev running well enough to move; he will return to dial it in for the track. Kris is hoping for high sevens, so set-up will be crucial.
"It's got the horsepower; you can barely hold it back against the brake," he says. "I gave it a blip in the car park; it was another level, mate – it was loose!"
Hence the number plate!