Nicole Bridge's '66 Mustang oozes character. The faded writing flanking its sides draws you in, then gives a whopping hint as to its heritage as a Can-Am series pace car.
How'd you come to own a '66 pace car?
I was chatting to my mate, Ash, and mentioned I was after a Mustang. He suggested I look at his dad's car. When I saw it, I loved it. It all fell into place.
What's painted on the panels?
In very faded writing there's the track name, series, round and the date it was used – 10/16/1966. On the door is the sponsor dealership, Salinas Valley Ford, which still operates today.
You don't often see that colour on a 'Stang.
It's Sahara Beige with Parchment interior. I guess it's not a desirable colour. Paint is mostly original, though I believe there are touch-ups to the bonnet, roof and bootlid.
What's she running?
The stock, original C-code 289ci with all the standard running gear. It's a 49-year-old motor; I can't imagine today's engines still running in 49 years' time! The 289's a bit tired but it's not about going fast. I say to my boys: "You can have fun just cruising."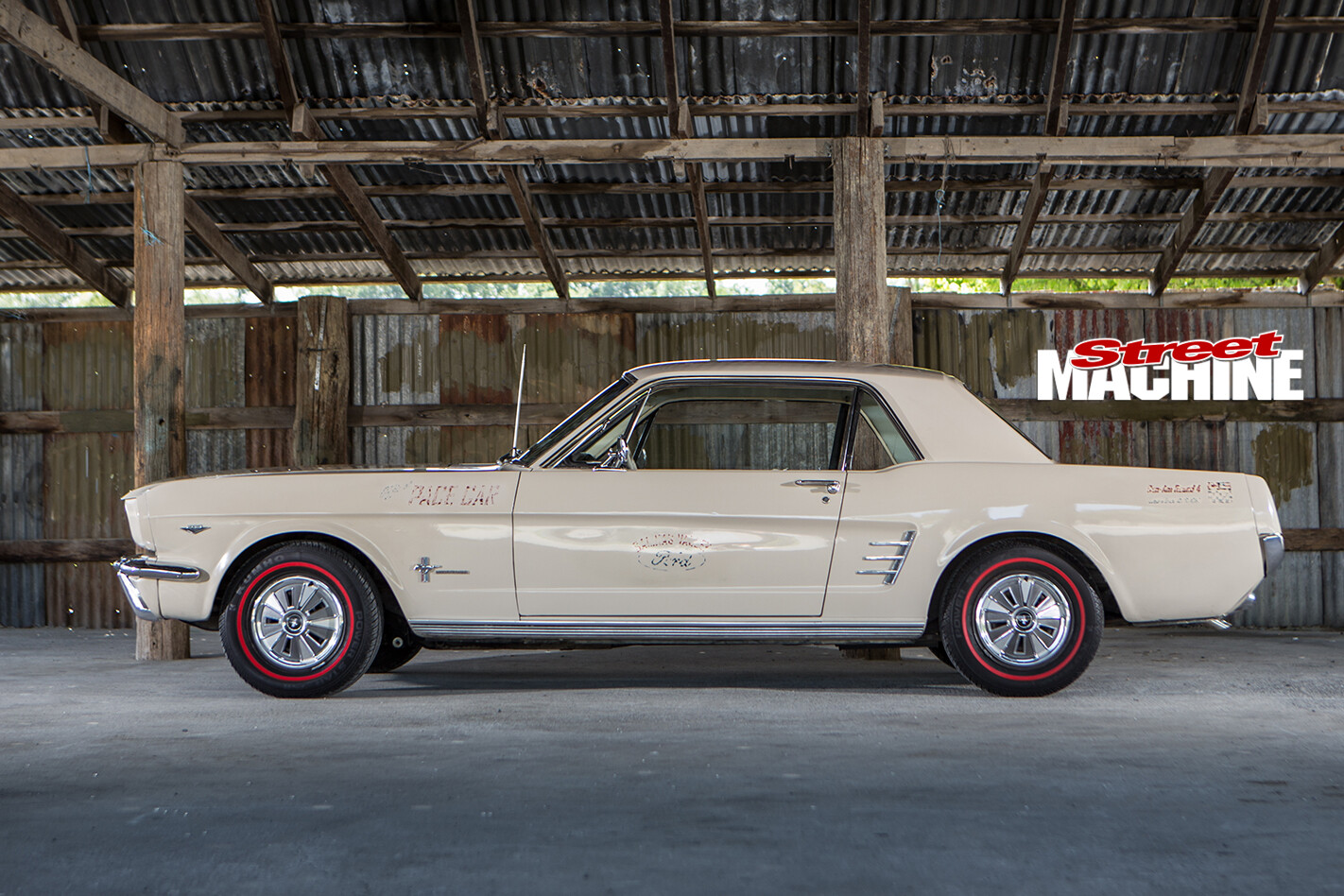 Have you always been into cars?
Growing up with my brothers in Shepparton we were always around the car scene. They're into Fords and Dad's into Chevs. I remember going to a car show in my early 20s and liking the shape of the old Mustangs.
What do your kids think?
My boys Jay and Hayden love it. I bought it for us as a shared hobby. We cruise together and go to car shows, so they're enthusiasts as well. Seeing their smiles when they're cruising is fantastic.
Do you drive it much?
I get itchy feet if I don't take it for a spin at least once a week. What's the point of owning a Mustang if I don't use it? It's so reliable and easy to drive. Plus I get to see the bewildered looks some people have when they spot a woman behind the wheel.
What are your plans for it?
At the moment I cruise and attend small shows with the Wandin Customs & Bike Club. I'll leave it original as I like the nostalgic look. It'll be a forever car; already my eldest son has his eye on it and he has a few ideas!
Anyone you want to thank?
Everyone pitches in and works on the car for me, so I'd like to thank Jay and Hayden, my close friends and family, and my partner Mick [of Exhaust Fix, Lilydale] who made it possible for me to own my Mustang.