This article on Michael's Impala was first published in the January 2019 issue of Street Machine
IF 9.8-second quarters normally aspirated isn't impressive enough from this hulking 2020kg (4450lb) streeter, there's a 250hp NOS hit on standby to amp things up to 11!
"This car has been in the family 40 years," says owner Michael Vergis. "My uncle bought it originally, but after crashing it, he left it sitting in our yard for years."
At the ripe age of 17, Michael decided he'd give the big ol' Impala a new lease on life.
"I had no idea what I was getting into," he says. "As I started pulling stuff off, other parts started falling off. The more paint I stripped away, the more body filler and rust I found."
Undeterred, he stuck at it. Consequently, what started as a three-month, $10k build, turned into four years and a whole lot more moolah. That was 27 years ago, and the Impala has been on the road ever since. Mind you, it's had a couple of spray jobs, three gearboxes, three diffs and four engines along the way.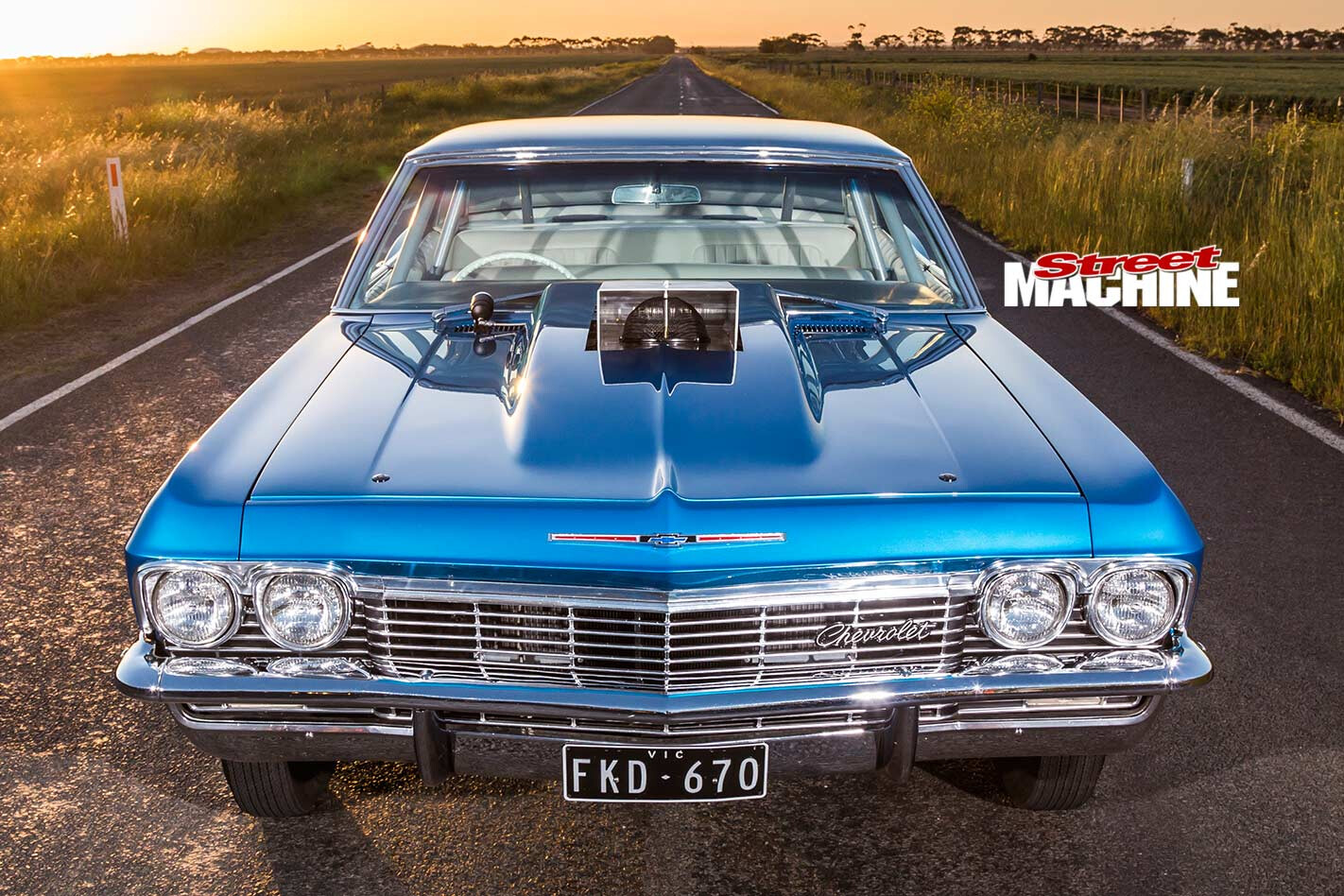 "It went 350 small-block, 400 small-block, 540 big-block and now the 600-cuber," says the power mad Victorian. "It's a big car – it needs a lot of oomph!"
Michael blames Eugene from Flowcraft Race Engines for the current donk.
"It was all his idea," says Michael. "The 540 made around 800hp and ran 10.3@132mph, but I let Eugene talk me into going even bigger. He told me about this engine he had in mind and I said, 'Let's build it.'"
Eugene is a little secretive about the exact specs, however, the main highlights include Dart Big M block, Brodix alloy heads, Callies crank, Callies H-beam rods, 11.5:1 CP pistons, roller camshaft, Super Victor intake and an APD carburettor.
"APD custom made the carb for this specific engine," explains Michael. "Eugene sent them all specs and they made it to suit. I think it's something like 1150cfm."
Although Eugene plays his cards close to his chest, when Tommy and Ali from Dyno House pulled the string, the numbers did all the talking; 1000-plus hp (NA) along with better than 900lb-ft of earth-twisting torque!
"That's all on straight BP Ultimate," says Michael. "I haven't given the nitrous a run yet as I'm enjoying just driving it around too much. It's a really good thing."
The big engine was only the start of things, as it now needed a bigger trans and a bigger diff. Matt from M.D.T Autos stepped up to the plate and screwed together the transbraked TH400 with reverse-pattern shift. While John Lang put together the Pro9 chrome-moly sheet-metal rear end.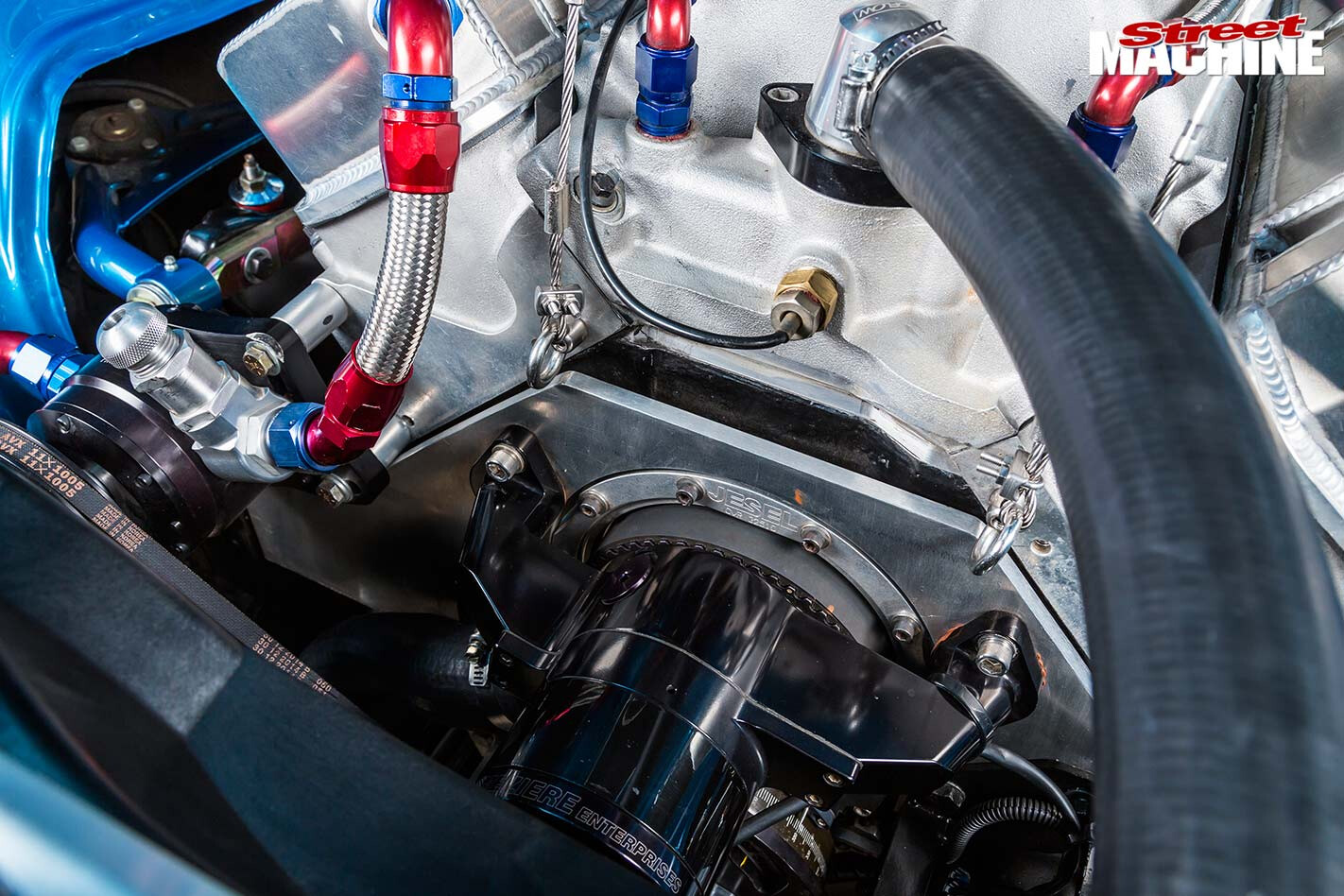 Geoff from Street Tech Fabrications was called upon to look after a host of fabrication – including the suspension. The factory four-link rear has been beefed up with a chunky sway-bar, along with adjustable lower arms (to move the diff back 'n' forth) and adjustable top arms to fine tune the pinion angle for wheels-up launches. Tubular arms were also used up front and there's double-adjustable Viking coil-overs on all four corners.
Mickey Thompson ET Street Radial Pros get it off the line. And to stop the fat, grippy rubber from slipping on the 15×10 satin Center Lines, Max Dumesny Motorsport converted them to beadlocks. Hauling all 2020kg back to a stop are disc brakes front and rear, assisted by twin, boot-mounted VH44 boosters.
Dumping 1000hp of spent gasses is no mean feat, but Mikes Pipes are all over it; their custom headers sport huge primaries dumping into 4.5-inch collectors, which in turn flood into a full 3.5-inch system. And yes, the exhaust note is even bigger than the pipe specs.
Inside is very circa 1965 – especially that gorgeous pearl grip steering wheel. The rest is wall-to-wall Oxen White vinyl. Not so factory-looking is the brace of AutoMeter gauges and full 'cage. Thanks to interlocking tube couplers, the whole 'cage pulls apart and can be removed from the car.
Patto at Seabrook Auto Electrics refreshed all the wiring, which now incorporates an MSD Power Grid, along with Alpine head unit and Kenwood 6×9 speakers on the rear tray.
"I don't really listen to the stereo," says Michael, "I prefer to listen to what's going on with the engine."
The '65 has been finished and racing for about 18 months in its current guise. Initially the 600-cube monster was topped with a Lexan scoop.
"When racing, air pressure started breaking them," says Michael. "Just two days before heading to Ballarat for Street Kings, Geoff (Street Tech) managed to fabricate one out of aluminium – we even put hold-down cables on it to stop it lifting."
The stout 9.8 was run at Calder with no giggle gas. The big Impala then proved its consistency by coming runner-up (out of 40 cars) to Matt Brame's eight-second LH Torana at the recent King of the Street eighth-mile event (SM, Dec '18).
"I'd like run it down the quarter again," says Michael. "It's really fast for what it is, and I know there's a lot more in it. Plus, I love racing it. Especially when I line up next to something like a Torana – the Chev's so big you can't even see it!
"But at the moment, being such a good, reliable all-rounder, I'm more enjoying the street driving and the occasional events at Ballarat."
Sounds just fine to us Michael – see you on the blacktop!
MICHAEL VERGIS
1965 CHEVROLET IMPALA
Paint: Glasurit Metallic Blue
ENGINE
Brand: 600ci BB Chev
Heads: Brodix alloy
Carby: Custom APD 1150cfm
Cam/lifters: Roller/Isky
Cam drive: Jesel belt drive
Conrods: H-beam Callies
Pistons: CP 11.5:1
Crank: Callies billet
Ignition: MSD Power Grid
Fuel system: MagnaFuel 500
Cooling: Race Radiators
Exhaust: 4.5in collectors, 3.5in system
Power: 1000hp+ NA
Nitrous: 250hp NOS Big Shot
DRIVELINE
Gearbox: TH400 transbrake, reverse-pattern
Converter: Ultimate 5000
Diff: Pro9 chrome-moly fabricated, Dutchman axles
Centre: Strange Ultra Case, 35-spline Truetrac
CHASSIS & BRAKES
Front Sus: Tubular arms, Viking coil-overs
Rear Sus: Beefed-up factory four-link with sway-bar
Brakes: VPC & Pro9 discs (f & r)
Master cylinder: Wilwood, twin VH44 boosters
INTERIOR
Seats: Factory bench
Belts (Street): Lap belts
Belts (Race): 5-point harness
Trim: Oxen White vinyl
Steering Wheel: Pearl grip
Instruments: Auto Meter
Shifter: B&M MegaShifter
WHEELS & TYRES
Rims: Center Line; 15×6 (f), 15×10 (r)
Rubber: Mickey Thompson; 6.40×15 (f), 315/60-15 (r)