This stunning slammed '60 Impala bubbletop custom was almost taken from scrappy to show car quality in five weeks.
This article was originally published in the November 2008 issue of Street Machine magazine
WATCHING telly these days, building a cool ride seems easy thanks to all the shows featuring cars built from the ground up in just seven days. Those of us who have been there know the truth is very different. Shane Delaforce knows it too but that didn't stop him accepting a bet from a good mate that he couldn't get this 1960 Impala bubbletop to the Brisbane Hot Rod show in just five weeks.
"We gave it a good nudge and almost made it," Shane says. "Only a few details and a dislike of the trim stopped it from getting there." The idea began when Shane brought in a '59 Impala for a customer through his Queensland-based business, Californian Image USA. "He was like a drug dealer who gave me a little taste, then I was hooked. I just had to have one," Shane says.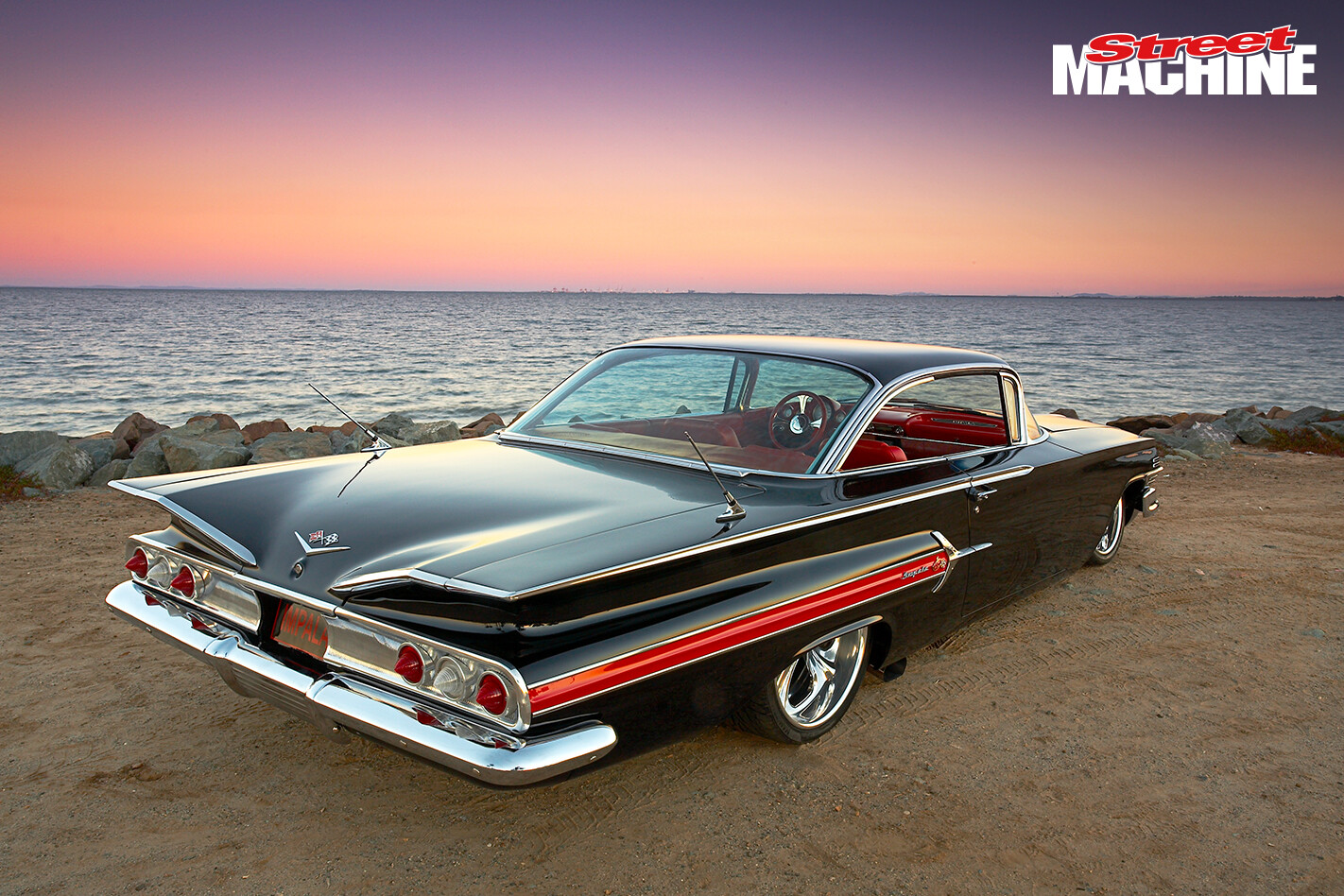 He goes to the US every six weeks or so for business and has an impressive list of contacts, so the feelers went out but instead of finding the '59 model with its 'cats eyes' tail-lights, he stumbled across a guy who was selling a '60 Impala bubbletop. As project cars go it wasn't a bad starting point, with 20-inch wheels and airbag suspension plus a 327ci small-block and Powerglide combo. "The car wasn't that wrecked but it needed a birthday and we gave it one," he says.
After freaking out his workers with the grand plan to have the car built in five weeks, Shane and his crew got straight to work. "That was the scariest part — pulling it down into a million pieces. Once you make that move you know your wallet is going to be broken." The very first night they had the Impala up on the hoist, the body separated from the chassis and the shell mounted to a rotisserie. The stripped shell was sent to the sandblasters the next day. With such a tight deadline the boys weren't mucking around. Having a spray booth and some capable guys in-house is certainly a bonus. Jeff Justice and Colin Shrimpton were put to work making the body right — Jeff is the body man while Colin specialises in paint. Shane's talents lie more in heavy engineering: "Give me a stick welder, a hammer and a grinder and I've got a full toolkit," he reckons.
Old Impalas may be ancient technology but having a separate chassis to work with is a bonus for those who like to tinker. When the body came back from stripping, the chassis was sent away for the same treatment. Even though the chassis already had airbags and aftermarket front suspension, Shane ripped it all out and notched the chassis for a full Mustang II suspension kit and AirRide bags. Not only does the new front look better but it also has rack and pinion steering, while 330mm Wilwood discs all around make sure the big Chevy stops on demand. Underneath is just as clean as the topside, with either Red Candy paint or chrome covering the details.
When it came to the drivetrain, Shane needed something simple due to the time limits, and the easy answer was a 355hp ZZ4 crate engine, with four-bolt mains, aluminium heads, 10:1 compression and a small roller cam. He added a 750 double-pumper Holley and some dress-up gear, including the carbon-fibre scoop and the polished serpentine pulleys, to finish it off. A four-speed Turbo 700R auto and B&M 2800rpm converter lead back to a factory diff filled with 4.11 gears and a Positraction centre. It's a good compromise between performance, cruising and easy maintenance. Three weeks passed before the body was ready to meet the chassis and at that point the boys were still looking good for their deadline.
With DeBeers Gothic Black and a custom blood red covering the exterior and those monster Rat Tail rims up under the guards the outside was sweet. All that was left to do was the interior. "This was the only job that we farmed out," Shane says. That proved their undoing. "We had a difference of opinion," he says of the trimmer. "I didn't think the job was good enough and he did. I get anal when it comes to details. I want it right or not at all." Unwilling to unveil a car he wasn't happy with, Shane pulled the plug the night before the big show. "But we made it one year later," he says.
They used the next 10 months to make sure everything was perfect, installing a whole new interior. Auto Meter gauges fill the factory instrument pods while red leather coats just about everything, including four Glide bucket seats. A Lokar shifter controls the four-speed auto. There's a Viscom audiovisual system with four screens in the car, though only one is visible at all times — in the rear. Two others hide up in the visors while a larger screen sits in the boot, flanked by two massive Audiobahn subs and a 1000W amp.
"Because of my business, a lot of people thought I bought the car like this from the US," Shane says. "I've won many trophies in the States for the Aussie cars I've taken there so it was about time that I built some Yankee stuff for my home soil." On debut, many in the crowd couldn't believe the body was totally stock. This Impala is one of those shapes from the late 50s and early 60s where designers let their most extreme thoughts flow through their pens. It's hard to imagine a more perfect car for cruising; the lines, the stance, those wheels and the rumble of that healthy small-block through custom three-inch pipes.
Unfortunately it's spent more time on show than on the road and while Shane would "rather have something that drove well than looked good," this isn't his only car. Among the 23 other cars he owns, he has a yellow LS2-powered El Camino pick-up in the build, and a brand new Dynacorn Camaro bodyshell next on the list. With a Carson top and big-block, Shane's plan is to turn the Camaro into something special — even better than this Impala.