Even after 23 years, Street Machine Supernats is still the place to be if you love the smell of burnt rubber and race fuel
TWENTY-three years is a long time for an annual event to continue. Talking to spectators and entrants around the pits and in the grandstands the 2017 Street Machine Supernats, many claim to have been coming to the event since they were kids; no doubt a few readers of this fine magazine weren't even born when the first Supernats was held way back in 1994!
The performance car show landscape has grown and changed a lot over the ensuing two decades, with greater competition for punters' attention, but Supernats has retained an enthusiastic and loyal core audience – no small feat.
Hundreds of entrant vehicles poured through the gates of Sydney Motorsport Park circuit from early morning, including many familiar number plates. With them came spectators keen to see the inevitable tyre destruction that was to ensue.
For the uninitiated, Supernats was one of the first car shows that placed a real emphasis on the driving experience for entrants, with a range of on-track activities for drivers including street-style racing, go-whoa and, of course, burnouts.
Most of the entrants we spoke to during the one-day event – including guys there to compete in the Top Gun Pro Burnout competition – cited the cruise sessions as their favourite element of Supernats. It's a time when drivers get to cut loose a little (sometimes a lot) with some impromptu drifting around corners and rolling burnouts down SMP's main straight, past the spectators in the grandstands. For dyed-in-the-wool car guys, the ability to do something like that can often be the realisation of a childhood dream.
Sydney bloke Danny Younis has been attending Supernats since he was young, and more recently entering with his mental gunmetal grey Capri, FUKYEA. "This is my third Supernats since I finished the Capri," he says. "I actually debuted the car here three years ago. But the cruising would definitely be my favourite part of the show – cruising and drifting around the track with my mates."
Danny's mates include Adam Ursino with the matching-colour Datto ute, FUKDAT. The pair entered the street racing event, but instead ripped tandem powerskids down the straight.
"I was only getting about a lap and a half to two laps out of a set of tyres. I went through about 120 litres of fuel over the course of the day," Danny says.
One thing that was universal among the owners of the big-power cars and burnout competitors was the amount of preparation involved for an event like this. Winner of this year's Top Gun Pro burnouts, Jake Myers with the S1CKO Mustang, says there's a significant lead-up to each skid comp. "Dad [Gary Myers, 2017 SMOTY winner with his AGROXA Falcon] builds the engines and does most of the maintenance on both cars, but I fly home from Melbourne every few weekends and help out," Jake says.
Craig Craft, owner of the HJ Holden ute SIKEST, placed second in the Pro category, which was a great effort considering it was only the ute's fourth burnout event. He agrees that there's plenty of preparation that goes into making it to the show. "I get a few mates over and we go over the car in the week before an event," Craig says.
For the competitors in the burnout classes, there is often mechanical and cosmetic damage to repair later, too. Craig ended up bending both rear quarters when the rear end got too low with popped tyres. Regardless, he says he enjoyed the day and will use his winnings to repair the panels so the ute can fight another day.
"The best part for me is the cruising," he says. "When you build cars like this, you don't really get to use them that much. This was my third Supernats and I ended up going through eight tyres – four on the cruise sessions and four in the burnouts."
No Supernats would be complete without a demo burnout by event organiser and all-round skid nut Ahmet Sehirligil. Piloting his infamous HD ute, torso out the driver's window, smoke pouring off the rear treads and rousing ever-greater applause, it is probably one of the defining images of Supernats and its long history.
WINNERS ARE GRINNERS
GRAND CHAMPION, SHOW & GO
Craig Craft SIKEST Holden HJ Ute
SHOW N SHINE, ELITE CHAMPION
Simon Mokdassi XYKING Ford XY Falcon
TOP ENGINE BAY
Simon Mokdassi XYKING Ford XY Falcon
TOP MUSCLE CAR
Reno Emanulle SIRL31 Holden LH Torana
TOP HOT ROD
Dave Maiolo COO-141 1941 Willys Coupe
SUPERSKIDS WINNER
Craig Bailey IMPOSTR Holden VE Commodore Ute
STREET MACHINE OFF-STREET RACING
Tristan Triccas RO4RY Ford Capri
TOP GUN PRO BURNOUT
Jake Myers S1CKO Ford Mustang
TOP GUN MODIFIED BURNOUT
Jade Brind SMKDAT Datsun 1200
TOP GUN STREET BURNOUT
Chris Eade KNG-TFF Holden Rodeo
SOME OF THIS YEAR'S ENTRANTS:
1. Ernest Hudson's '75 Celica is a Supernats veteran. Ernest says his best achievements (besides building the entire car himself) was winning Grand Champion in the burnouts in 1999, but this year he was happy to leave the 408ci, nitrous-fed coupe looking nice in the show 'n' shine this year
2. Clancy Schofield wore through a few sets of tyres between his cruise-session drifting, superskids, street racing and burnout comp efforts. The 1000hp blown LS2-powered VX SS was rarely seen in its pit bay; instead it was out on the track and full of fist-pumping mates
3. Dustin Goldsmith's crazy 8/71-blown, 408ci VE ute (SM, Apr '16) drank 100L of E85 and destroyed two sets of tyres before it made friends with the ripple strip, compressing the front suspension enough to push the tyre into the guard and rip the front bar off
4. Simon Mokdassi had his 1600hp, ProCharger-fed, 440ci monster XY Falcon XYKING (SM, Apr '17) on show. After initial alternator gremlins, Simon got the car onto the track and took home Top Interior, Top Sedan, Top Engine Bay and first place in the Street Elite category
5. Gary Myers's 2017 SMOTY winner AGROXA was out in force, both in the cruising sessions and on the burnout pad – and the crowds loved every minute
6. Last year's burnout winner Chris Genter punished his VC Commodore, blowing both rears in both qualifying and the finals. However, it wasn't enough to retain his title as Supernats Burnout Champion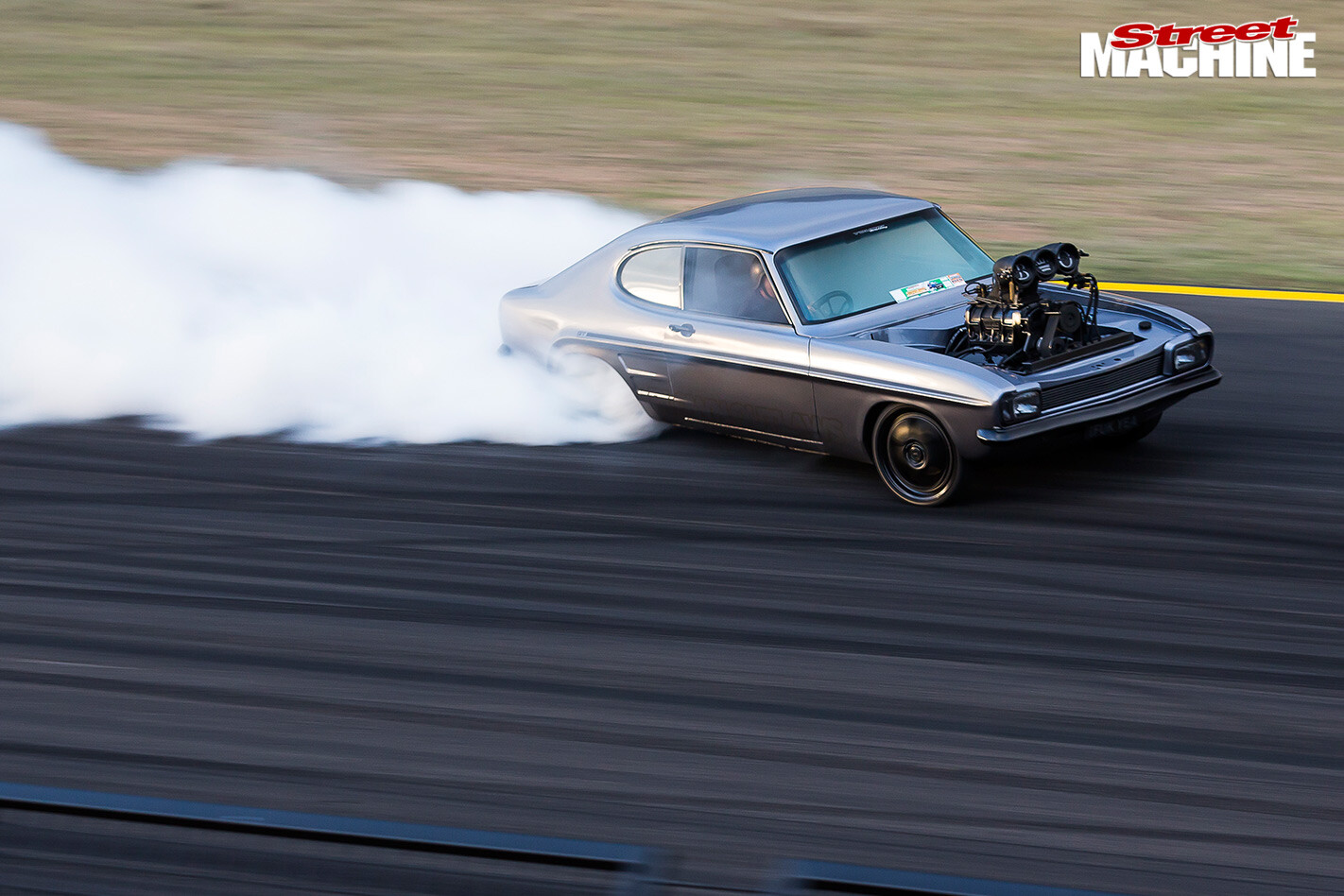 7. Danny Younis has been coming to Supernats since he was a kid and has been entering his 1000hp, 377ci Capri since he completed it three years ago. Danny says for him, Supernats is about cruising and having fun with his mates. And fun for Danny means killing five sets of tyres and burning through 120 litres of fuel
8. Ahmet Sehirligil may have been putting Supernats on for 23 years, but he's lost none of the fire that has made him the face of the show. You can always depend on him jumping in the old HD and ripping one hell of a skid. He's done it so many times, he doesn't even need to use his hands
9. Given that Simon Mokdassi had only just picked up his brand new Ferrari 488 a couple of days prior to the event, he had some serious cojones piloting the car in the street racing event. Simon says he hadn't even figured out how to use the launch control function when he first arrived!
10. Craig Craft hauled his 477ci big-block HJ ute (SM, Dec '16) down from the Hunter Valley for the burnout competition and put on a hell of a show. Supernats was only the ute's fourth skid comp, but Craig took out second place. Craig puts this down to feeling more confident. "At the previous events I as a bit jittery and on-and-off with the throttle, but this time I just decided to hold it," he says
11. Graham Rowe and his ballistic '83 Ford XE van down to the rims and blowing flames. The 8/71-blown 351ci-powered brick is huge, but Graham throws it around like a man possessed. We thought he was going to tip it over as he entered the pad at full speed
12. You could be forgiven for thinking this sort of thing was impossible in a Sigma. But MRS-LS1, aka Sharmaine McDonald, proved us all wrong with her LS1-powered '82 sedan
13. While he didn't know it at the time, Jake Myers was striking a winning pose on top of the iconic Mustang that has won more burnout trophies than any other car. Jake took out the big $10,000 first prize in the Top Gun Pro burnouts, which is his second win from only two starts this year
14. Nathan James was another blowing tyres on the burnout pad with his blown, big-block HQ tonner. The 8/71-equipped 461ci monster makes a lazy 650hp on just 8psi through a Powerglide, and was on song all day. Nathan says it's due for a freshen-up before attacking the Summernats skid pad
15. There was nothing slow about Michael Jones's 500hp FJ20-powered '71 Datto ute, known as SLUG. His fearlessness and car control at high speed down the main straight had everyone in awe
16. Joe Kurtovic's gorgeous, blown small block-powered '34 Ford didn't look like this by the end of the day. It left on a tilt tray with the rear fenders all cooked up after a toasty excursion on the track
17. The 1100hp blown LS1 in Adam Ursino's 1970 Datto 1200 ute reaches way past the roof line. Like his mate Danny Younis in the matching gunmetal grey Capri, Adam prefers to powerskid, cruise and drift his machine around the track with his crew
18. Towards the end of the day, some guys were getting a bit cheeky down the main straight, much tot he chagrin of the track controller