LET'S be honest – drag racing in Australia is in a tough spot at the moment. On one hand, premier events like the Winternationals are bigger than ever. Pro Slammer has massive fields and is highly competitive, and this year saw the crowning of the first-ever female Top Fuel champion. And on the other, the sport is split between two sanctioning bodies, and some states desperately need new or upgraded tracks.
The good news is that there are some forward-thinking promoters who are out to change the game, and when they are rewarded for their efforts with a successful event, it is – at the risk of sounding a little cliché – good for the sport.
Believe the hype – Grudge Kings 2018 at Sydney Dragway kicked arse. The stands were packed with 7000 punters who got their backsides trackside to watch 32 of the baddest pro street brawlers in Australia go at it. When there's a record $50,000, winner-take-all purse on the line, a quality field is all but assured.
"It brought back the atmosphere that's been lacking from drag racing lately," said Grudge Kings frontman, Po Tung. "Apart from the 400 Thunder, it seems like most other forms of drag racing have been in decline, so it was great to put drag racing back on the map."
The open-ended rules for Grudge Kings require competitors' cars to have a steel roof and quarters and two swinging doors; everything else is free and easy. That meant that there was a truly impressive variety of cars – everything from nutso small-tyre rotaries to 481X-powered sedans, an impressive array of blown, turbo and nitrous V8s, and a couple of Jap six-pot screamers for good measure. That, along with the requisite trash talk it brings, is an important part of the recipe for success at Grudge Kings.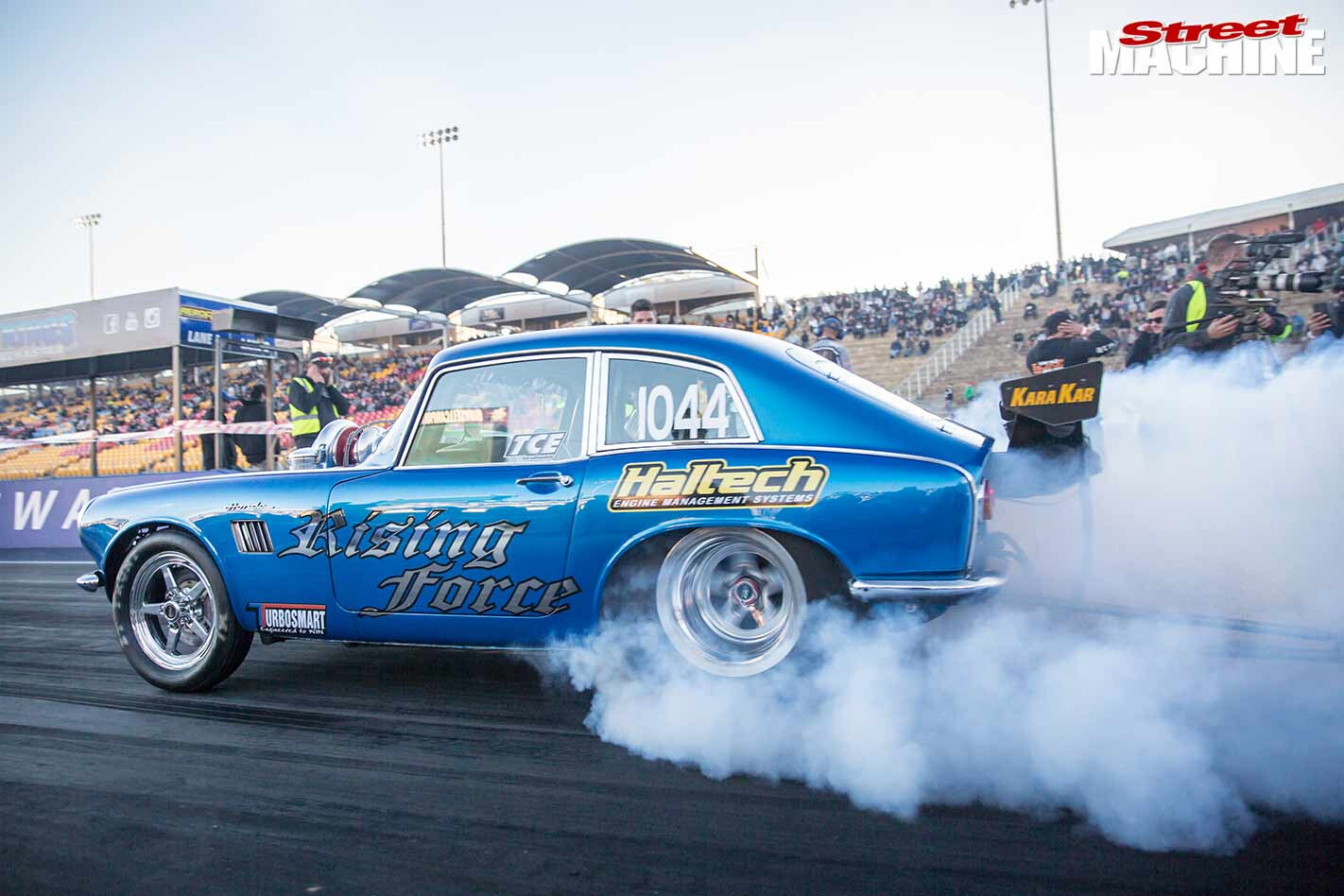 "I think people want to see something different," said Po. "A lot of traditional drag racing in Australia hasn't evolved in the past 10 or 15 years; it's the same cars racing the same brackets. People want to see heads-up racing and the smack talking that goes along with it; the banter is probably 50 per cent of the formula, and that's what you get when these top guys go head-to-head – turbo cars going against blown cars, rotaries and nitrous cars, imports versus V8s. When you match up these different sorts of cars, you create rivalry, and the punters love it.
"Being an import guy, when you go up against a V8 you're so geed up, and it creates a different dimension around the racing."
The format for the Grudge Kings racing is simple – it's heads-up, eighth-mile, win light only, in an elimination format. The amber lights on the tree are blanked out, meaning you can't anticipate the green. The idea is to replicate a street race as closely as possible in a safe and sanctioned environment, and the last man standing ends up $50K richer.
The fast guys were the main drawcard at Grudge Kings, but the event had plenty else on offer. There were other classes of racing right down to dial-your-own, which unfortunately resulted in an unusually high number of oil-downs and on-track incidents. But the track staff were on their game, and the fans stuck around regardless of the delays.
There was also a cracker of a show 'n' shine, which was held on the eastern side of the venue.
"We did well with show 'n' shine entrants at our last event, with close to 100," said Po. "I was expecting 150 this time around, and we ended up with 193 and ran out of room up the top; in the end we had to turn show cars away.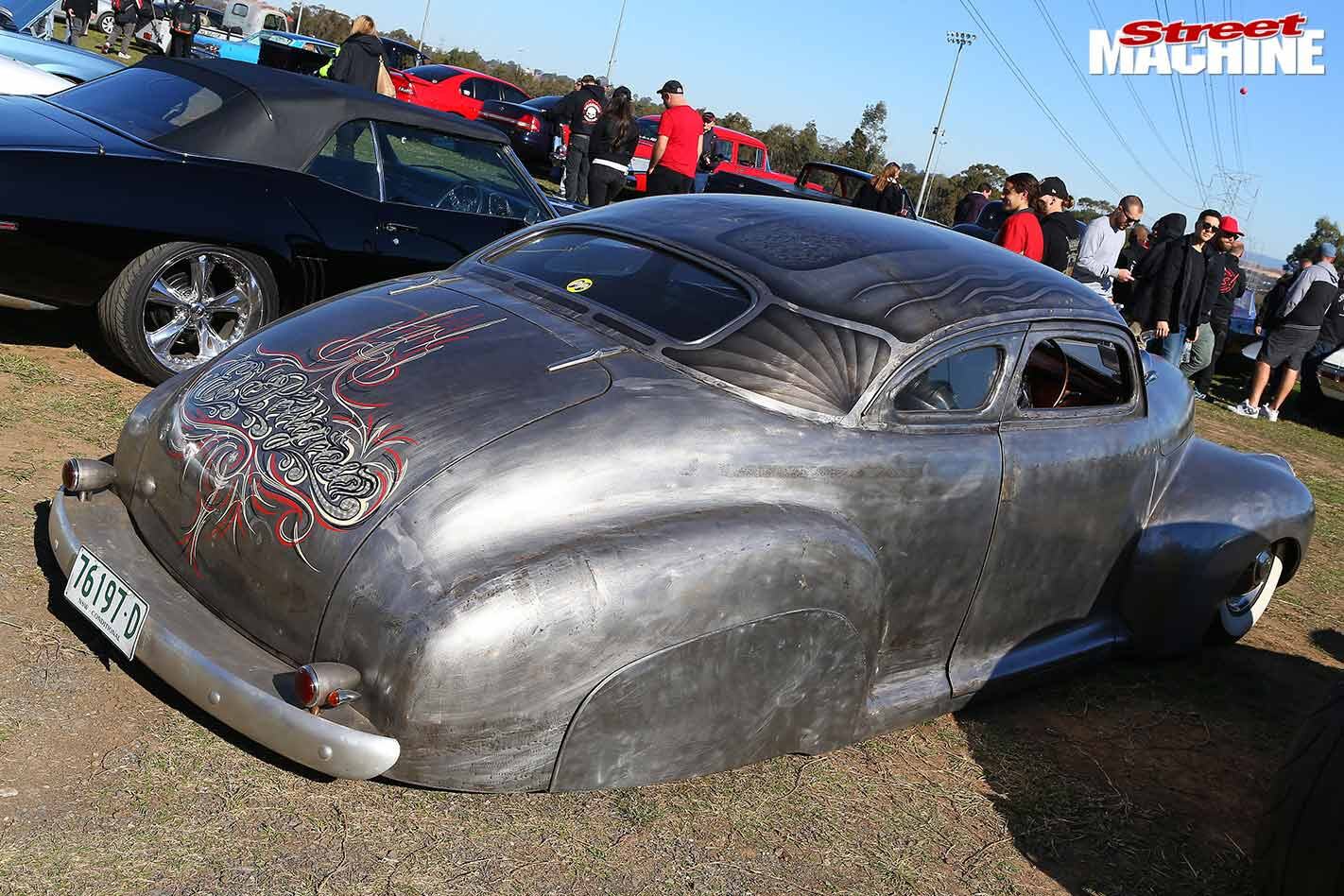 "The idea was that if you have a tough streeter or cruiser, come and park up the top on the eastern side of the track and watch the racing. By doing that you activate the far side of the dragway, which rarely gets used. We had a DJ set up and ran our BDP Babe Comp over there, too. We really tried to liven up that eastern hill and create a good vibe."
While the delays on track meant no winners were declared in the lesser classes, the Grudge Kings class made for thrilling racing throughout the day, resulting in a mouth-watering match-up in the $50,000 final. Exemplifying the variety of entrants in the class, Jeremy 'Jet' Martin's killer 481X-powered VB Commodore faced off against Bruno Matijasevic's oh-so-cool Supercharged Outlaws HG sedan in a classic turbo-versus-blower battle.
The atmosphere was intense, but the race ended up being a bit of a non-event, with Bruno too slow into stage, earning himself a red light and granting Jet a free kick for the giant, novelty-sized winner's cheque made out for $50,000.
"I was pretty nervous on the Friday night because I'd never done a big-money race, and my tuner Josh Ledford gave me a bit of a pep talk," said Jet. "He asked me how many laps I'd done in the car, and pointed out that every round is just another lap, so that was the approach I took to racing. The final was a weird moment; I was so focused on the green light that as soon as I saw it I let my finger off, but I also saw the red, and a second or two later I realised I'd already won; we did it.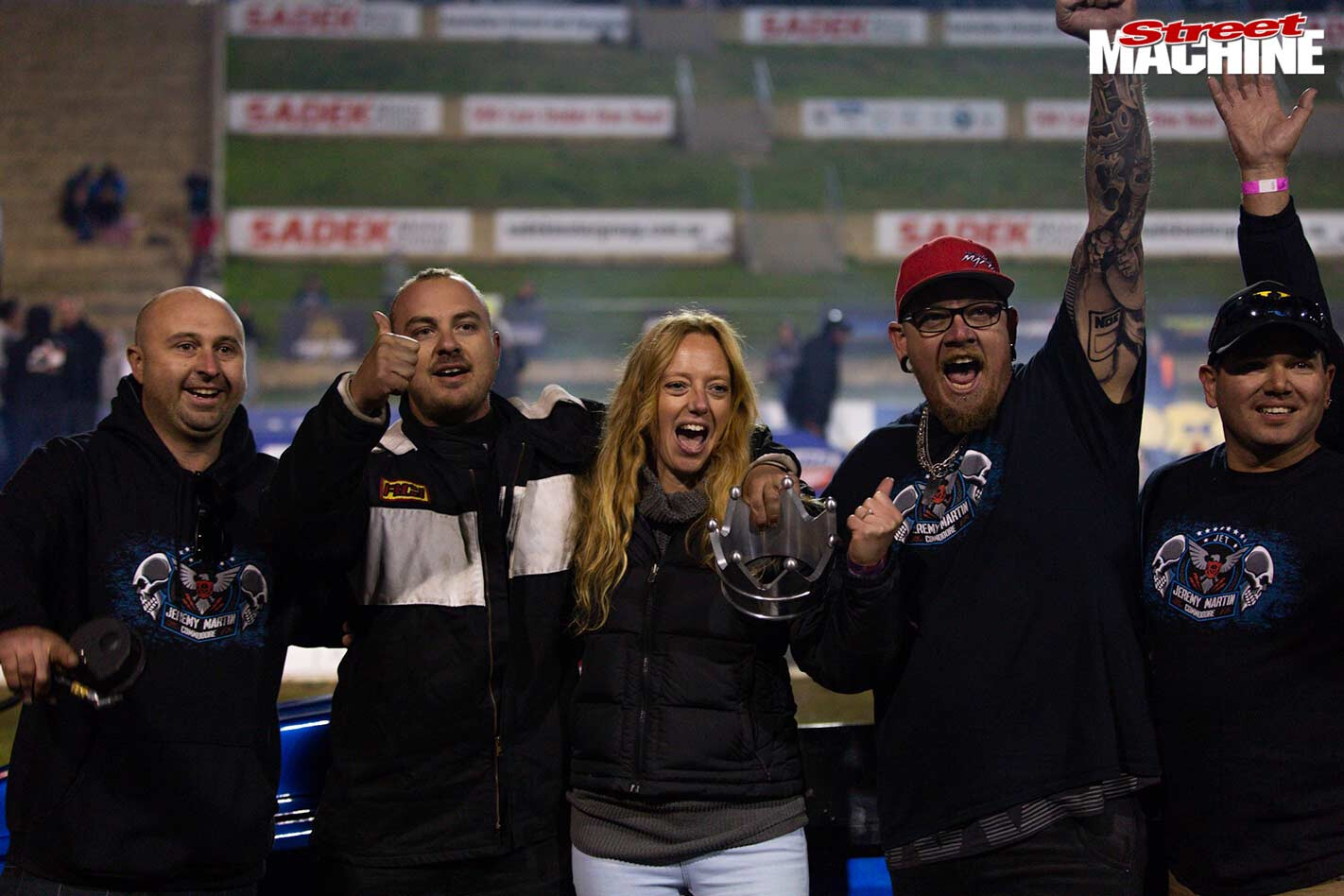 "It was just insane. The money is one thing, but it's more the sense of pride. I've been going a long time with that car and my crew and family have too. All these years haven't been a waste of time. My sponsor, Hunter Kitchen King, has given me the opportunity to take the car to the States for No Mercy, so that's the next challenge. It's been a big few months!"
Plans are already afoot for next year's instalment of Grudge Kings; Po plans to build on the momentum and hopes to recruit a massive 64-car field to compete for an unprecedented $100,000 purse!
"There's already talk of engine changes and cars being shipped over from WA for next year, so it'll be big!" he said.
Count us in!
HIGHLIGHTS:
1. Jeremy Callaghan had his first few test passes with the new 481X combo in his Camaro at the Sydney Dragway test day just prior to Grudge Kings. It's making a whole lot more snot than the old set-up, and on its first full pass went 6.61@182mph, finishing up the event with a best eighth-mile of 4.11@188mph. Jeremy made it through to the Grudge Kings semi-final, where he turned the tyres all the way down the track and was knocked out by Bruno Matijasevic's HG Holden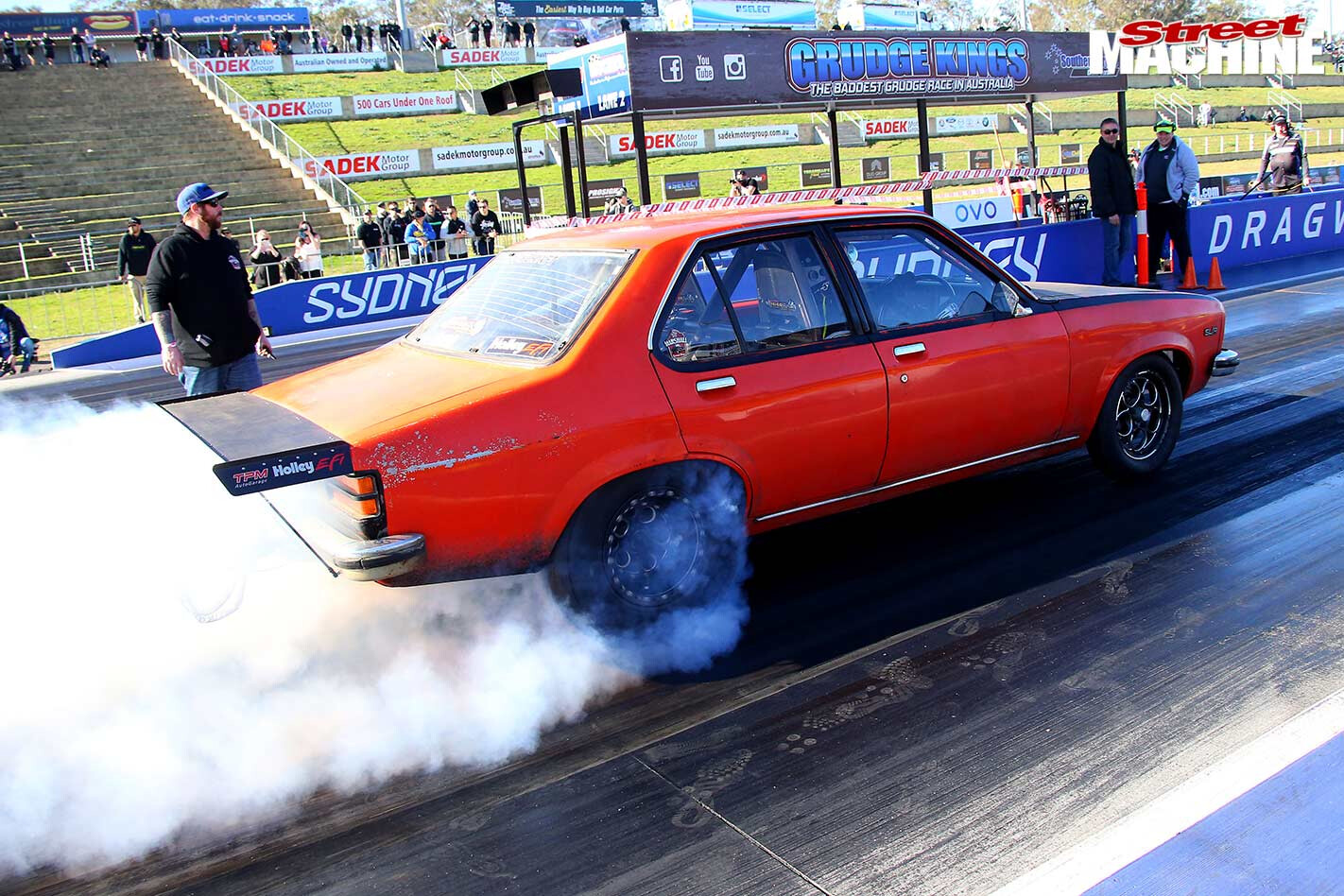 2. Mark Drew had the Crusty Torana pumping, running a best of 7.79sec at 176mph. Street Machine Drag Challenge is going to be epic this year!
3. Matt Sims's machine is one of the quickest singlecam RB30-powered VL Commodore street cars in the country, and it's a genuine BT1. The 3.0L Nissan six runs forged internals, a solid camshaft and a Precision 8285 turbo, which on roughly 50psi helps the combo put out a healthy 1300hp to the rear treads. He ran in the Small-Tyre Fighter class at Grudge Kings, running a PB of 7.89@174mph, then bettering it with a 7.78@176mph
4. Perry Bullivant had the Snickers Camaro dialled in, reeling off a wildly quick 3.84sec eighth-mile pass at 182mph in the 481X-powered monster in testing, with rags fitted up to the car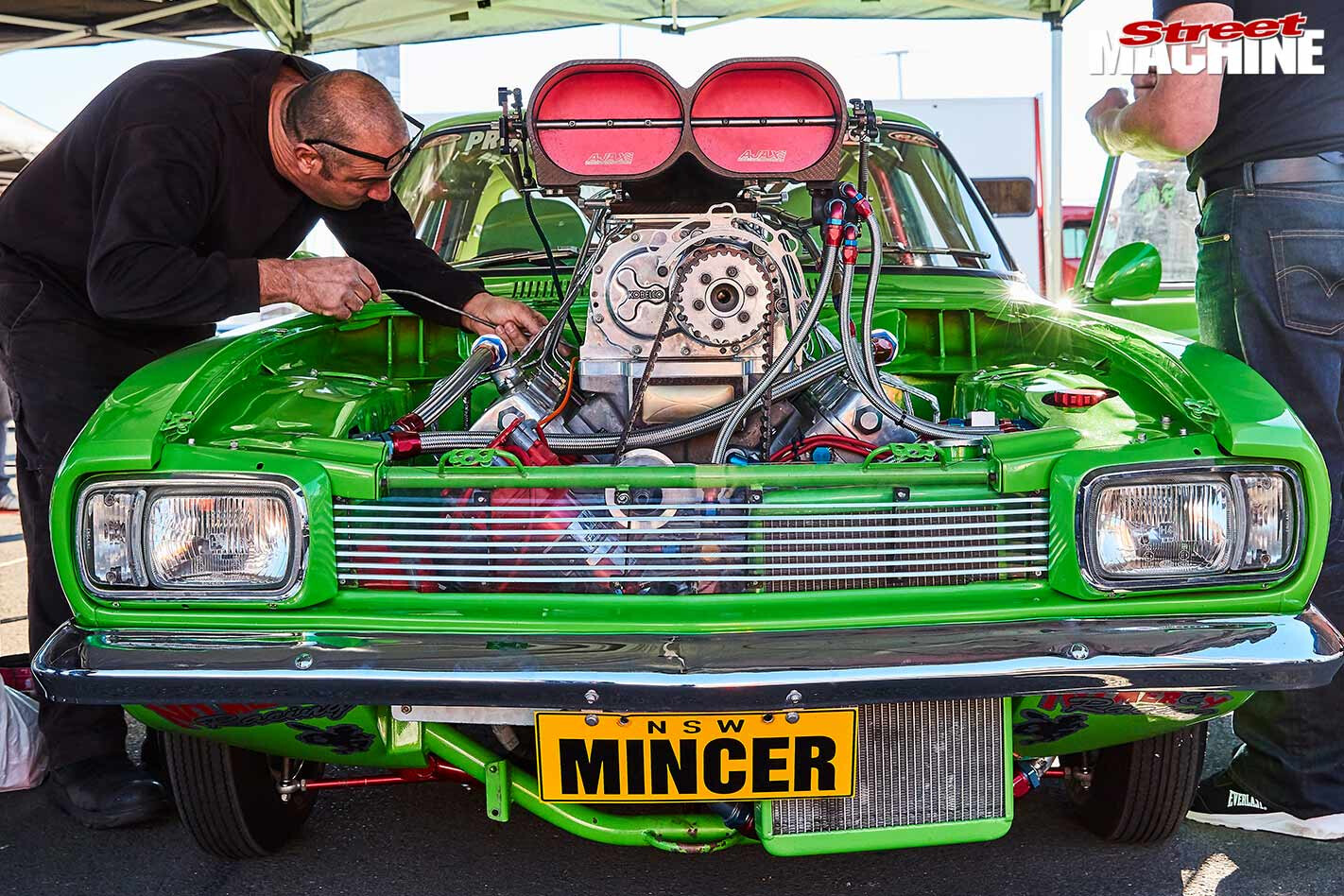 5. Tristan Ockers gave his MINCER Capri a makeover in time for Grudge Kings and we were pumped to see it in action. However, a rod failure during the first burnout of the test day meant it was not to be
6. Steve Bezzina has stepped up to 481X power in his leaf-sprung, 275 radial XW Falcon, and the signs were very promising early on. By the end of the test day they'd gone 7.1@171mph, pulling the 'chutes at 1000ft. For a heavy 275 radial car on leaf springs, the XW was fiercely competitive in the Grudge Kings races, making it all the way through to the semi-finals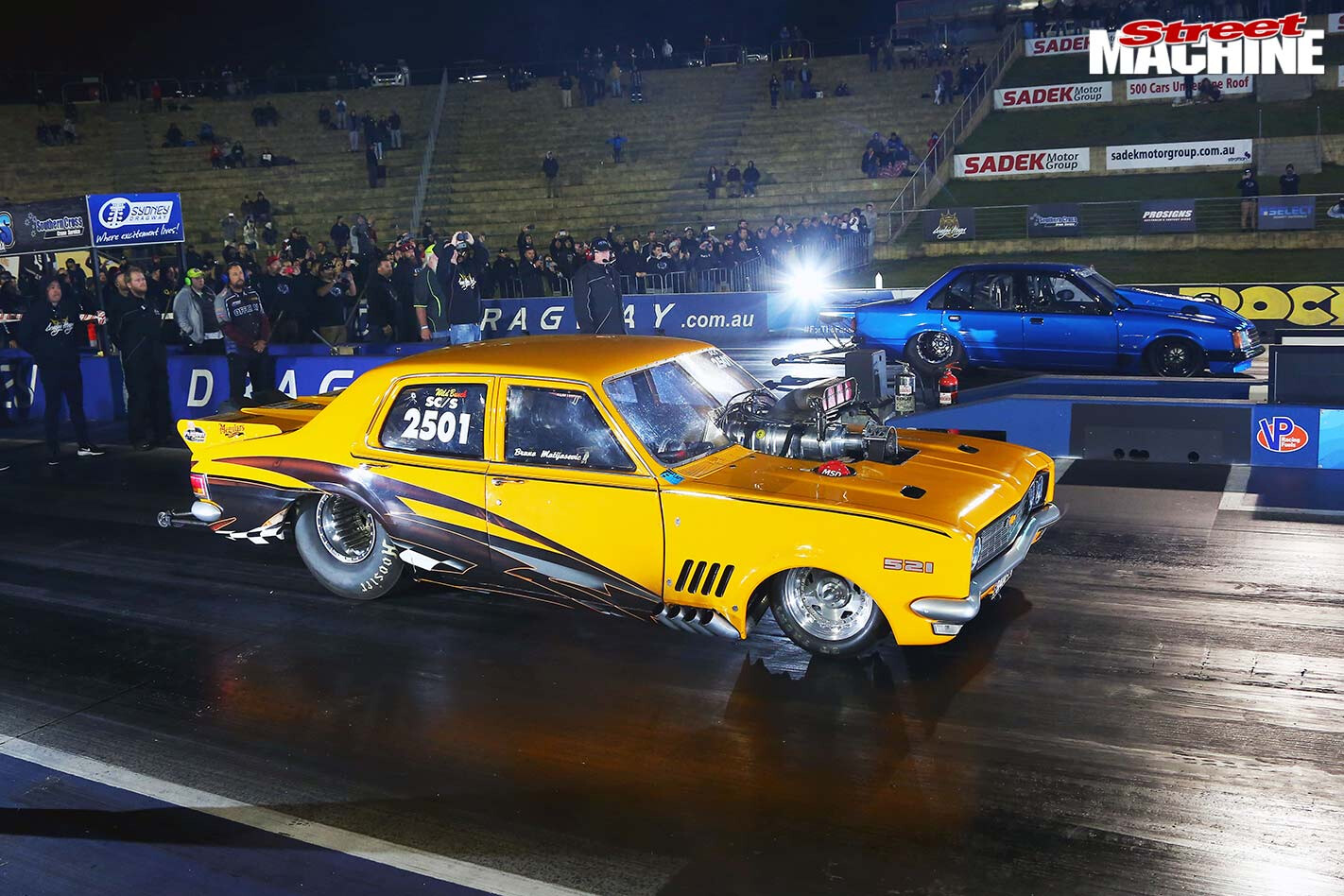 7. Jet Martin met Bruno Matijasevic and his Supercharged Outlaws HG sedan in the final, but Bruno fell afoul of the seven-second rule and was disqualified. Jet was stoked, and the VB is about to be shipped to the States to run at the infamous No Mercy event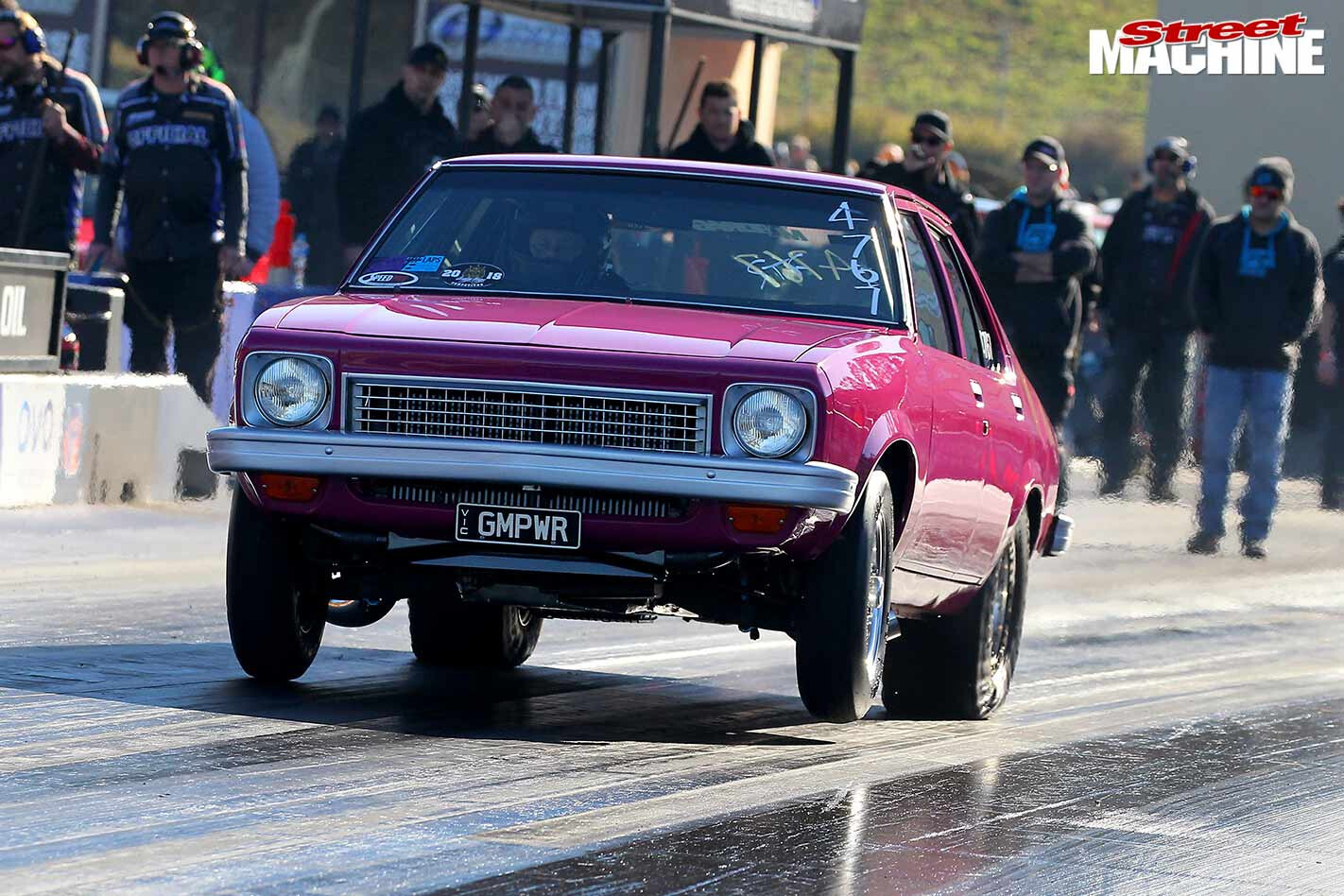 8. Quentin Feast ran a string of PBs in testing the day before Grudge Kings, but a crosswind caught the Torana's parachute and the car clipped the wall in the braking area. The boys gave the car a quick tidy-up and came back out to run a 7.584sec pass at 182mph. At Grudge Kings, Quentin PBed again with a 7.529@184mph in the first qualifier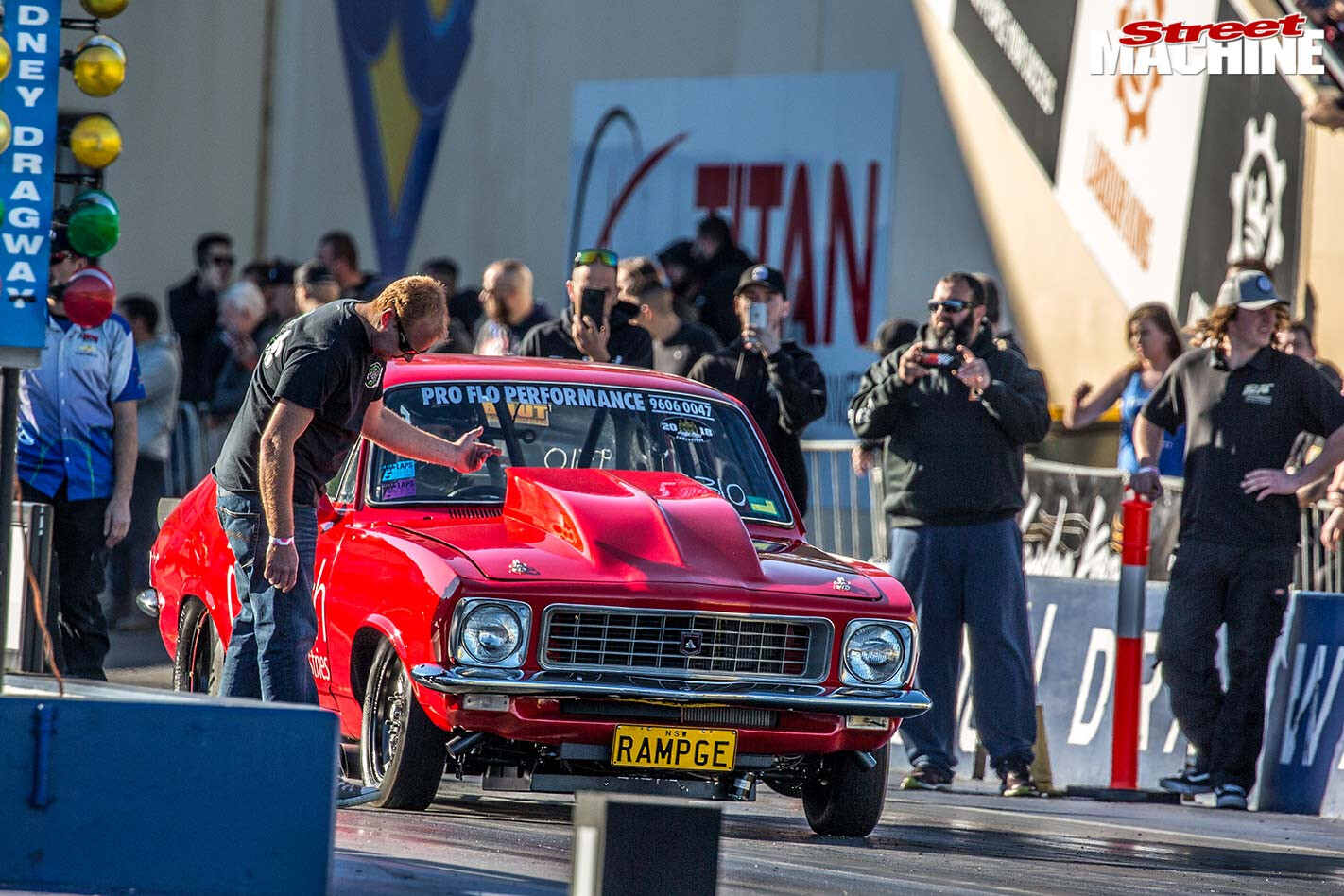 9. Bob Golic was still getting his head around the new twin-turbo small-block combo in his LJ coupe at Grudge Kings. Previously the car ran a ProCharged small-block, which saw the LJ PB in the low 8sec range, but this new motor, built by ProFlo Performance, is a whole different kettle of fish. The methanol-drinking small-block donk is boosted by a pair of 80mm turbos and the whole deal is controlled through a FuelTech ECU
10. All the cool kids are strapping bus turbos to their LS engines and running crazy times, but Tim Holmyard has taken the road less travelled. His VX runs a big-cube, tunnelrammed LS with a direct-port nitrous system, and dipped into the sevens for the first time the day before Grudge Kings with a very stout 7.87@173mph. Tim then bettered that with a stonking 7.79@175mph at the event
11. Few properly fast XY Falcons are as neat or as regularly street-driven as Bobi Mircevski's. Built by Frank and the boys at Dandy Engines, it packs a 427ci small-block Ford Windsor similar to what's in Frank's own XW Falcon. After a few test hits and early shut-offs at Grudge Kings, Bobi eventually went through the beams for his first seven – a 7.84@175mph in full street trim on 275 radials