DAY Four of Hot Rod Drag Week 2017 got off to a slow start, as the field of sleep-deprived entrants had to wait out a thick blanket of fog enveloping Great Lakes Dragaway in Union Grove, Wisconsin. It gave a few competitors extra time to make some last-minute tweaks before hitting it hard for the second-last leg of this year's gruelling challenge. Once the fog burned off, the Aussie teams took to the track to try and better their average times. You can check out the epic video summary here.
Harry Haig had been battling fuel pump issues in Stevo the Chevelle, and was able to source a fresh unit thanks to announcers Brian Lohnes and David Freiburger putting out a call on the loudspeaker. Thrashing to get everything in order for the afternoon session, Harry made a few passes, but his best was a 9.26@154mph. His average ET of 8.93sec puts him fourth in class leading into the final day.
Mark Arblaster says he'd put down his best 60ft, 330ft and 1000ft times in his POR440 Val on a pass today, but the timing system shat the bed and didn't print an ET. After a few more attempts at a successful pass, he managed a best of 9.74@142mph. Though he was hoping to lower his times throughout the week, Arby's been pretty consistent and has a 9.78sec average after four of the five days.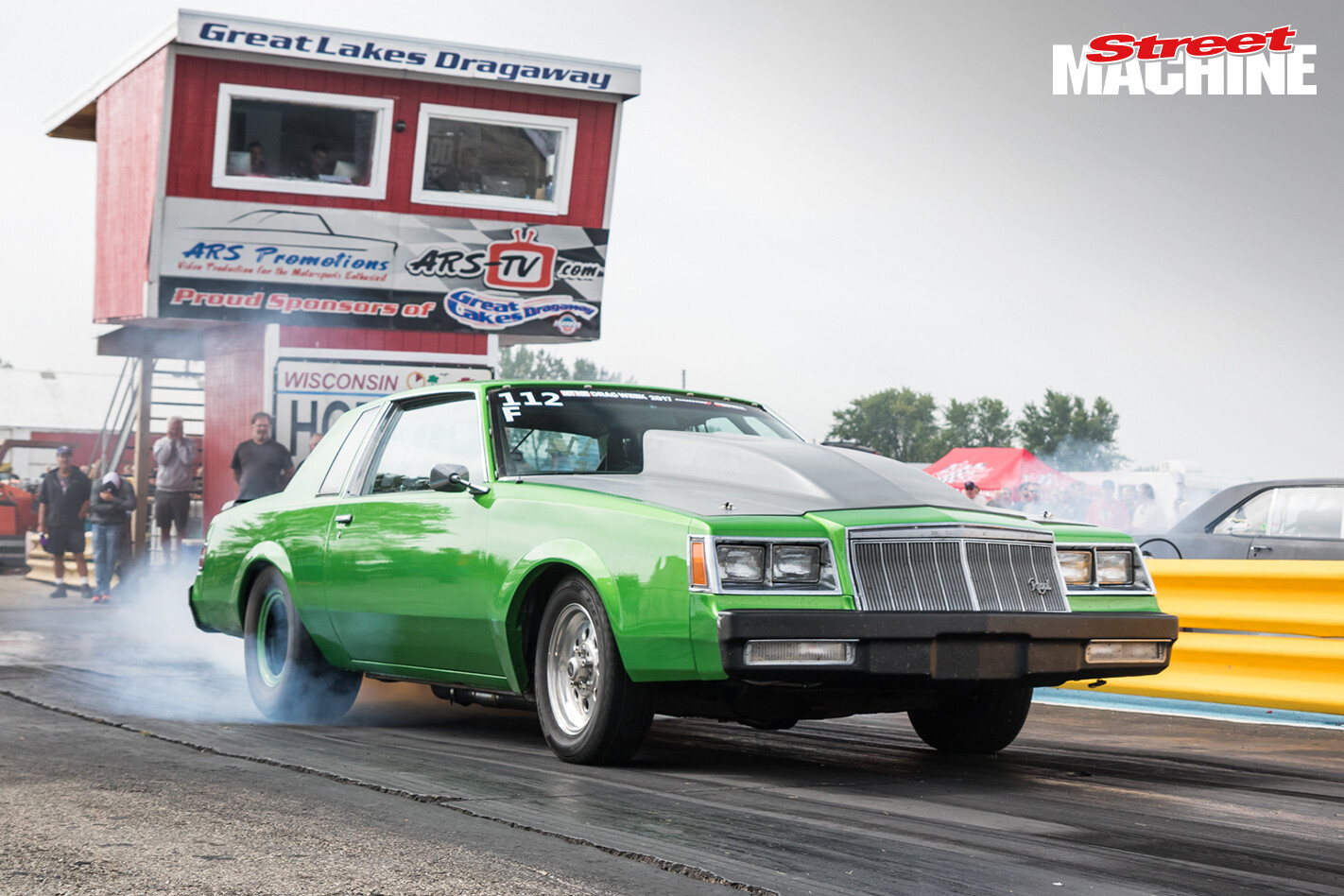 After getting some tips from Harry, Craig Moar lowered his launching RPM from 5000 to 4000rpm, and was able to make the tyres stick for a run of 9.76@135mph. After trying to pump it back up, he broke traction again on his second pass. After four days, Craig's average ET is 9.93 – not bad for first time running the newly built Buick hard.
Brian Jensen had a stroke of bad luck after one of his front tires fell apart on his run of 9.71@142mph. Luckily he was able to source a new pair from another competitor, so he hit the road back to Cordova with an average ET of 9.65sec under his belt.
It looks like Jamie Farmer and the Dirty Bird are finally soaring after working through a nest of gremlins during the week. Jamie's pass of 9.65@139mph was his best of the week, so hopefully he can put down better tomorrow and finish his first Drag Week on a high note. His average going into the last day at Cordova Raceway is 10.54sec.
The biggest sting to the Aussie contingency was the news that John Faraone wasn't able to break the beam at all today at Great Lakes, meaning he's officially out of the competition. Hours of frantic work trying to figure out why the Aussie Charger wouldn't start left him staring at closed staging lanes at the end of the day without a time slip in his hand. He believes there's an issue in the ECU that's quenching any spark to the engine. John's had a massive effort this year putting down blistering numbers, and was looking like a shoe-in for some tinware when it was all said and done. Bummer!
The bleachers and pit lanes were packed to the rafters with punters throughout the day and the big crowds were treated to a great day of racing once the skies cleared up. David Schroeder solidified his position at the top of the ladder by putting down a 6.75@196mph. If tomorrow goes off without a hitch, the Canadian Corvette looks to be the winner of this year's Drag Week. Joe Barry got painfully close to a 200mph run in his orange '55 Chev, trapping 199.42mph at the top end.
In between class runs, the crowd was also treated to a few exhibition passes from Nostalgia Pro Stock cars that had been sitting on display in the pit area. Great Lakes Dragaway is recognised as the oldest functioning drag strip in the country, and the history is so rich that it was fitting to see a few of the old timers run again in front of the scores of attendees.
Once it was all said and done for the day, drivers hit the road for the last leg of travel between tracks; about 200 miles back to Cordova Raceway for the final stop of Drag Week. It'll all come down to one final time slip to see who will take home top positions in each class, and who will get the honour of donning the famous Drag Week Jacket as the fastest street car. Keep it tuned right here for all the results as we wrap up Hot Rod Drag Week 2017 tomorrow!