We worry when the track's too hot – these guys don't race until the river freezes
This article was originally published in the August 2010 issue of Street Machine
OF COURSE they race on ice. Where else would you race in the bitter deep-freeze that is Wisconsin, northern USA? The Merrill Ice Draggers bide their time 'til the dead of winter, when the Wisconsin River freezes to form a perfect race track. And they'll tell you it's just like racing on the blacktop, with all the noise of monster V8s, the show of purebred dragsters and the fun of run-what-ya-brung racing.
Yep, just the same. Except for a few things. Obviously it's about a million below zero, but that's normal for these people. And the burnouts aren't quite as smoky. Oh, and there're the tyres — evil things, kinda like an overgrown echidna rolled up with its spines sticking out. All 3000-odd of them. It's what they do for traction in Merrill.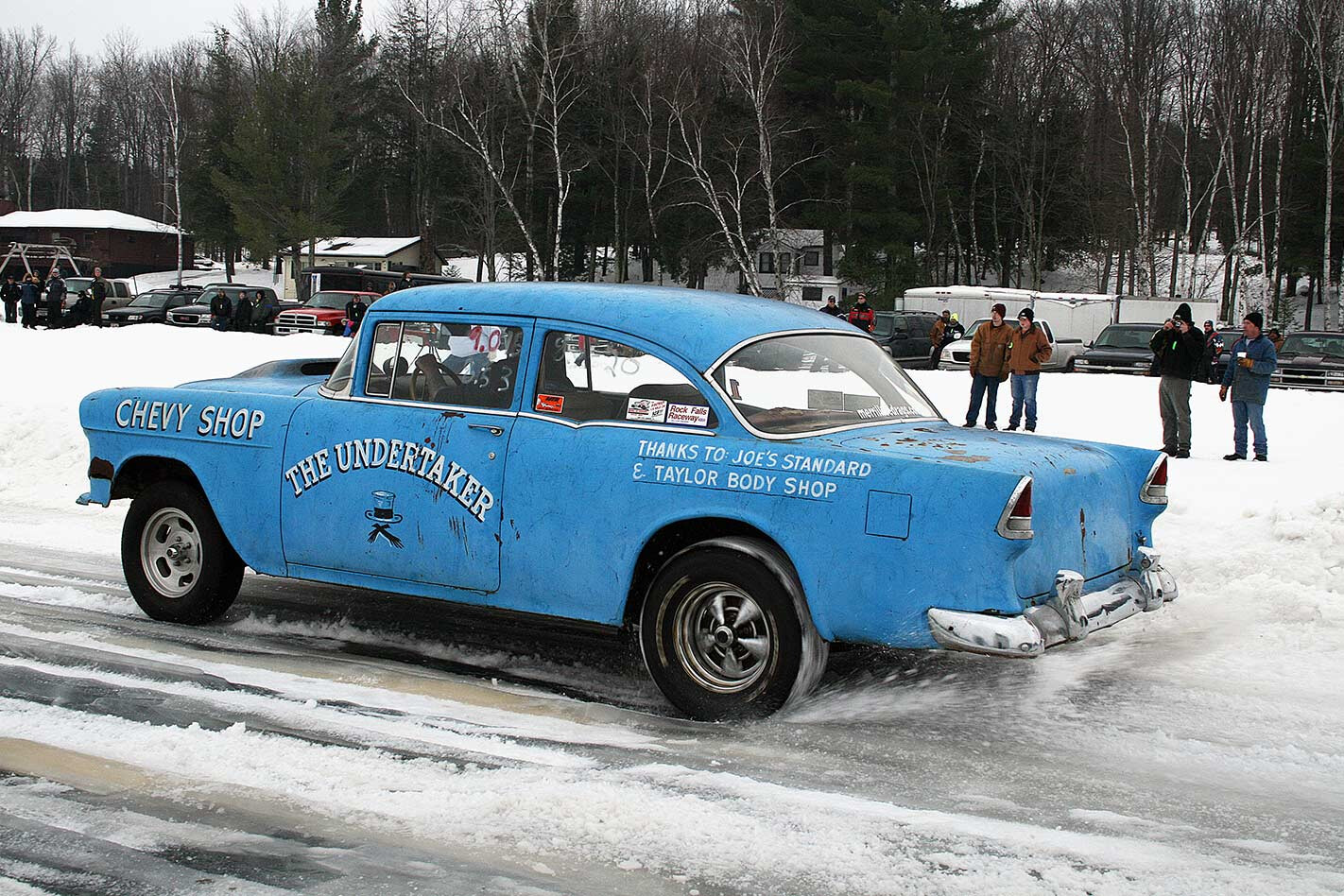 Tim Gritzmacher, the local high-performance engine builder and former club president, says all those drywall screws work really well. "But if you walk past a car and catch your leg on the tyre, you're bleeding. Or stuck," he says.
Mostly, though, it's just like the tar.
They use an eighth-mile strip, and you can tell how much traction those so-called nailies give when you realise the outright record stands at 5.592sec, set by Ron Krueger in his 2WD Outlaw open-wheeler. Pony for pony, as fast as you'd do on a proper surface.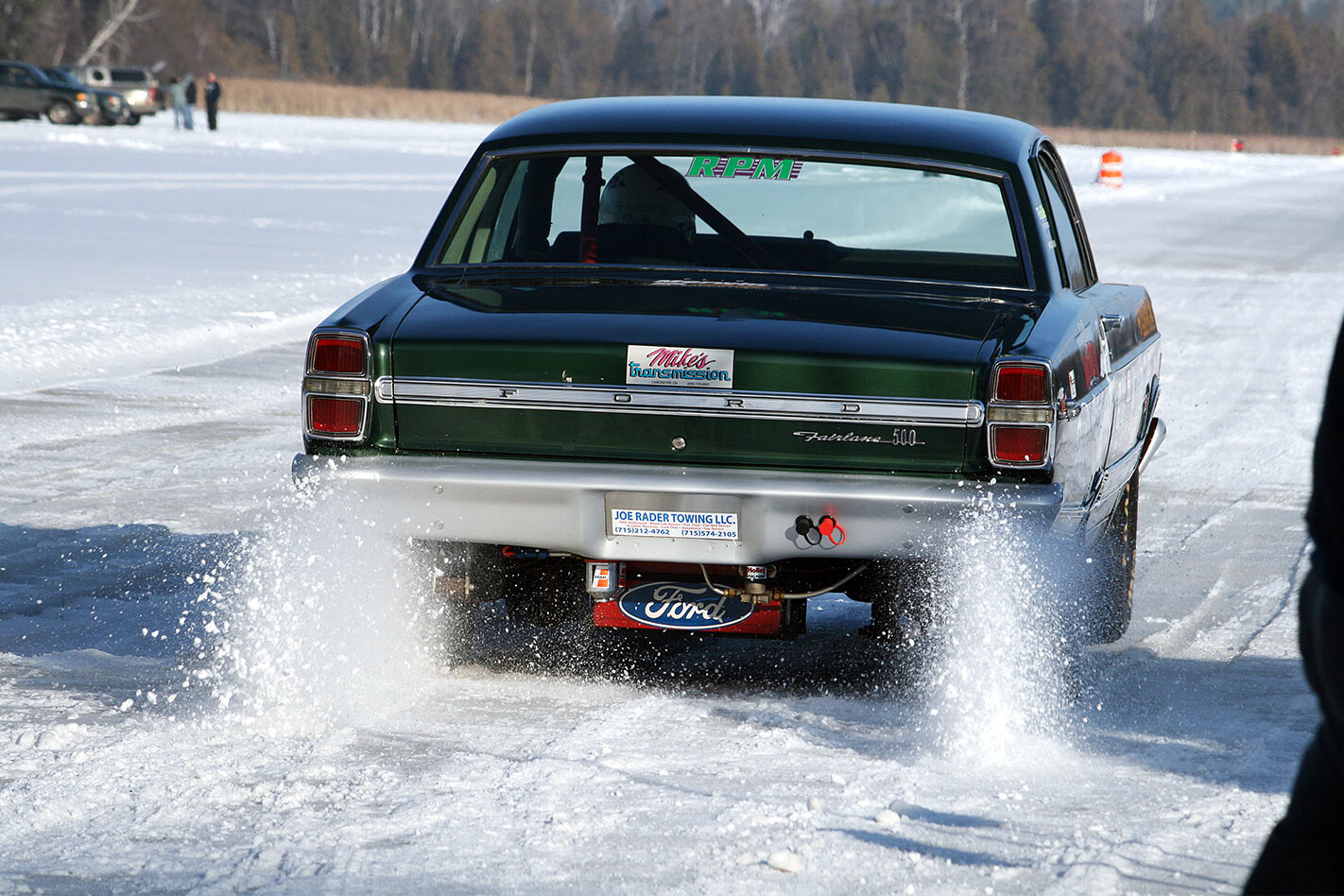 The ice draggers have been at it since 1965 when, as the story goes, petrolheads in the town of Merrill got bored — or possibly pissed — enough to blow away the winter blues on the iced-over Wisconsin River. They were the originals, though now there are at least half a dozen other ice-racing clubs around. Experience must count; you can hear a little pride in Tim's voice when he tells you the Merrill racers kick butt whenever they face off against the rest.
They have numerous classes, including entry-level ones running no spikes in their tyres — the rubber tyre classes. If that seems impossible, remember that this is how everyone in Wisconsin drives every day in winter. You might have to wait 16 seconds or more to see someone cover the eighth but it's all action.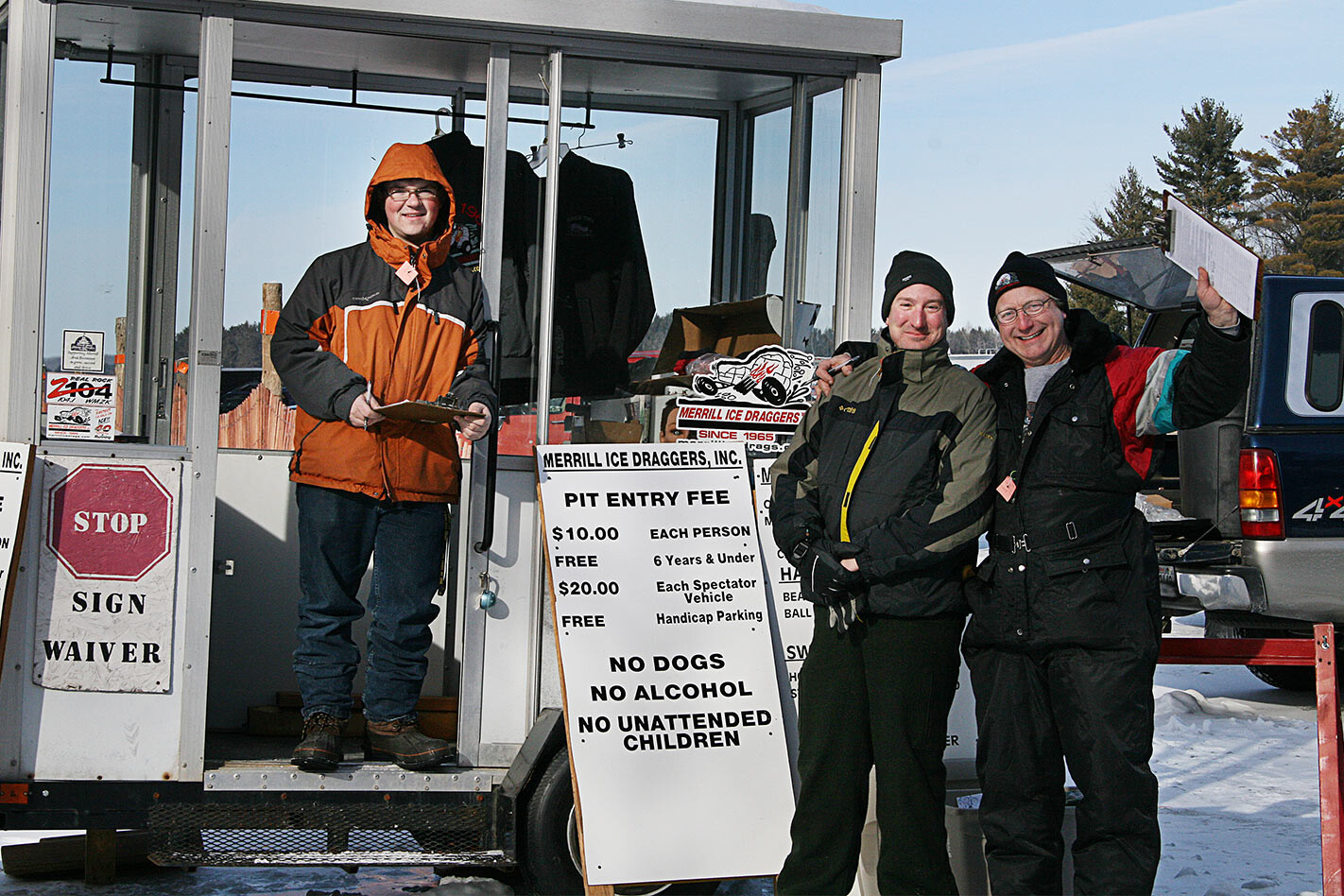 "It's okay once you get the hang of it," Tim insists. "Get off the brake, start rolling, then give it a little bit more, a little more, a little more."
A snow bank separates the two lanes, for safety. Banks line the outsides, too, and anyone who hits a bank is disqualified.
"The snow is soft sometimes but nasty weather, when there's rain or sleet, hardens the snow," Mandy Meyer, who not only photographs these meetings but has cracked 99mph as a racer, says. She admits, with a little embarrassment, that she's ploughed into the snow. Surprisingly, it doesn't happen that often.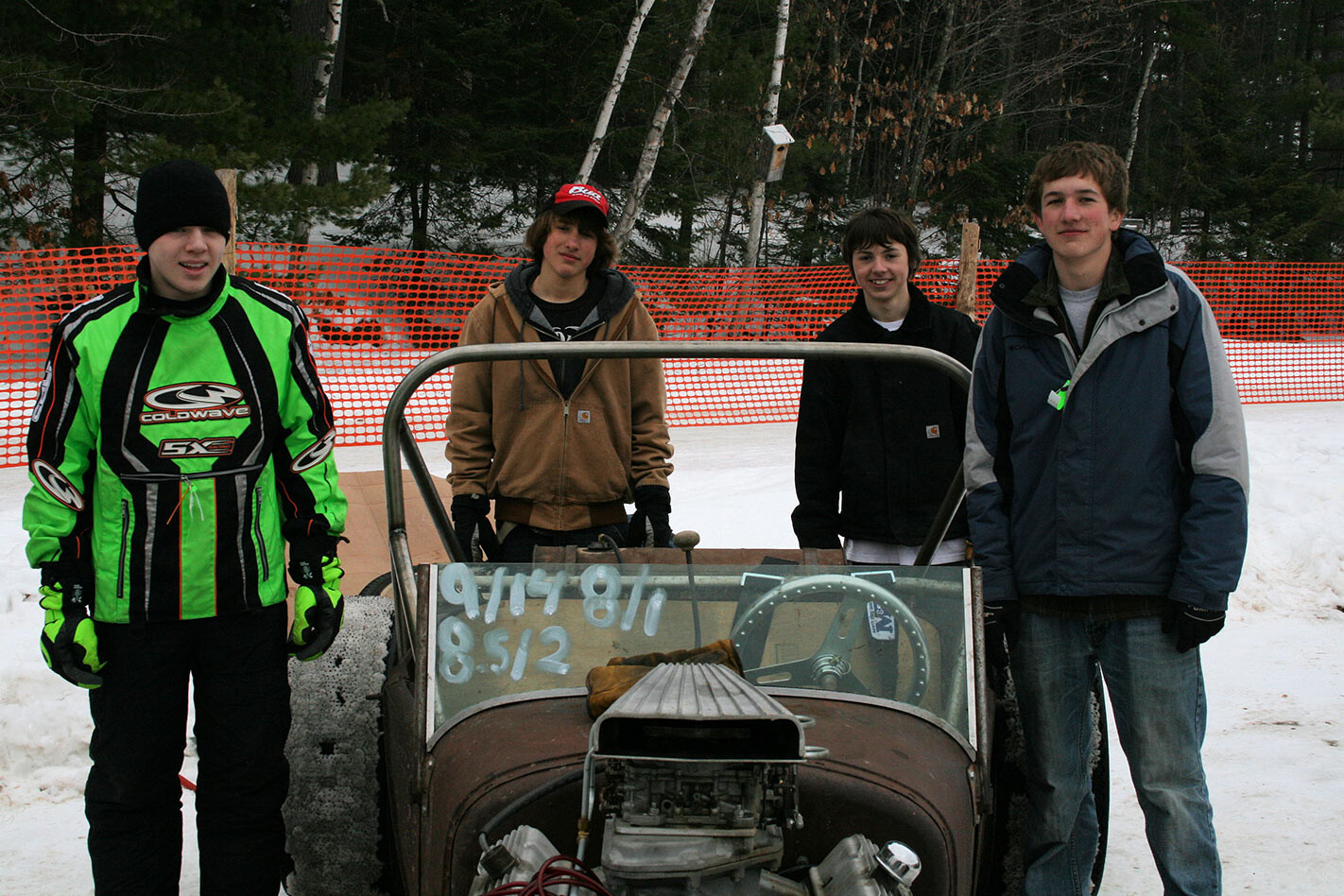 The cold presents some unusual challenges. The cars must run anti-freeze, typically a no-no in racing. Overheating is unheard of; radiators are covered to keep heat in. Alcohol cars struggle and have to start on petrol and some people start their race cars at home and leave them idling on the trailer. Some use frost-plug heaters, or enclosed and heated trailers — anything to ensure the car runs.
"You get used to it in Wisconsin; it's normal," Tim says. Mandy reckons it's worse when the weather warms up and melts the ice, leaving a few inches of water on top.
But at the end of the day, the Merrill Ice Draggers are right — it's not so different from regular racing. There're the serious racers in their hardcore dragsters. There's the average Joe in his daily driver, having a go. There're teenagers having a ball in dad's old hot rod. There are officials, families, commentary, rivalry and winners.
"Everyone wants to race," says Tim. "You've just got to give them a way to do it."
So of course they race on ice.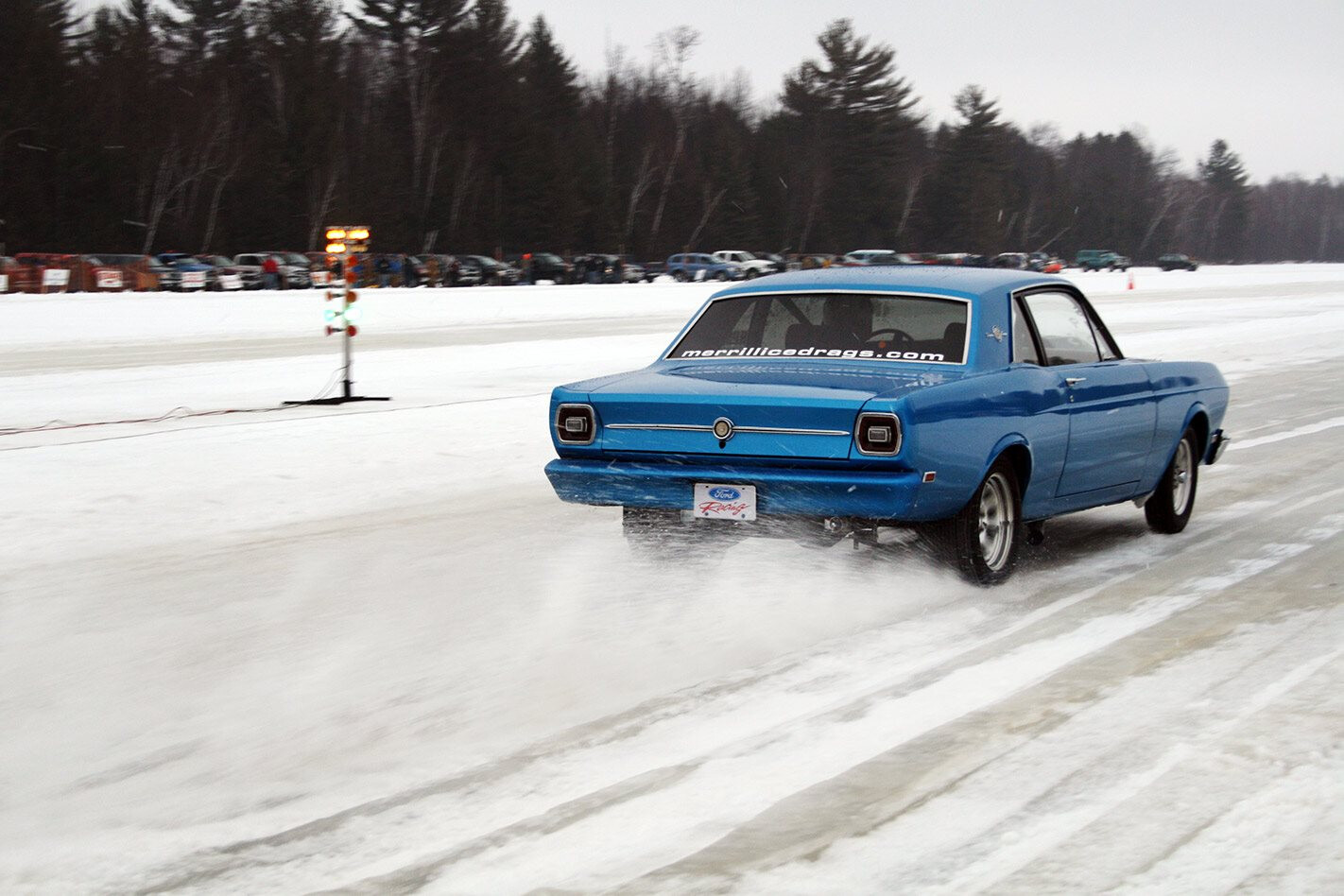 BLACKTOP VS ICE
Are you still sceptical about drag racing on ice being as quick as regular drag racing? Perry Redeker will shut you up. Perry runs his '69 Falcon (above) on the tar in summer and gets his winter speed thrills with the Merrill mob. On the ice, he races in Easy Street, a two-wheel drive nailie class.
"He runs exactly the same times on the blacktop as he does on the ice," Tim Gritzmacher says.
And Perry's no fluke when it comes to posting credible times — he holds the current Easy Street class ET and speed records, at 7.374sec and 100.22mph respectively.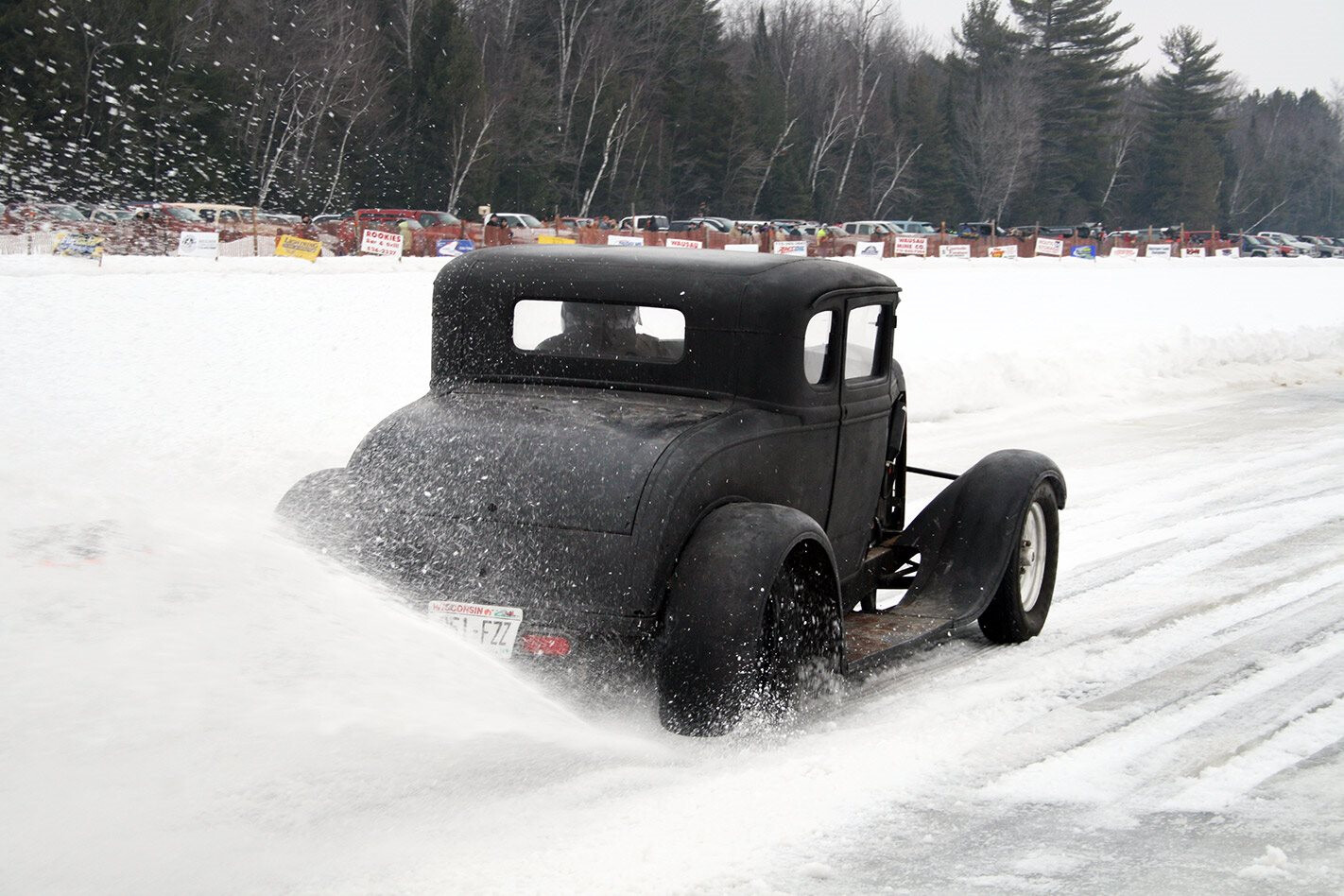 ICE OUT?!
Doing a burnout to get heat into your tyres is clearly redundant on the frozen Wisconsin River. But the ice draggers perform a similar ritual before staging.
"You clean the snow off your tyres," Mandy Meyers says. "It's similar to a burnout." Except that spectators get showered in shredded ice rather than smouldering rubber.
"At the start line, you end up with ruts up to a foot deep by the end of the day," she says.
Maybe that's why the rubber-tyre classes always run first — they'd never get 'out of the hole' otherwise.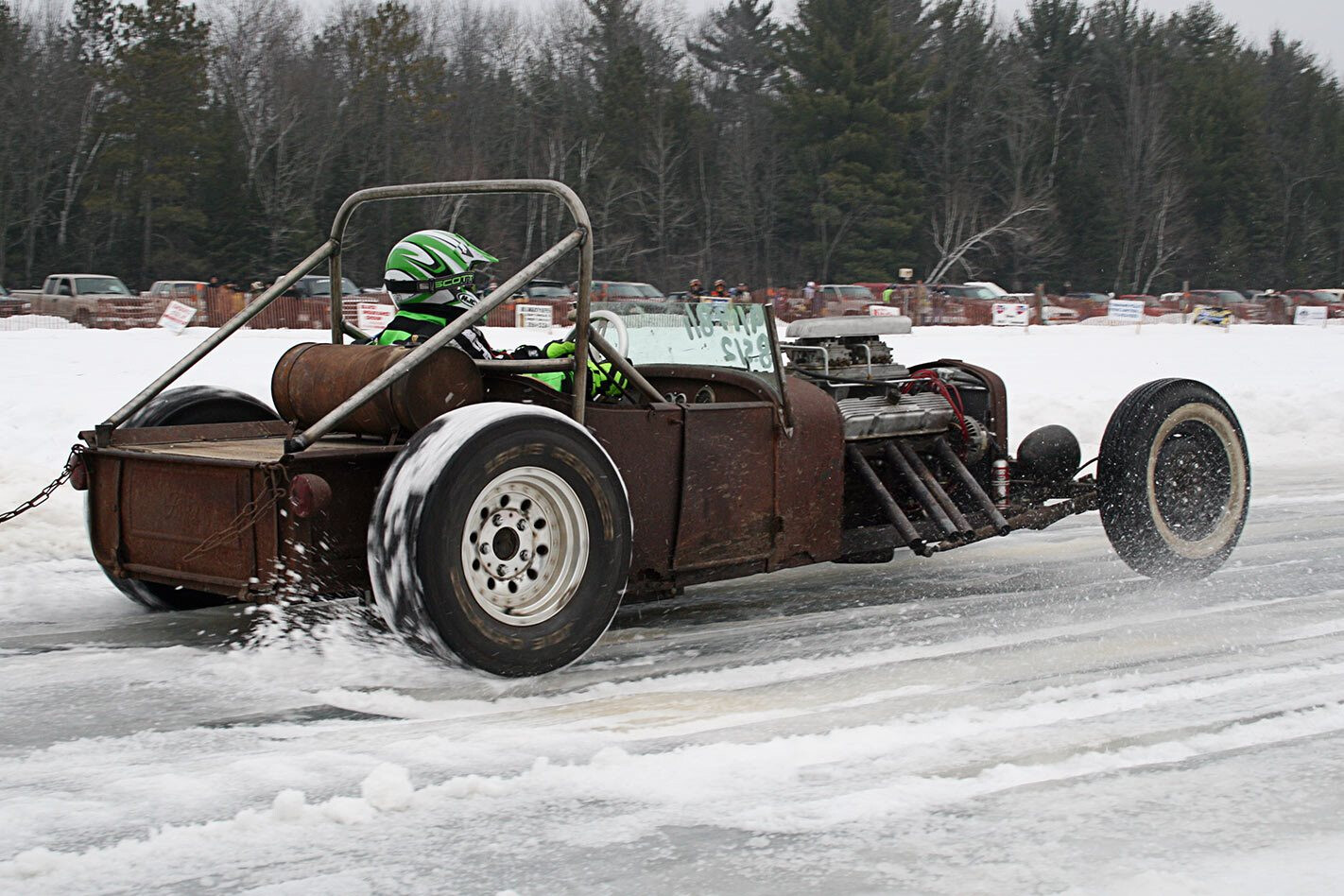 1. Jim Voigt and his 15-year-old son Austin share a 1927 T Model hot rod, built by Jim. It sports a mild 413 Chrysler donk and has run 7.9@85mph. Lucky it's got a windscreen or the drivers might feel the cold
2. Take a Ford Ranger, stretch it 40 inches, then drop a box-stock Ford 460 into the back and you've got the Stock Altered speed record holder, at 90mph. "You get a lot of traction with the weight of the engine in the back," owner Donney Woller says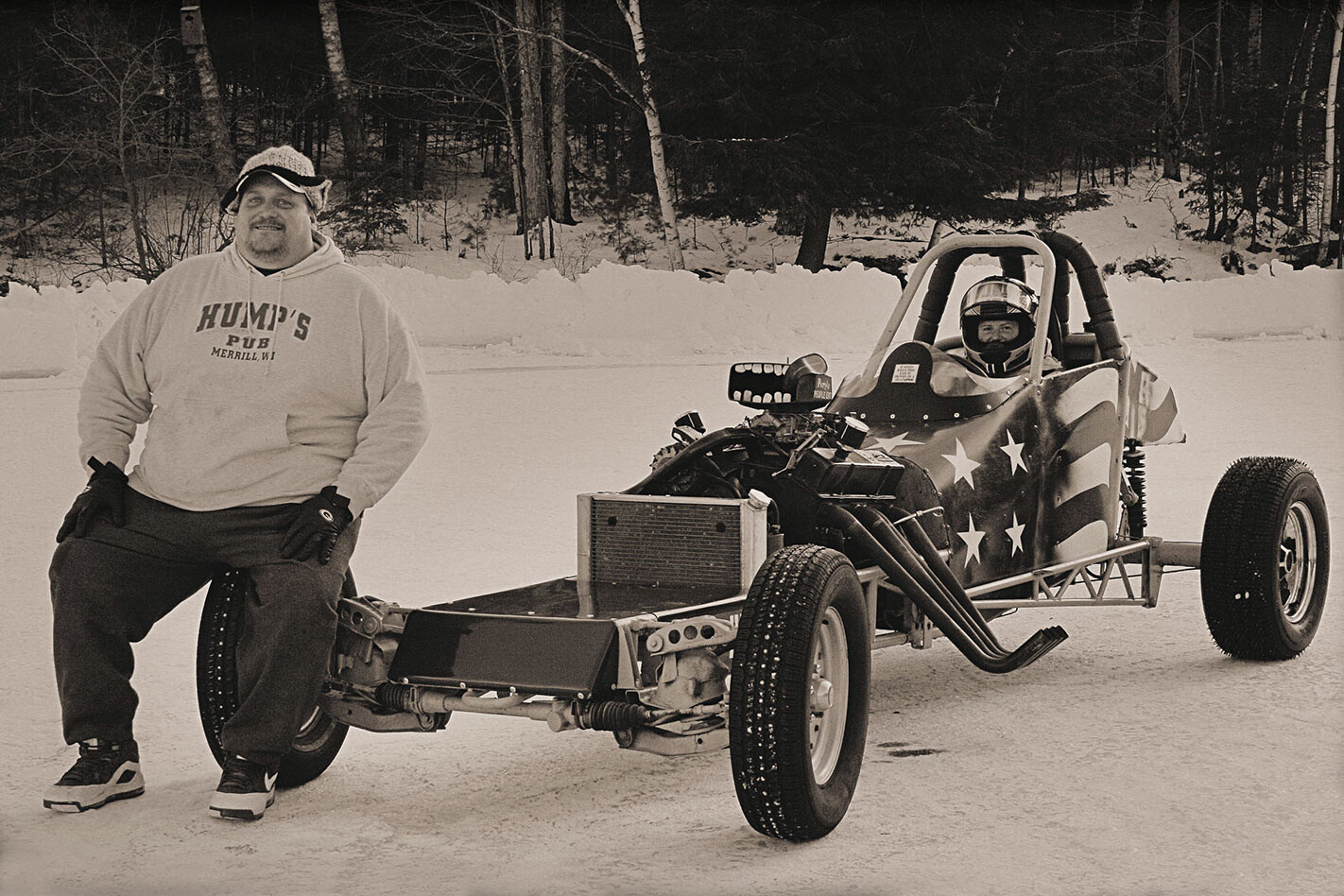 3. Erin Bahlow (in car) holds the current record for the 8.0 class, at 8.012, and she's in a bit of a bind as a result. "I'm not fast enough to run in the faster classes, but my motor is too big so I have to let off so I don't time out. I definitely get very frustrated," she says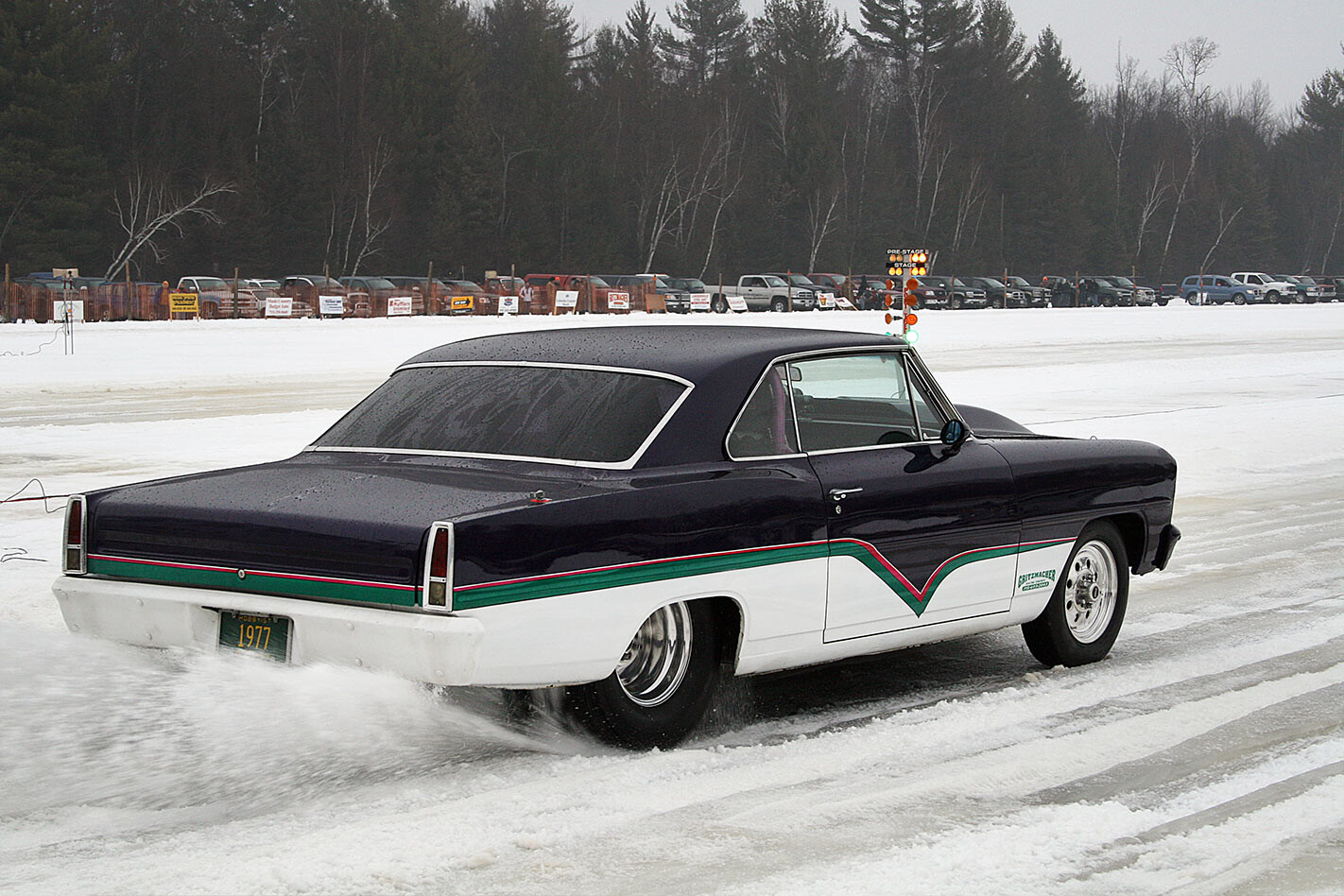 4. Jesse Bornfleth is the president of the Merill Ice Draggers and gets his kicks in this '66 Nova. Racers are timed over the eighth-mile, with about a quarter-mile of run-off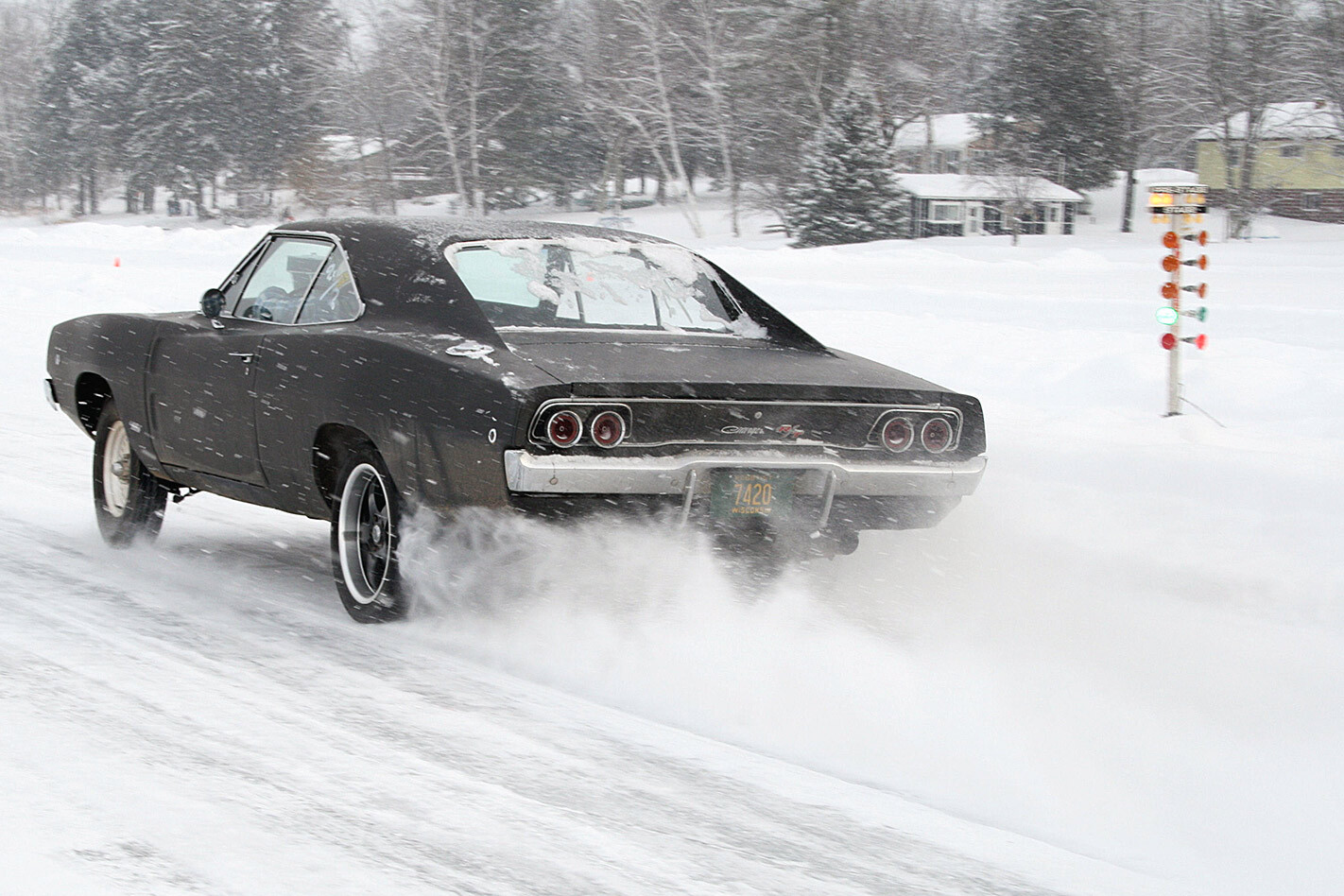 5. A '68 Dodge R/T Charger is virtually a religious artefact in Oz, but to Paul Meyer it's just the perfect candidate for the ice drags, running a four-speed and tunnel-rammed 383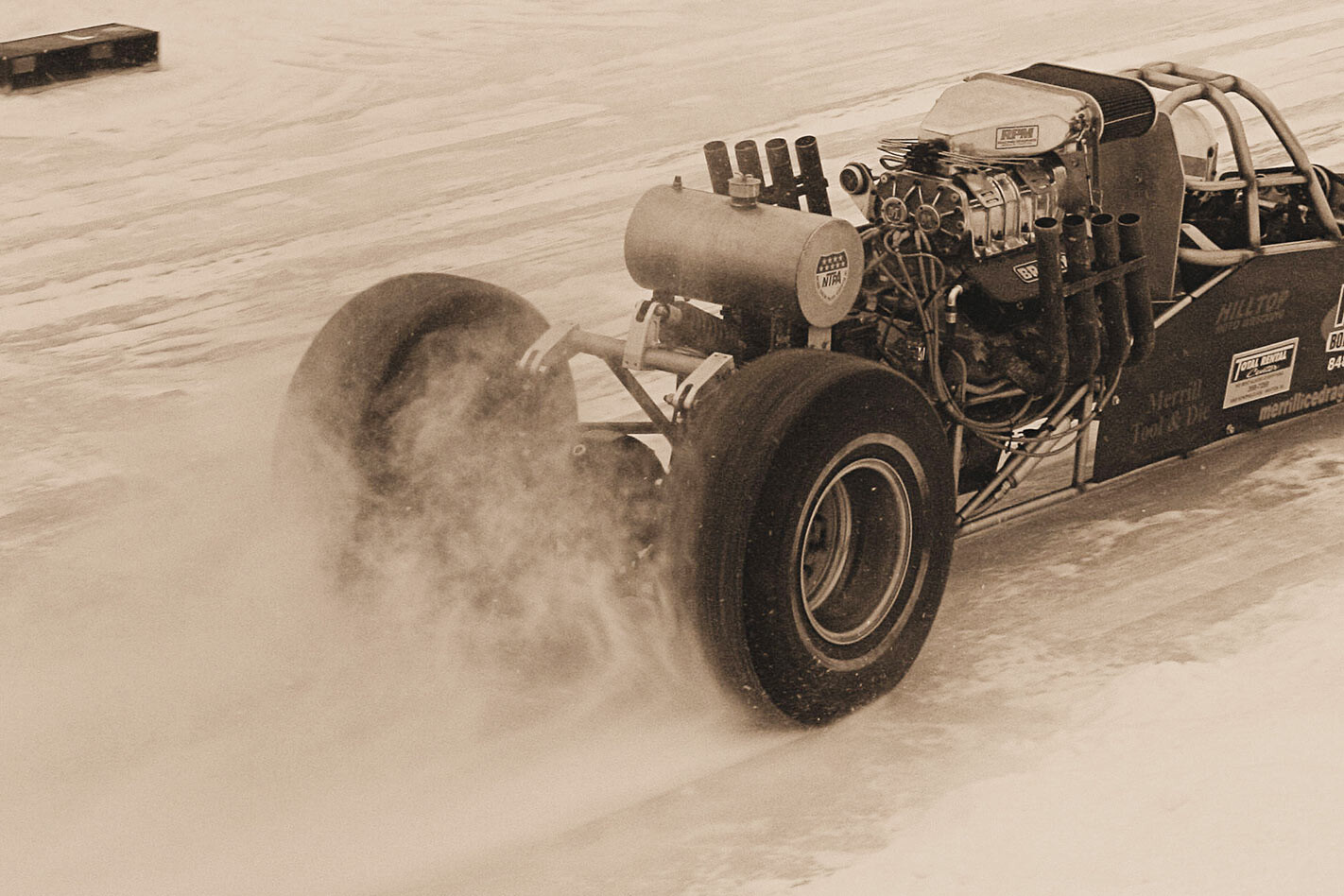 6. Donney Woller's Outlaw rail. Its blown, injected alcohol BBC thumps out about 1500hp. "It's a pretty good rush," Donney says. "It feels like you're strapped to a rocket when you take off." Last year he held the class record at 5.66@140mph, and he aims to get it back