A BIT over 10 years ago, Angelo Furfaro bought himself a 273ci, V8-powered '67 Valiant as an occasional cruiser. It was a real survivor, as Angelo says: "It was mint – very little rust, and all the hard stuff like glass and moulds were all pretty good."
First published in the August 2019 issue of Street Machine
At the same time, Angelo was also getting around in a stout '63 Nova that he'd revamped after purchasing it off Gavin Dowling (SM, Sep '14) minus the driveline.
"My wife Kylie and my boys Sebastian and Daniel loved the Nova," Angelo says. "We cruised everywhere in it: to the drags, street meets, Sunday morning coffee runs – everywhere!"
But Angelo had an itch to build something on a whole other level. He was inspired by cars like Anthony Trevaskis's AGRO64, Peter Fitzpatrick's FC, XBOSS, and Gary Myers's various toys – and he chose his neat VC as his canvas. "I've always loved the shape of the VC, especially the squared-off rear quarters with its three sergeant stripes," he says.
Rather than kick the build off by taking a fully functional, driving car and blowing it into a thousand pieces spread between here and Timbuktu, Angelo started planning instead. "I was determined it wouldn't become one of those unloved, unfinished projects for sale because the owner has had enough of it," he says. "I also didn't want the build to get put on the back-burner while waiting for parts. I spent three years doing tons of research, as well as collecting everything I needed. I had parts everywhere – in my garage, in my shed, under my bed, even in our walk-in robe!"
The original theme was a silver exterior with a black vinyl roof, black interior and a pair of turbos for the 273. That all changed on the back of some wise advice.
Peter Teague from PET Racing talked Angelo out of working the old 273 and sold him on the idea of an ex-NASCAR mill instead (read more below). With that 358ci beast no longer revving to 9000rpm, the original five-stage dry sump was reconfigured to a three-stage system, with its reservoir tank mounted up under the passenger-side fender. By keeping the turbos small, it's on-boost by 1800rpm. PET also took compression and cam out of it so it would happily run on 95-octane E10 but still pump out near 750 horses on 6psi, with a good bit more to come.
Sign-up here for your free weekly report on the world of Street Machine
In the name of serviceability, Eliminator Rod & Custom knocked up a removable radiator support and front assembly – a couple of hoses and a handful of bolts and just about the whole front of the car comes off in one piece. From there the engine and built 727 Torqueflite can be easily slid out as a single unit. The driveline-related fab work was performed by Pro Street Development, whose handiwork included the headers, transmission mount, and sheet-metal nine-inch filled with a Truetrac centre, massive 35-spline axles and Race Products full-floating ends.
"Other than the doors, I don't think there's a panel in this car that hasn't been modded or remade," says Angelo. "This created a constant battle of changing things to make them work with all the other things we changed. Aaargh!"
Peter and the crew at Stylerod Panels spent many hours fine-tuning the panel gaps and fettling the body into its current arrow-straight form. They then rolled the car into their booth to lay on that sensational one-off shade of silver.
The other big departure from the original plan is the car's interior. "That's all Emmanuel from the Trim Shop," says Angelo. "He said: 'Go different – don't be one of these guys that do the silver/black combo.' I'm so glad I did." Emmanuel suggested blue, which Angelo was quite apprehensive about, but once the two saw a few blue samples up against the silver, it was a slam dunk – and it looks awesome! PROVC's interior is quite a work of art.
"I didn't want the 'cage to hang down at all, so we tucked it up very tight," says Angelo. "This way it could be trimmed over, virtually making it disappear."
With so many memories in the Nova, it broke Sebastian and Daniel's heart when it had to be sold to finish the Val. "This only drove me harder to get it finished," says Angelo. "The boys love the Val – I think it's more than made up for the loss."
In the Street Elite Showcase at MotorEx 2019, PROVC picked up gold medals in Body, Engineering and Engine Bay. It also snagged the Street Machine/Muscle Care Pinnacle award as well as the Laurie Starling award – what a haul!
"We drove it home from MotorEx," says Angelo. "The boys were so excited to be cruising home in their new favourite ride. It was quite something."
Despite all the positivity, Angelo freely admits he'd sell the car if someone offered the right money. "It's too nice," he says. "I'm too paranoid about it when I take it out. It only goes out when there's zero chance of rain. Even then I spend ages cleaning it after only a short drive. I can't relax and just enjoy it."
A car that's too nice to enjoy – now there's a problem many of us will only ever get to dream about.
MEGA MILL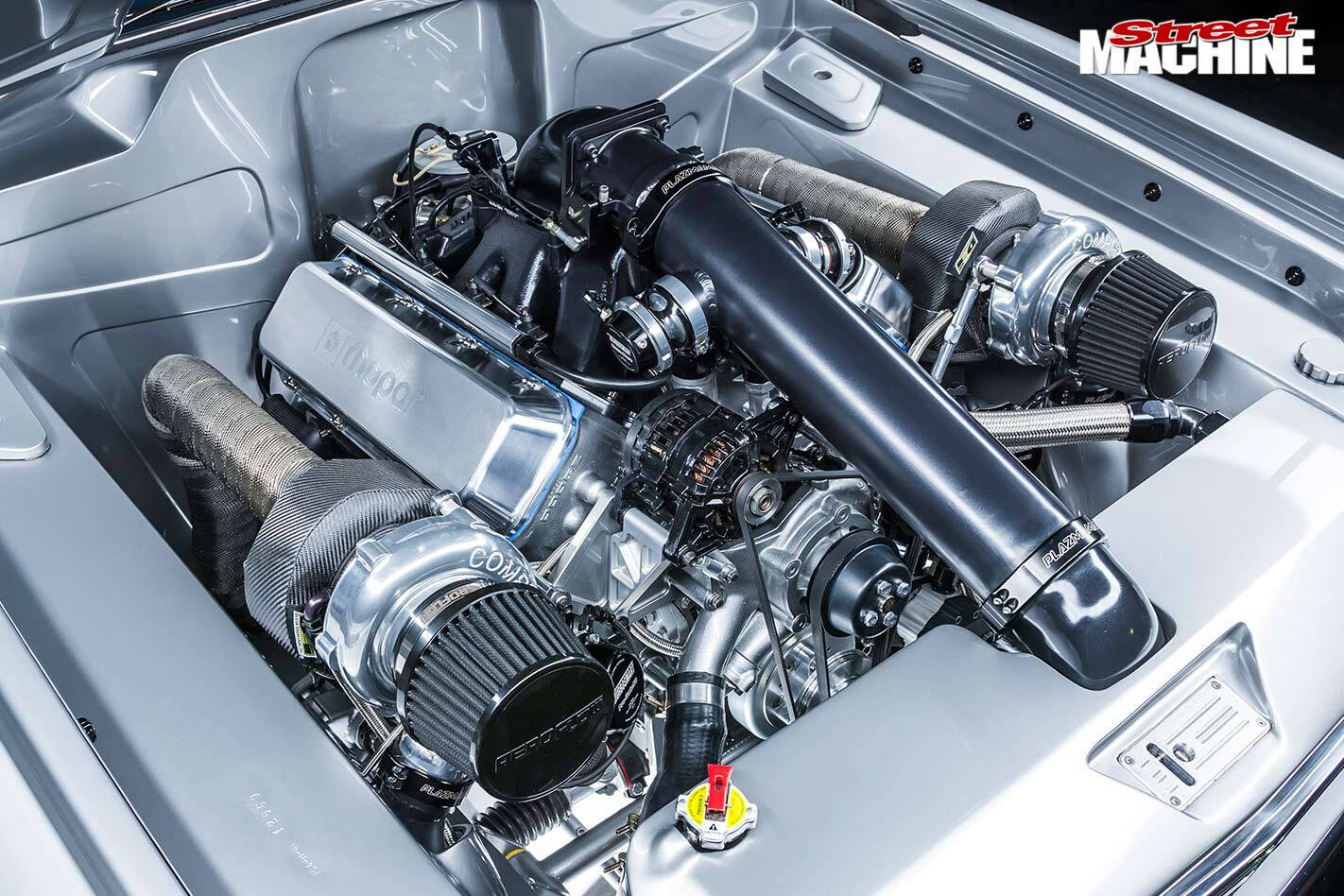 INTRODUCED to NASCAR in 2001, the Dodge/Mopar R5P7 358ci (5.9L) V8 is good for 850hp in race trim and will happily sit on 9000rpm for an entire 500-mile (805km) race.
Because of a rule change in 2012, all the racing R5P7s were pensioned off, and while many of these cutting-edge pushrod mills found new homes in other race categories, some have been turned into mega street engines.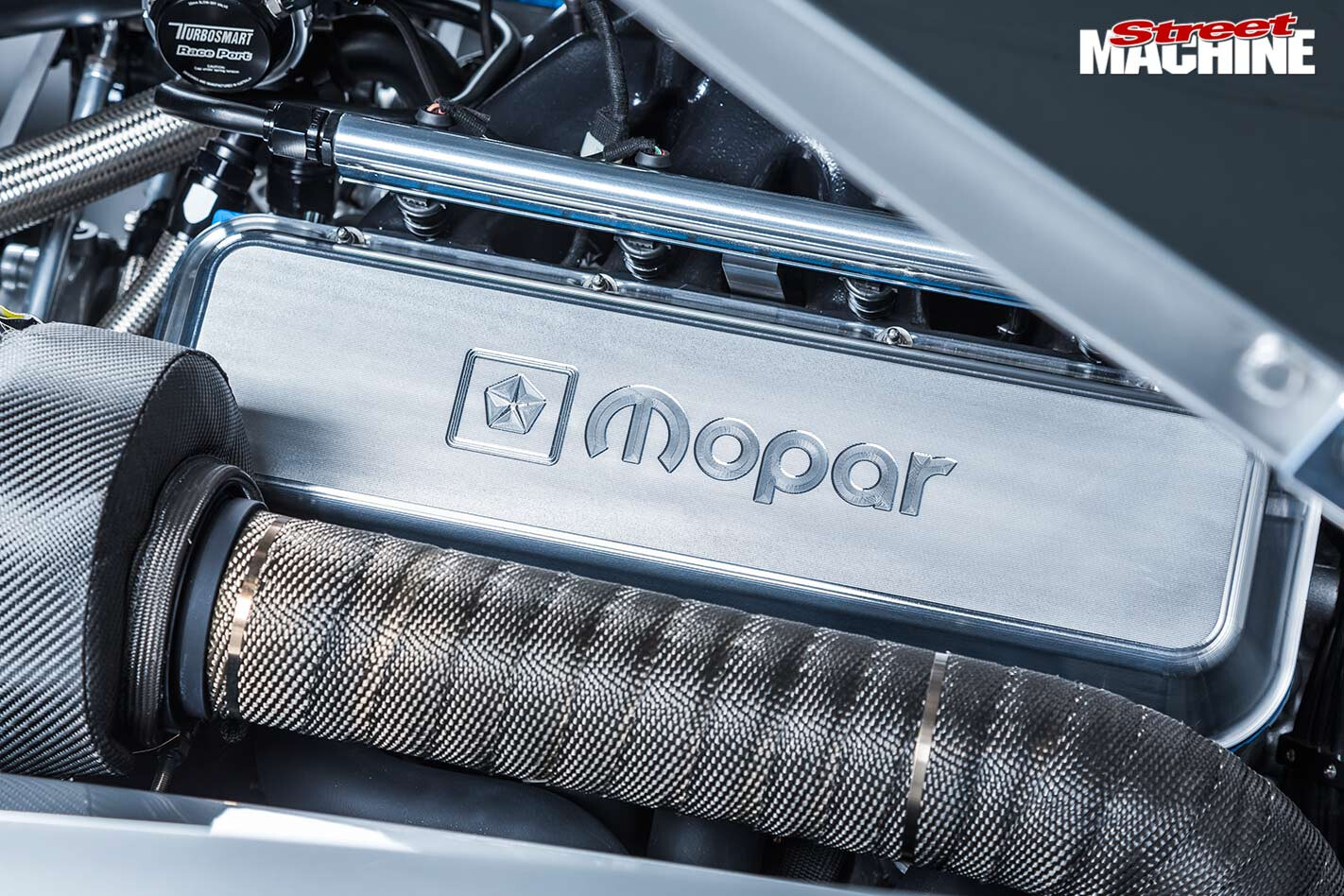 Steve Day helped source the Evernham Motorsports engine for Angelo's VC. It was ready to rumble, but the plan to strap on a pair of T3-sized Comp Turbo hairdryers meant a full tear-down and reconfiguration was in order. A set of custom rods was ordered to drop the compression from around 13:1 to a boost and E10-friendly 8.5:1. The solid-roller cam also had a bit ground off its lumps to tame things down. Strapped onto Steve's dyno and with Peter Teague's tune loaded into the Autronic ECU, the VC netted 748hp and 680lb-ft at 6200rpm – on just 6psi boost!
"Once I get used to it, we'll wind the boost up to 10 or 12psi," says Angelo. "This should push output well past its race spec, while delivering heaps better reliability. It sounds real tame at idle, like a stocky with a cam in it. And while it does like to rev, it's never insanely loud – it doesn't attract too much attention."
FULLY ENGINEERED
ENHANCED torsional rigidity improves handling, stopping and acceleration by enabling the suspension to work more efficiently. A stiffer chassis also makes the suspension more tuneable. In addition, better weight distribution loads each tyre more evenly for greater overall grip.
To achieve these goals, PROVC has undergone serious re-engineering. Rod-Tech custom-built a double A-arm front end with rack-and-pinion steering to take the place of the original torsion bar arrangement. Out back there's a four-bar set-up, complete with Watt's link. Controlling it all is a set of killer Penske shocks by Bill at North Terrace Tyres. The engine has been set back several inches, and to tuck everything up out of harm's way, a new complete raised floor was fashioned. The sill panels now wrap right under and extend across to the original chassis rails. Triangular panels have also been added at each corner to further anchor everything.
The front rails have been box-plated, while the beefy new rear crossmember and the gearbox crossmember are tied together with a sturdy chrome-moly X-brace. On top of all this there's a six-point rollcage tucked up inside. This is one mighty stiff VC Valiant that's also way better balanced.
ANGELO FURFARO
1967 VC VALIANT
Paint:
Custom Silver
ENGINE
Brand:
NASCAR 358ci Dodge/Mopar R5P7
Inlet manifold:
Mopar R5P7
Throttlebody:
90mm Accufab
ECU:
Autronic
Heads:
Mopar
Turbos:
Twin Comp Turbo
Wastegate:
Turbosmart
Blow-off valve:
Turbosmart
Intercooler:
3in core
Camshaft:
Solid-roller
Conrods:
H-beam
Cam drive:
Jesel belt drive
Pistons:
Forged
Oil pump:
Dry sump
Ignition:
MSD
TRANSMISSION
Gearbox:
727 Torqueflite
Converter:
TCT 3000rpm stall
Diff:
Sheet-metal 9in, Race Products full-floater
Centre:
3.25:1 Truetrac, 35-spline billet axles
SUSPENSION &
BRAKES
Front:
Rod-Tech double A-arm, rack-and-pinion steering, Penske coil-overs
Rear:
Four-link and Watt's link, Penske coil-overs
Brakes:
Wilwood (f & r)
WHEELS & TYRES
Rims:
Street Pro II; 15×6 (f), 15×10 (r)
Rubber:
M/T Sportsman; 205/55R15 (f), 12x28x15 (r)
THANKS
Peter at PET Racing; Troy & Sean at Eliminator Rod & Custom; Leigh at Pro Street Development; Peter and team at Stylerod Panels; Ryan at Race Coatings; Neal at Romsey Auto Electrics; Emmanuel at The Trim Shop; Antonio at Autobarn Epping; Al at Wizard Hoses; Peter at Custom Towing; Nazir at TCT Torque Converters; Gerto's Metal Polishing; Greg Maskell; my brother John for all his hard work; my wife Kylie and kids Sebastian and Daniel for putting up with all my late nights in the shed