Back in 1990, we ran a story on a super-cool '63 Nova. These days it's back and running nines in street trim
This article on Gavin's Nova was originally published in the September 2014 issue of Street Machine
WHEN we first featured this '63 Nova, back in the July/August 1990 edition of Street Machine, it was owned by Geoff Thurling. When Geoff bought the Chevy, it had a 327 V8 and a bright red paint job. Geoff treated the Nova's mouse motor to a host of go-fast bits and topped it with a trick M/T cross-ram manifold.
Backed by a manualised 'Glide, it was a typical street 'n' strip car of the day. But it wasn't quarter mile times that drew attention, it was the quarter panels.
Back in the 90s, graphics were all the rage, and the graphics on the panels of the Nova back then were among the coolest. They were applied by master of the form Ralfus and were accompanied by other styling cues of that era, including painted bumpers, lashings of braided line, a bolt-in half 'cage and crazy bright trim to match the paintwork.
Geoff chose the Nova because he was a GM man, but still wanted something lightweight for racing, yet practical for cruising. And while current owner of the Nova, Gavin Dowling, has not only changed the Nova's look, and increased the go-factor considerably, the cruise and bruise philosophy behind the car has remained strikingly similar.
When Gavin bought the Nova as a rolling shell back in 2009, his first job was to strip the graphics. Plans were then made to re-paint just the sides, as the rest of the Rally Red duco presented well. However it wasn't long before the sad history of poor workmanship (prior to Geoff's ownership of the car) became apparent. On a rotisserie, Gavin was forced to strip the car back to bare metal; from top to bottom. The more he stripped the more bog and filler he found: "I was expecting chicken wire at any moment, but it's about the only thing I didn't find!" he sighed.
Gavin's pretty clever with a credit card, so he purchased as much stuff as he could off the net; tail-lights, headlight surrounds and brightwork. Even the bumpers were ordered straight out of the USA.
Plenty of repair panels were available too; tail-light apertures, sills and door skins were all on the shopping list. Fortunately Gav's also pretty handy with a hammer and dolly, so anything he couldn't get off the shelf, he got busy and hand-fabricated himself; including modifying a coupe front door skin to suit.
He mightn't be a panel beater – he's a fitter and turner by trade – but clearly, after building several streeters over the years, he's got some skills. Still, Mark 'Drewy' Drew was on hand to help with the final touches. And, once the bodywork was complete, it was time to hand the shell over to Matty Petrovics for a few coats of Baslac straight red tinter.
Gavin's also not a qualified mechanic, but after a lifetime of fettling tough SBC-powered rides, he's got the talent to build exactly what he's after. He figures if he builds it himself, he's the only one to blame if it goes bang!
So, starting with a Dart SHP 400-cube block, Gavin filled it up with a treasure-trove of gear; Pro Systems 1150cfm carburettor, Edelbrock intake, AFR Comp Eliminator heads, Morel roller lifters, Mahle forgies and 16 AFR valves bumped by Trend pushrods and a monster-sized Wade camshaft. An Eagle crank with a four-inch stroke pushes the capacity to 434 cubic inches. The combo has made 707hp and 578ft-lb at 7100rpm on BP 98.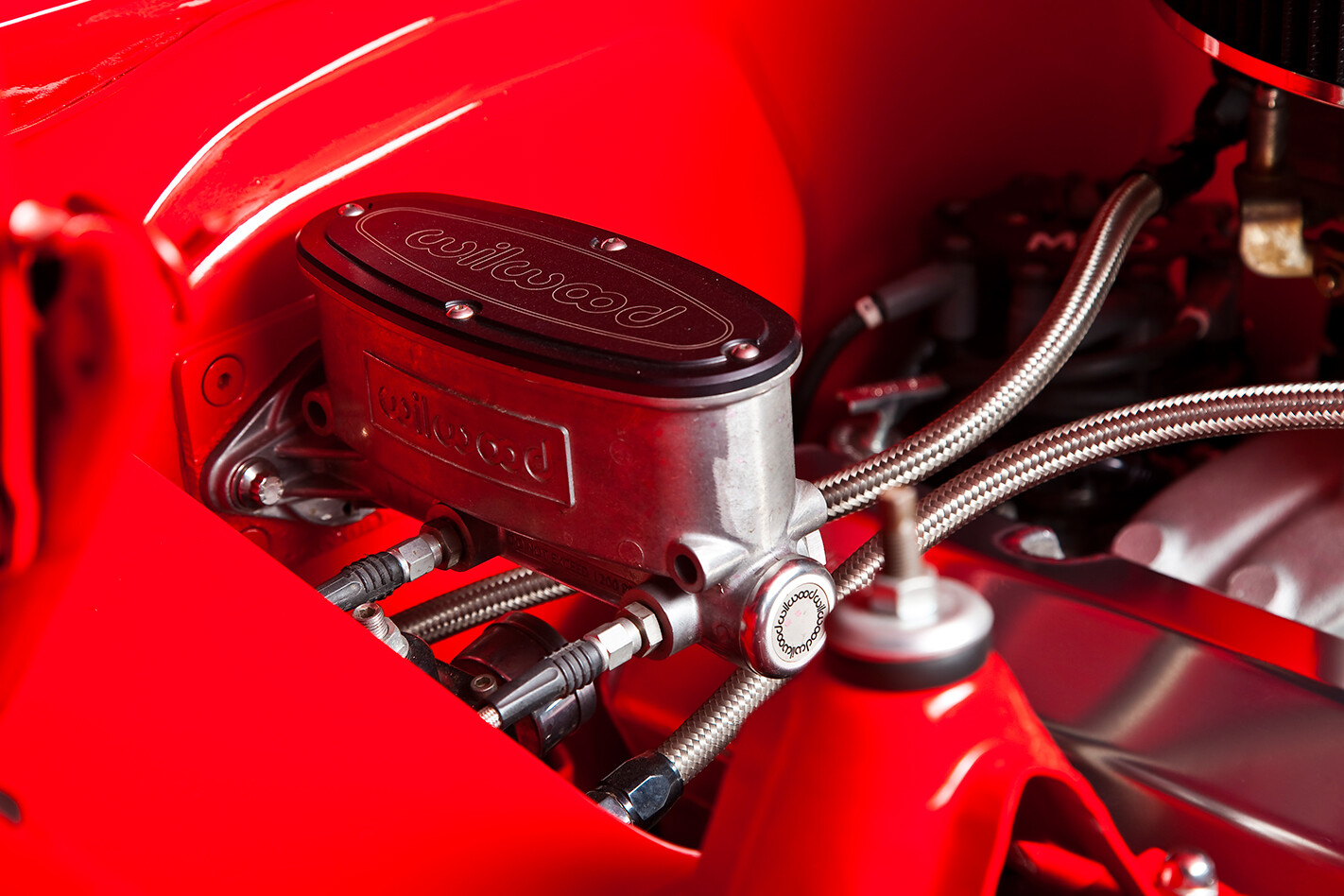 Because it was purchased as a rolling shell, Gavin sourced a Powerglide to back the tough mill, but not before getting Matt DeSpirt from MDT Race Engines and Autos to manualise and transbrake it up; matched to a 6000rpm converter.
Back in the day, the Nova ran four-wheel drums. Now it's pulled up by a full set of Wilwood discs clamped by four-piston calipers. All of the underpinnings received a massive upgrade thanks to the power of the US aftermarket. At the pointy end is Classic Performance Product's Mini Sub-frame kit that adds a whole heap of strength and adjustability. At the rear is a Calvert Racing split mono-leaf spring and matching Caltracs. The diff? A nine-inch Ford diff with Strange 4.33:1 full spool internals in a sheetmetal housing, spinning a pair of 35-spline billet axles.
Refreshing the cockpit was easily achieved by ordering a complete repro interior straight from the States. The stock-style interior suits Gavin fine; he never set out to win trophies, just races. To date, he hasn't entered any event where the Nova's been standing still. But he has taken it to Heathcote and run a best of 9.86 at 135mph on 275 street radials and 98 pump fuel, with all four mufflers in place. It's also reasonably economical, sipping 45 litres on a 200km round trip to MotorEx.
It's still running the original bench up front and retains the stock fuel tank down back, so as not to rob boot space for Eskies, chairs and other necessities when cruising six-up with friends and family.
But what's the point of this car? Geoff Thurling knew it back in 1990 and Gavin Dowling revisited, refined and improved it for the 21st century. The Nova is something GM, something different and something that easily cruises six people in comfort yet cuts a quick quarter mile. What's not to love?