WE ALL know that person who spends an eternity tinkering with one specific car. You know the deal, the decade-long build that never seems to get finished, or the one jinxed with dramas once it hits the road. Well spare a thought for these poor Johnny Solos and their one-car Field Of Dreams; they'll have a coronary casting their eyes over these pages!
Vanning stalwarts Susan and Grant Kelley are the polar opposite of this scenario with their fleet of 13 – yes, 13 – Holden panel vans. They crank out fresh projects with tireless enthusiasm, and are masters at planning a build to the nth degree then executing it with little to no goalpost-shifting – and that, my friends, is the key to any successful project.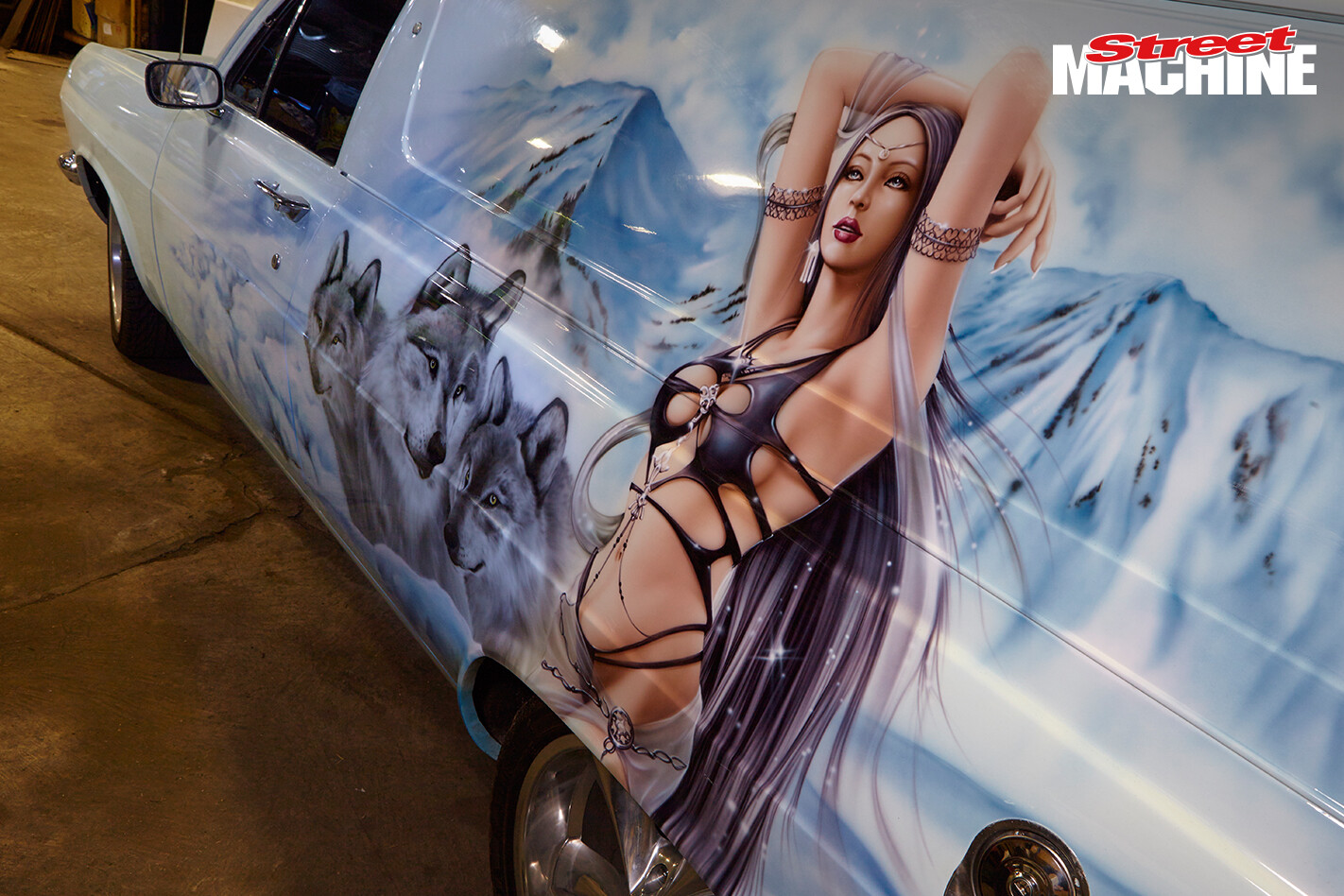 For me, just keeping track of that many car keys would be a friggin' nightmare, but the Kelleys reckon the number 13 doesn't always deserve its unlucky reputation: "It's the extra half," Susan laughs, referring to their custom van trailer. "Thirteen and a half is the real count, so I think that's what gets us over the line."
Such an extensive collection – with each van built to a specific and well-thought-out theme – must stem from some seriously embedded passion, and that is well and truly the case for the Kelleys.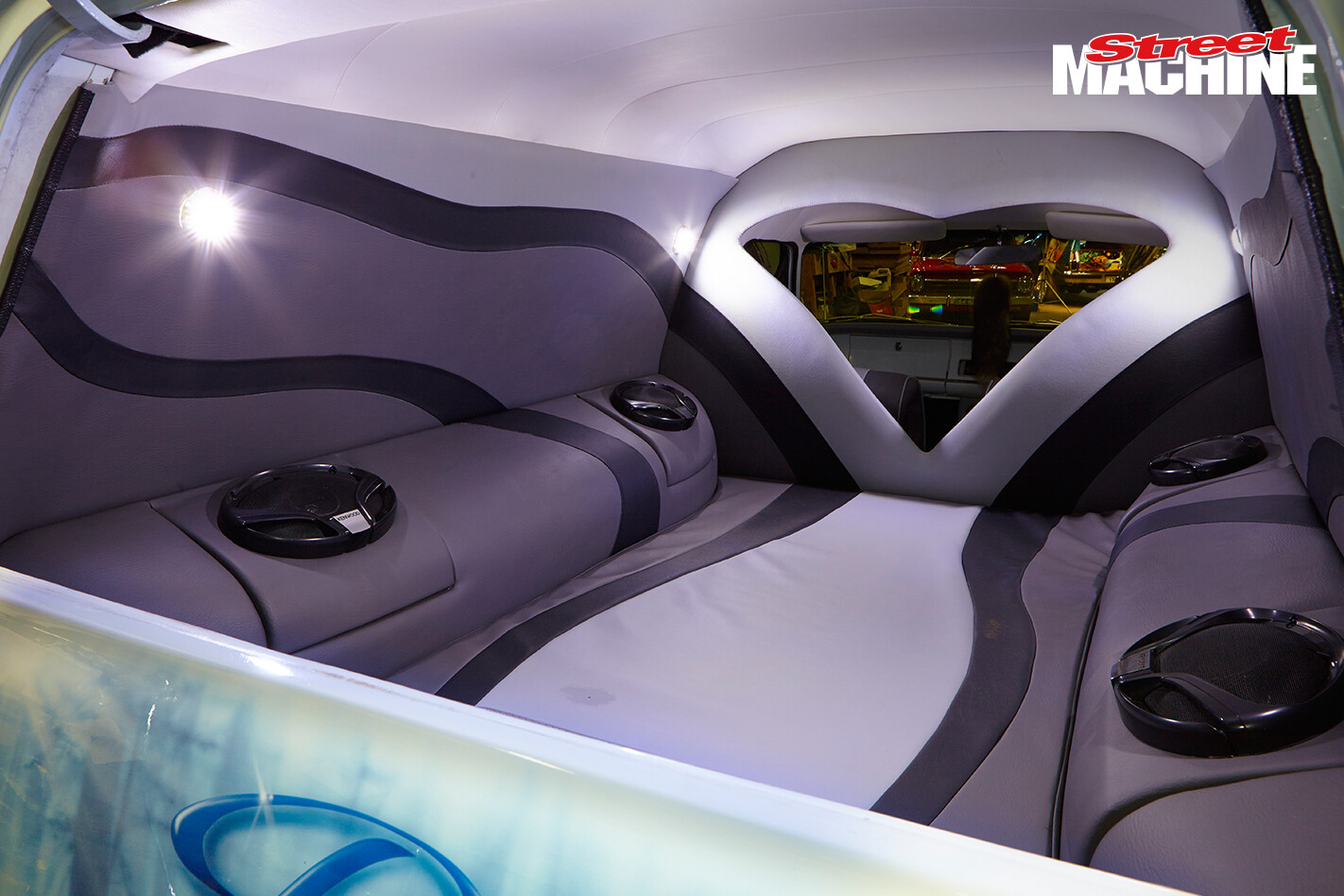 "My folks had an HG van when I was born," Susan says. "My early years were spent being ferried around in a wicker bassinet in the back of that thing until my younger siblings arrived and the van was traded for an LH Torana. So vans and Holdens are part of my DNA; I still have the summertime black vinyl and metal seatbelt burns as proof!"
Husband Grant takes up the story. "When I met Susan in our teens I had an HQ Sandman and Escort van," he says. "Back in the late 80s and early 90s you were a bit of an outcast if you were into vans. I just wanted to build something different to all of the usual Toranas and Commodores. I remember buying the old show van Dragonslayer for $1200 in the late 90s, and even genuine Sandmans were worth nothing."
It's safe to say that Susan and Grant are living proof that a couple who play together stay together, and while their earlier years were focused on raising a family and building up a successful business, the pair always managed to keep a hottie or two in the garage.
Their enviable collection is the result of plenty of hard work, as you can see from these photos. Each build starts with ideas for an identity, which blossoms into an overall vision where each element relates back to that idea – the relationship between paint, interior and running gear, and how they create a personality for each build. "I Google random names and words that I think suit their various colours," Susan explains. "When I find something I like, it gives me a basis to research from and everything else just falls into place."
Their blue WB Caprice-fronted HJ dubbed Cimmerian is the perfect example of this process, and was one of the first vans added to their current stable. Cimmeria is the fictional homeland of Conan the Barbarian, as reflected in the van's Conan-themed murals and interior. "I swapped a Commodore for this van in 1992," Grant explains. "It is actually a genuine XX7-plated HJ Sandman under all of the glitz and glamour, but now runs a 308 instead of the original 253. I'm a big fan of the HQ-WB series, whereas Susan likes the little vans."
The 'little' vans he refers to are of course the three EHs the Kelleys have in their current line-up. First is their probably best known and most successful van named The Last Stand, its gunmetal grey paint covered in appropriately themed Ned Kelly murals. Like many of the Kelley collection, 'Ned', as the EH is nicknamed, was purchased as a road-going, near-completed van, which saves on time and the many headaches that can pop up with a full build, and of course the dollars that can be saved when you buy someone else's over-capitalised project.
Ned was already engineered with a 308 and Trimatic, which was another bonus, and was partially stripped down for a makeover. The paint was freshened as necessary before Wayne Harrison from Advanced Airbrush weaved his magic on the majority of the EH's exterior surfaces. New wheels and an interior revamp by TQ Motor Trimming had Ned all ready to roll, the finished product snaring 8th Top Van, Top Interior, 2nd Top Murals, Top Ladies Van and Vanners' Choice at the 40th Van Nationals held in Bathurst last year.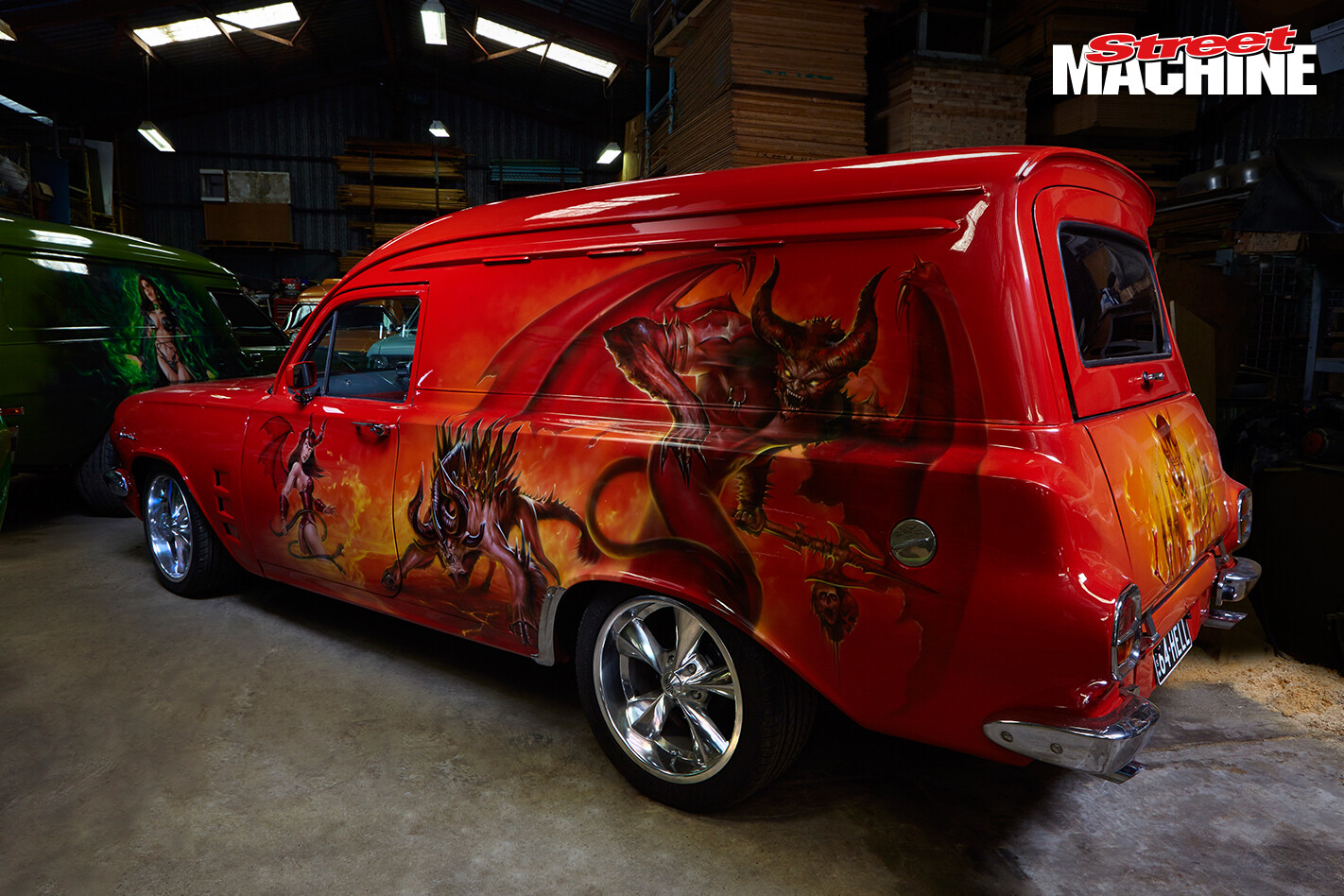 Interestingly, Ned was bought as a replacement after the Kelleys initially missed out on the purchase of the first of their two red EH vans, Lucifer. "Lucifer was owned by a guy in Botany for a number of years and we were gutted when we missed out on it first time 'round," Susan says. "When it was readvertised a short time later we made sure not to make that same mistake twice."
The Lucifer theme was born from the van's existing fiery red paint and use of flames in the original interior. "It was very plain inside and needed some repairs, so we had TQ Motor Trimming take it to the next level," Susan explains. "That, combined with more of Wayne's handiwork for the exterior, locked down its new image, and Ned and Lucifer make for quite a sight when driven or displayed together."
Two of the couple's most recent projects include the flip-fronted HQ, Eureka, and their green HX, Poison Ivy, which was a Facebook find. "The Hothouse Green paint was in good condition and Susan had the Poison Ivy theme nutted out straight away," Grant says. "It already had a 350 Chev, which was a bonus, so it was simply a matter of putting a smile on its face. The rear had been decked out in inch-thick shagpile, which was given the flick for a more modern finish, and we sent it straight to Wayne for a new round of murals." A full-length grille and quarter bumpers are recent additions, along with a matching van trailer – this jaw-dropping pairing stops people in their tracks and has earned a strong following even from non-panel van fans.
"It makes a statement, that's for sure," Susan says. "We like to push the envelope and show that you can create maximum impact just by stepping outside of the square every now and then." That mindset is front and centre for the build of Eureka, originally bought three years ago as a package deal with the van trailer now hitched to Poison Ivy. The full-steel WB Caprice tilt front is an old-school custom touch that ties in nicely with the modern Suzuki blue paint and big-diameter rims. The previous 308 has been replaced by a 350 small-block and Turbo 350 combo, and the front sheet-metal mods enable it to be displayed to its best.
But the passion doesn't end there. Susan and Grant have a few more van projects they're keen to tick off their collective bucket lists, including the current build of a blown small block-powered drag-styled HQ, and a concours restoration of a Panama Green HZ Sandman. "Well, it'll be 94 per cent factory original," Susan says. "It has a full set of five 15-inch Pontiac versions of the original GTS wheels, and a rear bubble window, so there's your missing six per cent!
"This original restoration has been our hardest build to date," she continues. "It is far more difficult than doing a custom van, but the end result will be worth it. If we get sick of vans, there is always an EH sedan and Dukes Of Hazzard '69 Dodge Charger to tinker with, so yep, we'll be busy for a while yet!"
CIMMERIAN
If Cimmerian looks familiar, it may be because it formed the basis for a Nigel Day-Photoshopped, Camaro-fronted image (above) that recently did the internet rounds. It really looked the part and fooled many, including the Yanks. The real deal sports a WB Caprice nose and 308 power. This is one of the longest-owned vans in the Kelley collection and actually left the factory as a genuine XX7 Mint Julep HJ Sandman.
EUREKA
This HQ named Eureka is at the tail-end of a three-year build that included a WB Statesman tilt-front conversion and a respray in Suzuki Swift blue. A 350 Chev and Turbo 350 replaced the original 308 and Trimatic, and possible future plans include a name change, and murals by Wayne Harrison of Advanced Airbrush.
DESIRE
The HR named Desire was built to be an everyday driver and was the first of the Kelley fleet to be airbrushed by Wayne Harrison. "We didn't know Wayne, so the HR was used as a guinea pig," Susan says. "We couldn't have been happier with the end result; we love his work and have become great friends with him since."
CHERRY PIE
The Kelleys' red EH, Cherry Pie, was bought from Cooma and runs a hot little 192 with triple carbs and all the gear. "It's pretty much as-bought, apart from the wheels and rear bubble window, but will have its time to shine soon enough." Susan says. "Wayne already has some ideas lined up for its artwork so I can't wait to see the finished product."
THE LAST STAND
This EH, officially called The Last Stand but more affectionately known as Ned, has left its mark on the show scene in recent years with its 308 drivetrain, amazing interior and extensive airbrush art. "We don't really class our cars as 'show cars'; it's more that we just love getting them out and about," Grant explains. "Plus it means you get to park inside instead of out in the street, which is a huge bonus!"
DARK ANGEL
Dark Angel is the Kelleys' HD, which was bought from Queensland as a plain silver van in 2011. It has been finished to full X2 spec, including its twin-carbed 179 HP red motor, sports dash and badgework, while a complete interior revamp and murals lock down its new persona. "Grant thinks HD fronts are ugly, so we bought this with plans to fit HR sheet metal," Susan says. "In the meantime we found an HR on eBay that eventually became Desire, so the HD front received a stay of execution!"
LUCIFER
The red paint and devil-and-hellfire murals make the Kelleys' other red EH, Lucifer, a standout. A fresh interior and wheels finished off the look, while 186 power makes for reliable cruising. "It was a very neat car from the get-go, but a little plain," Grant explains. "But we got that sorted quick-smart and have been having a ball with it ever since."
POISON IVY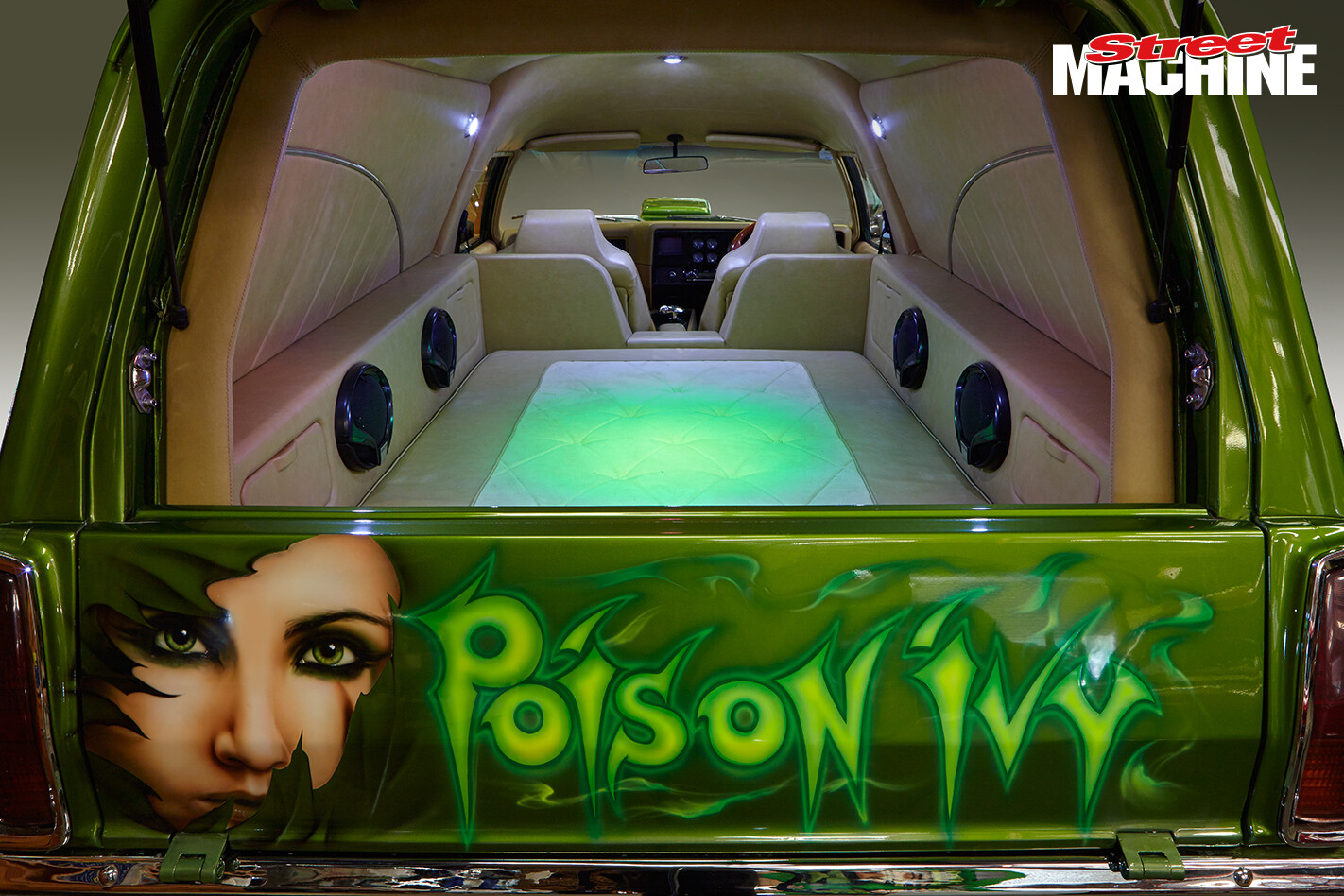 Hothouse Green paint was the perfect inspiration for this Holden's Poison Ivy makeover. "It came up for sale on Facebook," Grant explains. "Although we didn't really need another van, it already had a 350 Chev fitted and was in great condition. The fact that we weren't looking to just buy and re-sell it for a profit sealed the deal, and we're still in touch with the seller; he loves what we've done with it and knows it's found a great home."