Even before it was released, Ford engineers knew that the Barra was going to be A Very Good Thing. That's why they codenamed it Project Gull, as, according to engineer Gordon Barfield, they "knew it would crap on everything".
First published in the October 2023 issue of Street Machine
Part of the huge appeal of Ford's Aussie inline six is the ease with which you can make up to 650hp without resorting to a full engine build. Yep, the Barra is a rudely capable engine, but there is some key info to know before you get started on your first bolt-on Barra.
"Oil pump gears, valve springs and head studs are pretty much the go-to modifications," says Zane Heath from Melbourne's Maxx Performance. "But I actually tell people to start with the fuel system, which seems backwards, but Barras are under-fuelled from the factory. I always start with 1000cc injectors and a Walbro 460 off the bat."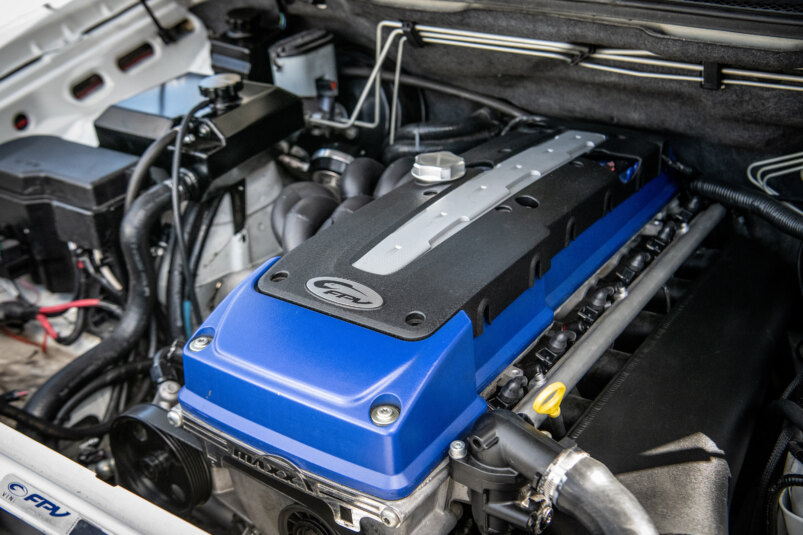 Rather than fitting them near the fuel tank down the back of the car, Zane likes to install surge tanks up front, which saves the time and expense of upgrading the fuel lines for most street combos. "A surge tank under the intake manifold means a factory 8mm fuel line can handle heaps of power," he explains. "If you have the pumps and surge up the back, you need to upgrade the whole line to the front of the car to go anywhere near 650hp."
Fuel choice can cause other headaches in certain combos, especially for those wanting to turn the wick up on a naturally aspirated engine on pump unleaded. "If you're using a gas motor or NA motor, you're limited with your fuel due to their comp ratio," Zane says. "It's easy to set them up on E85, and while you can make 400rwhp on 98 on a gas motor, it's on borrowed time."
Zane cautions not to short-change your combo by cheaping out on parts; otherwise, your engine could wind up as a consumable. "Spend the money on good parts if you want your Barra to live," he says. "If you're going to have a Barra with a cheap manifold, intercooler and turbo, it won't last. For instance, with intakes and intercoolers, you could buy a big cheap one and it won't be as good as a well-made smaller unit."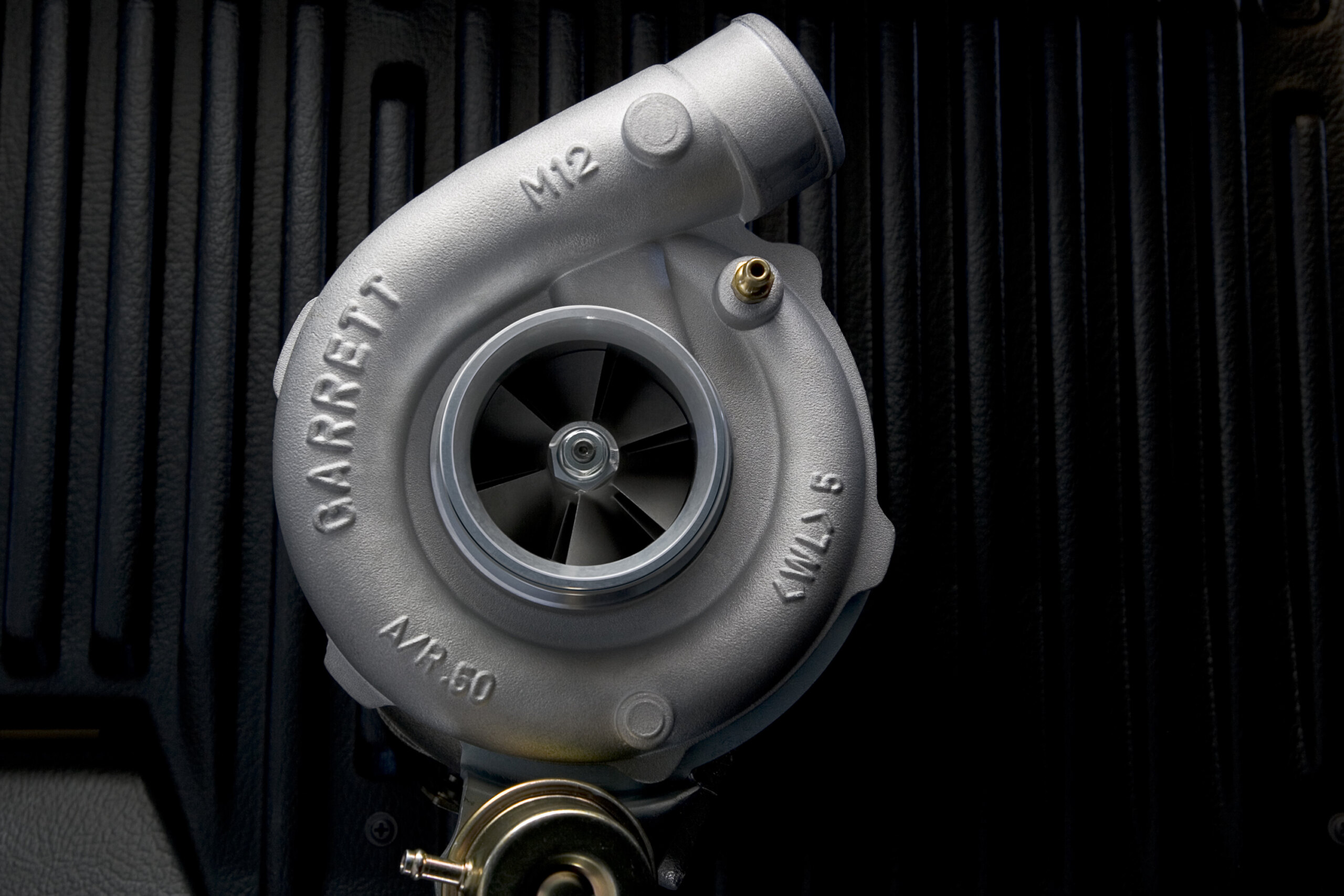 One of Ford's best pieces of over-engineering this century was fitting BA-BF XR6 Turbos and FG-FG X F6s with a Garrett GT3582R (sometimes called a GT3540) turbo capable of producing over 600hp. With an upgraded wastegate spring, they can hold more than four times the stock 5psi boost, although FG models had a smaller turbo for better response. "An FG will need an aftermarket turbo to get to 670hp," says Zane. "Anyone who brings me an FG, I bolt on a direct-replacement upgrade Garrett GTX3582."
Ford didn't do quite as well equipping the Barra with valve springs. Stock springs only hold 50psi of seat pressure, so with 15psi boost, you've reduced seat pressure to 35psi. This isn't enough to keep the valves closed at high rpm, allowing boost to escape into the exhaust without being compressed.
Zane also suggests going large on the exhaust system. "For the exhaust, bigger is better, and especially if you're running 98 fuel," he says. "On 98, you need a four-inch turbo-back exhaust. It will be louder, but it'll make the power easier. A 3.5-inch system will make 650hp, but the four-inch will do it easier. It's a four-litre engine, and when you chuck 22psi of boost in there, that's a lot of air to move!"
Of course, power is nothing without control, and thankfully the Barra ECUs for the BF-FGs are great. These highly capable units can be flash-tuned, which saves time and money over having to install a full stand-alone system. That said, the BA ECUs aren't quite as nice. "Throw BA ECUs in the bin; the solder joints crack, so some guys have to pour hot water on them to cold-start their cars!" Zane says.
"We install and tune a lot of the Haltech Plug'n'Play ECUs, and I have them in my cars because there are a lot of benefits to them. But the standard Barra ECU can make a lot of power, is very useable, and is easy to unlock, making it great for conversions."
Ultimately, Zane rates the Barra as a super-capable engine where only a few specific issues can cause failure. "We still do two to three Barras a month that will do 650hp on stock engines," he says. "Barras fail from poor tuning, a fuel system failure, or over-boosting. If you have boost control, enough fuel and a good tune, they'll make great power and last."
And while the last Barras rolled off the production line seven years ago, they remain a very popular platform. In fact, VPW's Jake Cugnetto reckons the market for Barra parts has grown massively in the past two years. "It's up there with the LS now as one of our more popular platforms, and the customer demand has really stepped up," he says. To meet that demand, the VPW team started growing their Barra offerings. "Our sales team are great at giving us feedback on what customers want, so we decided which products to give priority to based on that," Jake says.
FUTURE SHOCK
With the newest Barras rolling out of dealer lots in 2016, some seven years ago, concern is building about stocks of spare parts.
"Ford has now stopped supplying pre-Mk2 FG parts, so they don't have anything pre-2013," says Zane. "There are no more new blocks, heads or sumps. There is a bit of random stuff left, but the main parts are all gone."
Age is catching up with the big 4.0L in other ways, too, as Zane is seeing new failure points in engines that have done a bunch of laps.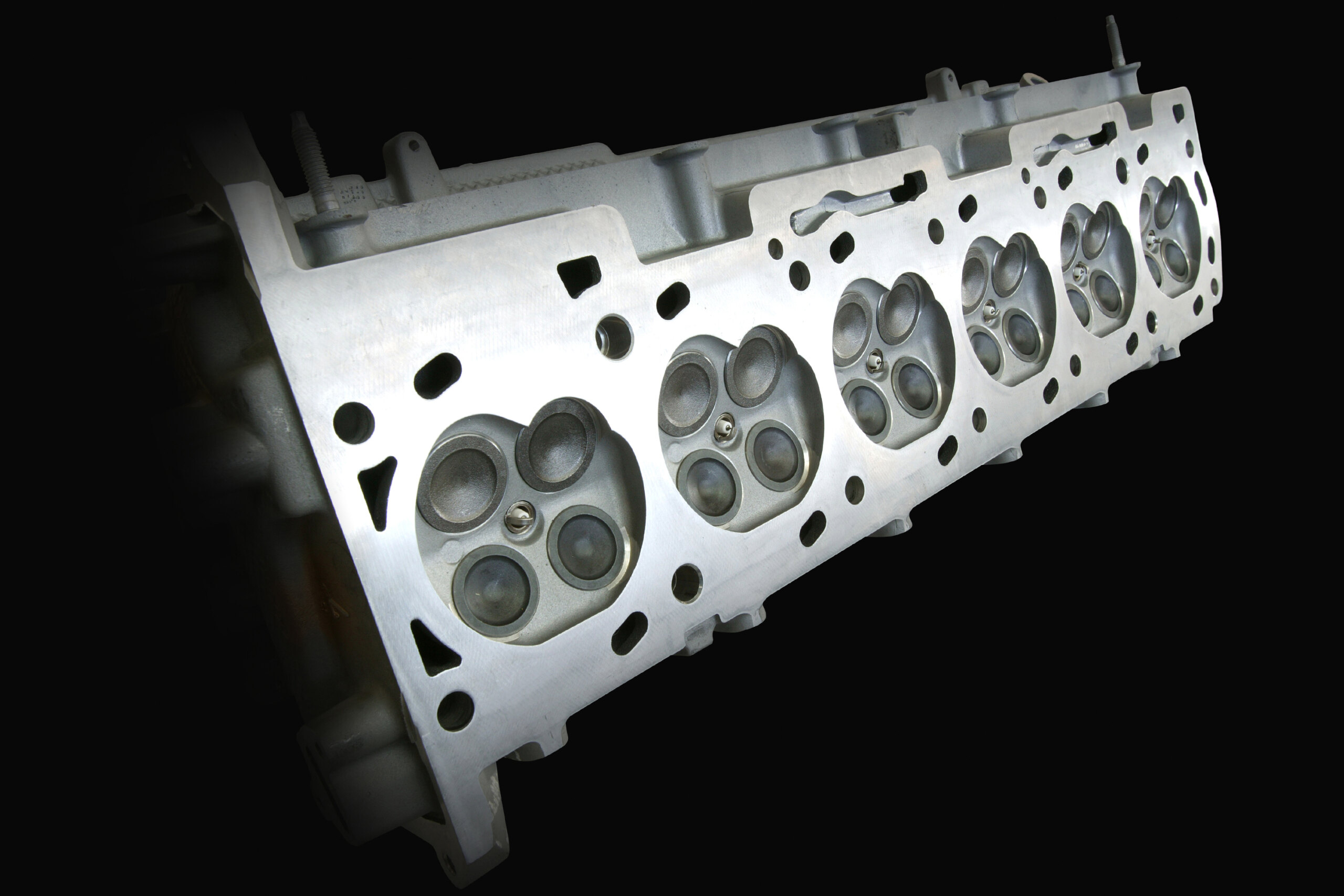 "Balancers fall to pieces, but one thing I've seen a bit of is recessed valves in gas motors," he says. "The heat recesses the valves in the head, which means there's no compression in two cylinders. Some Barras are even burning valves from crap fuel and huge mileage, and just this year I've started seeing high-kilometre Barras with spun bearings.
"The cams delaminate in FG and FG X engines, and it's pretty much all FG and FG X engines that have that problem. They are different cams to BA-BF mills, so Ford must have changed something."
GREEN IS NICE
While they are getting long in the tooth now, dedicated LPG (aka greentop) motors have a great reputation as a basis for stout stock-bottom-end builds. They came with 10.3:1 compression compared to 8.7-8.8:1 in the BF-FG turbo equivalents.
BF-FG LPG donks get beefy rods similar to the BF-FG turbo, although the gas motor uses a press-fit rather than full-floating gudgeon. Both mills use high-nickel-content exhaust valves, but the greentop does suffer from its thinner piston skirts.
Motor City
All Barras run the same 92.26mm-bore and 99.31mm-stroke iron block and 24-valve alloy head, but factory Barras produce anywhere from 209hp up to 435hp, depending on the specs.
FG XR6T
The FG model update featured an upgraded intake manifold design and switched to a smaller turbocharger. This yielded 362hp in the regular model and 415hp in the high-performance FPV sled, the latter being the first Aussie car to make over 100hp per litre.
FG X XR6 Sprint
The ultimate factory Barra was the limited-edition FG X XR6 Sprint, which was juiced up to 435hp but had an overboost function that would scramble 496hp for 10 seconds.
BA XR6T
The 2002 BA delivered the world the first turbo Barra, the 320hp 240T, which received rave reviews. The first major upgrade came with the BF Series II, which scored beefier rods among a host of other upgrades to make 328hp in Fords and 362hp in the FPV F6.
---
BARRA ESSENTIALS
1. New & improved
ProFlow's crown jewel in its Barra parts range is this new Series II intake plenum. "Our first one was very popular, so we used a lot of lessons we learned with that one to help improve our latest version," says Jake Cugnetto from VPW Australia. New features for the Series II includes straight runners for better AFRs, as well as a redesign of the plenum chamber for smoother airflow. The bore has been reduced from 90mm to 80mm for greater air velocity, and a peek inside will reveal integrated bellmouths for each runner. Included with the kit is a billet fuel rail, which'll take full-length, 14mm O-ring injectors. There's a provision for the Ford MAP sensor, and adapters to suit either FG or BA throttlebodies, as well as Proflow's cable-operated TBs for those rocking it old-school. The manifold will suit both early- and late-model Barra heads, and now also features O-rings on each intake port to seal to the head, eliminating the need for a gasket.
2. No-pain drain
Whether you're fitting a bigger hairdryer or in need of replacing the crusty 20-year-old turbo oil lines, it's a wise idea to upgrade while you're there. This neat Proflow oil drain kit includes –10AN 400R push-lock hose, the fittings for the turbo and block, and even the hose clamps you'll need for an easy installation. "We sell it as a kit because it's a lot easier than selling all the lines and fittings individually," says VPW Australia's Jake Cugnetto. "By giving people a kit, it takes away the stress of them having to figure out all the fittings for themselves."
3. Step up
There's plenty of options out there for upgrades to suit late-model Falcons, including Proflow's stepped-core intercooler kit for FG Falcs. As the name suggests, the top section of the intercooler has been stepped up to take up as much real estate as possible, using the factory mounting points while still clearing the OEM power steering cooler. That means it's a sweet upgrade that any DIY-er can tackle. It has 2.5in outlets for easy plumbing, and is rated to 550hp. "We heard that buyers were after a bolt-in upgrade, so this is the result," says Jake from VPW.
4. Fuel me up
ProFlow offers billet fuel rail kits to suit standard Barra intake manifolds for both the early and later engines (excluding FG non-turbo plastic intakes), making them an easy drop-in upgrade. Compatible with E85, the rail itself is tapped at –8AN ORB, and can be adapted with fittings from the kit down to –6 if needed. They can be used with either compact (33.6mm) or ¾-length (48.65mm) injectors. "It's a common upgrade for those who need more fuel but aren't ready for a full intake upgrade," says VPW's Jake Cugnetto. "This is a good, happy medium."
5. Flex time
One of the issues you can run into when running a big, high-mount turbo on a Barra is frying the plastic overflow tank. A metal expansion tank is the go, and this bolt-in replacement from Proflow is just the ticket. "It's another popular one for us," says Jake from VPW. "It helps that it's a nice aesthetic upgrade as well, giving the engine bay a nice look as well as being functional." We've got one on Turbo Taxi, and can confirm it takes as little as 10min to install.
6. Don't melt
One of the weak areas of the Barra driveline is the factory flexplate, which has been known to fail as soon as you shove some more stonk in front of them. There are ways to strengthen the factory unit, but we reckon if you're going to that effort, you might as well simply upgrade, and this billet RTS flexplate is a cool bolt-in solution. "These are by far one of our most popular Barra parts," says Jake Cugnetto of VPW. "It's one of those 'do it right the first time' parts." The RTS flexplate is SFI-rated and comes with the ARP bolts needed to screw it to the crank.