WE'VE had guys build street machines using plenty of cutting-edge race car technology and influence, but none have done it to quite the same level as Vicious, the silver-and-grey '65 Mustang fastback. It packs a modern quad-cam V8 inflated by a supercharger as well as two 68mm turbos, plus it has a paddle-shifted sequential transmission, centre-lock wheels, data-logging, carbon-ceramic brakes, independent rear suspension and a wild aerodymanics package to boot! Oh and it cost around a million bucks to build.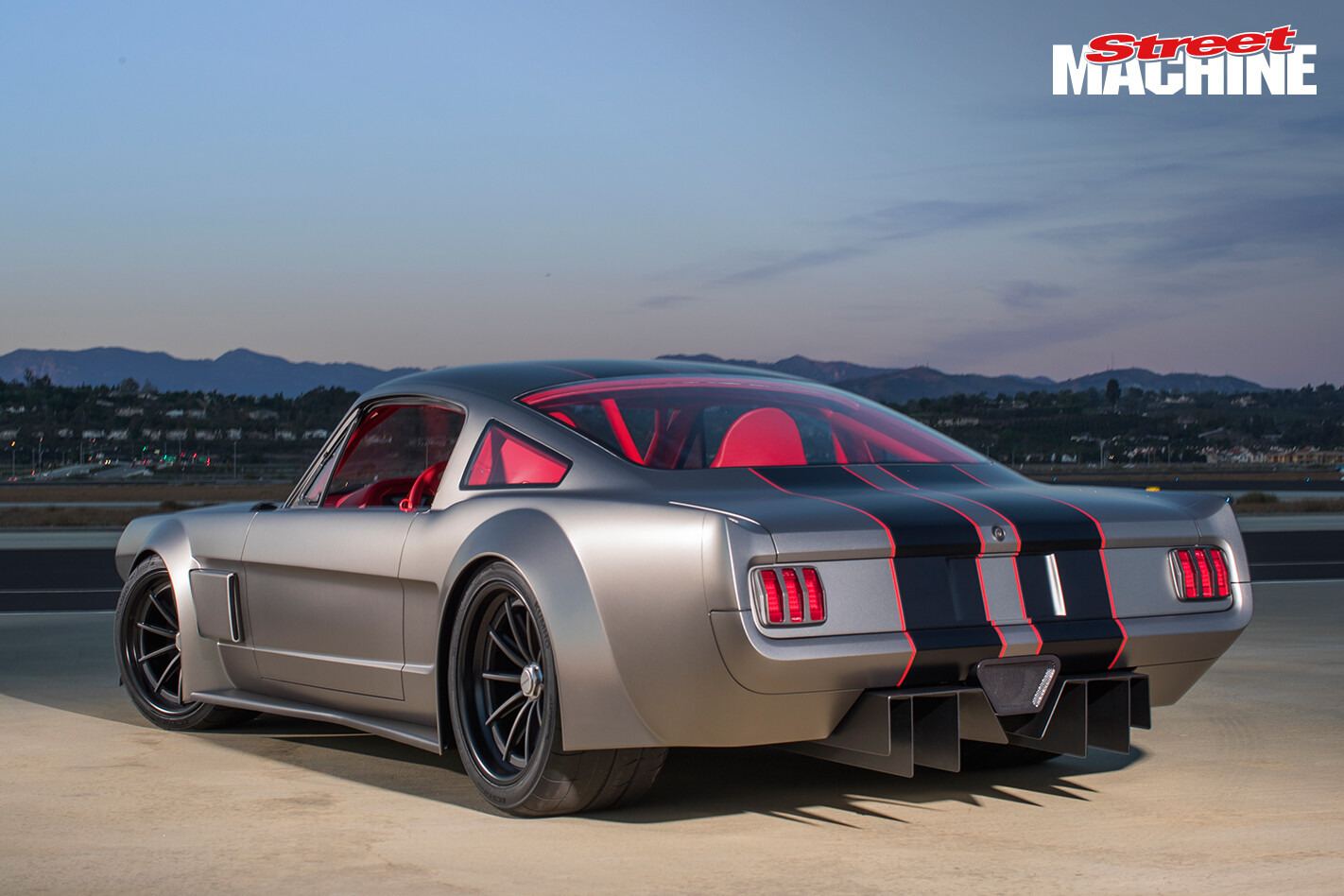 Timeless Kustoms in Camarillo, California, is the shop responsible for this madness, constructing Vicious with the aim of taking on the best pro touring beasts in America.
"The concept for Vicious just came out of my head," says Timeless Kustoms bossman Jason Pecikonis. "I want to win the Optima Ultimate Street Car Invitational in 2017, as I've had some customers take their cars in it but they were always compromised by being more street cars than all-out race cars. So I found Chris, a client of mine who wanted a build that was more race car than street car.
Timeless actually started with a brand new '65 Mustang coupe shell from Dynacorn, widening, lowering and channelling the metal into the form you now see here, including the mean under-car aero package.
One component central to that is the large diffuser hanging out the back of the fastback, helping suck it to the road at speed and giving it an edge over traditional pro tourers that retain standard bodywork and then have to overcome a lack of cornering grip.
One thing Vicious will never be short of is horsepower, with a supercharged and twin-turbocharged 5.1-litre Ford Aluminator quad-cam V8 up front that has copped a brutal amount of work. Timeless Kustoms had Darton build them some custom cylinder sleeves to handle the boosted charge-air, while a Ford Performance Boss 302 forged crank, custom Manley 2618 forged pistons, and 300M Pro Series I-beam conrods round out the block. The heads are from the new GT350R Shelby Mustang track monster.
The base of the build actually started with an Art Morrison chassis, off which Timeless Kustoms fitted current-generation Corvette front suspension and all-aluminium cradles to hold the main undercarriage components.
Out back, an AME multi-link independent rear suspension cradle was given the nod, with one of Strange Engineering's 9.75-inch aluminium independent diffs chosen to handle the motor's huge power and torque. That centre-member features 3.73 gears for a solid mix of brutal acceleration and sky-high top speed.