THIS article on Robert Smiley's HK Holden sedan delivery was originally published in the April 2008 issue of Street Machine magazine.
IT MIGHT not have won any trophies but Robert Smiley's HK sedan delivery was one of the most talked-about cars at Summernats 21. Rob is no stranger to nice cars or to Summernats despite hailing from Dalby in rural Queensland, a good 1100km hike to Canberra.
He had a very tidy HK Monaro at Summernats 19 that was good enough to make it to the Elite Hall and win Top Authentic; there's a pic on page 52 of the Street Machine Summernats 19 magazine.But these days, driving any Monaro around — especially a yellow GTS 327 — attracts just a little bit too much attention. "I built the sedan delivery because the Monaro became too valuable to park out on the street and it was getting too many stone chips," Rob says.
So it was time for a new and more usable car. He didn't have to look too far for inspiration. He's good mates with a Toowoomba-based street machiner by the name of Ashley Bogg, whose super-sanitary FC panel van (SM, Nov '05) has a factory-like 283 Chev conversion. Adam Le Brese's SMOTY-winning EH also came to mind and the end result is pretty much a mix of the two.
Sure, it's not as wild as the Le Brese car — there are no airbags or custom interior — and with its 18-inch Intro Cruisers it's definitely got a more contemporary look than Ashley's FC. But where it is similar is in the amount of work that went into creating a body style that was never offered by the factory, yet somehow manages to look like it was always that way. That's no mean feat.
It created some heated discussion among the punters at Summernats: "At one point we had three or four blokes arguing over whether we started with a ute or a station wagon," Rob says. And that's probably the most often asked question of this car. "I had bought a removal home off an old farmer [hence the Dalby Removal Homes sign writing] and he mentioned that he had an old HR ute in the shed. I said I wasn't really interested in HRs, but I'd have a look. Turns out it was an HK, so I bought it," he says.
It was a very low mileage car — only 31,000 miles — but there was a reason for that: "The car had been rolled down the Toowoomba Ranges and hadn't been driven since 1992. The roof was flattened a bit but it wasn't too bad." The damage made it a perfect candidate for Rob's vision of a phantom sedan delivery. Incredibly, he managed to find someone who wanted to convert their panel van to a ute, so he was off to a good start. The high crown of the pano roof wasn't part of the plan, so a couple of station wagon roofs were sourced for their flatter profile. Two were needed because the single roof came up a bit short.
"We used 10 inches of one and then the full length of another roof to get it to stand up a bit at the back. We used the sides and tailgate of the panel van but needed to do a lot of work to get it to look right and to finish it off nicely inside. We also had to shorten the bottom of the tailgate so that the top part didn't look too chopped and out of proportion." When Rob says 'we', he means himself and Dave at Rock N Rods in Beenleigh. "I'm not really that mechanical. I have a vision of what I want and then I get good craftsmen to make it happen," Rob says. Sounds like the right way to go about things.
With the bodywork complete, it was time to update the colour from its original white hue to something with a bit more pop. 'Update' is probably the wrong word as Rob chose Picardi Red, a standard HK Monaro colour. He had Ben Chard from Custom Paint and Panel lay it on using acrylic so they could rub it out just nicely. It sure works in well with the original red trim and makes the car stand out, even among the crowd at Summernats. You could spot it a mile away.
The driveline is pretty much stone-stock. Yep, this old pup came from the factory with the 307 — sorry, five-litre — Chevrolet engine. It's only a two-barrel, and there are only two gears in the Powerglide, but the 10-bolt out back has a limited-slip centre. It breathes a little better thanks to a two-inch mandrel-bent twin system that exits through four pipes — complete with droopies — à la 327 Monaro. "It's got a pretty good note to it, and I wanted to avoid that B&S clatter," Rob says. It probably won't be winning any burnout competitions but Rob reckons he gets pretty good mileage out of the old girl, which came in handy as he drove all the way down to Canberra.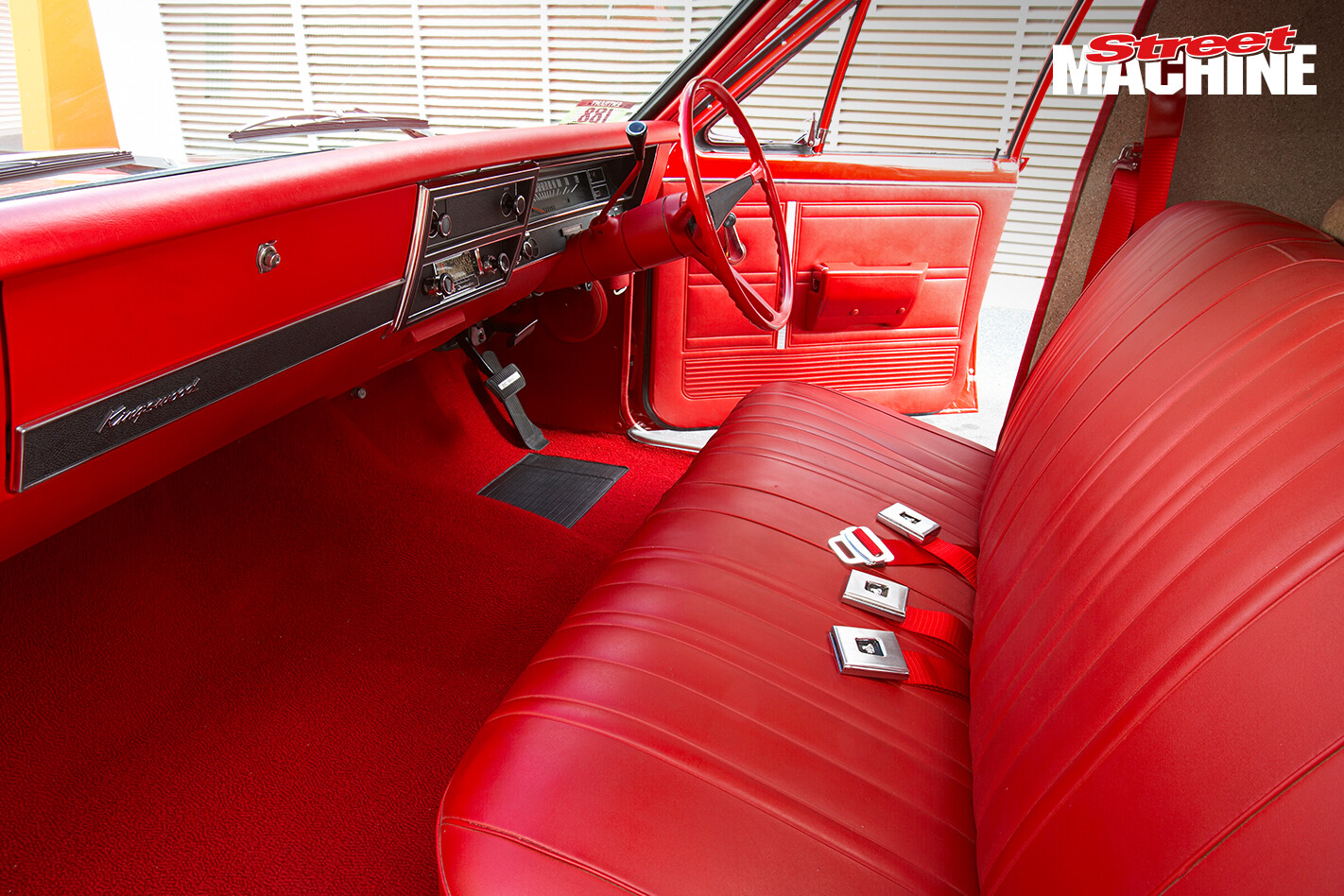 Underneath and in the engine bay is all gloss-black two-pack, not quite Elite Hall stuff but still pretty tidy, while inside the cargo area everything has been coated in the factory 'chicken shit' finish. A new hood lining, the full length of the car, has also been fitted. Finishing it off is new glass from Roadrunner Glass.
Rolling stock is a set of Intro Cruisers, 18×7 and 18×8. Any bigger and Rob reckons they start to look a bit out of place and they can make the car sit too high. But don't be surprised if next time you see it, it's wearing a set of stockies. "I think the car will grow, or evolve, over time. I might change the wheels and the motor might grow. For Wintersun I might set it up with a visor and I've got a 10-foot board I can chuck on the roof for that surf-wagon look."