THERE are always plenty of awesome Pro Touring cars at SEMA. Tough street cars designed to corner and brake as hard as they go, they always get our mouths drooling. This year's show had a bumper crop, but Don Nickleson's full-figured GTO Judge tribute stood out. The tough stance and killer Budnik billets grabbed us from across a carpark full of amazing cars, but the details held us hostage.
You could predict the finer details of most Pro Tourers at SEMA without looking at them, but not this one. While we'd guessed it'd have a detailed, hopped-up LS Chevy in the smoothed engine bay, it actually retains Poncho propulsion, with a stout 505-cube stroker throwing down over 600hp!
It's no one-trick pony though, packing enough engineering smarts under the day-glo skin to score an invitation to the Optima Ultimate Street Car Invitational Challenge the day after SEMA. Held at Pahrump, an hour north-east into the Mojave Desert from Vegas, Don cruised straight out of the show and up to the Spring Mountain Race Track on the highway, proving the car might have NASCAR levels of power but it can still cruise sweetly.
It was at Spring Mountain we saw what a well-rounded car Don's younger brother Darren Nickleson had built for him, lapping the full circuit in the top 20 and carving through the two motorkhana challenges to land the big-hipped Poncho 19th out of 57, despite the competition being far more race-oriented, smaller and lighter than Don's showpiece.
Don and Darren grew up with a car-mad father, so it was only natural they'd follow in his footsteps. As Don bought and fixed up cars, Darren joined in, eventually starting his own smash shop in his early 20s and building it into Indy Street Rod and Classics, a successful collision repair shop that also builds high-end rods and street machines.
Don's path to this wicked machine started in 1974, when he bought a super-rare, super-desirable '69 Pontiac GTO Judge Ram Air IV – pretty much the hottest Poncho of the muscle car era. His girlfriend at the time, Denise, soon became his wife and both loved the Goat. Unfortunately, petrol prices and college fees soon saw the GTO moved on.
The two stories then merged almost 40 years later. "I'd been looking for someone to finance a build that would showcase my company," says Darren. "By chance, Don and Denise were after a car to take them back down memory lane and so a 1969 GTO was the only choice. We wanted it to be a proper new-age take on the classic GTO Judge, so it had to have awesome styling, tremendous power and incredible handling and agility."
The two-and-a-half year build started with a Street Rod Garage chassis that was narrowed in the rear to accept the 20×12-inch Budnik Cannon wheels. It also allowed the fitment of much better suspension in keeping with the desired Pro Tourer theme.
QA1 coilovers and a Flaming River rack 'n' pinion steering system work with the super-sticky Michelin Pilot Sport rubber and huge Wilwood brakes to make sure the full-fat coupe hustles as well as any modern metal.
While the chassis might have been a simple solution, the body turned out to need a lot more work. A genuine rust-free '69 GTO had been purchased sight unseen from Arizona for the shell, but the story didn't stay happy for long.
"We discovered rust free doesn't mean dent free, and every panel other than the bootlid, boot floor and floorpans were changed," says Danny. Luckily, Indy Street Rods and Classics employs a master fabricator called Eddie Peck who replaced some of the tin with Dynacorn replacement panels and went on to modify the rest of it.
The front valance, grilles, guards and sills were all modified, and the radiator and fan shrouds and firewall replaced with smooth sheetmetal. Finishing touches include painted front grilles and headlight bezels, fibreglass back bumper, intake and Judge-style rear wing, and Ring Brothers bonnet hinges, door handles and master cylinder covers.
Marc Davis, another ISRC employee then laid down the eye-searing Carousel Red, before new guy at ISRC, Josh Leffler, went to work airbrushing and adding the period-cool graphics.
Inside, Don monitors Classics Instruments that feature JudgeMENTAL logos and works a Hurst shifter connected to the Tremec T56 Magnum gearbox, while Cutter's Custom Stitching modified front and rear Elite bucket seats and then trimmed it all in grey and black leather. Cutter's also built the custom dash and front and rear consoles, while 60s cruising tunes are supplied by a monster Kenwood system.
The one thing that makes this GTO so cool is that it sticks with Pontiac power. Butler Performance took a 400ci block, used a 4.25-inch Mogul crank to take it out to 505 cubic inches and filled it with custom Ross pop-top pistons, Streetmaster oil pump, Eagle H-beam conrods, Comp cam and Federal bearings.
The original round-port Ram Air IV heads are massively desirable for Pontiac fans, but Don wanted to go further than factory, so Edelbrock 87cc round-port heads were fitted, filled with 1.770in exhaust valves and 2.90in intake valves to make use of all 505 cubes.
As the Pontiac was designed to perform like a modern car, fuel injection was needed to make it run crisply at part or trailing throttle. EZ-EFI got the nod, using an Edelbrock Victor inlet manifold and FAST throttlebody.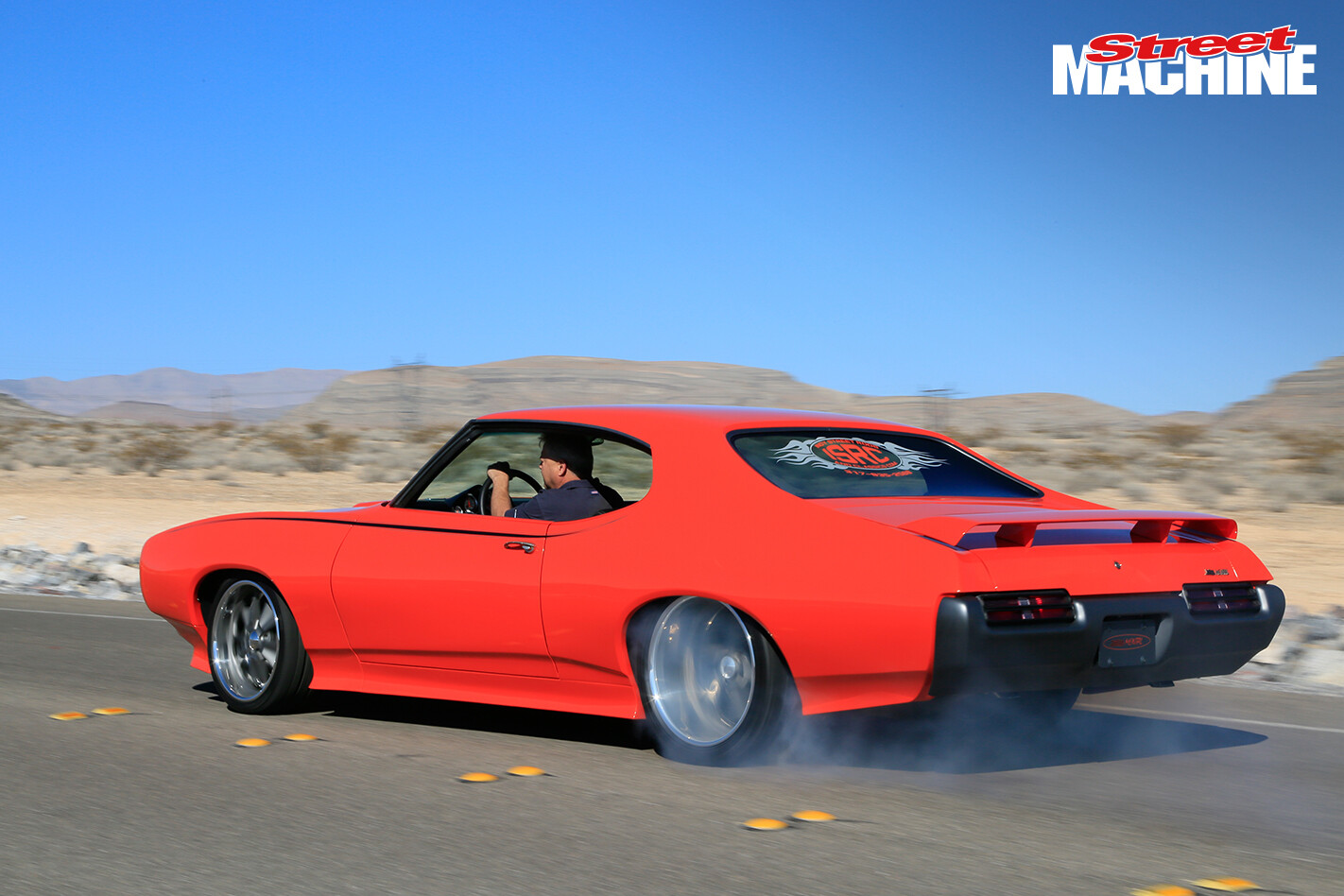 Power gets to the road through a T56 Magnum manual shifter and nine-inch diff
It adds up to a super-stout 660hp and 630lb-ft of torque, more than enough to hustle the monster Goat to serious speed on the lonely open roads around Tennessee.
Don is over the moon at how the car turned out, saying, "It is probably obvious we are crazy about the '69 Judge. Some folks who are a bit more reasonable and less passionate might think we're crazy to put so much time, energy and money into a car. Clearly, they are wrong."