Corey Phie's amazing '70 Falcon XY is the perfect mix of race and street
This article was originally published in the October 2013 issue of Street Machine
EVERY week there's another kick-arse XY Falcon leaving a workshop somewhere around this fine country but rarely do we see anything quite like this. Corey Phie from Street Elite Restorations wanted to make a statement and looking at his truly epic muscle car tribute, we reckon that statement was: 'Bring it on!'
"The concept was to have something race-bred but registered and engineered for the street," Corey says. "The last thing I wanted was another GT replica. It had to stand out from the rest."
A successful unveiling at MotorEx 2013 — where the guys won medals for Impact & Display (gold), Engine Bay (silver) and Engineering (bronze) — shows just how well it does that.
"It attracted a lot of attention; people were quite happy to go back two and three times to look at it. I spoke to Mick Fabar and a couple of other guys, and they loved the concept. They said they'd be quite happy to have it in their own garages."
To get to that point, Corey spent a solid three and a half years cutting, grinding, welding and painting. In fact there was no paint on the car just six weeks out from debut.
It all started when a good customer contacted him about building a car. "He wanted V8 Supercar horsepower and engineering but for the street," Corey explains. "He wanted a muscle car, originally an XY GT replica, but I made it clear to him that with the gear that was going into this car, it wasn't going to do it justice to have just another replica."
Instead, Corey introduced the Pro Touring concept. "We showed him a lot of photos of Pro Tourers from the US. The easiest way to explain it was 'race-bred but on the street'."
After a long chat with Corey, Aden Jacobi penned a sketch. That earned a big thumbs-up from the customer and got the show on the road — to Cairns.
"We found a shell in Cairns. We sort of had to jump on it, so I got in the car and went and bought it. Cairns and back in two days, towing a trailer!"
The shell looked straight; a little surface rust but overall fine for what they wanted. Until the blasters uncovered what lay below.
"It was absolutely terrible. I had to replace the full sills; it's got a new bonnet, new guards, new front doors, a lot of new sheet metal. If I had my time again, I probably would have dumped it and got another shell."
Over the next few years, the guys devoted entire months to the engine bay and boot areas as both were going to be focal points.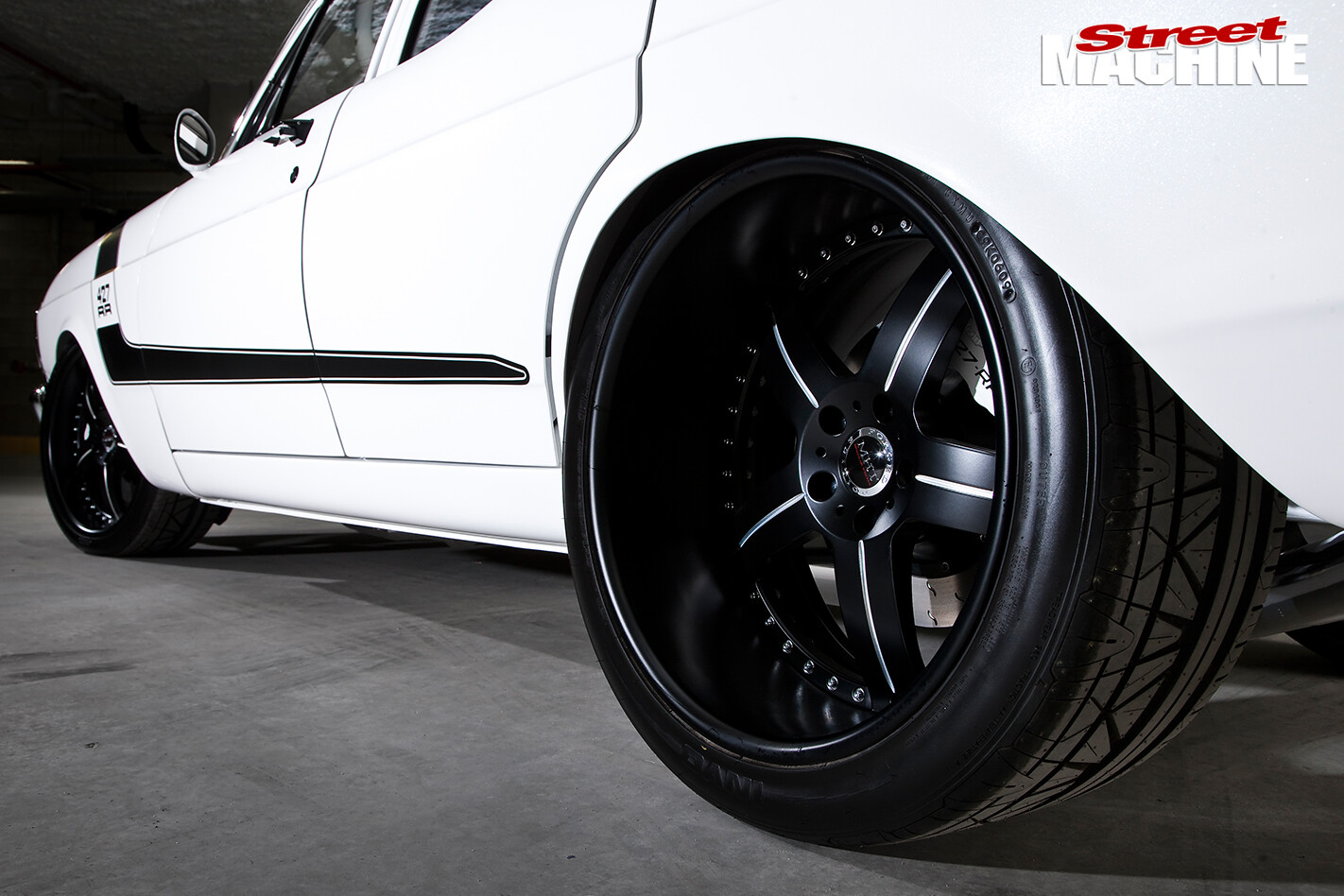 They mini-tubbed the rear using the original inner guards so most people wouldn't even notice and had a fabricator install the triangulated four-link rear which allows for those massive 20×12 rims. Front and rear guard openings were trimmed and rolled to suit the steamroller rubber, and the front copped RRS coil-overs and strut tower reliefs.
The rest of the engine bay has been flat sheeted and smoothed to perfection. As a bonus, the RRS rack and pinion kit they fitted also meant the engine bay had enough space for a decent set of ceramic-coated custom four-into-one headers.
Between those headers sit 427 of Ford's finest cubes. They started with a Dart block and filled it to capacity with all the tastiest bits, but the creamy topping on this slice of American apple pie is the Edelbrock Victor Jr EFI controlled by a MoTeC M800 ECU.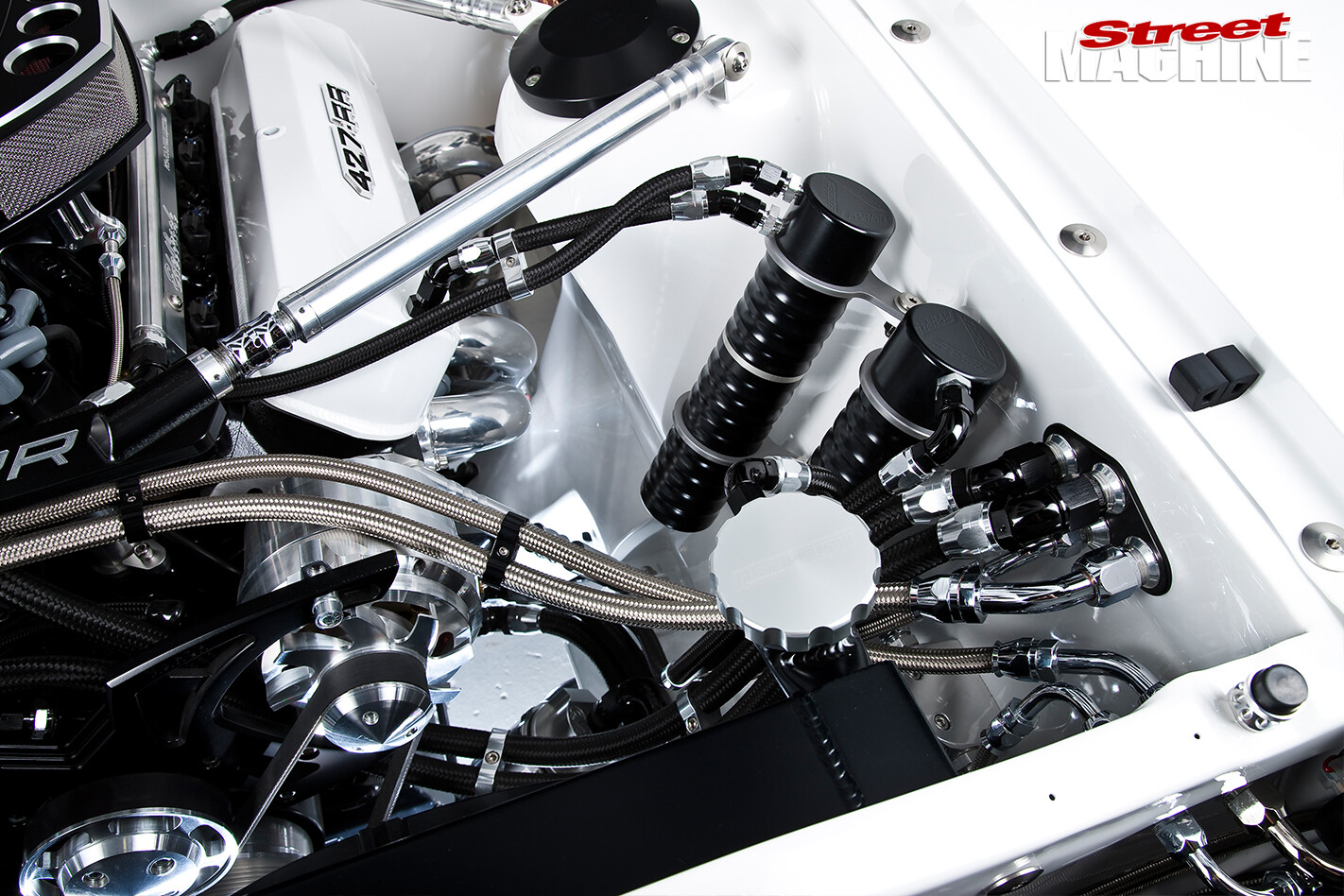 As we we were going to print, the boys had sent the car to Power Torque for tuning: "I'm hoping for about 500-530hp at the tyres," Corey said.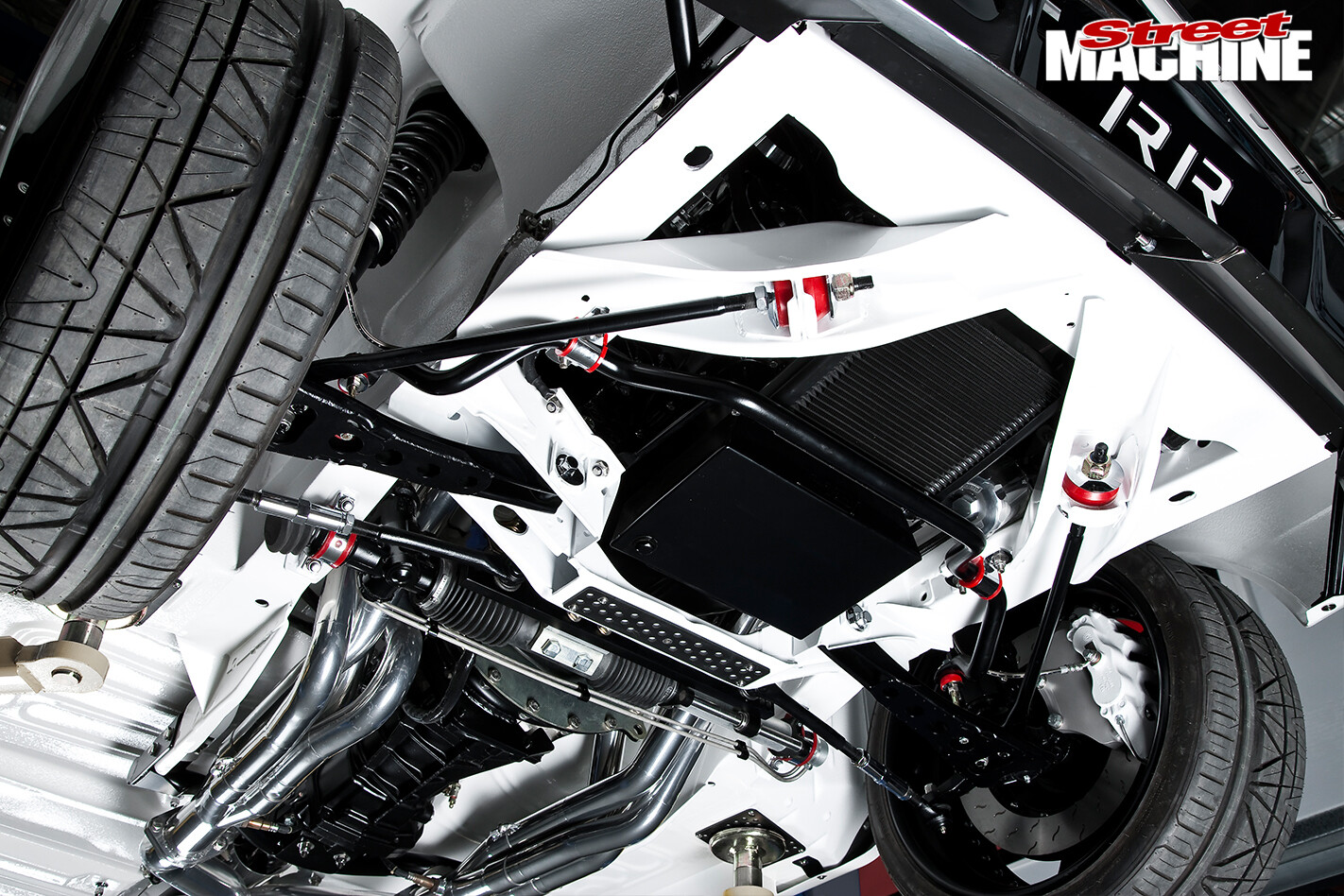 The rest of the driveline is equally race-spec, consisting of a Tremec T-56 Magnum six-speed that transfers power to a 31-spline nine-inch via a chrome-moly tailshaft.
"We tried to get the nine-inch engineered with the big wheels and oversized bearings but the engineer wouldn't pass it so we ended up cutting the ends off the diff and putting full floating hubs and axles in it."
All four corners sport pizza plate-sized discs, with Alcon six-spots up front gripping 380mm rotors and four-spot rears grabbing 335mm rotors.
Inside, they've gone for a mix of race and street. Rather than modern race buckets, they kept the original XY pews and gave them a tart-up. Same goes for the dash, which they styled on the classic GT Falcon look using Auto Meter American Muscle gauges. "It's quite impressive at night when it's all lit up," Corey says.
The tall billet shifter is a nod to V8 Supercars, which use shifter handles of a similar height, though the T-56 box isn't sequential. With all the race gear it might seem unusual to not have a rollcage, but the plan to have it fully legal and registered made that difficult.
"It was going to turn into a headache with the rulings on bars, padding and all that sort of stuff," Corey says. "I wanted harnesses in the car, so we went with the taxi bar between the pillars and had it engineered."
And how did the boot turn out? Most of this stuff is normally hidden but Corey made the fuel system a feature. It's what you'd expect to find in the boot of a V8 Supercar.
A massive 140-litre tank fills the floor, with two pick-up lines at the back. Fuel flows forward through the silver filter on the right into the Edelbrock lift pump that feeds two 3.8-litre surge pots. From there, gravity feeds the fuel through a Y-block to a Bosch 044 EFI pump, through a second filter on the left and then back into the regulator and forward to the fuel rails. It's not often you can say that the fuel system is one of the highlights of a car, but in this case it is definitely true.
The fuel system caused the MotorEx judges to question whether the car should go into Street Elite or Pro Comp but Corey reckons it's no different than filling the boot full of subs and amps.
"Some people think it's an elite car or a pro comp car, but it's got Stoneguard underneath and the factory floorpan. The customer never built the car to show it; that was never his plan. The plan is to add it to his collection and use it when he feels like it."