AFL Grand Final Day may not have been the best time to put on a burnout show, especially considering one of the teams – the losing one as it turns out – was the West Coast Eagles, but plenty of people still made the effort to head out to Bindoon Extreme Park for the first Ultimate Burnout Challenge to have been held outside of Victoria. Bindoon is about 90 minutes north of Perth and quite a nice drive, although the roadkill on the way up had me a bit nervous for the trip home.
The Bindoon pad is absolutely monstrous, measuring up at 50m by 50m, but somehow people still managed to find the Armco – usually just with the tail-light, but Darcy Ewing's KURRUPT went in way too hot on the tip-in and took out the right-hand guard. He just backed it up, tyres still blazing, and carried on – right up until the rods came out.
Even with some tough competition from the east coast cars, it was West Aussies that filled the podium, with Justen Brown's STRUGLIN, Fred Watson's FEAR and Anthony Page in PAGEY finishing first, second and third respectively.
Proving that #lstheworld is an actual thing, Nathan Mass has given his Proton Jumbuck, MASATAK, a new lease on life as a burnout machine. It's probably capable of actually pulling a load now as well!
I had to walk past quite a few cars before I didn't see an LS engine, but when they're as nicely detailed as Steven Pimblett's combo in FAT GMH, it's worth stopping for a closer look
Matt James went for a different look with the sheet-metal tunnel ram and twin carbs on his LS. The VP was fresh from a makeover at Kustom Panel & Paint
Matt Hughes smashed six sets of tyres in MON5TA. How does he do that when there are only three rounds? He runs blown and naturally aspirated; swapping the blower on and off takes less than five minutes!
Shane Quinn heading back to the pits in WAR MACHINE, after literally blowing the tyres off the car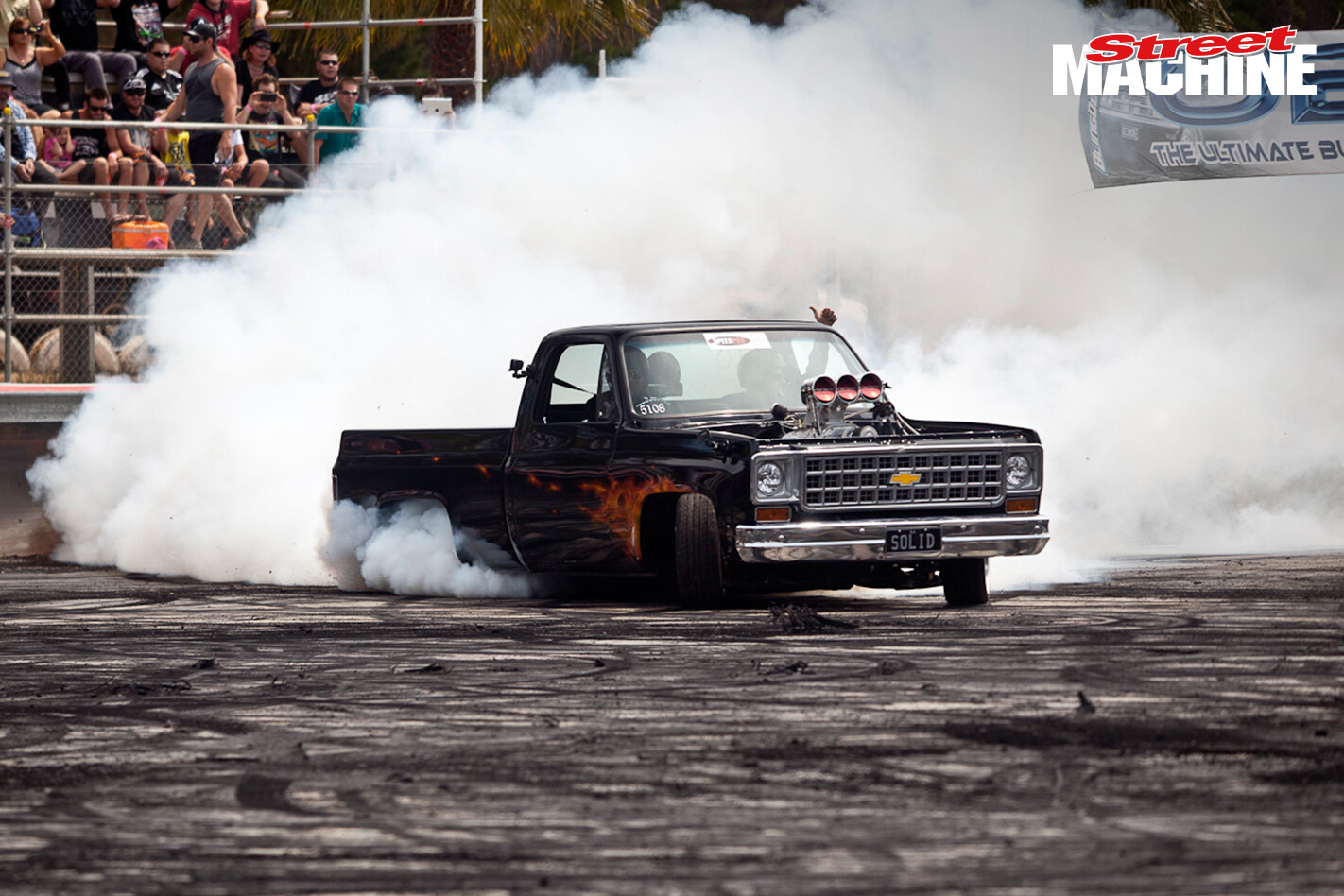 There had been some pretty stout burnouts before Danny Smith came out in SOLID, but when he hit the pad it definitely stepped up a notch. The skid ended abruptly when the starter motor came loose and shorted out the electrics
Grant Martins' RUFFANUFF XY has one of the hardest-revving Clevos in the game. The NA stroker 393 regularly sees 8500-9000rpm and always puts on a killer show
Allyce Ashcroft seems to make a bit of a habit of setting her tyres on fire. We don't mind, it makes for a great photo
Brad Howell rocked up to UBC with a revamped FIREDUP and didn't disappoint with smoky and fiery burnouts
Steven Baker smoked the place out with his one-tonner JAILBAIT
Fred Watson had a few dramas during the day and he and his crew had to work hard to keep the car running. The work paid off with Fred finishing in a strong second place
This gives you some idea of how big the pad is. That's PAGEY down there doing a pretty good job of smoking the joint out
It's not real pretty, but stuffing an LS into an old Hillman 20/70 makes for a pretty effective rat rod burnout car
Shane Dubberlin started off pretty strong with his skid, but it ended early with a couple of broken pushrods
Chris Michel did some ripper skids in the HG ute. The engine was on song and didn't miss a beat
Darcy Ewing in a happier mood prior to smacking the Armco with his HJ wagon
MON5TA in its normally aspirated configuration about to head out for another skid
Matt James's VP about to go out for its first skid, looking classy in BMW metallic brown paint
This neat HQ sedan was parked in the pits and wore the perfect number plates: RITE ON Q
The only thing Justen Brown seems to be STRUGLIN with is visibility!
Steve Loader takes a couple of lucky punters out for a skid. UCSMOKE was looking good with its Geelong-spec Center Line Auto Drags instead of the big billets
This '57 Chevy pulled up during the day but I didn't manage to catch the owner to get any details. The twin four-inch pipes out the back suggested there's something going on under the hood
Norman Burrows never fails to impress in MEAN13. The hard-revving NA combo is always on song and revs hard