Peter Jackson wowed us in 2003 with his radical turbo rotary-powered Austin A30. A lot has changed since then
This article on Peter's Caddy was originally published in the June 2013 issue of Street Machine
PETER Jackson – it's a name most of us would be familiar with; the cigarette company emblazoned on Glenn Seton's race cars in the 80s, that big hairy Kiwi bloke who makes those movies about little blokes with hairy feet, and then there's the Peter Jackson that built this gorgeous '55 Cadillac Coupe de Ville.
While those other two characters did all right for themselves, neither of them has had two cars featured in Street Machine, so we reckon this one's the most famous. Yep, Peter Jackson of Melbourne – although he grew up in Sydney – had his first car featured back in the May '03 SM.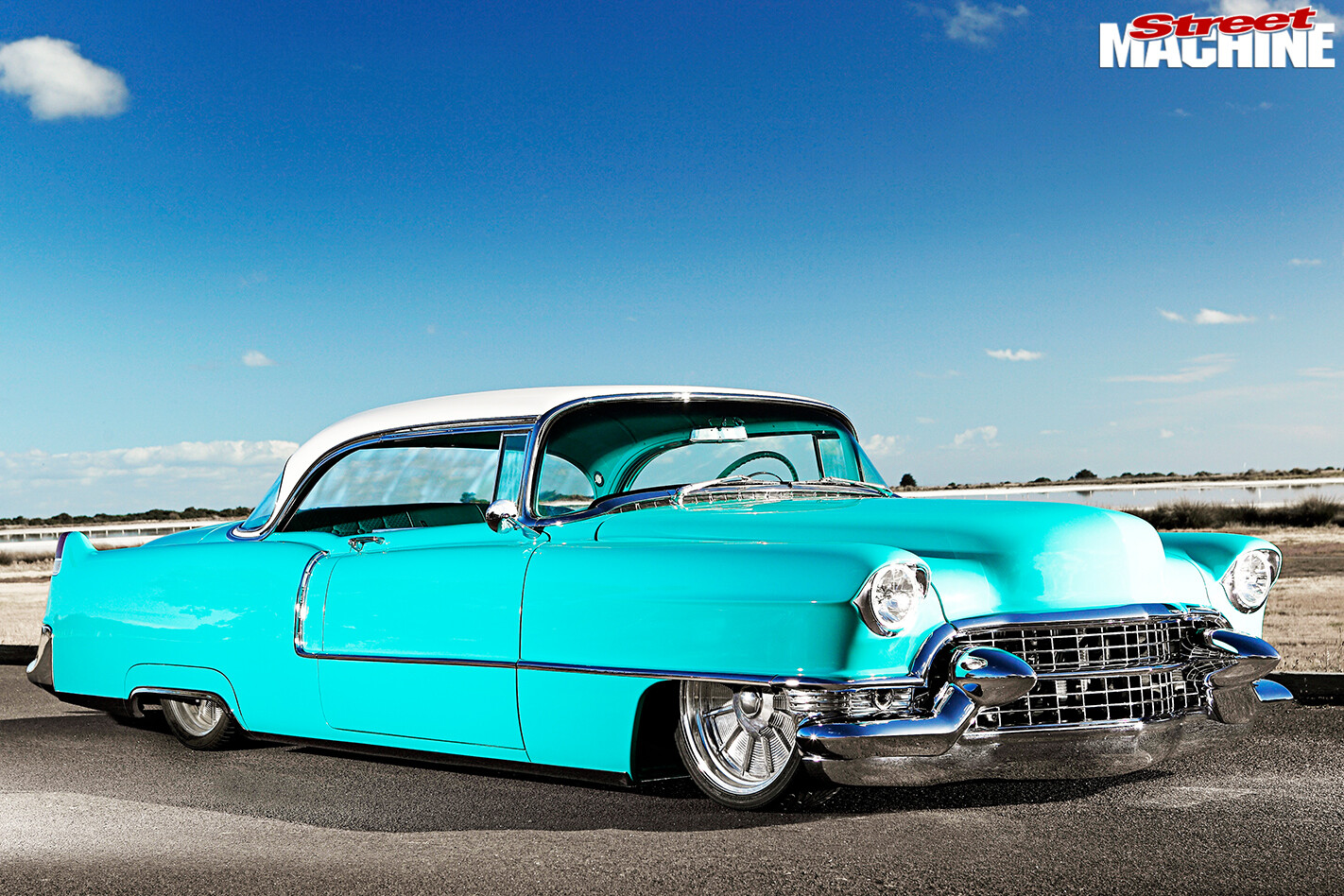 Peter's first elite car was an Austin A30, bright yellow and powered by a stonking 600hp turbo rotary; it was short, narrow, in-ya-face and just a little bit crazy. Pretty much everything this Cadillac isn't. That's not to say this is just your basic resto on a 50s Yank Tank, not even close: "The car has a lot of engineering in it, a huge amount. It might look subtle, but it is a full custom Pro Touring-style car. It does get driven, that's for sure," Peter says.
Looking at the car from a distance, you would think it's just a nice stocker slammed over a set of big wheels, and that's exactly the effect Peter was after: "We haven't chopped it or done anything to it, it's just been debadged. It's painted in the original factory colour code too – Wedgwood Green with an Alpine White roof," Peter says.
Even the interior is factory stock, with reproduction seat covers and carpet brought in from the US, with a small concession to modern driving in the form of seatbelts built into the front bench seat – a great solution to the problem of fitting belts into a two-door hardtop and much nicer than having them hanging off the roof or bolted to the floor so they trip up the rear passengers every time they try to get out of the car.
When you dig a bit deeper it becomes apparent that there's a lot more going on with this car than first appearances would suggest. A look under the bonnet gives the game away straight off: "The motor has been set back about six inches, it's got a flat firewall and flat floor and the whole body has been draped over the chassis," Peter says.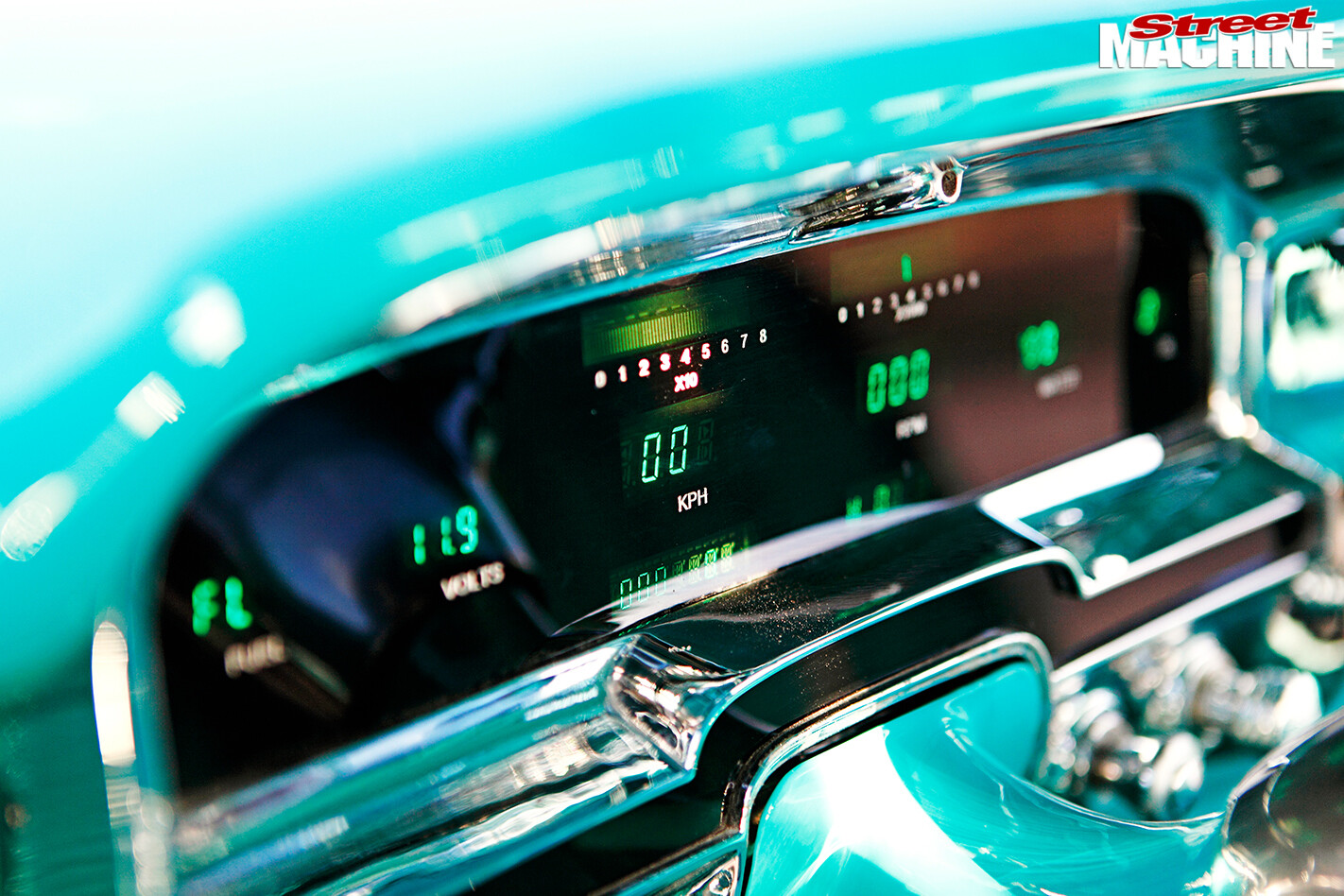 Peter gave the old 331 Cadillac engine the flick in favour of a stock-as-a-rock GM Performance Parts crate engine. It might be stock, but it still makes 620hp and 650lb-ft at the flywheel thanks to its 572 cubic inches, forged internals, steel crank and big hydraulic roller camshaft. Up top, the alloy heads are filled with 2.25in intake and 1.88in exhaust valves and an 850 Demon carb dumps into a single-plane manifold. Let's just say it gets along quite nicely and Peter is more than impressed with the quality of the engine: "The motor itself sat in storage for five years, yet it essentially – believe it or not – started first go when we put it in the car."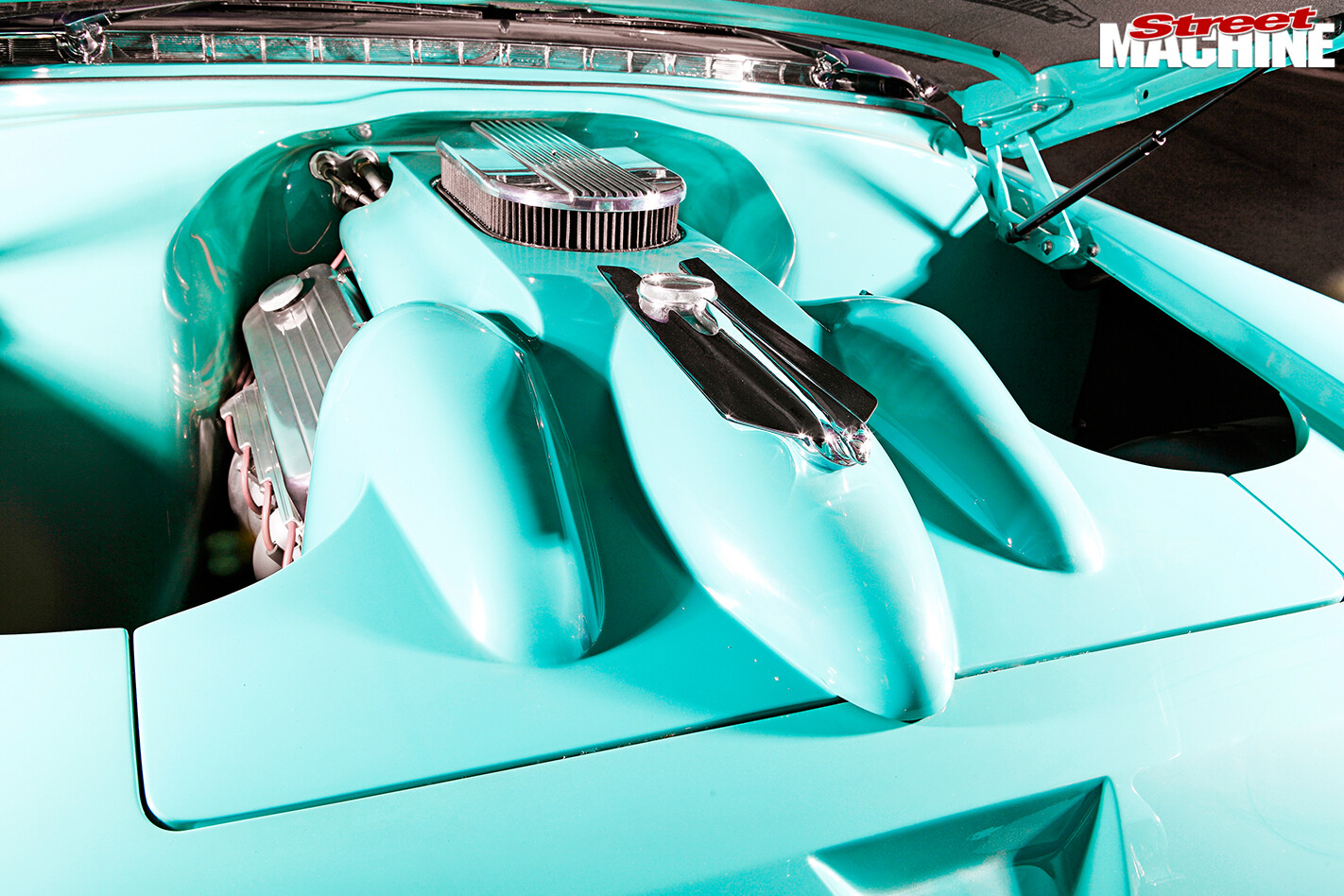 Hiding a fair portion of the engine is a cover that reaches from the radiator right to the back of the motor, and unlike many you'd see, it's not made of fibreglass: "It's full steel; fibreglass wouldn't have worked because of the heat. The big-block gives off that much heat plastic would have warped. The blister pods on each side hide the alternator and the a/c compressor and in the middle there's a hole for the radiator cap behind the bird." The cover definitely modernises the whole engine bay, but the relocation of the bonnet mascot to the top of the cover is a nice way of keeping some of the original Cadillac style.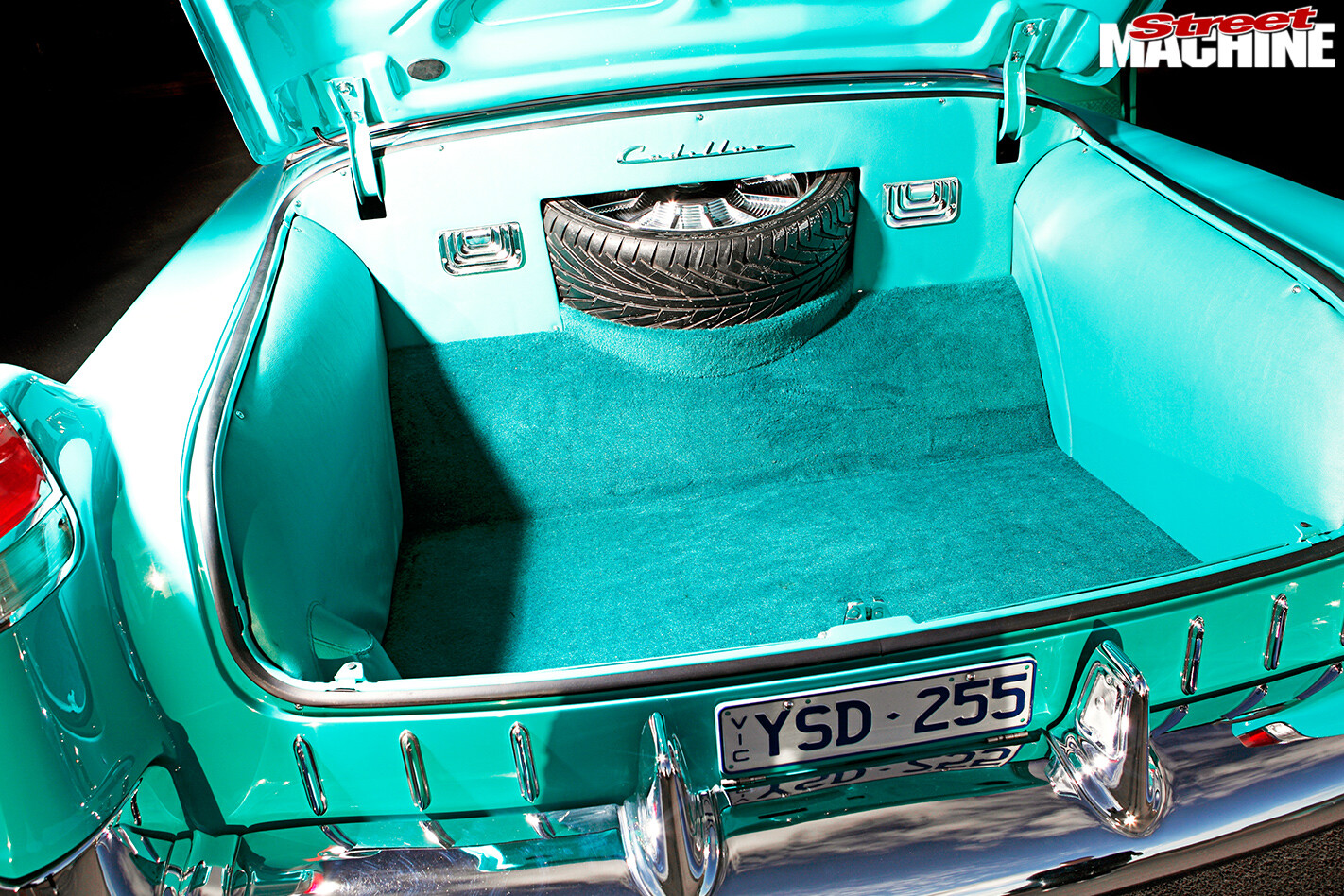 The rest of the driveline is no great surprise, with the tried-and-tested combination of a Turbo 400 gearbox and a custom-built nine-inch rear filled with a 35-spline Mark Williams centre. A Mark Williams chrome-moly driveshaft joins them together. One thing this car has that you don't see too often is a Gear Vendors overdrive unit, which gives Peter the ability to split every gear, effectively making his T400 a six-speed and allowing him to cruise on the freeway at around 1500rpm.
One feature of this car that might polarise people is those 20-inch billet wheels. I must admit, I'm a whitewalls-and-hubcaps kind of guy on a car like this, but if you're going to run billets, then these Colorado Custom Segundos are the way to go. They're pretty much styled on a 1957 Caddy cap anyway. But don't worry, Peter has a full set of whitewalls and caps to go with it, so the next time you see it, it might have a different look.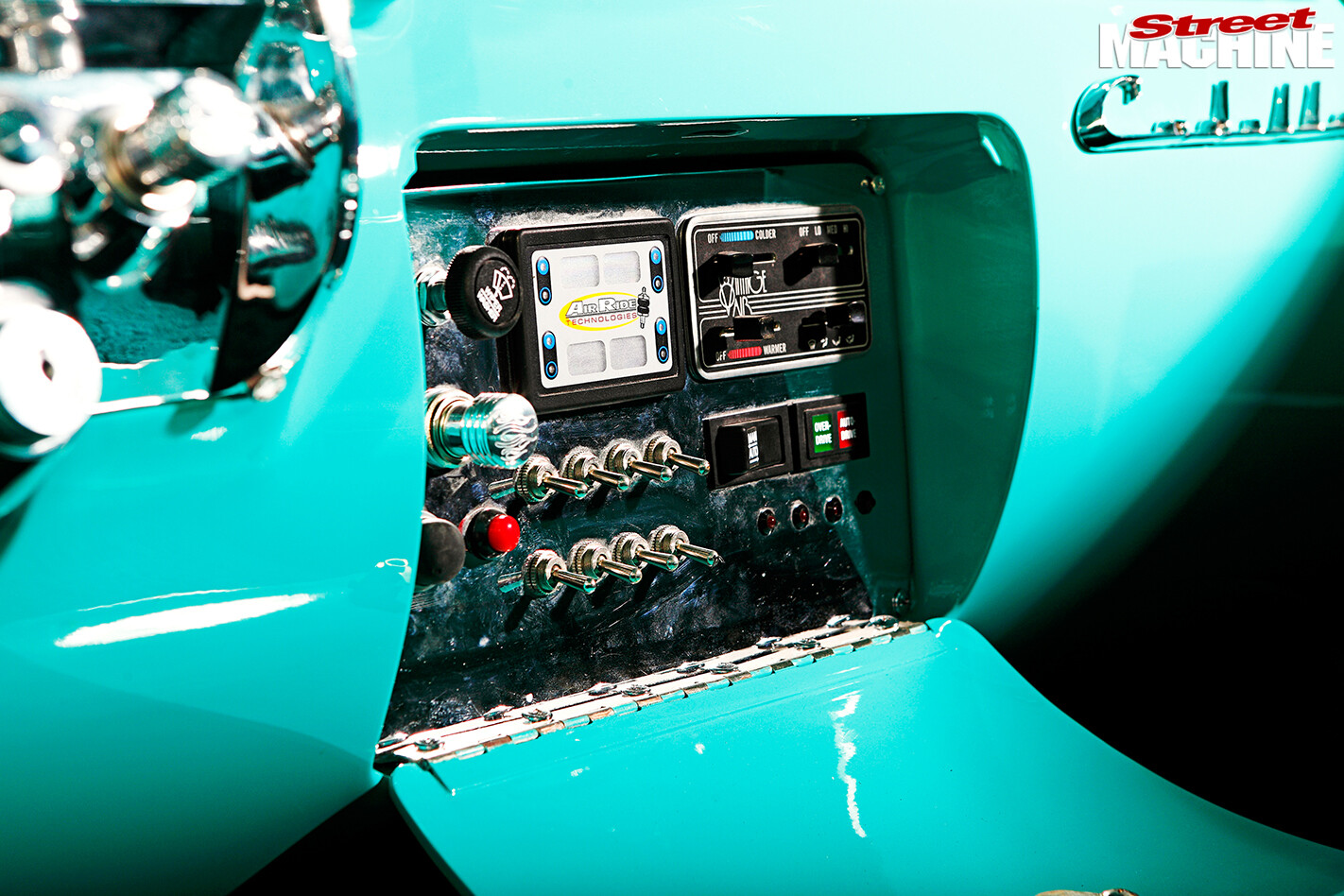 Someone Peter can't thank enough when it comes to the build of the car is Frank at Impressive Panels: "He nearly shut up his shop for me and went above and beyond with the build of this car. I looked everywhere and when I finally found Frank he was only five minutes away from my place. Everything on the car is finished off and everything works. I couldn't have done it without him."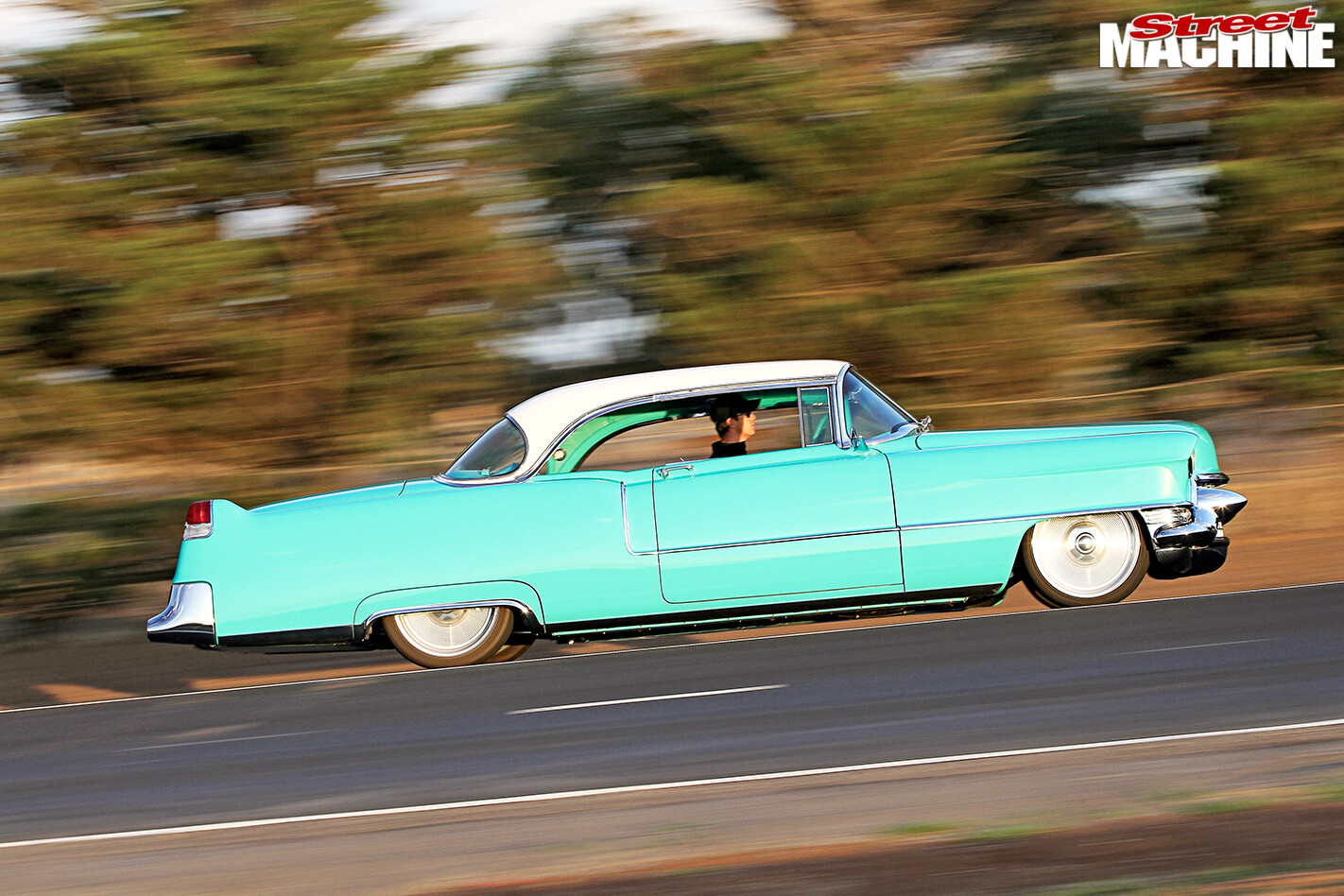 Even more impressive, perhaps, is that the car was completed in just 15 months. "The car sat in storage for four years with a lot of work still left to complete. I found the motivation to pull it out of storage in late 2010 as I planned to use it at my wedding," Peter says. It took a lot of late nights and hard work, but the car made it and Peter and his wife Katrina had an amazing day.