THE SM crew headed to Castlemaine, Victoria on the weekend to check out the very first Boogaloo Invitational. Organised by our mate Des Russell (whose chopped bare-metal '49 Ford we featured on the cover of SM Kustom Annual) and his partner Tesha, the event – as the name suggests – was an invite-only affair. Sure, that might have put a few people's noses out of joint, but it was Des's party and he knew what he wanted, and he stuck to his guns.
What Des digs are 40s, 50s and 60s-style hot rods and bikes, and the oval at the Wattle Flat Recreation Reserve was full of them. It was a great mix of new and old, including several of the most iconic cars from the very earliest days of Aussie hot rodding. It was great to see Eddie Ford's coupe in the metal – even though it was missing its signature Edsel grille – and Peter Clara's channelled '32 is a true survivor, having been in a shed since 1977 but owned by Peter since 1963.
It was also fantastic to see Mark Brownrigg's Model A roadster again, as it was one of the first Aussie hot rods I saw – along with Geoff Rea's '32 coupe – that got me turned on to traditional hot rodding. As always, Mark drove his highboy down from Newcastle, and I'd hazard a guess that it's one of the most well-travelled hot rods in the land.
It's taken a while, but it's fantastic that the traditional hot rod scene is now strong enough that you can have an event that caters solely for them. Twenty-odd years ago I was happy if I spotted three or four cars at an event with crossply tyres and/or a flathead.
While I was mostly at the Boogaloo for the hot rods, I was amazed at the quality and quantity of achingly cool bikes on show, and I've included a couple of them in my Top 10 list. It was a tough job picking just 10, that's for sure.
I first met Corey Swift at the 2003 ASRF Nationals in Geelong. He'd just got his flathead-powered '32 roadster on the road and – although he'd hate me to say it – he's been one of the flag-bearers for traditional hot rodding ever since. The car has evolved a little over the years, now sporting 16in wheels, a blower and five-speed.
A brand-new car – and finished just in time – was Brentyn Wakefield's '32 coupe. While it might be built mostly from brand new parts, Brentyn has absolutely nailed a late-50s-styled hot rod – admittedly one you'd have seen in California – but every detail on it was spot-on. The six carbs on the 350 Chev are all hooked up and the colour is Bordeauxrot, and old VW colour.
One of the real early adopters of the traditional hot rodding scene in Australia is Mark Brownrigg. He started building this car in the late 80s, and it's been cruising up and down the east coast for close to 25 years now. Can you imagine the looks he got back then when he said he was going to build a flathead-powered hot rod with crossply tyres?
Al Fountain has built more cool hot rods than I can count, and here's another one to add to the list. His '32 Vicky looks pretty sedate, but under that blister in the hood-side is a big lump of Mopar goodness. Which isn't surprising, as Al loves his Mopars, but you're all probably guessing it's a Hemi. Well, you're close. It's a 301 Poly, which is a Hemi block with polyspherical heads, a completely different animal to the more common, but still rarely seen, 318 Poly.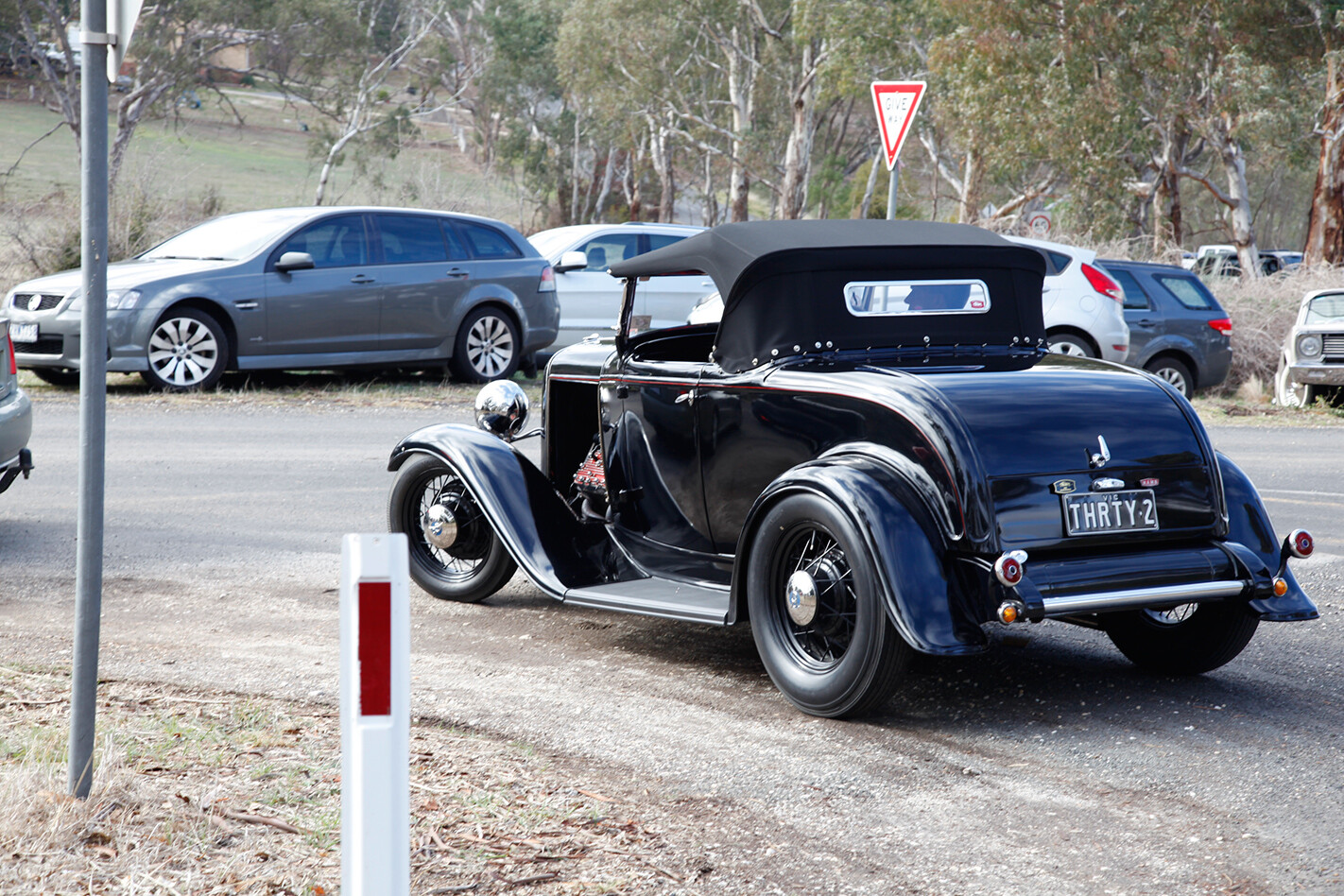 It's plain, it's simple, but it's oh-so-badarse. Alan Rendall's black-on-black '32 roadster has a killer stance with big and little wires and just the right rubber rake. A beautifully detailed flathead tops it off. Loved this car.
South Australians are turning out some absolutely killer trad-style hot rods lately. One of the newest is Tony Jenkins's '32 tudor, a genuine steel body that sat on its side in a river bed for 30 years before Tony got hold of it, gave it a haircut and turned it into this amazing Buick nailhead-powered hot rod. Everything on this car was perfect – understated and tasteful with a hint of speedway thrown in for good measure.
I don't know much about bikes, but I know what I like, and Paul Khule's Triumph stopped me in my tracks. Loved the colour and the seaweed flames pinstriped in white. The detail and finish on this bike was unreal, with nothing out of place. Of course, I could be totally off, but I don't think so.
I hadn't seen Sean Hammond's '57 Ranchero since the Watson-esque paintjob went on, and what a change it has made to the once piss-yellow hauler. The Edsel tail-lights are a classic touch and the only thing that could have made it better was if I got to see it in the sunlight. Bloody Victorian weather!
Peter Swift has been a traditional hot rodder since it was cutting edge. He started building his T-bucket in 1962 alongside Eddie Ford's coupe. It remains much the same as it did when he first built it, and most amazingly, is unrestored. It's one of the best-looking hot rods built in this country – and one of the first!
For a car guy, Andy Colalillo sure builds a pretty nice bike. This simple little Trumpy is his first foray into building a custom bike and it caught my eye long before I realised it was his. I should have known it was built by a car guy when I spotted the Hurst shifter on the hand-shift. It's pretty simple, but it flat-out works.
I didn't get to meet the owner of this '27 roadster on '32 rails, but if I did, I would have shook his hand. It's a beautifully proportioned hot rod and hopefully it will encourage more people to build T roadsters like this.