A GROUP of New Zealanders dubbed Kiwi Carnage came to share in the Street Machine Summernats 30 experience and went away with a ton of great memories, new mates, and a collective desire to give the burnout scene across the Tasman a good kick in the pants.
"New Zealand tends to get forgotten about when it comes to doing burnouts, but these guys here have got too much talent for us not to come here and show that we can do it as well," said Liz Gracie, who did a lot of the heavy lifting to pull this team together and get them and their vehicles across the water.
Their 40-strong crew of family and friends were camped around five killer burnout cars – Liz and husband Ryan's EVIL 69 Camaro, Shane 'Arnie' Donaldson's LO LIFE chopped XC ute, Ian 'Sambo' Smith's SAMBO FD RX-7, Ricky and Jenn Ireland's ENVEED HZ ute, and Braden Smith's HAUNT U VF Commodore.
Braden has campaigned an HQ with a blown 468 big-block Chevy in it for the past five years, but debuted his new blown, injected HAUNT U VF wagon in Australia. "Back home all we do is read Street Machine and look up to all the guys here. And that's basically the reason my car looks the way it does"
Arnie had the most fraught build-up of any of the Kiwi contingent after thrashing the motor in his LO LIFE XC Falcon ute at Tread Cemetery several weeks prior. Johnny Pilla from Powerhouse Engines opened his arms and his workshop, and a couple of mates flew out from NZ to help rebuild the injected SBC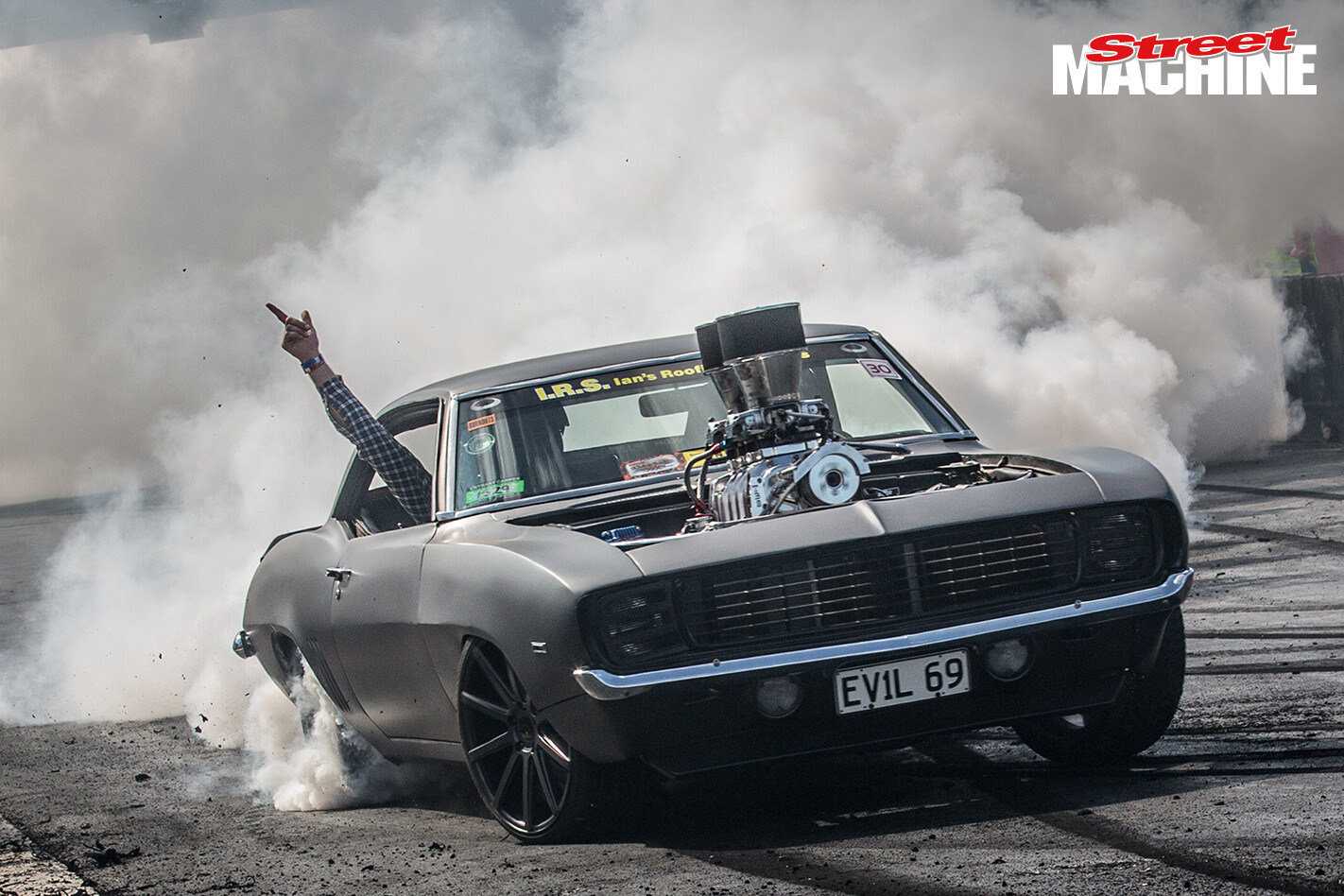 Liz Gracie and her husband Ryan own the EVIL 69 Camaro, and Liz gave it the proverbial jandal at Summernats. "We love smaller cubes 'cos we like revs," Liz said. "So it runs a NASCAR-based engine, 358 cubes, blown, with a two-speed Powerglide and nine-inch diff." She had steered her way around the Summernats burnout pad a few years back in her old car, a blown Torana, and could shoot the breeze with the best of them. Great car control, big smoke and a finale of huge, clean revs had the crowd climbing the fences and screaming for more
Sambo gets a kick out of the various reactions he gets in his blown and injected FD RX-7. "There's quite a big rotary following back in New Zealand so they don't like to see V8s in their pride and joys," he chuckled. Sambo admits he was daunted being on a stage that size. "I actually had more fun cruising around and doing little chirps than going out on the pad," he says. "On the pad I was absolutely crapping myself!"
Ricky Ireland his wife Jenn have been skidding ENVEED, their big-block Chev-powered "dirty old HZ", for around a year now. "I built it about 12 years ago, the paintwork is still from back then," Ricky explained. "Then we sold it to a mate so we could buy a house, then bought it back, tubbed it, put the motor in it"