FROM a field of 387 entrants for Hot Rod Drag Week 2017, the 322 that remained entered the gates of Cordova Raceway on Day Five. They'd survived making passes at four racetracks in four days, and driven about 1000 miles in between them, but completing Drag Week was only one more timeslip away.
Seven Aussie teams started this hell week, and along the way we lost two. Richie Crampton and the '57 Chev wagon dipped out due to Top Fuel racing obligations, while John Faraone in the Valiant Charger was ruled out of competition after ECU issues kept him from making a pass on Day Four. He came back out today and ran a spectacular pass that took out the lane markers.
2017 was Harry Haig's third crack at this event with Stevo the Chevelle and each year the car gets faster and meaner. After battling niggling woes throughout the week, including bursting fittings, dying batteries and other frustrating gremlins, Harry ended with an average ET of 8.9364 his best result yet, and giving him the unofficial fastest Aussie feather in his cap. His last day was full of strife, including two timing light failures and a dead battery on the start line, but turned in a 8.936 at 152.17mph to tie up the week.
Mark Arblaster had shipped his Valiant over from Oz, driven it from Los Angeles, raced it for five days straight, and it still lives to tell the tale. Arby's stoked that he's finished the event in his own car, and his final average ET of 9.7152 is a great indication of the consistency he'd been running with all week. Today Arby decided to turn everything up to 11 and pulled off his best run ever at 9.441 at 145.14mph.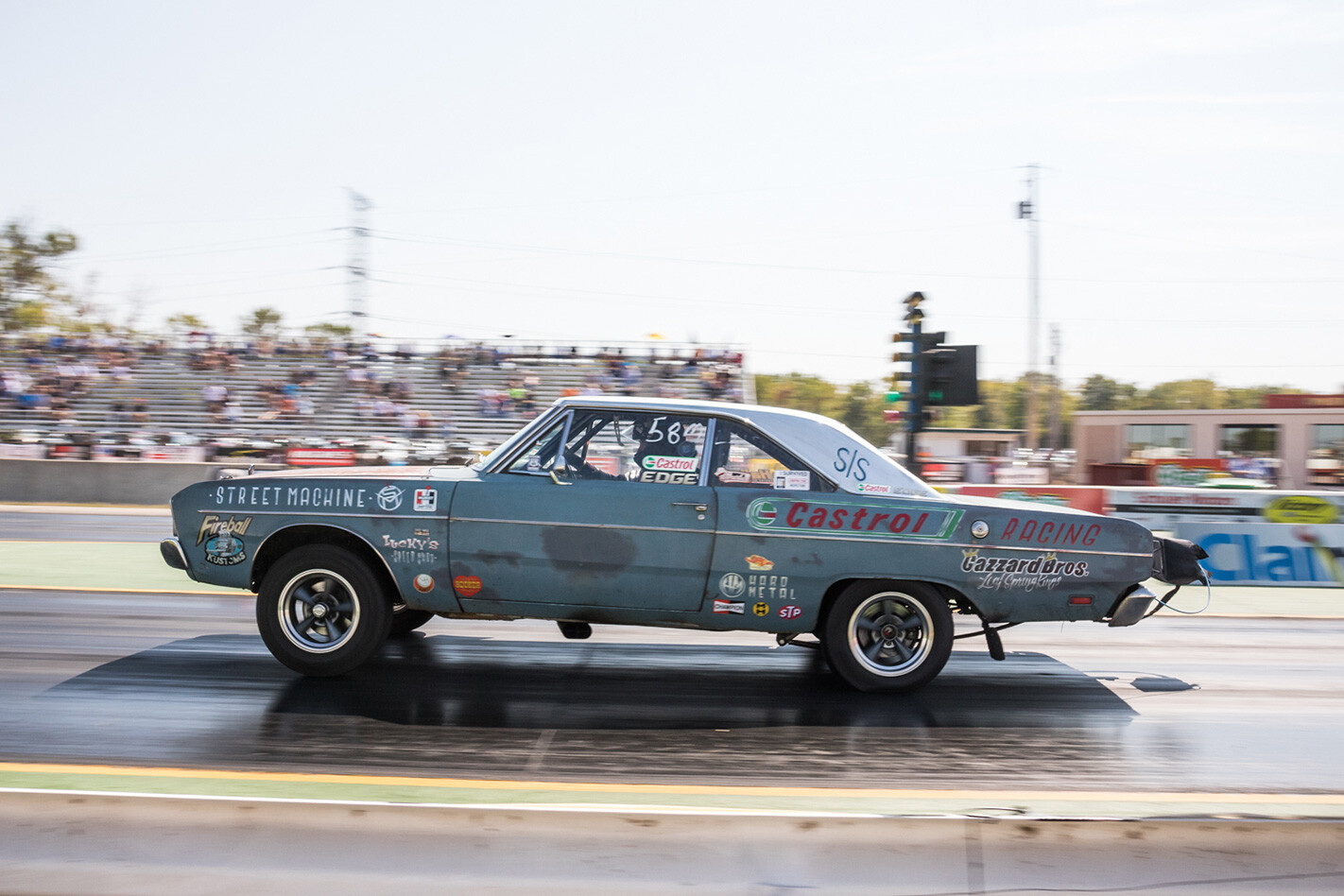 After having a solid week of one-and-done days, Brian and Dianne Jensen in their LX Torana ended up taking home second place in their class of Street Race Big Block Naturally Aspirated with an average ET of 9.6760. Brian had a much smoother go this year, with his only major issue being losing a chunk of tire on the second last day, but a new set of rubber from another competitor quickly solved that. His last pass at Cordova was a 9.780 at 140.07mph and he'll take home a nice bit of tinware back home.
Craig Moar managed to keep his freshly-built big block Buick in one piece to survive Drag Week with an average ET of 9.9268. They'd fought plethora problems throughout the week including valve train bits getting torn up or loosening, as well as traction issues on passes. Craig ran a 9.896 at 139.36mph on the last day, but the high-comp, high-lift engine finally gave up the ghost and Craig loaded it onto the trailer running on seven. Taking home Fastest Buick is a nice consolation prize.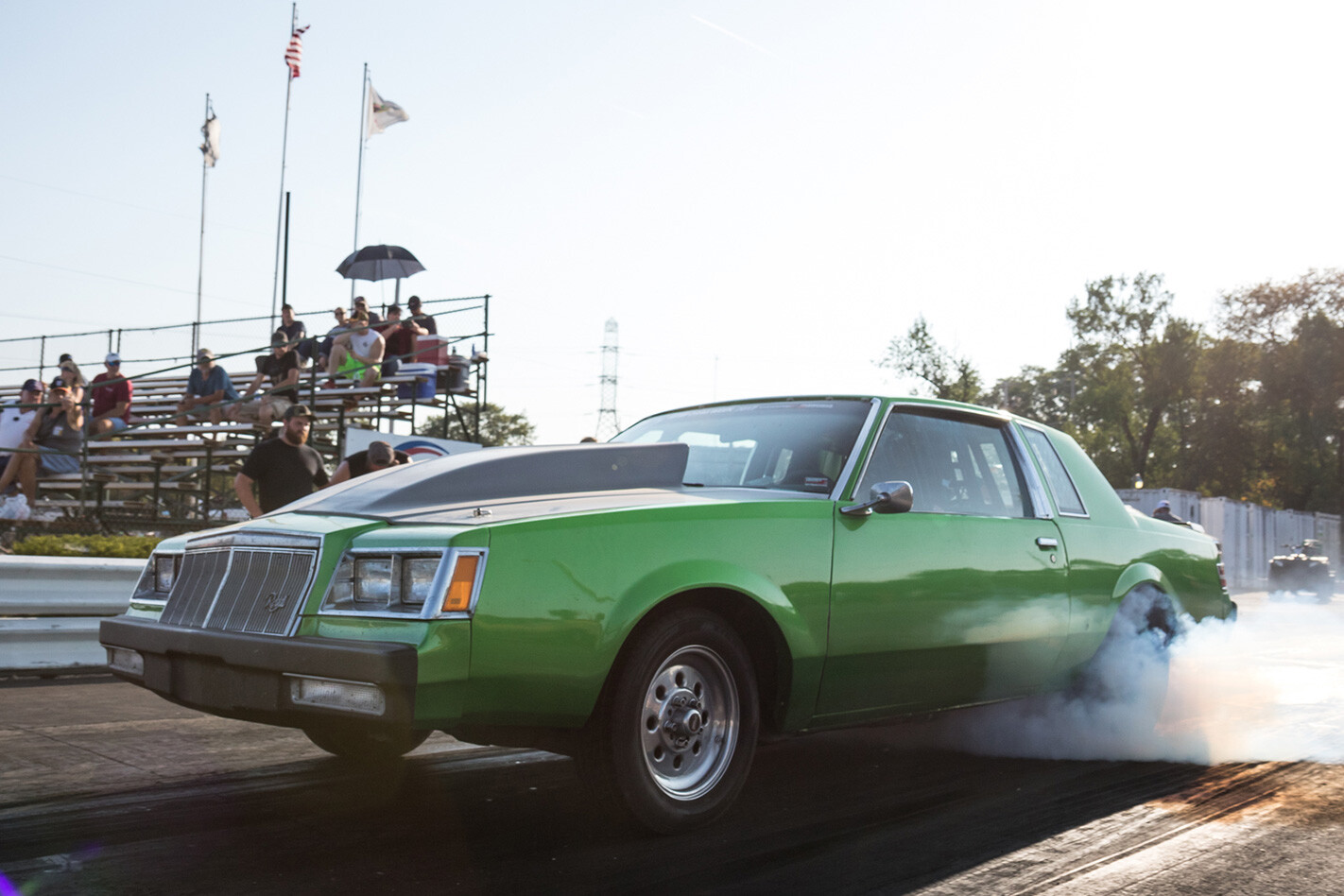 The Dirty Bird that confused a lot of Americans along its five day torture test finally hatched some super impressive numbers on the last run, putting down a 8.848 at 158.54mph. Jamie Farmer had been working to get back at those kind of numbers, which he knew the Falcon ute was capable of, but it wasn't fully airborne until the last day. With an average ET of 10.2084 it's a top effort to climb up from a slow start and take it home at the finish line. It's his first time doing Drag Week and he definitely reckons he'll be back next year.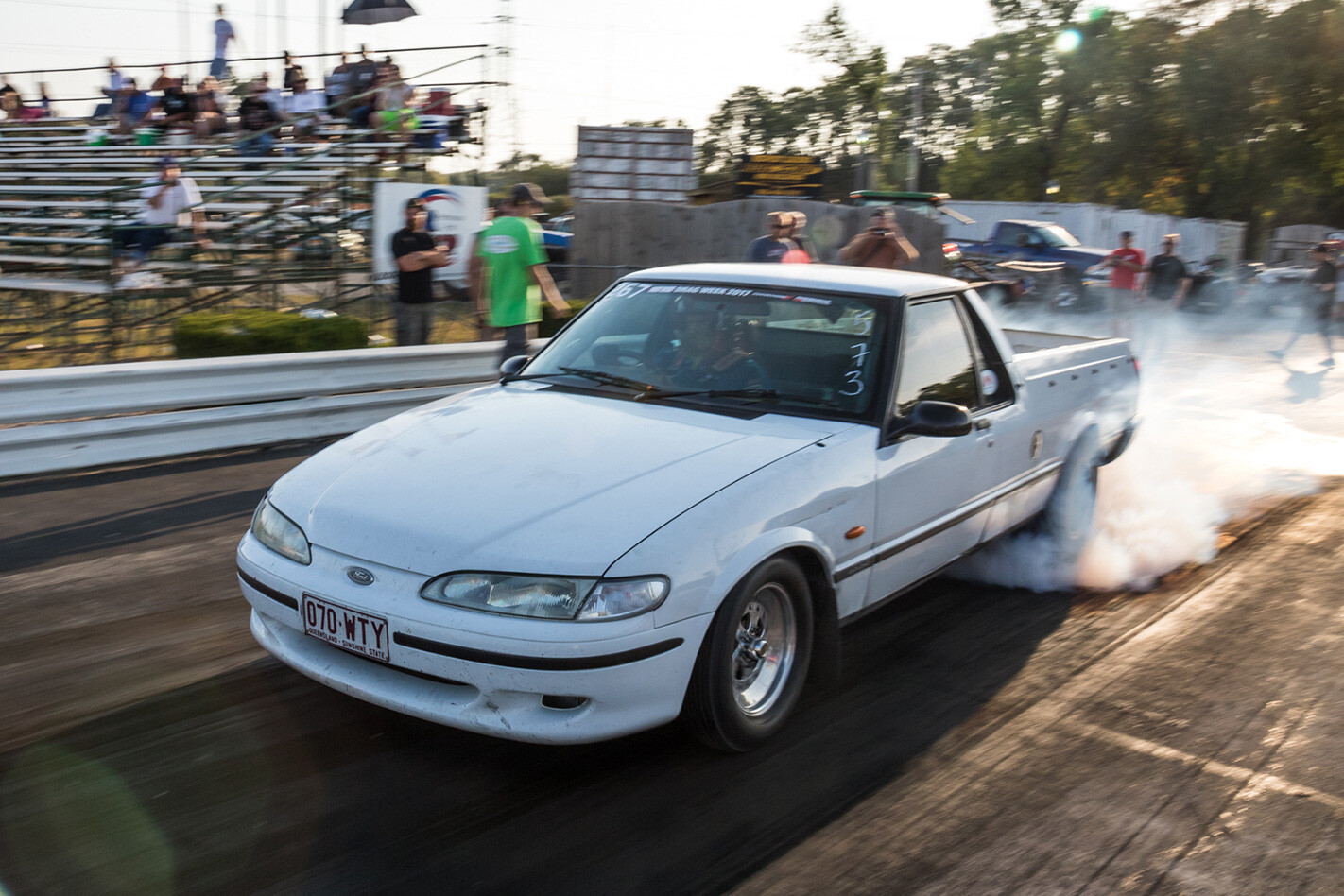 It was only a matter of time before Canadian David Schroeder would take home top spot, after biting at the heels of the big names in Drag Week folklore with his stonking 872-cube Corvette. Not only did the monster of a machine survive the week, but it scored an average ET of 6.8136, cleanly putting him in the number one position from a field of 387 street cars. His last pass today was a little slower at 7.082 at 209.04mph, but he didn't run any nitrous to keep it safe and take it home in one piece. This is the first time a gassed car has won since 2007.
Taking home the other two coveted Drag Week guitar trophies for second and third place overall were Joe Barry in his '56 Chevy with a 7.1118 average and Dan Saitz in his Fox body Mustang with a 7.7380 average.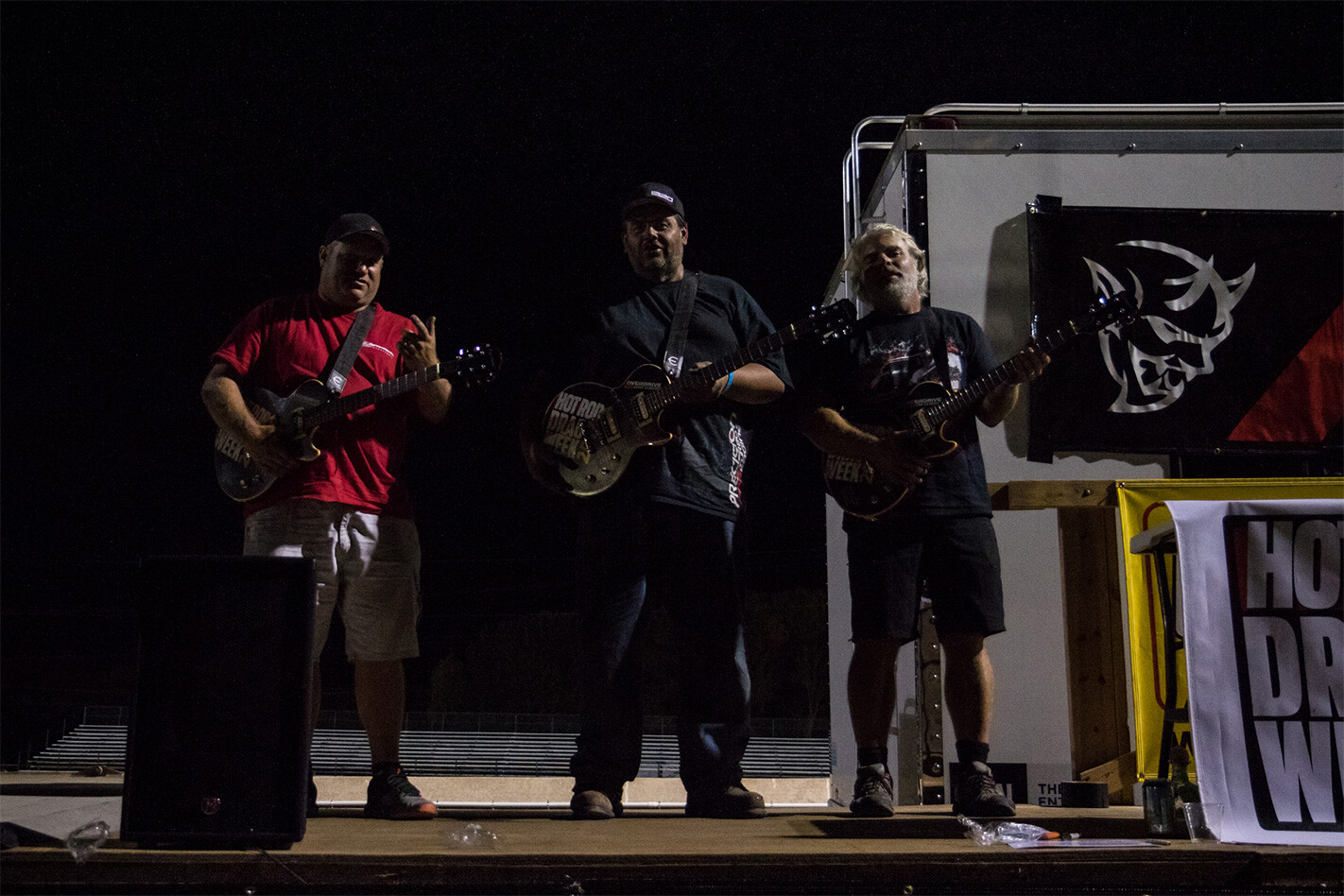 The award held in the highest esteem is the Spirit of Drag Week award, which is given to the person each year that embodies the selflessness, determination and commitment to various aspects of Drag Week and this year it went to friend of the mag and greatest bloke in Montana, Dan Nissen. Dan not only goes beyond the call of duty each year to help anyone and everyone, but this time decided to build a car (a '83 Chev Malibu wagon), race it, and then auction it off at the end of the week with all the proceeds going to charity. He's been a mate of SM's since Tech Day DW2015 and we're rapt he's got the recognition he deserves. Congrats mate!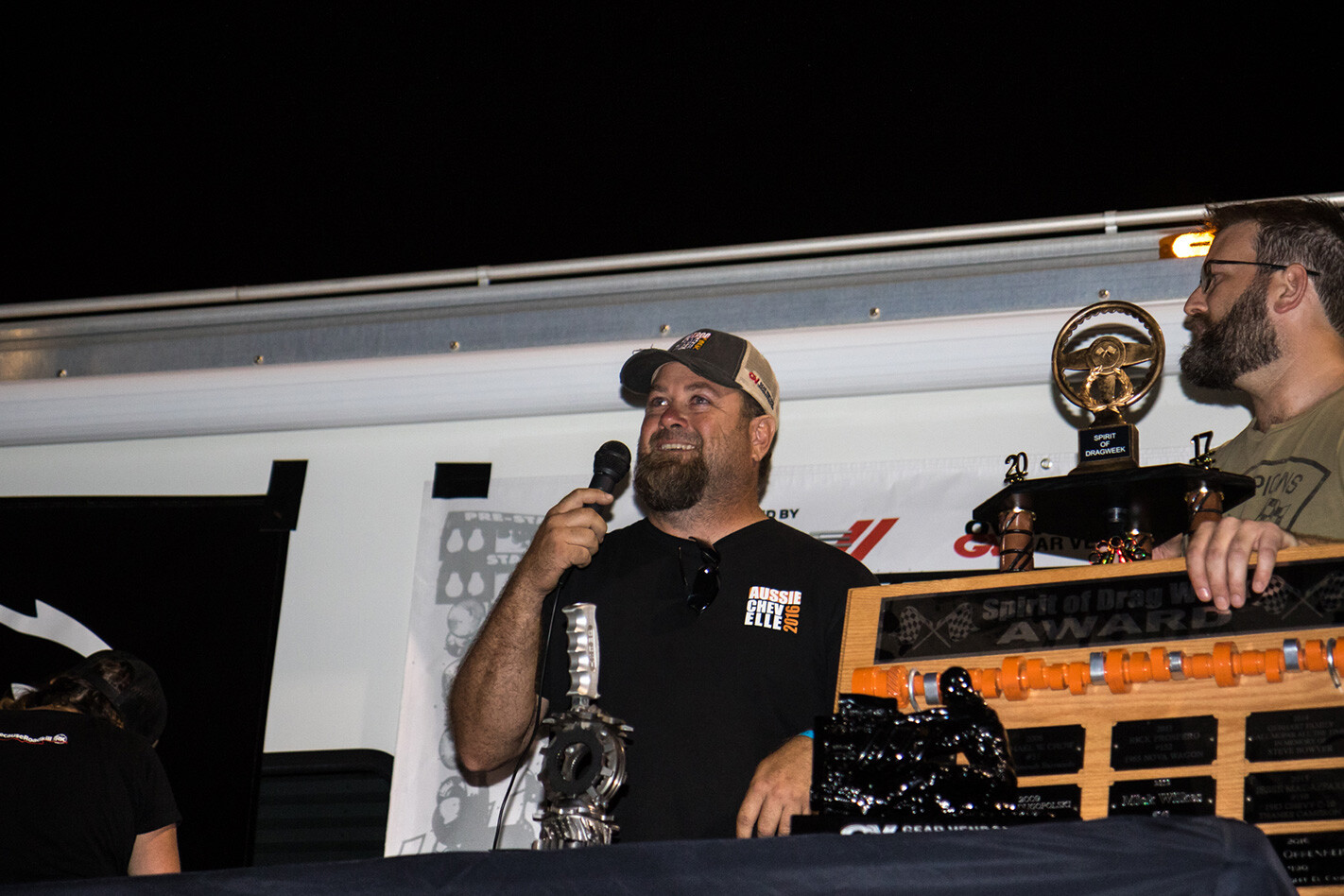 In fact, the North of the Border contingency collected quite a few impressive accolades to take back to the land of maple syrup, too. Matt Blasko won Fastest Dodge and Pro Street Power Adder class with an average of 7.8134.
Rich Guido won the Stick Shift Shootout (manual transmission elimination racing) in his mint '65 Pontiac GTO 10.0124. Awesome effort from the Commonwealth, eh?
With that, the Eskies opened, the feet were kicked up, and Hot Rod Drag Week 2017 officially came to a close.