YOU haven't caught up with happenings in the Kiwi hot rod scene recently, prepare to be surprised. It's been growing in leaps and bounds, with American car imports jumping markedly and the number of events more than quadrupling over the past 15 years. In fact, New Zealand has been described as the So-Cal of the South Pacific by some. The ease and speed of air travel these days has spawned a wave of hot rod tourism in the Shaky Isles, with some even bringing their own cars over to participate in events. Yep, when it comes to hot cars, New Zealand is really punching above its weight.
A case in point is Beach Hop, a five-day nostalgia festival held each year in the seaside town of Whangamata, and followed a week later by the Nostalgia Drags at Meremere Dragway, which this year featured the inaugural Trans-Tasman Gasser Challenge. Four Aussie gassers went up against four from NZ for the Trans-Tasman Gasser trophy, and with it, those all-important bragging rights.
Organisers the Bay Rodders Hot Rod Club put everything they had into creating this first-time gasser face-off, and there was much at stake. Rivalry between Aussies and Kiwis runs miles deep – always has done – but so does camaraderie, and when the chips are down you can bet on teams in any trans-Tasman contest to dig deep.
The scene was set at the drivers' briefing, where both teams opted to run a DYO tree to create an entertaining spectacle for race fans. But the Aussie team suffered a serious blow in qualifying when Peter Raines's '57 Chevy, Bad Ass To, broke an axle. Frantic efforts to fix it were in vain; the axle was merely welded together so that the car could be pushed back onto the trailer. Peter graciously accepted the inevitable and in bowing out he paid tribute to the organisers: "A huge shout-out to Bay Rodders for all the hard work the members and wives did for us to get our cars and ourselves over for the Beach Hop and Nostalgia Drags."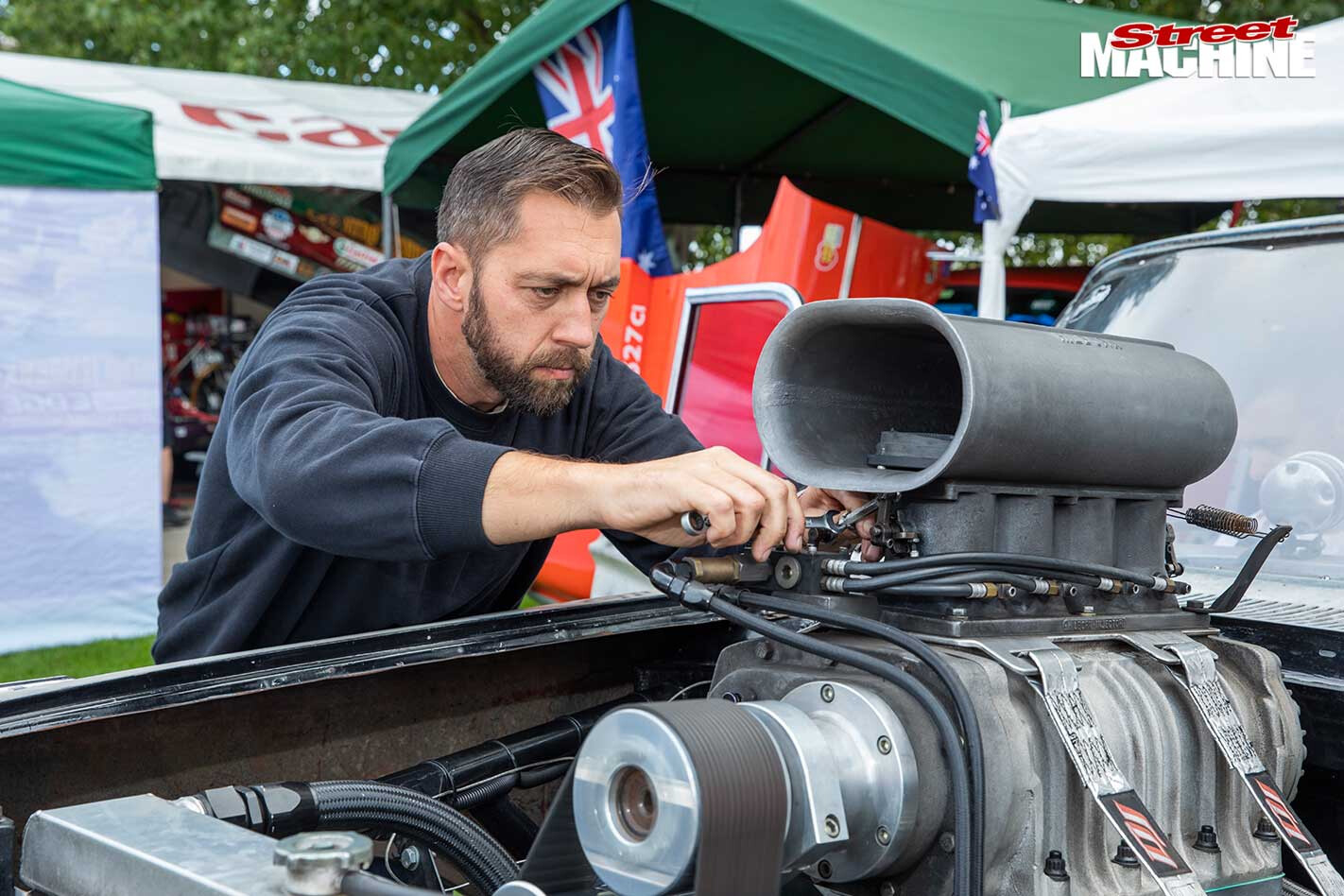 With a man down, the odds were stacked against the Aussies, but some last-minute help was at hand. Having driven over 1100km from his home in Christchurch to attend the event, Ian 'Skinny' Gearachawski, piloting his street-and-strip '63 Pontiac Catalina gasser, graciously stepped up to the plate, volunteering to race for the Australian team to return the challenge to a level playing field. After a brief pit-side ceremony where the Aussie team re-baptised Skinny as 'Skippy', they were back in business!
The first race of Round One (of three) set the scene for what was to come, when Aussie Damien Kemp laid down a half-track burnout with his 440ci small block-powered Fairlane right on the rev limiter. And didn't the crowd love it! At the end of Round One both teams had two wins apiece.
Round Two went to the Aussies 3-1, but the team from Down Under were dealt another savage blow when Damien's small-block broke its crank, putting him on the trailer, too. Damien managed to remain philosophical: "Oh well; the engine had 270 passes on it!"
Round Three was two wins apiece again, meaning that, in spite of two of their cars making early exits, the Aussies emerged from the inaugural Trans-Tasman Gasser Challenge victorious.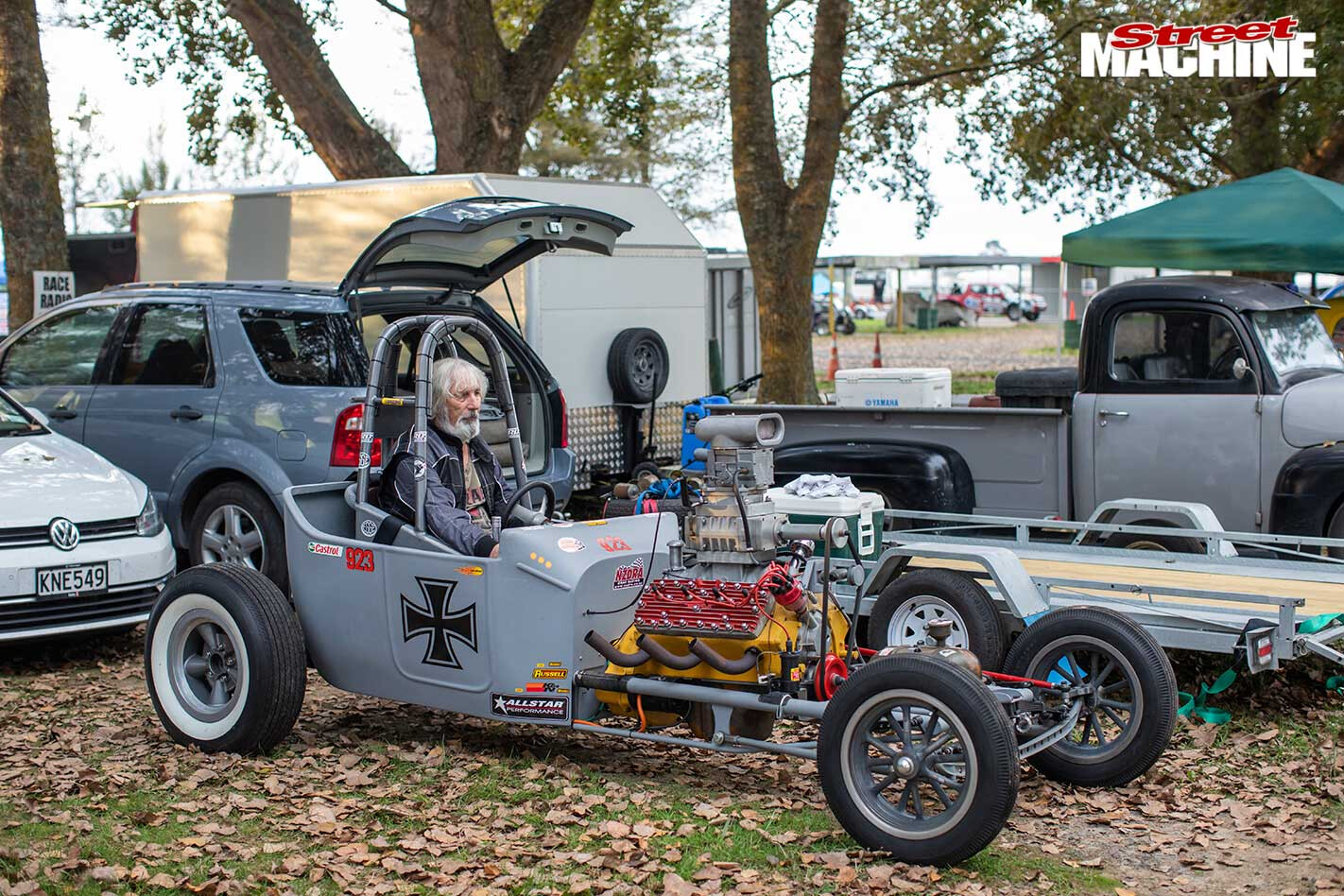 While the gassers were the main drawcard, they were backed by a complete line-up of 150 racers all vying for honours across 10 classes. There was simply something for everyone, and it went off like clockwork thanks to the passion of the Bay Rodders and the organisation of the Meremere track staff, all backed by support from sponsors, racers, crew and fans. Bay Rodders' club president Dean Anderson was effusive in his praise: "It's the best Aussie race team we've ever brought over to NZ, and thoroughly enjoyed by everyone."
There was more to come: the following day at the NZ Hot Rod magazine Club Champs, Aussie gasser pilots Stephen Biggs (Loose Cannon), and Ashley Hayley (Haywire) gave rides to some of the punters, who all came back down the return road stunned and grinning from ear to ear.
Ash was clearly amped after two solid days of racing in NZ: "We met some fantastic people who we will call friends for life," he said. For their part, the Kiwis were delighted to have the Australians as guests and competitors, and it spurred them to new heights.
If you'd like to partake in the action and enjoy a high-octane holiday, then lock and load Beach Hop 19, scheduled for 27-31 March 2019, followed by the Nostalgia Drags on 5 April.
WHOLE LOTTA SHAKIN'
Drag racing in NZ got off the ground in the mid-60s at an open-cut mine at Kopuku, about an hour south of Auckland, with the mine tailings doused in an oil mixture to keep the dust down. In 1967, NZ's first ever National Drags event was held there. A few events also took place on airfield runways in provincial towns, and some still do.
From there, Pukekohe Hot Rod Club ran five meetings on Kerrs Road in an emerging industrial area of south Auckland. A few members of the club went on a drag racing tour to Australia and came back with the goal of building a new NZ track.
Meremere Dragway opened in 1973 and was NZ's first purpose-built dragstrip. Owned by a hot rod club and manned by volunteers, Meremere has been instrumental in growing the sport in NZ. Recently a second purpose-built track was opened in Masterton on the lower North Island, while on the South Island, drag racing co-exists alongside circuit racers at Rupauna and Teretonga, while in Nelson they still use the local airfield runway.
The four biggest meetings on the Kiwi drag racing calendar are all held at Meremere: the Four & Rotary Drags, the Fathers' Day Drags, the Nostalgia Drags and the IHRA National Drags.
Unfortunately NZ has had the same political maladies that have afflicted Aussie drag racing, and now has two governing/ sanctioning bodies, the IHRA and the NZDRA. Despite mediation and negotiation, both parties have agreed on a permanent divorce. The majority of drag racing activity in NZ occurs under the IHRA's umbrella.
1. Sporting a late-60s look, Wayne Hullen's back-to-basics rail ran a best of 8.6 running a naturally aspirated 350 Chev with a few Chinese internals, but Wayne is hoping for 7.8s with a new engine
2. Eddie Trybula's Running On Empty 1957 Chev made one impressive 9.12 pass, but did not reappear
3. Beach Hop is an all-steel '49 Ford with a 418ci SBF making 800hp, driven by NZ's quickest woman, Karen Hay. The car's best ET was a 9.2 back in 2006, and it ran 9.48 with Karen at the wheel at the Nostalgias
4. Brian Mathews's '59 Ford Galaxie is the ultimate sleeper, wearing its original California patina and hiding an awesome Boss 598ci engine under the hood. An Art Morrison chassis and four-speed Top Loader takes care of the rest, and delivered a best ET of 12.2 at the Nostalgia Drags
5. Garth White's concours black 19631/2 Ford Galaxie not only looks the part but is a lethal weapon thanks to its 550ci SVO engine, which makes 825hp naturally aspirated and 1100hp on the bottle. Despite its 4700lb weight, it's run a best of 9.39. It's street-driven too!
6. Michael Franklin's '66 Pontiac GTO qualified with an 8.6 thanks to supercharged big-block Chev power, but went out in Round One in the Comp One class due to breakage
7. Young gun Justin Orpwood owns this bare-metal 1930 Ford Model A coupe. Its blown 392 Hemi was good for a 12.5 ET straight off the trailer and first time down the strip. Justin is aiming for 11.9s
8. Russell Long's street 'n' strip Model A gasser runs a 355ci small-block and Tremec five-speed combo. He bowed out in Round Two in the gasser class with a 13.425 ET on a 12.7 dial-in
9. Max Turner's '33 Willys coupe is a brandnew street-driven gasser built in a scant 21/2 years. It runs a Scott Shafiroff-built 540ci engine making 860hp. It ran 12.0 off the trailer first time out, but Max is aiming for low 9s
10. Angus Mackay's 'Gunrunner' 1952 Chev gasser drove to the Nostalgias all the way from Christchurch. Under the hood is a 327 Chev fed by twin 4bbls on a vintage Weiand crossram. The combo is good for 13.6 ETs, but Angus bowed out when the crown wheel turned to shrapnel
AUSTRALIAN GASSER CHALLENGE TEAM
Ashley Hayley Haywire, '55 Chev, blown 400ci Pontiacheaded small-block Chev
Stephen Biggs Loose Cannon, '56 Chev, 502ci bigblock Chev
Damien Kemp Funderbolt, '64 Fairlane, 440ci smallblock Ford
Peter Raines Bad Ass To, '57 Chev, 427ci smallblock Chev
Christchurch-based Ian 'Skinny' Gearachawski was re-baptised to 'Skippy' to race for the Aussie team, contributing to their overall win. With a blown 461ci Pontiac donk up front, Ian's silver '63 Pontiac gasser is street-driven and ran a 12.5sec best during the Gasser Challenge
NEW ZEALAND GASSER CHALLENGE TEAM
Dave Middlemiss The Mexican, '54 Chevy, 496ci big-block
GT Norris Pist 'n' Broke, '53 Henry J, Kinslerinjected 440ci big-block
Darryl 'Daz' Selwyn Pandemonium, '65 Dodge Coronet, 528ci Ray Barton Hemi
Dave Best '30 Ford Model A, Hilborn-injected 392 Chrysler Hemi