THE deep red paint is almost as lustrous as the day it left the dealership in 1980. The foam-backed seat covers have lost little of their beige-y, browny, stripy protection since bought from Kmart. The door trims, dash and carpet would bring a smile to the face of any early-Commodore aficionado.
Yet in the hands of mates Matt Forbes and Paul Rogers, this bought-from-a-little-old-lady 1980 VC Commodore SL was gunning for 10s at Drag Challenge 2018.
It's no LS-swapped Commodore either; this one remains all iron lion under that almost pristine exterior. "I wanted it all Holden," explained Ballarat local Matt, who owns the car. "It's a Holden motor, a Trimatic transmission and a BorgWarner rear end from a later-model Commodore."
The motor is a VN-headed 355 stroker built by James Melmoth of Melway Competition Engines. Paul is the name in Paul Rogers Performance Transmissions, so that explains the Trimatic! The rear gears are 3.73s surrounding a full spool.
The wheels are the early-Commodore original 14-inchers, re-hooped to 15s and running a 235 rear tyre.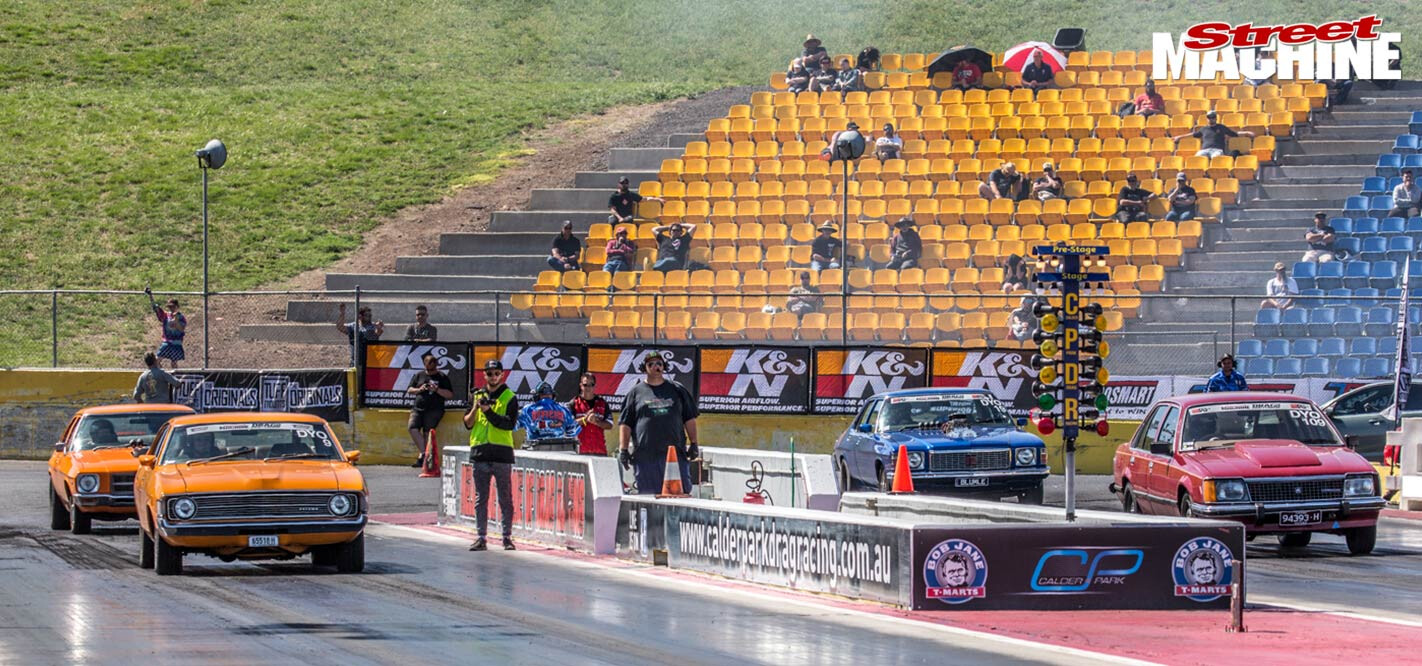 The immaculate interior has been carefully preserved during the installation of the rollcage, and nothing in or under the car has been chopped or hacked unnecessarily. Yes, the bonnet scoop is necessary; it's as 'original' as possible, being one from an HDT Commodore SS Group Three. Even the battery has been retained in the original position; at this level of performance there was no real reason to relocate it.
Although Drag Challenge first-timers, both these blokes are Australian drag racing legends; Matt is a three-time national champion and Paul an ANDRA hall-of-famer.
The Commodore's first runs were the day before Drag Challenge at Portland's South Coast Raceway eighth-mile, where it showed a respectable 6.95, with the lads aiming for a high 10 over the quarter at DC.
At Calder on Day One of DC, the car ran 11.20, but according to Matt, at Swan Hill the following day they blew the tyres off it. "It's a fresh car and we need to learn what these little 235 radials like ASAP!" he said. "Everything is going to plan, so we've made some suspension changes.
"Our goal for the week is to run two drivers at each track and complete the journey in a – hopefully – 10-second street car."
While they didn't quite manage to crack into the 10s, the boys still ran consistent low 11-second passes to seal a healthy week in the K&N Dial Your Own class. An 11.06@121mph on Day Five at Calder was their best run of the week, and with some more development under their belts they should be ready and roaring to break into the 10-second club at DC next year.
MATT FORBES & PAUL ROGERS
1980 VC COMMODORE SL
Class: K&N Dial Your Own
SPECS
Engine: 355-stroked Holden V8
Transmission: Trimatic
Converter: Dominator 5000rpm
Diff: Spooled 9in, 3.73:1 gears
Power: 544hp
Previous PB: 6.95 (eighth-mile)
Best Drag Challenge 2018 Pass: 11.06@121mph