THIS '69 Camaro race car has a fair bit of history behind it. It was originally built in America for Jack Barfield and went on to become one of the most iconic cars in the Outlaw 10.5 small-tyre movement. The original combo was a nitrous big-block, before Jack went to a twin-turbo set-up, becoming one of the first in the class to race with turbos.
In 2011 the car came up for sale as a roller, and Frank Marchese from Dandy Engines in Melbourne was about to snap it up when his friend and customer Jeremy Callaghan decided to purchase it instead and bring it Down Under.
Jeremy pulled the twin-turbo Brodix big-block out of his LH Torana, dropped it into the Camaro and campaigned it in the APSA 10.5 series, where the car ended up winning the championship in 2014 and 2015. That combo ran a PB of 6.40@228mph down the quarter and 4.28@180mph to half-track – safe to say it was a gnarly thing.
Fast-forward to early this year, and coming up to the $50,000 Grudge Kings race, Jeremy and Frank both knew they would have to lean on the cast-alloy Brodix combo hard in order to be really competitive. So they decided to make a move to the billet alloy Pro Line 481X motor instead.
These mills were designed by Alan Johnson after all the five-inch bore-space motors came onto the scene and left everything else for dead. The NHRA gave them a big weight penalty to even the playing field, so to get around this, Alan designed the 481X motor with a four-inch and 810thou bore space, specifically for high boost applications.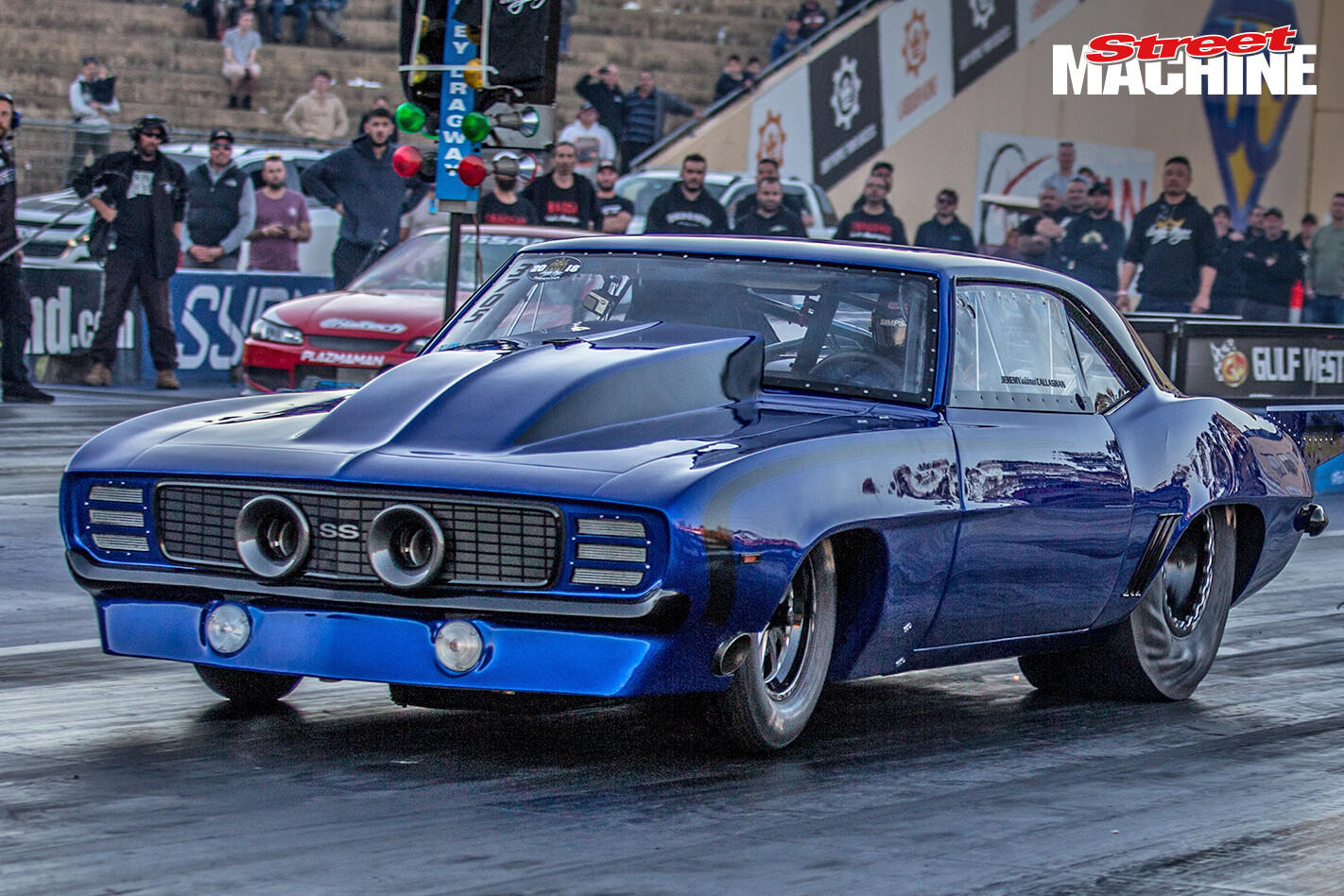 They were also designed in such a way that they didn't require massive maintenance like the established motors and could be taken apart and put back together really quickly if something did go wrong during a race event. They're a dedicated race motor; there are no water galleries so it can't really be used on the street.
Jeremy's motor measures up at 570ci, and makes somewhere between 4000hp and 4500hp thanks to a pair of Gen 1 Precision Pro Mod 94mm turbos. The whole deal runs on methanol with 16 7000cc Billet Atomizer injectors, and interestingly they use eight individual ignition coils. This helps the FuelTech ECU make more exact timing adjustments on the fly when the driveshaft exceeds the desired revs. Basically it works as a form of traction control.
Jeremy had his first few test passes with this new set-up at the Sydney Dragway test day just before Grudge Kings. This new combo is making a whole lot more snot than the old set-up and it's been a bit of a shock to the chassis – it just wants to lift the front wheels off the deck! On its first full pass the Camaro went 6.61@182mph, and finished up the event with a best eighth-mile of 4.11@188mph, so clearly there's plenty more to come!
Jeremy made it through to the Grudge Kings semi-final, where he turned the tyres all the way down the track and was knocked out by Bruno Matijasevic's blown and injected HG Holden. Pretty good effort for a brand new, untested set-up!