DRAG WEEK is toughest event in the world for street and strip cars, and over 300 entrants signed up this year to put themselves through the 1000 mile torture test; but there's a big difference between doing Drag Week and finishing Drag Week. We saw dozens of amazing passes this year only to discover that the cars in question fell by the wayside. To complete Drag Week you have to run five passes at the five nominated tracks and drive the whole route (which could be up to 1200miles) in the car that you race; to win Drag Week you've got to do all that and run some unbelievable numbers as well.
So while we were all amazed with some truly awesome personal achievements during Drag Week, it's the guys that finished who we reckon deserve the biggest praise. Because just finishing this event is an achievement in itself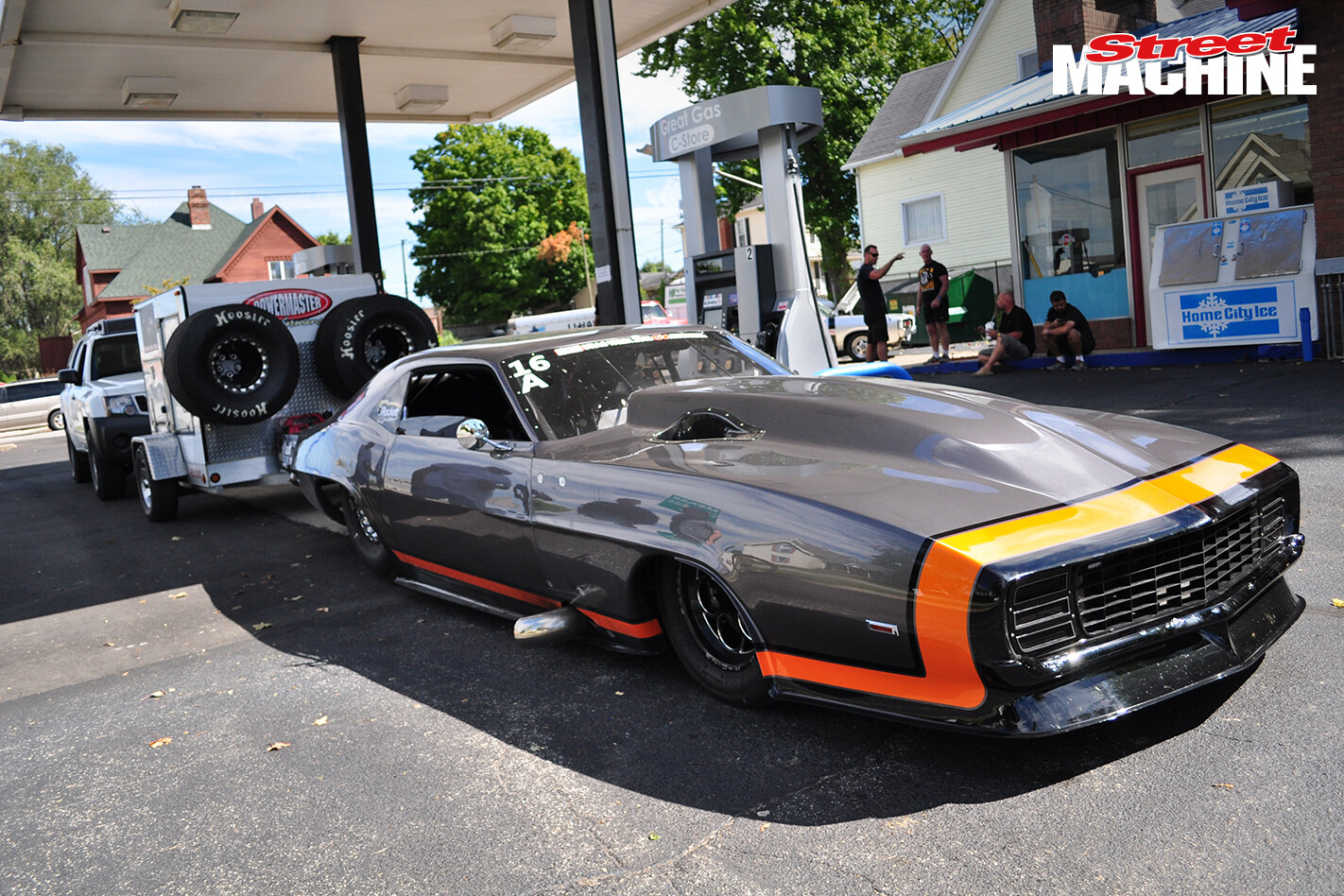 Tom Bailey – '69 Camaro – 6.78sec average
Tom Bailey needs no introduction to those who follow Drag Week; he's won the event outright in the past and had more than a few shots at the title over the years. His wild Pro Mod style '69 Camaro, nicknamed Sick Seconds 2.0, runs a 615ci big block Chev with a pair of 94mm turbos and it's claimed to make around 4000hp. Tom's main competition was Jeff Lutz, who was also in a Pro Mod style '69 Camaro, but Lutz had to retire after running a 6.05@251mph on day one.
Bryant Goldstone – '73 Javelin – 6.95sec average
Bryant Goldstone was keeping it real in steel with his AMC Javelin. He's owned the car for just on 30 years and it's progressed from a nitrous small block car up to the twin turbo big block-powered monster it is today. The all-steel Javelin weighs in at around 3600lbs, or about 1000lbs heavier than the Pro Mod cars, but still managed a string of high sixes over the course of Drag Week.
Joe Barry – '56 Chev – 7.09sec average
Joe Barry is a Drag Week legend – he's done the event a bunch of times in his shoebox Chevy and with a 7.09 second average he's not hanging about. Joe came second to Goldstone in the Ultimate Iron class this year in one of the closest class battles of Drag Week. The big Chev weighs around 3800lbs and has gone high sixes in the quarter, but only managed a best of 7.03 at 200mph this year. Holy mother of god!
Calvin Hayward – '91 Mustang – 7.61sec average
This bright pink Mustang took us by surprise. Sure it's got a pair of turbos fitted into the front bumper, but mid-sevens at 183mph is pure insanity – especially in the Super Street Small Block Power Adder class. Who expected a small block street car to be knocking on the door of the twin-turbo tube-frame monsters. Don't discount the small block cars.
Mike Wenzler – '87 Camaro – 7.67sec average
Just when you thought Drag Week was all about the turbo cars, here comes Mike Wenzler's nitrous third-gen Camaro. All the way from Battle Creek in Michigan, Mike's Camaro runs a 598ci big block Chev which produces around 1000hp naturally aspirated. Add in another 550hp worth of nitrous oxide and you've got a mid-seven-second time machine. Mike used to run a Lenco in this car, but he's stepped up to a Rossler 210 transmission this year.
George Gallimore – '70 Monte Carlo – 7.76sec average
Big is beautiful, and they don't come much bigger than George Gallimore's black Monte Carlo. It weighs in at about 4050lbs and leaves the startline like a pussy cat. But about 300feet out from the start the power starts to feed in and that 555ci big block gulps down all the air those twin 88mm turbos can supply. George belonged to the one and done category this year, he basically did one pass early each day, and then hit the road to the next track. It's such an understated car, and it seems unbelievable that it can run mid-sevens at over 190mph.
Tom McGilton – '13 Camaro – 7.85sec average
Built by Larson Race Cars, Tom McGilton's 2013 Camaro has been on the cover of Hot Rod magazine and did pretty well for its first Drag Week. It didn't look like they were having too much trouble running high sevens at over 185mph and the car looked more like a bracket car than a contender for outright honours. Watch out for this beast next year; we're tipping high sixes at least when they start leaning on it.
Frank Saponaro – '67 Nova – 7.90sec average
If we were pressed to name our favourite car from Drag Week then Frank Saponaro's Nova wagon would be it. Powered by a twin turbo 540ci big block Chev the wagon didn't need to tow a trailer or even change its tyres all week. Frank ran high sevens at every track and then cruised with the air conditioning on during the 1000mile journey.
Steve Forrester – '93 Mustang – 7.96sec average
Another one for the sleeper category was Steve Forrester's black Mustang. With so many Mustangs racing it's hard to pick out the quick ones, so Steve's car definitely flew under our radar; but 7.96 at almost 180mph is nothing to sneeze at. It finished in second place behind Calvin Hayward's Mustang in the Super Street Small Block Power Adder category.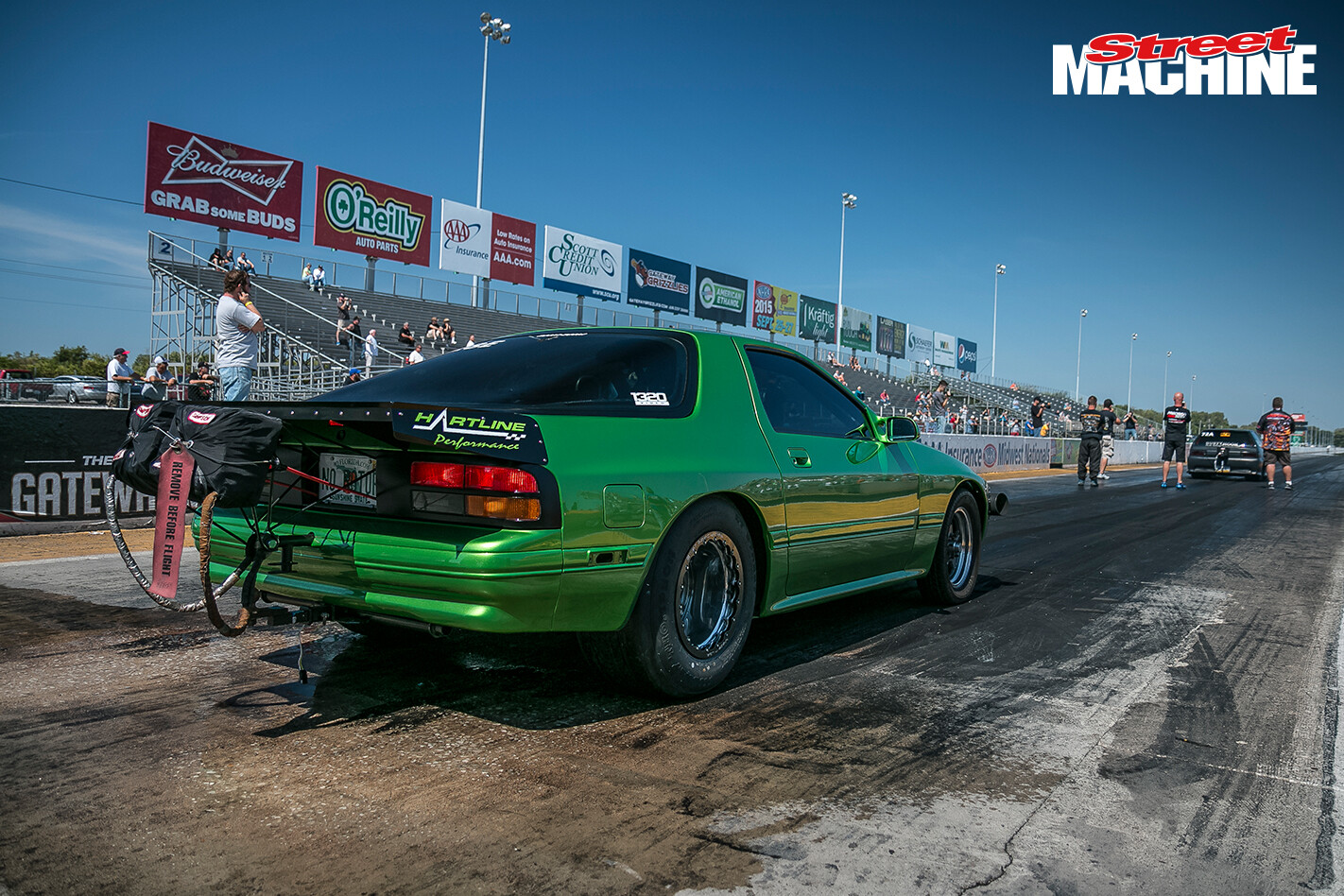 Rick Prospero – '90 Mazda RX7 – 8.22sec average
In a sea of American muscle Rick Prospero's RX7 certainly stood out and with a twin turbo big block up front it certainly laid down some numbers. If Rick's name sounds familiar it's probably because you remember his wheel standing '65 Nova wagon from previous years. That car ran into the seven second zone so we expect the Mazda still has some way to go with its tune up.