BONNEVILLE'S Speedweek may have been cancelled again this year, but it didn't stop me from making the trip to Salt Lake City, Utah during the week it was meant to be held. I was still there to check out hot rods, but instead of hurtling down a few miles of salt flats, these rods would be cruising 800-odd kilometres to Georgetown, Colorado for one of the biggest racing events in the hot rodding calendar: the Hot Rod Hillclimb. And I'd be a passenger.
A motley crew of Hot Iron Car Club members were game to take the journey on. Local Utah car builders who would normally find themselves on the salt this week, they were craving a speed-filled diversion.
We set off in four cars early Thursday morning and rapidly began chewing through the miles. I rode in Wayne's chopped and channelled '30 Model A coupe, joined by Jordan in his '27 Model T roadster, Luke in his '50 Mercury coupe and Keven in his brother's '53 Chevy pick-up.
Twisting roads made for a welcome distraction from the searing desert heat, but soon enough we had our first casualty, Luke's Merc vapour-locking after a quick fuel stop.
This provided a welcome opportunity to address the fume issue we had in the coupe. The lack of glass in the rear and side windows made the cabin a swirling hot-box for exhaust gases. Nothing a little tape can't fix!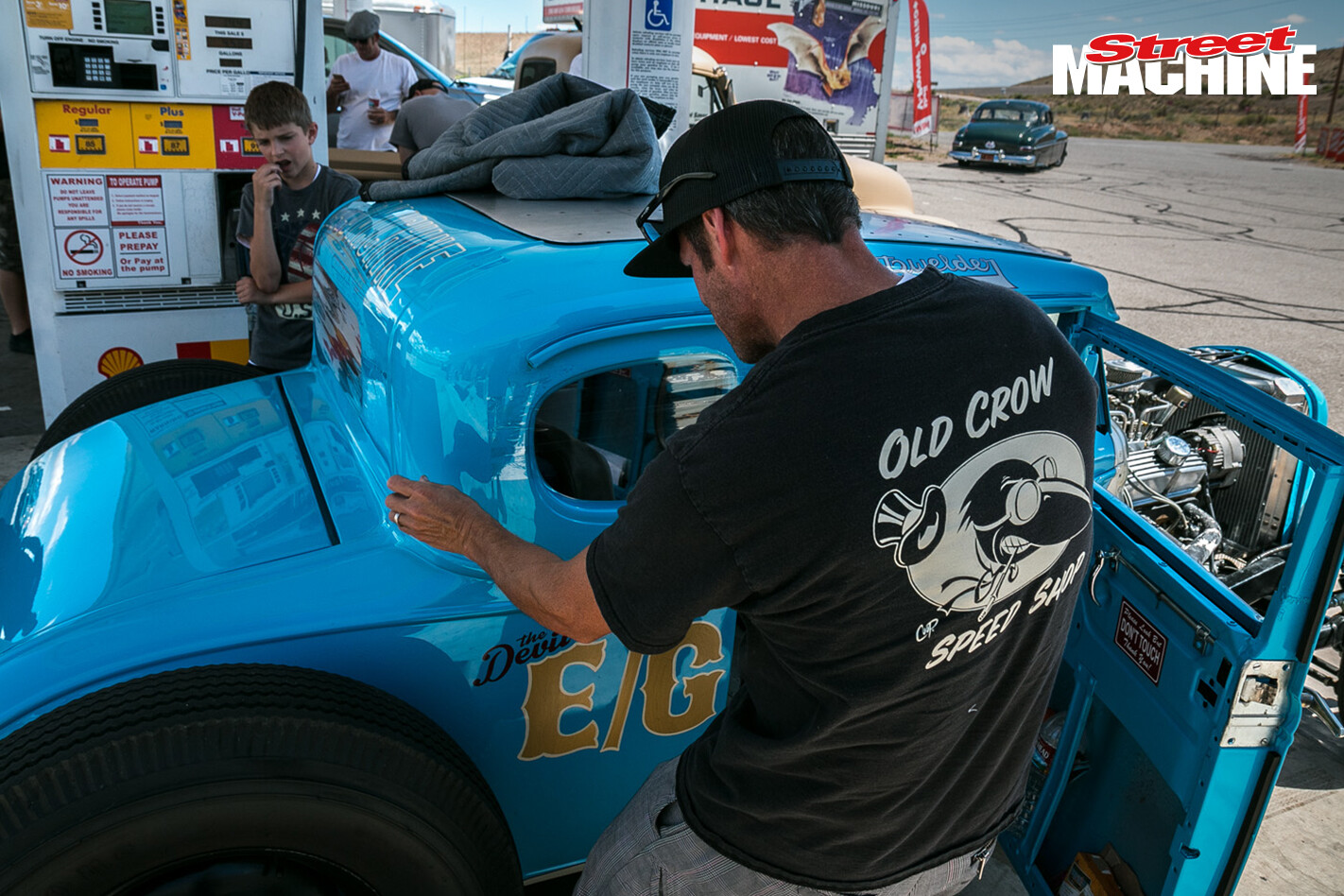 After a brutal day of high heat and high miles, the last few hours into sleepy Georgetown, Colorado proved a refreshing way to end the day. With a few spots of rain and some gnarly mountain passes through the Rockies, the crew's energy had worn thin, as had their brake pads.
Wayne Hamill is the owner of this chopped 'n' channelled '30 A coupe. Running a warm 350 small-block Chev with a triple-carb set-up and only headers, this rod is a loud and angry mile-eater.
Allan Winward owns this bitchin' 1936 Ford coupe equipped with a mean flathead. Hailing from Utah as well, he caught up to our crew just as we crossed the Colorado state line.
Brian Bass's historic '32 roadster has been a So Cal hot rod since the '40s. Brian, from Bass Kustom in Dallas, Texas, recently revived the car, and it now features a 239ci 59L flathead with a full race cam, dual Stromberg 97s and Edelbrock go-fast bits.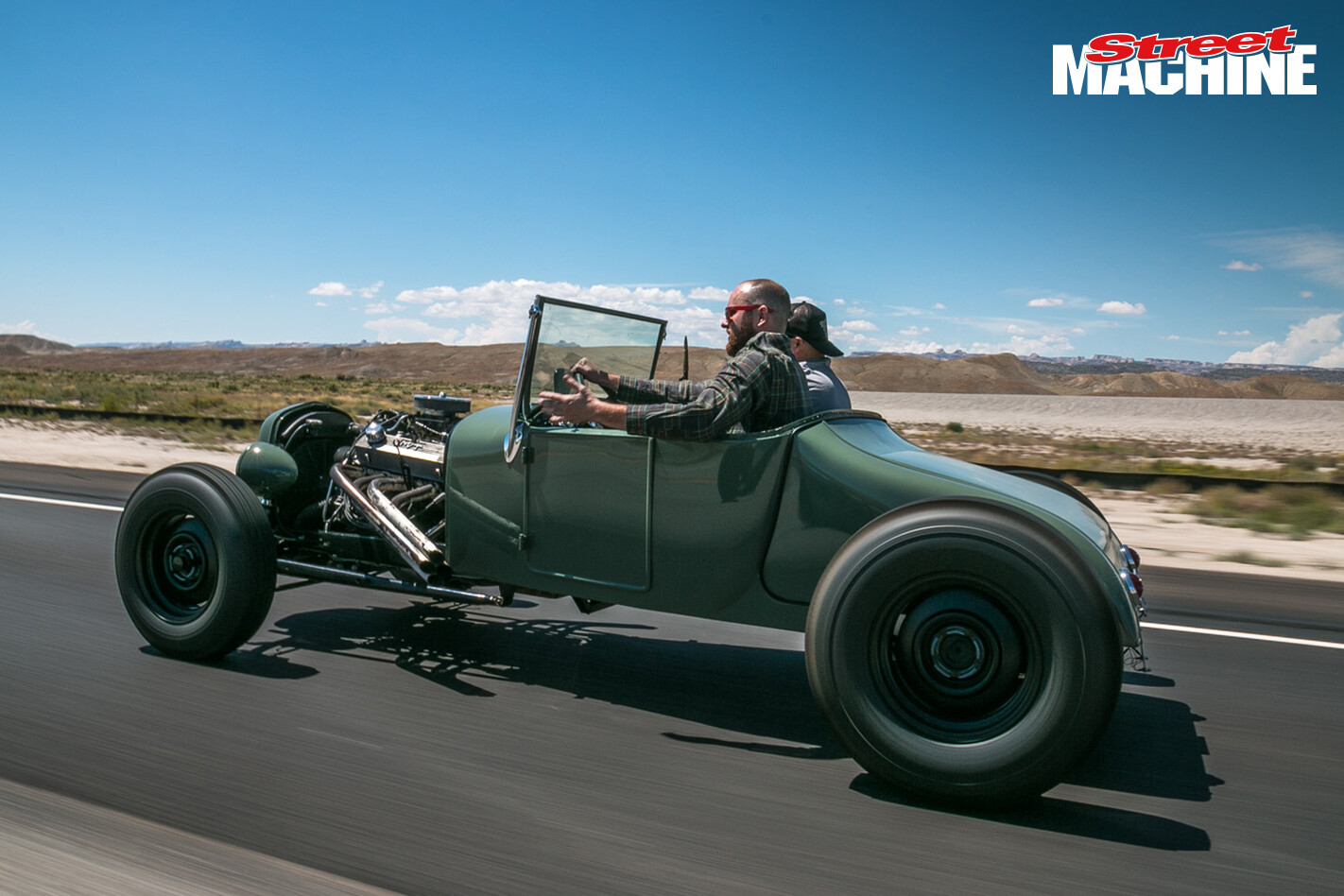 Jordan Hamilton of Hot Iron CC owns this '27 T roadster, on an A chassis running a Ford 302 with a big quad-pumper Holley on it. With the channelled floor there's not much room for anything in the car and the boot space is taken up by the gas tank and kicked-up crossmember!
Tim Hein's '32 five-window coupe gets a good amount of road time in his home of Spokane, Washington. It's equipped with an 8BA flathead, and if you look closely, you can see the bullet dents in the rear quarters from its former life as a field car.
Keven Johnson was rolling in his brother's '53 Chevy truck for the weekend. His own car is a historic '32 roadster, but he was unable to get it ready in time for the gruelling road trip. The Chev was our supplies hauler for the weekend and ran super reliably, with a mild 350 nestled into a Nova front clip under the bonnet.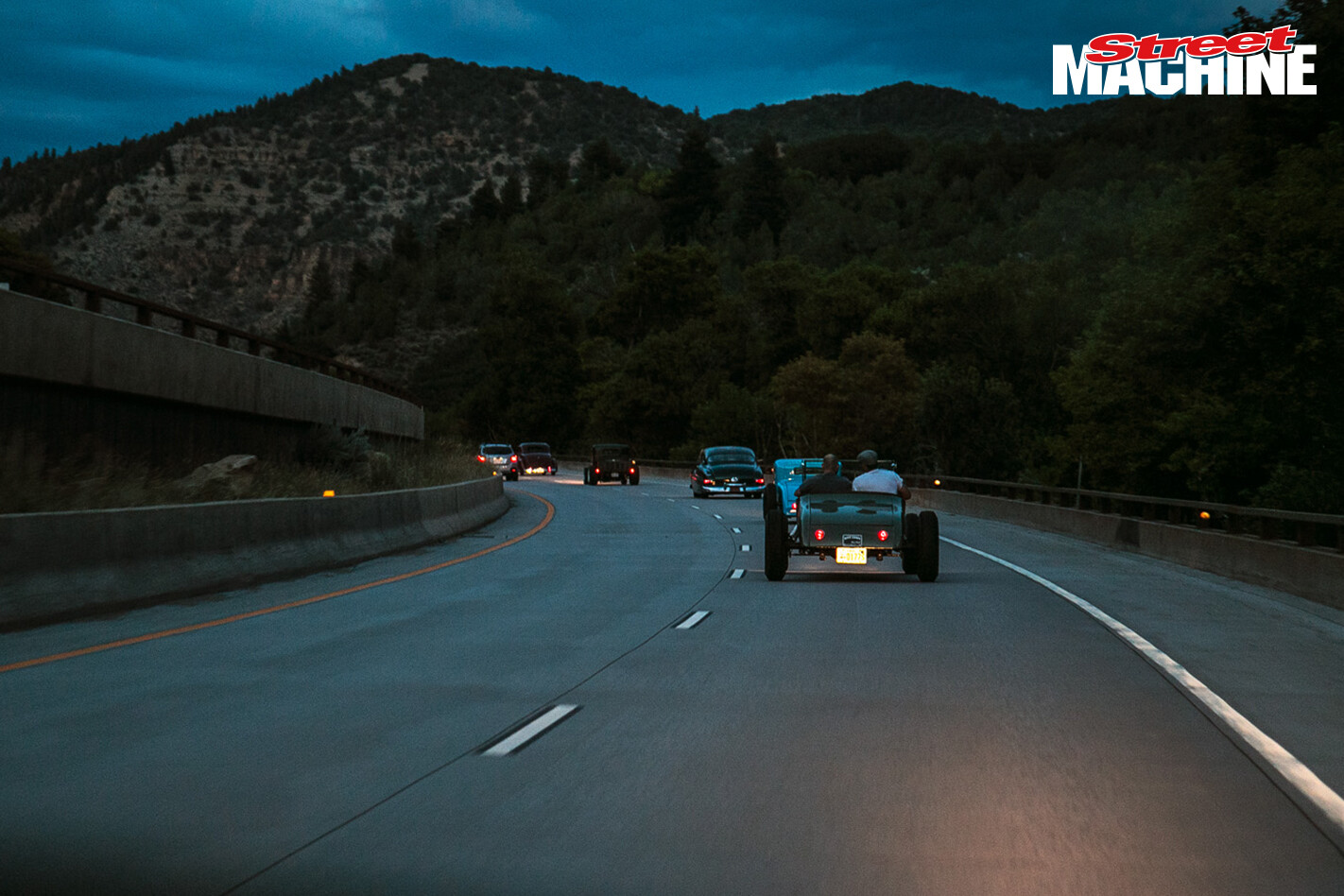 Mike Nichols, the main organiser of the Hot Rod Hillclimb, makes sure the entire weekend is filled with great events, including historic train rides, local speed shop tours and more, so that you make the most of your time in historic Georgetown and the surrounding area. Bright and early Friday morning there's a gruelling 115km reliability run that climbs from 7500ft up to 10,600ft in elevation and includes over 20km of narrow dirt roads and switchbacks. It is aptly known as the 'Oh My God' Reliability Run.
Riding in the rumble seat of Tim Hein's '32 coupe might have sounded like a good idea when we were still in town, but pretty soon my kidneys felt otherwise as the roads bumped and bruised me all the way to the top of the climb.
After the dirt section was over, the run took the entrants through some beautiful small towns and across some amazing mountain passes – a great way to acclimatise to the high altitude and to really smooth out the kinks in your rod.
The skies soon turned foul and a heavy downpour put a dampener on the end of the reliability run. Those unlucky enough to be in roadsters copped a massive soaking (including myself in Lucky Burton's '32). But as everyone rolled back into town the rain eased and the drivers' briefing was held for the main event the following morning.
Getting caught in the rain in a roadster is everyone's favourite road-time experience!
Now in its third year, the Hot Rod Hillclimb has steadily grown, with 109 cars entered this year to make the two-minute-something sprint up the Guanella Pass Road. However, it is not at all a new event. The first hillclimb was staged in 1953, with 30 cars from eight clubs that were all part of the Colorado Timing Association, and only ran once more the following year.
With the help of a big and dedicated crew, including his wife Amy as flag girl, Mike Nichols of Nick's Garage has resurrected the event to great success.
Some participants took the chance to cruise up the historic sprint at a leisurely pace, while others preferred to race all-out, pushing their vintage mills as hard as the high altitude would allow.
Moises Vargas is now the custodian of this roadster, historically owned by Carl Loveless and equipped with a Milodon-built full-race 'banger.
Denver's Dave Scroggs, son of one of the original 1953 race winners, Don Scroggs, raced his 98D coupe on the weekend. It packs a hot 292 Chevy straight-six under the hood.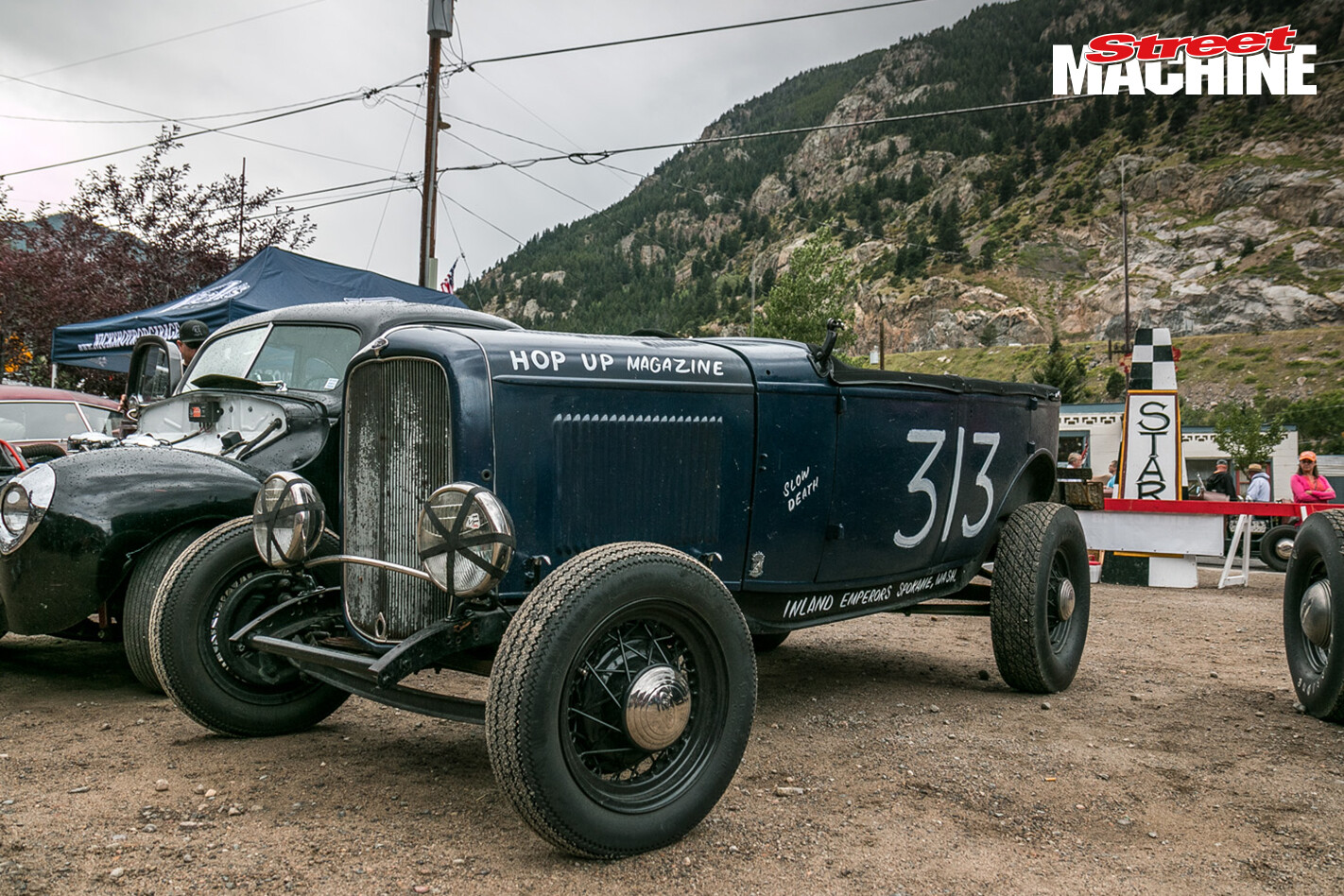 This '32 phaeton is owned by John Gunsaulis and runs a hopped-up '32 four-cylinder. The car is right-hand drive, imported from Australia, and has been on American soil since the 1960s.
Johnny Carillo drove his mate Moises Vargas' '29 roadster equipped with a Cyclone 101 overhead-valve conversion on the B-block four-banger built by H&H Flatheads. The car sits on a '32 chassis and sports some cool extras like wide-five steel wheels, cast Y-shaped headers and rare E&J headlights.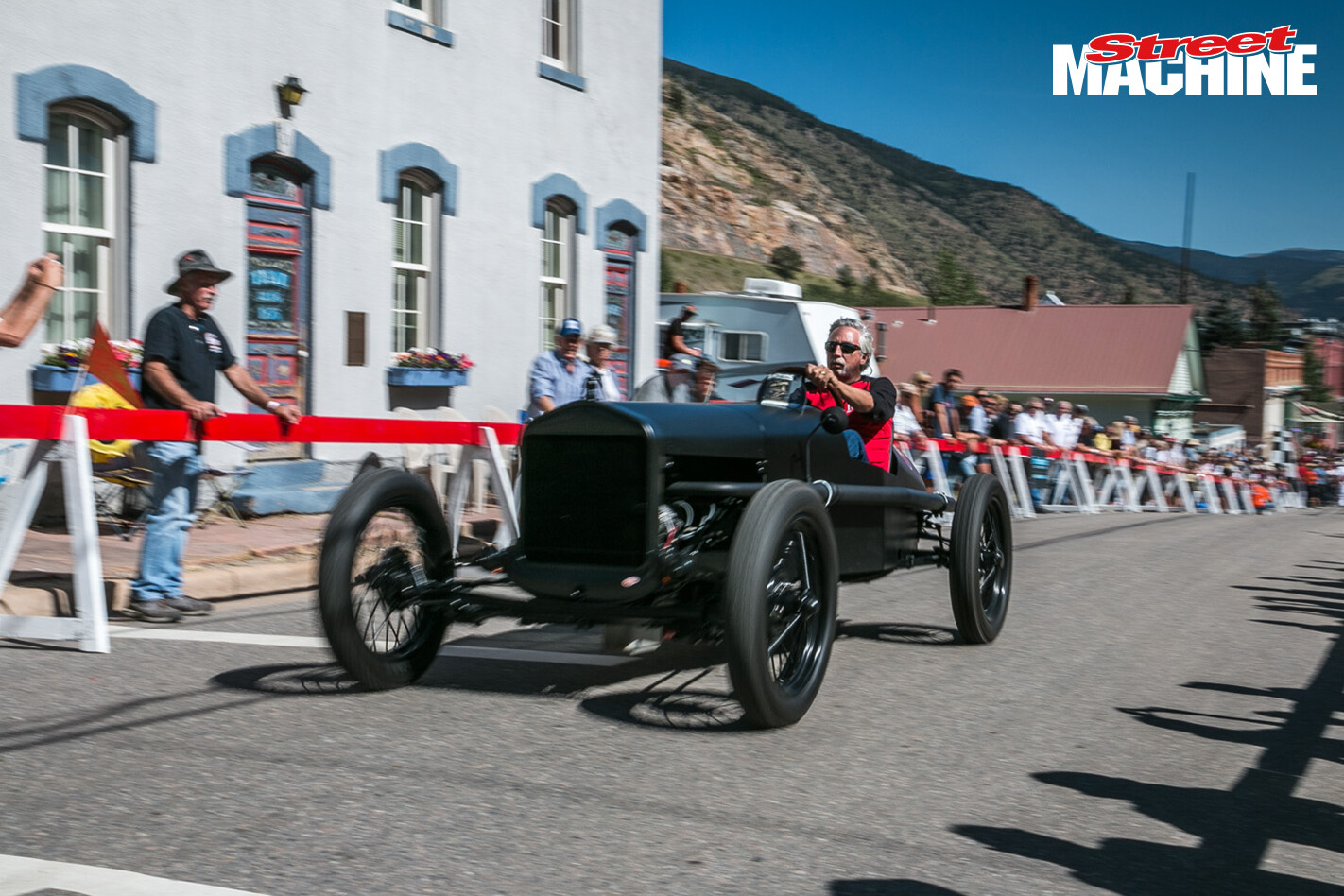 Unfortunately, the racing had to be cut short due to Alpine Rescue teams needing full access to the roads to search for missing hikers. But this didn't put a downer on anyone's spirits, with everyone revelling in the large amount of vintage iron on display on the streets of Georgetown.
As the day wore on and people began to depart, the Utah crew and I met for a burger and malt milkshake at Empire Dairy King – possibly the best of both you'll find for hundreds of miles around – and an afternoon cruise through the countryside.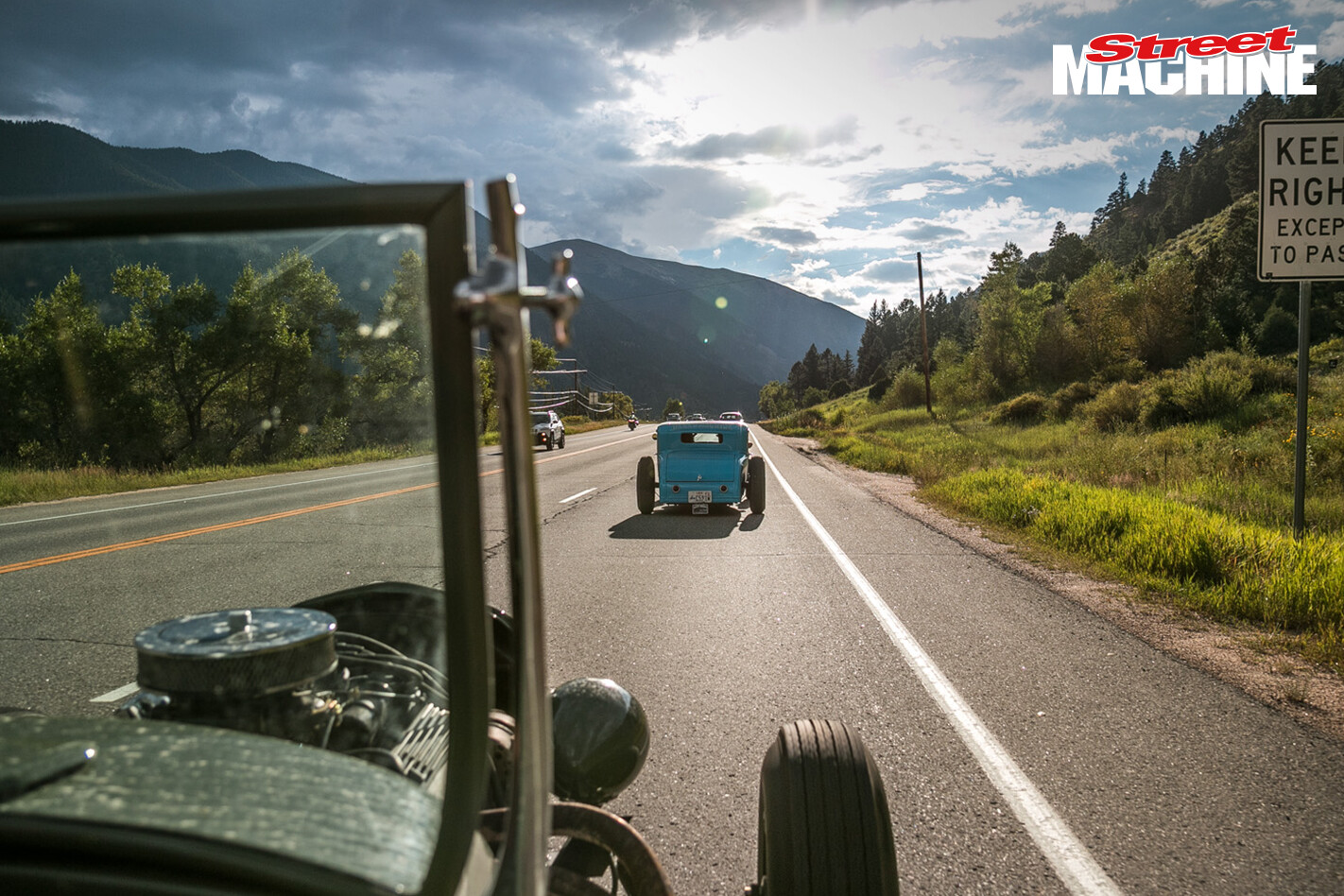 The next morning we hit the road hard, taking the more scenic route back to Utah along I-40, only stopping when the fan mounted to the T roadster came loose and pulled a chunk of the radiator with it. A quick spot of JB Weld and some crossed fingers and we were back on the road.
Covering 1600km in hot rods over a long weekend is a serious accomplishment, and I give the Hot Iron Car Club blokes credit for building machines hardy enough to make the journey to the Hot Rod Hillclimb and back in one piece.
The Hillclimb is an outstanding event. Just seeing that many historic and traditional hot rods in a quaint mountain town is worth the trip to Georgetown alone, but hearing them blast up the pass really is the icing on the cake. If it sounds like your thing, keep an eye on www.hotrodhillclimb.com for the scheduling of next year's event.
My tip would be to link Bonneville Speedweek up with the Hot Rod Hillclimb on the weekend and travel between the two events with a bunch of fools crazy enough to do it in old cars. You'll be in for a blast.
Hope to see a couple more Aussies in Georgetown next year!