Built for burnouts, Brett Battersby's monster high-rider Toyota Hilux BLWNLUX is a work of art from top to bottom
This article was originally published in the January 2014 issue of Street Machine
FOR THE best part of 45 years, Toyota's venerable Hilux has seen duty in some of the world's toughest climates, and BBC's Top Gear even tried their hardest to kill a Hilux by drowning it, smashing it and eventually destroying a 73-story building under it – but after that it still ran. That's pretty tough, but is it the world's toughest Hilux?
We reckon Brett Battersby's blown methanol 540ci Hilux has it beat. It destroys a brand new set of 265 4×4 tyres in minutes and pumps out creamy white froth with the best of 'em. But burnouts? With a Hilux? In a scene dominated by sedans and utes, the 4×4 Hilux wasn't an obvious or practical choice.
"Everyone said it couldn't be done!" Brett says of his five-year, on-again, off-again Hilux project. "But it seems to work okay!"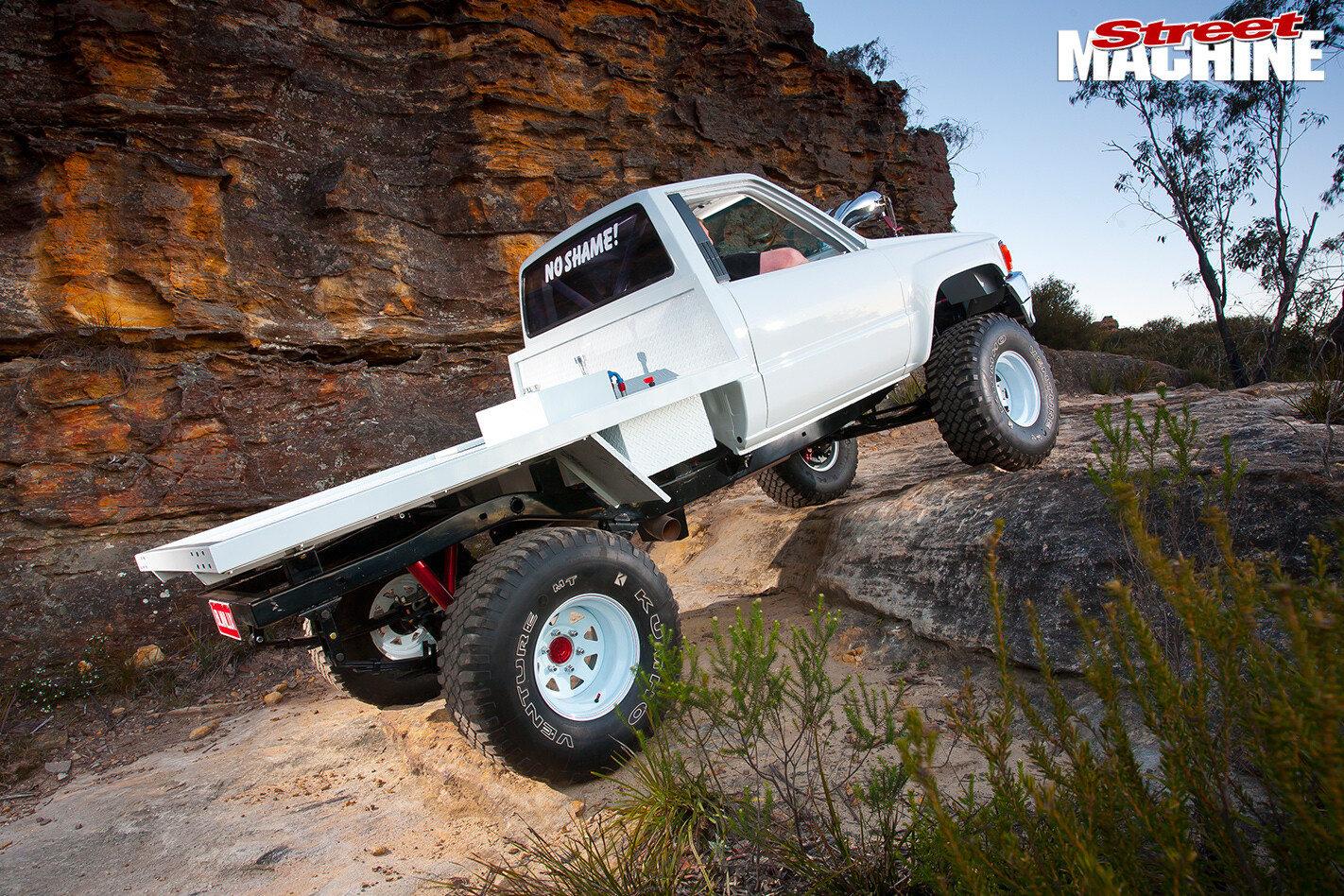 Brett has owned the Hilux for 17 years. Like a lot of young blokes, he regarded the all-round gettin'-it-done ability of a Hilux to be perfect for going to work during the week and spending weekends in the bush. But just up the road from Brett's home town of Portland, just west of the NSW Blue Mountains, there's a modest little town called Kandos that hosts a nice big street machine party each year. So Brett, a bloke who's handy with the tools (he's a fitter/machinist and boilermaker) whipped up a side-draft manifold for the Hilux's wheezy four-pot, stuck on a set of Webers, and did a few burnouts.
"It was pretty popular!" Brett reckons. Hooked on skids, Brett installed a Holden V8 – aspirated then blown – and after scoring a few trophies, he eventually decided to transform the Hilux into a show-and-burnout rig. But in the meantime, he stayed in the game with several other burnout cars.
"Every year the Hilux wasn't running, I built something else," Brett recalls. "I had a VB Commodore that I dragged out of a paddock and put in a nine-inch and a five-litre. Then there was my other Hilux, my daily driver. It did a few. And a VN Commodore with a 6/71-blown 304 with a high-rise steel intake that I made. And a Mazda 1000 ute."
The Mazda was a bit nuts, with an insanely short wheelbase and a big puffer – an 8/71 – on another Holden V8. It only lasted two events.
"I figured it was time to get the Hilux done. All those things that stuffed up, and what I learned with the others made me want to get things right on the 'big' one!"
Brett had a good run with his previous iron lions, but wanted to build a proper big-block burnout engine. "I wanted to spin those big wheels!" says Brett. "I could do that with the Holdens, but with more cubes things are so much easier. You know what? I should have done this years ago. I spin a 265/75/15. That's quite a big off-road tyre." And like any good burnout participant, he'll pop a brand-new set of tyres every time.
A fresh block was sourced from VPW and Brett used the bare block to help set-up his chassis, engine bay and exhaust while he gradually pieced together the engine. Brett's Hilux is a 1987 model so it's an old-era 4WD in chassis design: four leaf springs and two beam axles, but for its new role doing skids, the Hilux is rear-drive. It retains the leaf springs both ends, but the driven front axle has been replaced by a tube. Brett performed the work himself, retaining the Hilux's steering layout over the castrated front end. The front dampers have been relocated outboard for extractor clearance and the rears have been tweaked too, to get a better grasp on the axle. It sports a spooled nine-inch centre with Hilux tubes and axles.
"Just about everything you can see I did at home with the help of a few mates," says Brett. That includes the engine, something Brett, because of his day job, was confident to tackle himself.
"I bought it piece by piece," he explains of the engine build. "It happened over about three years and that blower was originally on the Mazda." The stout stuff inside the Dart block includes an Eagle crank and rods, SRP forged pistons and a Camtech cam. Brett credits fellow burnout participant Matt Power as being a great help with advice, especially as Brett was new to Chevs after his string of tough Holden engines.
The engine was given its debut in the carport. "We ran in the cam for 20 minutes with single springs, then set it up with duals and took it to Kandos. It's never seen a dyno. I did a little practice skid in the carport one day," he admits. "A little while later, the cops turned up. Some lady about a kilometre away had complained! The cops were pretty good about it, but they suggested that I not do it again!" No wonder, with two drainpipe-sized dump pipes pumping out 540 cubes of blown V8!
It's a full-time open-air cruiser with no windows or frames, and the handles have been shaved as well. Just because. The Hilux's dash and instrument cluster has been replaced with a curvy all-steel panel, once again the result of hours of Brett's welder and grinder. The whole lot is bathed in a simple self-applied bright white with a bit of bling adding some sparkle.
"And I wanted to make it safe," says Brett of his self-built cage. "Just in case it goes over. This handles a bit differently to the usual burnout car. You can't do the big high-speed whips like the other cars. But I try to make up for that with smoke and spectacle. I'm going to add a sway-bar for a bit more stability."
After his practice runs with the other three cars, Brett has used a mixture of physics and chemistry to address the challenge of keeping a burnout car cool. "I did have a 200-litre tank and electric water pumps," he explains of his prior efforts. "I spoke to a lot of people and saw a lot of what happened at burnout comps. It seemed the methanol burners had less issue with heat.
"So this one has a big Aussie Desert Cooler radiator, two thermos and it uses a lot of methanol! I pour a lot of it in. At Brashernats it used just under 100 litres of methanol in two and a half minutes." No doubt the high ride height and open engine bay are cooling assets, too – compared to a conventional streeter with a lowered ride height, the supercharged big block Hilux can blow away a lot of hot air.
The TH400 transmission was put together by Geartorque in Queensland. "I told him what it was for and it's been excellent," says Brett. "Burnouts are hard on transmissions."
Sorting the axle tramp was another challenge "I helped my brother-in-law build a burnout car years ago. He always had trouble with axle tramp and we worked out that putting a big angle on the diff – around 14 degrees – took the tramp out of it. It was process of trial and error – we set up and cut off the brackets on the diff a few times! But we ended up getting it right and that's the angle I used on the Hilux.
"There's bit of brainpower in all this. It's taken a bit of effort!"
Brett debuted the Hilux at Kandos in January 2013, but suffered a few minor setbacks. "There was an intake manifold leak," Brett explains. "It was playing up so I didn't take the risk. But I took it to the Valvoline Autofest at Bathurst and screwed the tailshaft right out of it! That wasn't real flash! Then I went to Burnout Mayhem in Sydney – the torque convertor let go and it caught fire. Huge!" It didn't end there.
"Brashernats – I blew up the gearbox! But since then I haven't had any more problems. I got third at Supernats and won at a show at Dubbo. The last event was Burnout Mania and I got a second."