PICTURE this: You're the head of the local arm of a multinational automotive corporation in the hedonistic late 1960s. You've invented a muscle-car sub-genre that is going to prevail for decades. You need a daily driver. What do you do?
Chicago-born Bill Bourke was deployed like a cruise missile to Ford Australia from 1965 to 1971, and during that time he not only became managing director of Ford's local arm, but also invented the Ford Falcon GT. Not in that order.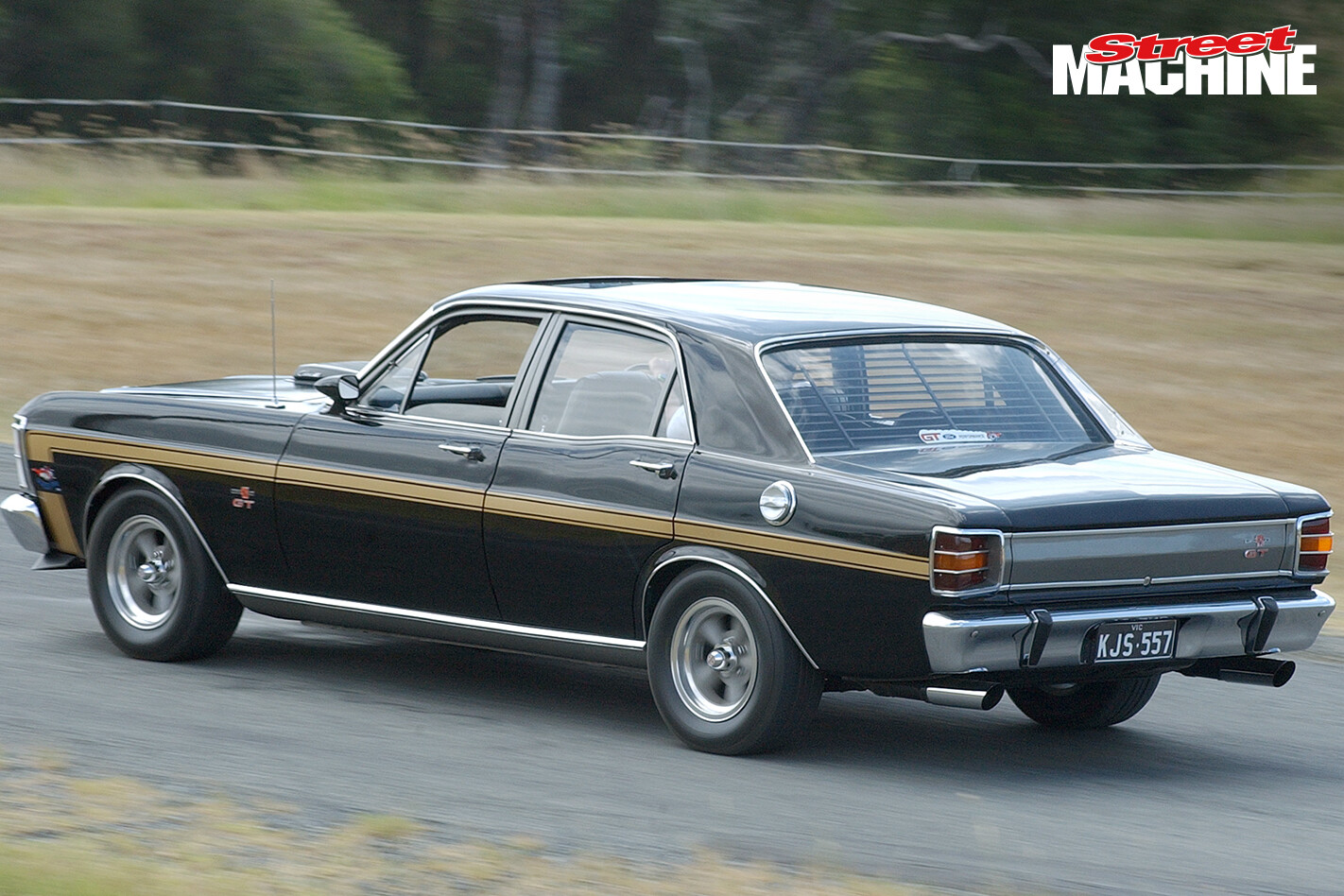 The story has entered local automotive folklore: In 1966, while watching Ford engineers test a high-performance police-spec version of the brand-new-shape 289ci V8-powered XR Falcon, Bill figured it wouldn't hurt to sell an up-spec version to cashed-up baby boomers. He badged them as GTs, and the rest is history.
Floating such an idea in the US would have been met with derision at the time; the attitude was that four-door sedans were definitely not muscle cars. However, with Australia's small economy of scale, sticking some power in the four-door was the only option. Despite Holden's two-door Monaro being in the works for release in 1967, Ford would not re-introduce a coupe until the XA hardtop of 1971.
The dude could not abide. He wanted muscle and he wanted it before Holden. The 1967 XR Falcon GT was an instant success, with luxury items and drivelines borrowed from the Ford Mustang and only available in a luminescent gold duco (er, unless you count the eight that were Gallaher Silver, and the five that were Russet Bronze, Sultan Maroon, Polar White, Avis White and Ivy Green respectively).
Bill must have tired of his one-off, special-build, right-hand-drive Ford Galaxie Squire big-block (Galaxies were only available in sedan in Australia), because after inventing the XR Falcon GT of 1967 and the Australian muscle car genre as we know it, he longed for another drive car. Ever the introvert, he did make do with a custom-coloured, bright reddish-pink Falcon GT, until 1969, when his mate Bunkie Knudsen, then Boss of Everything at Ford Motor Company, suggested that Ford USA could build Bill a suitable daily driver.
If you're the managing director of a large local manufacturing concern with a parent company that not only has the ability to pimp the blazes out of your choice of car, but has a boss who has pretty much just advised you to do it, what are you gonna do?
Well, what Bill did was have a fully loaded Onyx Black 351ci XW Falcon GT removed from the line and flown off to Detroit. It already had all the exec stuff fitted, including air con, power steering and – of course – an eight-track tape player. Bunkie then had a look at it, presumably waved a magic wand or commissioned the Oompa Loompas, and shit got done.
Three months later, the one-off Falcon was sent back with some excellent upgrades: a wind-back sunroof, flush-locking bonnet pins and the newly released cold-air 'shaker' intake, items that would only be made publicly available in 1970 with the XY.
The rubber was wrapped around 14×7 American Racer alloy wheels, while up top there was a vinyl roof. The black duco was a trick (and allegedly actual) gold-fleck metallic, with the door frames, rear boot area and B-pillars painted in silver-grey, rather than the black used on regular GTs. Inside there was a remote driver's mirror, Mach 1 high-back bucket seats and a Fairlane rear bench.
Up front, the car featured a yet-to-be-released GTHO Falcon-spec front spoiler. Oh wait, and 428-cubic-freaking-inches of big-block Cobra Jet V8 power! That's the version with the 390 cam, 427 'low-riser' heads and a four-barrel Holley. Ford USA upgraded the auto to a Cobra Jet-specific C6 trans and fitted Mustang HO-spec differential, axles and brakes – probably just to stop the thing flinging itself into space when Bill unleashed the thunder, something he reportedly did with great gusto and alarming regularity. And keep in mind that the car was originally fitted with three-inch sidepipes – it would have made quite a splash on the streets.
Reporters at the time recall stories – confirmed by Bill – that he could easily hit 140mph with four journos on board, with 'hail Marys' and general shitting of pants fairly commonplace.
The 428ci Cobra Jet V8 had a stated output of around 335hp, but the actual power was rumoured to be closer to 410hp, with the low-balling attributed to rising safety concerns and insurance premiums in the USA. That's like HSV or FPV levels of power now – 300kW and counting. On skinny tyres, no grip and with not much to hold on to but a high-backed bucket seat and your faith in the Lord eternal, that's some serious awesome.
Bill eventually became executive vice-president of Ford North America. We can only assume he ordered a Ford F250 with a Boeing 747 motor in it to celebrate.
And the XW? According to folklore, when Bourke was transferred to Ford Asia Pacific, the 428-powered monster was given away as a Ford Apprentice of the Year award! The mind boggles, but the car survived and has been through several sets of hands, in essentially unrestored condition – a priceless piece of Australian motoring history. If more of Bill's spirit had flowed through Ford Australia in the decades after his reign, perhaps things may have turned out differently.