This article was originally published in the April 2011 issue of Street Machine
HOW much power is too much for the street? It's an argument that's raged in sheds as long as people have been modifying cars. Most people reckon around 500 or 600hp; after that you can't drive them.
How about 1000hp? Any armchair expert will tell you that such a crazy machine will be undrivable.
Adam Styles obviously has a different opinion because his supercharged VR ute is pushing very close to four figures and he drives it — a lot!
It wasn't easy or cheap but he and his mates have turned this ute into a genuine streeter with 950hp on pump fuel.
Adam says. "I've done 15,000km so far and driven it to Melbourne a few times. It's 100 per cent street driven."
Adam's owned the ute for 14 years; he bought it as a stock five-litre auto when it was a year old and a year or two later dropped a 355 Holden stroker and T5 'box in.
"It made around 500hp and I drove it about for six or seven years. It was a great combo at the time."
With an Active throttle set-up and some Haddad-spec heads the ute had some grunt but Adam started thinking about a blown set-up that'd fit under the bonnet.
"I had a full Holden stroker motor with all the gear ready to go," he says but the more reading he did, the more he became convinced that he needed a Chev for the power he wanted. The Holden donk didn't go to waste — it's in his LX hatch with a 6/71 on top — but he started buying up gear to fill out a Chevy small-block.
Adam selected a Dart Little M block as his cornerstone. That block will support 2000hp, so it's safe. With a good 4130 steel crank, some shot-peened Scat rods, plus a set of Venolia pistons and a pair of AFR heads, Adam headed to Dewar's Performance Engines at Tangambalanga.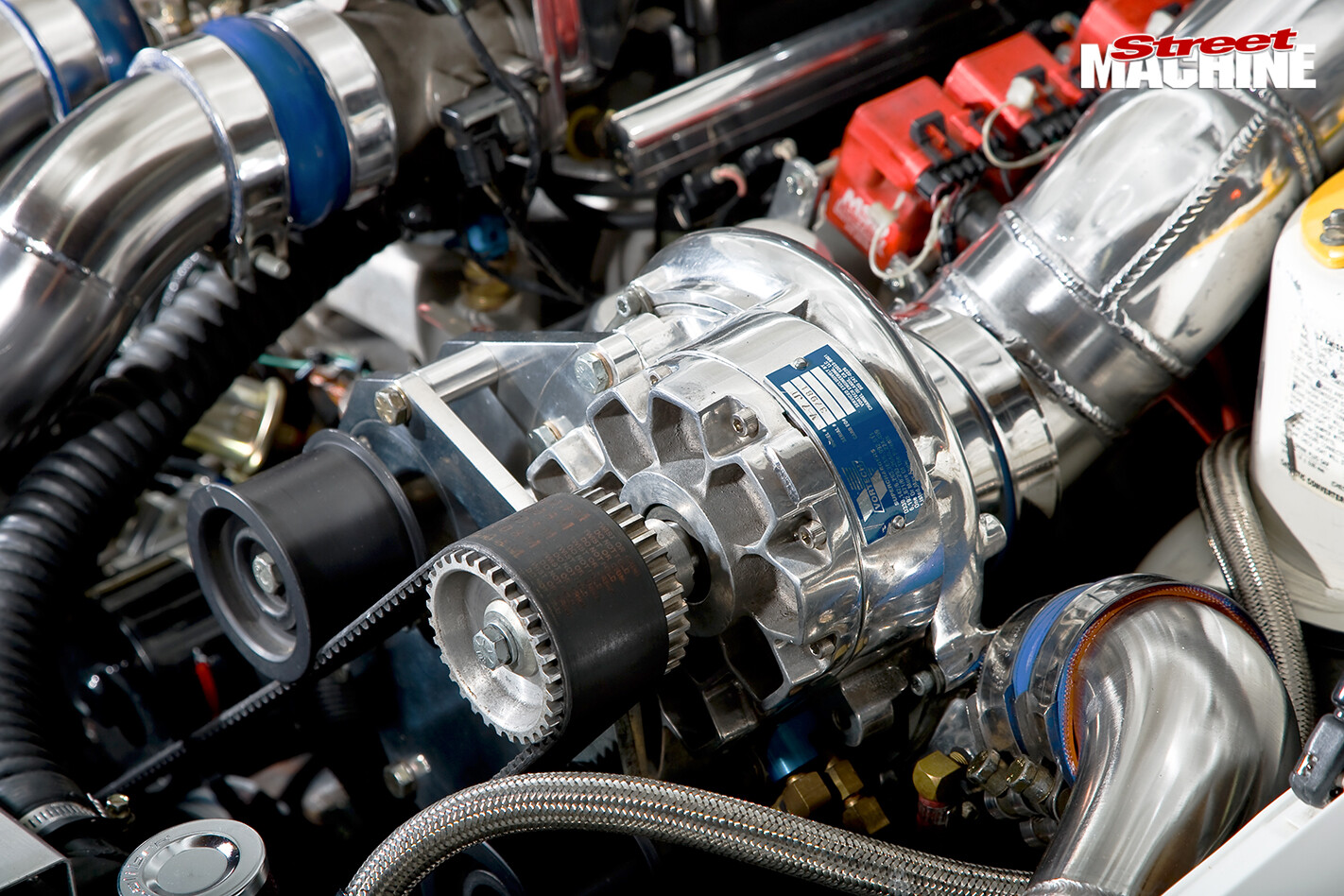 "Wally Dewar's done a few engines for me over the years, and does a great job," he says. "We ran the engine up on Wally's dyno to make sure everything was okay before I put it in the car. It made 576hp at 6000rpm aspirated. I was very happy considering the combo is good for 8500rpm."
Building the engine was one thing but Chevy V8s are not a natural fit for VN to VS engine bays.
Rather than buy an off-the-shelf kit, Adam used his boilermaking skills to do the job himself. The engine crossmember, suspension, steering and inner guards have all been given a tweak to get the 440ci small-block under the bonnet. Well, almost under the bonnet; the Vortech V7 required a little extra clearance to stay out of sight but that doesn't matter 'cos bulges are sexy.
How much power? How does 729rwhp grab you? They had more than 800hp at the treads but Adam detuned it for peace of mind. And yes, Adam tuned the Haltech E11V2. He hired the dyno at Webster's Dyno Centre in Wodonga, got Matt to handle the driving and got to work. "I can't thank Matt enough for all his help and patience," he says.
When the 100mm-thick intercooler was deemed insufficient, Adam added a 76mm unit and integrated the outlets. So now the 'cooler is 176mm thick and inlet temps stay cool even lapping Winton Raceway.
Yep, he's a handy guy to know. The wheel tubs, 'cage and conversion to one-piece tailshaft were done at home in the shed. His mate Aaron helped: "I'm always bitching about the metalwork," Adam laughs. "Aaron likes to take over."
It's easy to look at this car and think it was all smooth sailing but that certainly wasn't the case. The heavy-duty driveline was developed through good old trial and error.
Initially Adam had a Tremec TKO600 in there with a 31-spline nine-inch. The nine-inch lunched itself, locking up the centre and snapping an axle, which then tried to part company with the car, damaging a rear guard in the process. With the power unable to transfer through the drivetrain it tore apart the tailshaft and smashed the Tremec. "I was shattered — there was over 10K of damage."
Now the diff's full of Strange gear with 35-spline axles and full-floating hubs, so even if an axle does let go, the wheels will stay attached to the car. The custom tailshaft could probably serve as a prop shaft on a nuclear sub and the G-Force GF4A 'box is rated at 1000+hp.
As you can imagine with close on 1000 neddies on tap the ute can be a bit of a handful when you get into it, which is why Adam does most of his full-throttle work at the track. But he did make the mistake of taking his wife, Angela, for a run once.
"Ange is pretty cool about the cars," he says, "but when I took her for a drive in the ute she wasn't impressed. She said our kids are never to go in the ute. Never, ever!"
And after going for a run, I know what she means. The thing is downright scary. It's almost got the power of a Bugatti Veyron, weighs 500kg less and doesn't have any of the fancy controlling software. It was a like a rabbit with a rocket up it's arse on an icerink — all over the place and getting there quickly.
Still, the Torana with the 500hp blown 355 stroker is a nice family cruiser.