Matt McCarthy can almost breach Australian airspace in this flying machine.
This article was originally published in the February 2017 issue of Street Machine.
Over the past 10 years the Modified Street Blown class has seen some hard-hitting, bad-arse cars, and for a long time Wollongong racer Joe Gauci pretty much dominated in his twin-turbo 360ci Cortina, which has run into the bottom sevens.
Well, there's a new kid on the block by the name of Matt McCarthy, who has already run a staggering 6.96 at over 200mph in his twin-turbo SBC-powered Bluebird. All he needs to take the crown is to run that number at an APSA meeting.
Running a six-second pass in any type of race car is one hell of a feat. It usually requires some solid pretty experience behind the wheel, a team of experienced helpers ranging from engine to suspension gurus, a lot of dedication and perseverance. Most importantly, it requires a huge financial investment to develop a car to the point where it can do it time and time again without spraying its guts down the track.
But Matt's no dill; he has 15 years' experience as a CNC programmer and has done the rounds with some of the best performance outlets in Australia, including a long stint in V8 Supercars. He does all his own spanner work, from engine to transmission, and even does his own CAD drawings whenever he needs something like a diff housing built.
"I sat on the sidelines for a long time watching the rules in Mod Street getting shuffled around, and finally, after watching Joe take the lead in MSB I decided it was time to build a car," Matt says. "I had always been into Bluebirds and this car was my everyday driver. Its previous life was with a CA18 and a big-arse set of Supercars brakes. I got out the tape measure one day and worked out that a small-block Chev was a good fit, and it all went from there. The engine has now been in the car for over three years without a hiccup."
From an engineering standpoint, the car is an absolute credit to Matt. Everything has been meticulously designed and built to make it easy to work on and as practical as possible.
The engine combination is pretty straightforward, with a Little M block, Callies crank, Oliver rods and custom JE pistons. Heads are a set of hand-ported 13-degree sprint car items with T&D rockers, Jesel lifters and a custom roller cam.
"From the time I set my sights on the build it took three years to run faster and quicker than Joe," Matt says. "I wasted almost 18 months chasing a miss that ended up being a faulty ignition lead. I changed everything from injectors to the ignition system. I thought I had my tune wrong, and sent parts back to the States to have them tested. Then one night after racing, I drove the car back in the trailer and noticed the lead shorting out under the dash where the coils were mounted."
Once he got that fixed, it was full steam ahead. How much steam? Try 37psi from the twin Garrett GTX42/92 turbochargers with twin 60mm Precision wastegates.
"2016 has been amazing," Matt says. "I started the year running 4.75@156mph over the eighth, and now it's running 4.51@167mph. At Grudge Kings it went a 4.58 and then a 6.96 out the back door.
"Since then I've found a few little other problems; the CO2 system, for example, hasn't been putting pressure on the wastegates for the first 1.5 seconds of the pass, so it's just been gate pressure. We fitted a set of turbo-speed sensors, which got us better data. Data acquisition is what it's all about."
Everything on the car reflects Matt's exposure to touring cars and top-level racing, like the five-stage dry-sump oiling system. "As soon as they let dry sump systems in MSB I fitted one," he says. "I got tired of seeing the oil pressure light on each time I pulled the 'chute over the finish line."
This 400ci motor is making 2100hp, so everything needs to be A-grade. A massive Kinsler 1300 belt-driven fuel pump is gravity-fed by a single 20L fuel cell in the engine compartment. The engine uses roughly 4.5L of fuel per pass via a single set of 7000cc Moran injectors, which are running at 80 per cent duty.
"I run it really rich," Matt says. "We have not had the opportunity to get aggressive with timing and fuel yet, as it's been a struggle to get it down the track on 37lb. I'm currently spinning the motor to 8800rpm and have not had to touch the valve lash for three years."
Like the engine, the trans was built by Matt, using mostly ATI components and a Coan 10.5-inch converter with a billet rear plate. The rear end is also Matt's handiwork, and includes predominately Strange componentry with 3.5:1 pro gears, Penske four-way shocks and a 10.5×29.5 tyre.
Incredibly, the car is running 1.16 in the 60-foot. Matt says that now that the rear-end mounting points rules for suspension have been relaxed, he will move the floor mounting points by 80mm to get a greater spread on the rear suspension for better separation.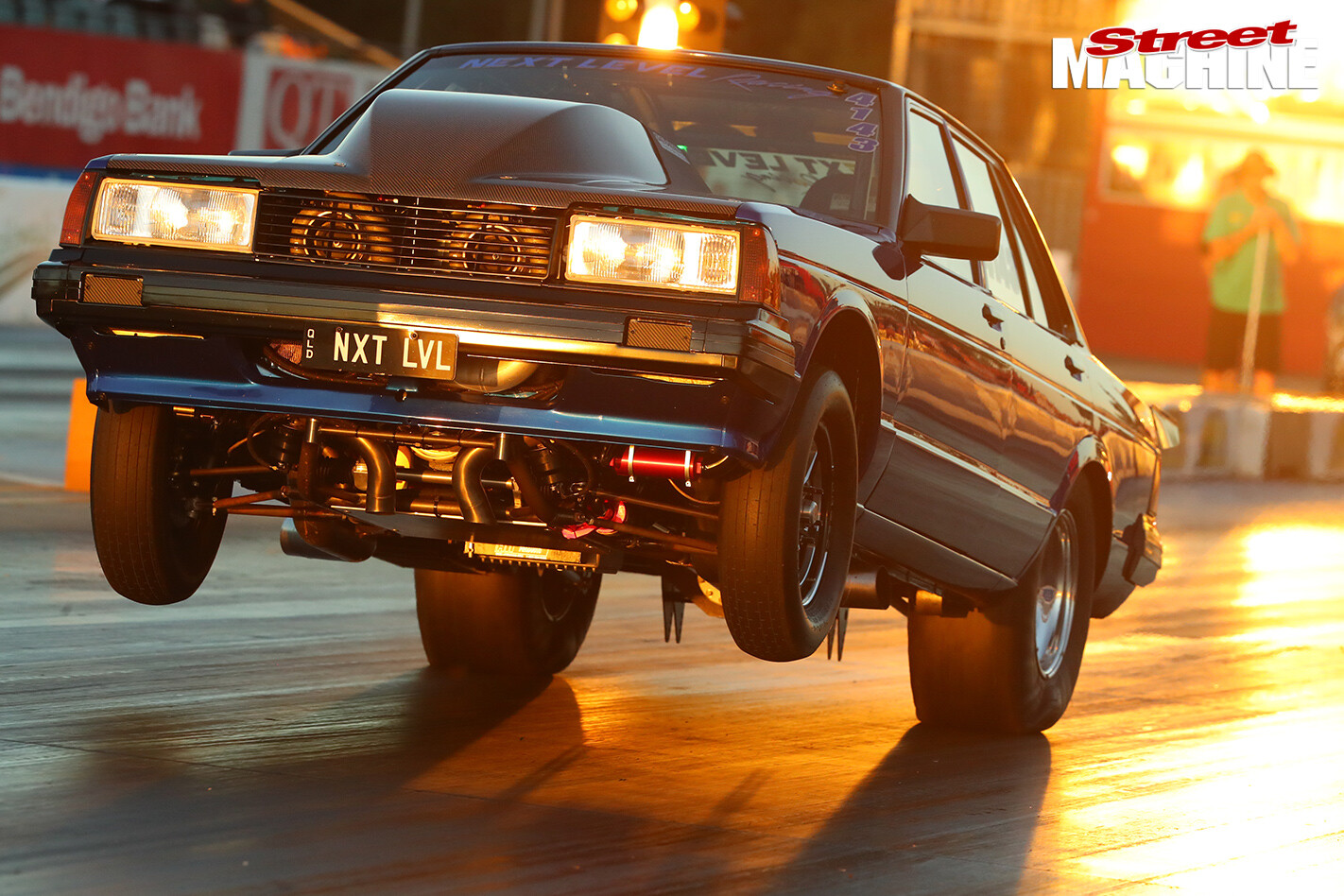 Like any huge build, the project required the help of mates and local businesses, including Warwick Panel & Paint; Mick Arnold; Kyle Hoft; Dave Hillman of MPP Race Fabrications; Mark Jacobsen of Godzilla Motorsport; JW Automotive; and Matt's daughter Madeleine.
With Matt now opening his own performance business, Next Level Racing, he intends to push the car even further, and 6.80s at over 210mph are on the agenda.