This article on Wayne's C10 was originally published in the July 2018 issue of Street Machine magazine
WAYNE Lineker's '68 Chevy C10 will be one of the nicest full-size American pick-ups on Aussie roads once it is finished. Aside from the cammed-up, boosted LSA and six-speed auto, the short-bed commercial rocks a host of frame upgrades to make it ride sweet and handle sharply.
The C10 short-bed was originally purchased in 2013 from Jesse at Level 7 Motorsports in the USA. Back then it was a patina-covered stepside truck with a 5.3L LS and had served duties as Level 7's Hot Rod Power Tour cruiser. Interestingly, Wayne chose a Ford colour for the C10's respray: "The truck was originally light blue and I tried to get colour codes but couldn't get any info. Someone suggested XY GT True Blue, and I loved it"
The original C10 chassis is now a thing of beauty thanks to Porterbuilt Dropmember lowered crossmember assemblies front and rear, with their inner frame-strengthening members. These computer-designed parts can be ordered straight from the Porterbuilt website to three different potential ride heights and in a variety of formats: bolt-in or weld-in; to suit air suspension or coil springs; trailing arm or four-link; two-piece or single-piece tailshaft.
"I researched other people's builds and the Porterbuilt guys were the first blokes to have the complete kit and [explain] how easy it was to do," says Wayne of GM Motorsport in Victoria. "There are now probably 10 places that do the same style of kit, but they all copy the Porterbuilt parts."
Wayne's truck retains its stock frame rails, though it was stripped, blasted and modified to accept the Porterbuilt components. He chose the Level 3 kit for maximum lows, and once the mods were complete he had the whole lot powdercoated in gloss-black to ensure the finish stays shiny.
"I picked one of the trucks that Delmo's Speed & Kustom did, then I rang Nate from Porterbuilt and said I wanted everything that was used on the Delmo's build," Wayne says.
Once the crossmembers, steering and reinforcement sections turned up, it was a job of cutting and bolting everything together. "The Porterbuilt chassis all bolts together, and the instructions use a lot of the original holes in the chassis as reference points," Wayne explains. While the truck runs QA1 coil-overs in these pics, they're just to allow it to be rolled around, as Wayne intends to drive it using an AccuAir auto-levelling air suspension system.
As part of the Porterbuilt overhaul, the steering was upgraded from the soggy stock truck box to a CPP power rack-and-pinion set-up. The stoppers also came as part of the Porterbuilt kit, with Wilwood Aero6 (front) and Aero4 (rear) 14-inch disc brakes operated by a Wilwood vacuum booster and twin-chamber master cylinder.
With Wayne working at GM Motorsport, the 6.2-litre supercharged GM LSA V8 was never going to stay stock. "We fitted one of our supercharger cams, CNC-ported cylinder heads, 10 per cent bottom pulley and a 64mm top pulley, and we ported the blower snout on the TVS1900," he says. "We know we can make around 670rwhp with this set-up, but I'm not building it to go fast. While it was apart we just thought: 'Why not?'"
Justin Stark from Ultimate Conversion Wiring took the stock VF GTS wiring loom and trimmed it to suit the much simpler 60s Chevy truck set-up Wayne needed. A VF GTS also donated its radiator and water-to-air intercooler set-up, while the custom fuel tank down the back runs a twin-pump MRA unit from a fifth-gen Camaro ZL1.
These fuel pumps are great for EFI conversions as they are housed in a modular assembly with adjustable springs to suit a range of tank depths, along with an internal pressure regulator, so only one fuel line and a few wires need to be connected to make it work. The ZL1 twin-pump upgrade is a popular one in Australia, as the track-oriented Camaro ran an LSA and was based on the VE Commodore platform.
Wayne hopes to have the truck on the road and engineered by the end of the year, and we can't wait to see it done!
WAYNE'S C10 IN DETAIL:
1.
(A) Wayne's truck runs a high-mount accessory drive, while the factory LSA sump had a 40mm gusset added to clear the new Porterbuilt crossmember. The 6L90E six-speed electronically controlled transmission is factory-fresh, with gears pulled up by an old-style Lokar shifter that has sports mode
(B) While show car guys love using two-pack on their smoothed and detailed frames, Wayne went with a harder-wearing option. "The whole chassis was blasted and then powdercoated; same with the suspension," he says. "I want to drive it, potentially every day for six months of the year, so I didn't want to go over the top with the finishes"
(C) Wayne isn't scared of the chassis mods ruining his chances of getting the truck registered. "We have spoken to an engineer who looked at it and said it would be fine," he says. "His point of view was if the frame was welded it would be more rigid and possibly cause more stress, though I am sure different engineers will have different opinions. In the States there are hundreds of them going around bolted together"
2. The C10 runs a heavy-duty Strange 9in diff with full-floater 35-spline axles and 3.7:1 gears. Wayne opted for a custom two-piece tailshaft to allow full articulation when raising and lowering the air suspension.
3. The Porterbuilt Level 3 front crossmember comes with new knuckles, CPP steering rack and Wilwood six-piston brakes. While Wayne will use bellows-type airbags to suspend the truck, he has set the C10 up to also run QA1 coil-over struts in case he wants to do any motorsport with it. "I spoke to Nate at Porterbuilt and we worked out we could just change the rear shocks to coil-overs, and the front only needed an extra plate to then mount coil-overs there, too. I think it'd probably take me two hours to swap it all over."
4. The custom billet 22in wheels are from another legend of the American full-size pick-up truck world, Del Uschenko from Delmo's Speed & Kustom. They span 8.5in across in the front, with a meaty 12in width out back, encased in 245/35 and 335/25 rubber to handle far better than any original C10 could dream of.
5. Wayne built a set of custom stainless headers out of 2in pipe to clear the chassis and suspension, running back into a twin 3in system with an X-pipe made out of two halves of a stainless-steel donut, to avoid the air suspension in the rear. V-bands have been used on the joins to make disassembly easy.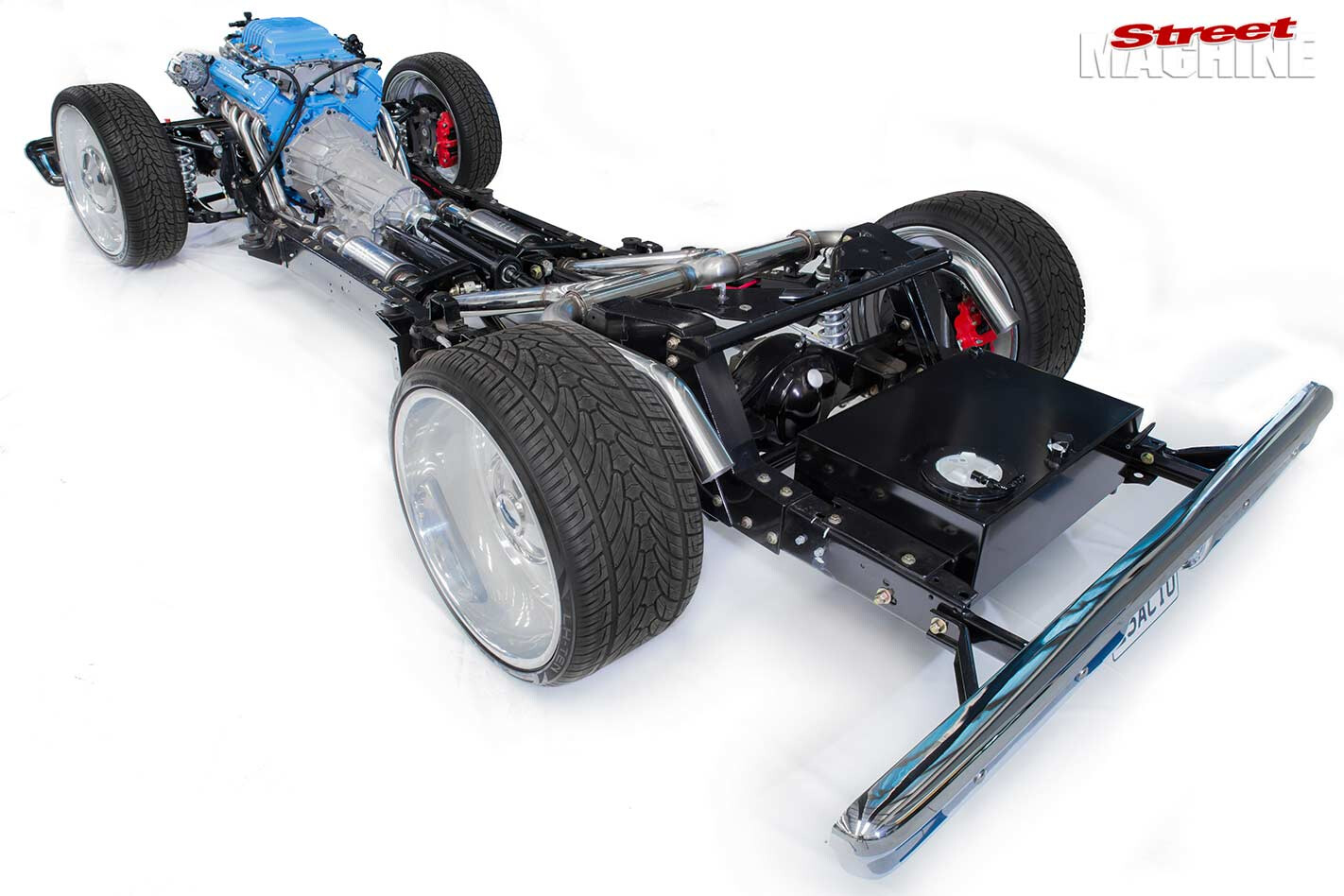 6. "I have a mate who does a lot of fabrication, so I designed the custom fuel tank and he made it," says Wayne. "It is similar to how they are done in pick-ups built in the USA. The ZL1 Camaro twin pumps work with the GTS running gear; we didn't want to have to reinvent everything. We know we can make plenty of power with that pump set-up."