The signature palm tree logo of Melbourne's Riot Lab fab shop adorns the cars of many Drag Challenge regulars, especially those in the ever-competitive turbo Barra cohort. So when Riot Lab founder, bossman and fabricator Ryan O'Donohue finally got stuck into his own Drag Challenge project – a 1300hp 1976 F100 bound for sevens – it was always going to be an in-house effort.
First published in the November 2023 issue of Street Machine
Drag Challenge: A failing torque converter made Ryan and Danny's DC 2022-'23 mission a real slog, though they still won the Speed Pro Six-Cylinder class. "The rest of the car was so solid," Ryan enthuses. "It didn't miss a beat, barring that!"
"I bought it from some weird old unit in Monbulk," says 29-year-old Ryan. "I was freshly 18 and I'd just always wanted an F-truck, probably because my old man had a shitbox old one that he thrashed us around in for my younger motocross racing days. It was airbagged all 'round and had an old 302 Cleveland with a Top Loader."
Ryan managed to respray the '76 Effy in his garage shortly after bringing the short-wheelbase truck home. "It still looks rude," he laughs, crediting the delightfully imperfect panels to "life, adventures and dumb shit".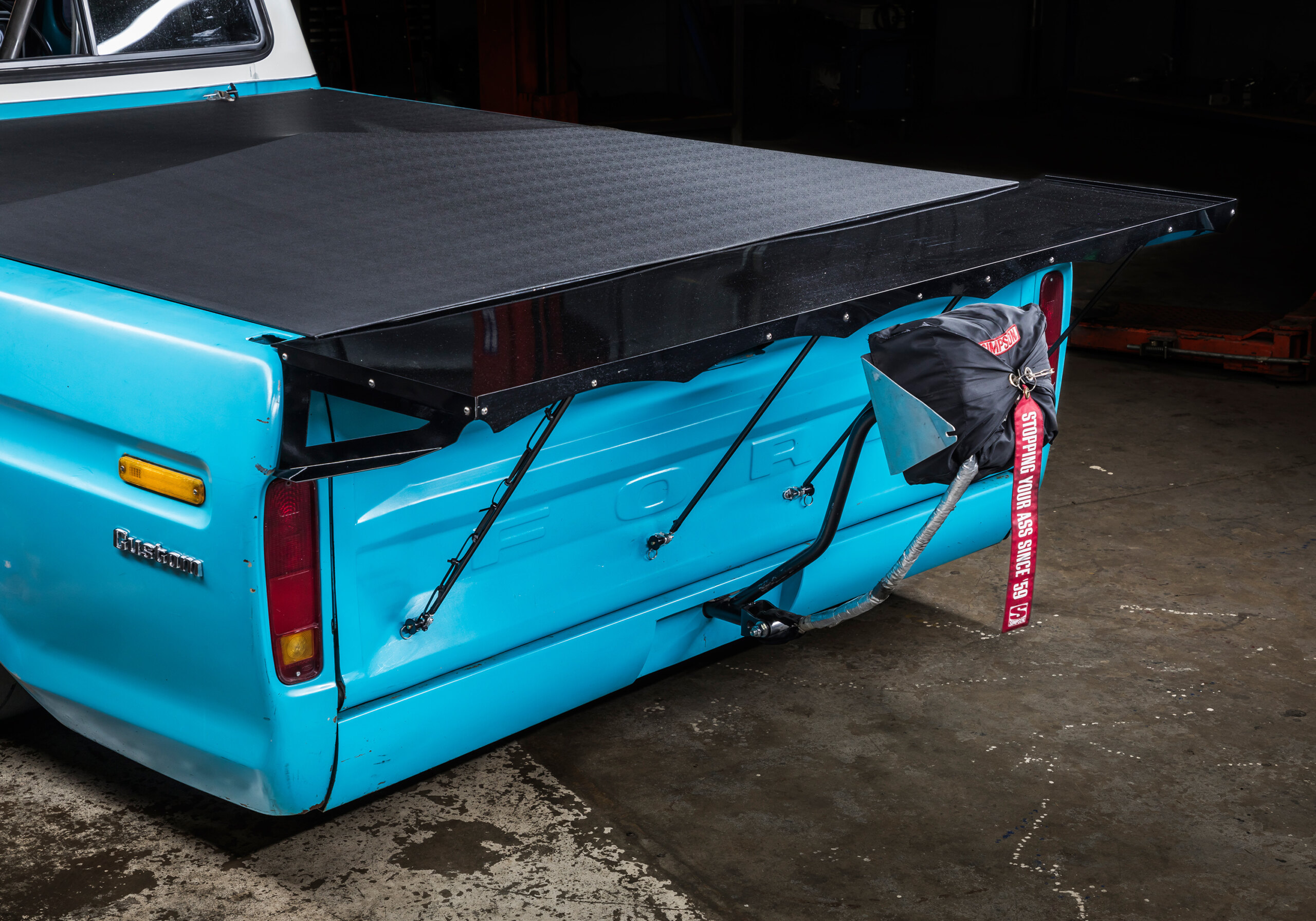 A stock-ish Barra turbo set-up came next. "It was just because I was poor," Ryan laughs. "It was cheaper power, and I didn't have as much money at the time. Then I got the opportunity to go out on my own, which let me do things a little bit better."
There's now a much tougher Barra underneath the hood, assembled by Winford Engineering as one of the very few elements of the build not concocted at Riot Lab. "They bolted together all my accumulated parts that were pretty much all second-hand," Ryan says, "and the thing sings!" The rotating assembly features a stock crank and Spool pistons and rods, while a pair of Crow cams live up top. A Plazmaman intake manifold and a GTX55 turbo hang off either side, with a custom turbo manifold, intercooler and exhaust piping all done in-house and ceramic coated. Controlled by a Haltech Nexus R5, the motor made 1360hp at the hubs with an E85 tune from Jason at Tunnel Vision. He also set up a 91 tune for Drag Challenge 2022-'23 earlier this year, which Ryan says was a lifesaver over the long-haul week.
Aside from the Plazmaman intake, pretty much all the piping hooked to the Barra was fabbed by Ryan and finished in bronze Cerakote. The ceramic coating is used heavily around the custom dirtbike scene, where Ryan spent many of his formative years
A Reid-case Powerglide is hooked to the Barra, followed by a two-piece GJ Drivelines tailshaft and a gorgeous sheet-metal nine-inch fabbed up by Ryan. It's suspended in a chrome-moly, radial-style four-link with Menscer double-adjustable coil-overs. That's right, Ryan's pulled off the worm-burner look in static form, as airbags just weren't stable enough at the pointy end of the quarter-mile.
The whole front end is a custom tubular clip designed and stitched together by the Riot Lab boys. It runs a one-off IFS arrangement that uses double A-arms and a VL Commodore manual steering rack, which interfaces with the original F100 column. There's a set of Wilwood discs up front and good old F100 drums on the rear, all assisted by a late-model Falcon booster.
"All the other cars [namely Riot Lab's usual Falcon and Commodore projects] have been done a thousand times before, so they've got a similar formula," Ryan explains. "I've used a similar one here with the rear end and angles, but you've gotta use more bracing because you don't have a full sedan body. That means more barwork and good shocks – you can get away with average shocks in a Fairlane or something, because it's all been done before."
Ryan's ethos of putting time and money where it'll go quickest is reflected inside the cab. Around the cracked F100 wheel you'll find a Haltech iC-7 digital dash and a four-point weld-in rollage, with lightly trimmed Kirkeys for seating. "The thing actually drives so much smoother than you'd think it would, and when you're sitting down for that long [during Drag Challenge], it's kind of like in a normal car anyway," Ryan says. "Falcon seats are bad – you've got springs up your arse the whole time!"
The truck quickly dipped into the low eights at Heathcote Park upon its debut last year, clocking an 8.35 during its second meeting. "For a pick-up truck and full new build, I think that's pretty good," Ryan enthuses. "I was going to be rapt with an eight, but now we've seen it'll get that even with converter issues, it's made me want to get a seven!"
Fellow car builder and mate Danny Howe joined Ryan for DC 2022-'23. The boys shot straight to the top of the Speed Pro Six-Cylinder class on Day One with an 8.47@160mph, but as Ryan mentioned, the torque converter became progressively sadder as the week dragged on. "The tracks were not the best at the start and everyone was struggling to get down, so the slipping probably helped," he says. "It was so hard to drive, because if I pedalled it, it would go flat, and if I stayed into it, it'd hit the tyres!"
Ryan's idea of Drag Challenge comfort is padding on the Kirkeys and a Riot Lab cup holder. In the dashboard you'll find a Haltech iC-7 and keypad for the truck's main functions
By the last day back at Heathcote, the Powerglide had turned into a single-speed, but Ryan held it flat in first gear for a 9.62-second finish – enough to earn him first in class by over a second.
RYAN O'DONOHUE
1976 FORD F100
| | |
| --- | --- |
| Paint: | DIY turquoise |
| | |
| ENGINE | |
| Brand: | Ford Barra |
| Induction: | Plazmaman manifold, air-to-air intercooler |
| ECU: | Haltech Nexus R5 |
| Turbo: | Garrett GTX55 |
| Head: | Factory Barra |
| Camshafts: | Crow Cams |
| Rods: | Spool |
| Pistons: | Spool |
| Crank: | Factory Barra |
| Fuel System: | Waterman mechanical pump, fuel cell |
| Cooling: | Twin thermo fans |
| Exhaust: | Custom 4in stainless side-exit system |
| | |
| TRANSMISSION | |
| Gearbox: | Reid-case Powerglide |
| Diff: | Riot Lab 9in, 3.5:1 gears |
| | |
| SUSPENSION & BRAKES | |
| Front: | Custom IFS, Menscer coil-overs |
| Rear: | Four-link, Menscer double-adjustable coil-overs |
| Brakes: | Wilwood discs (f), stock drums (r) |
| Master cylinder: | BA Falcon |
| | |
| WHEELS & TYRES | |
| Rims: | RC Comp Exile-S; 17×4 (f), 15×10 (r) |
| Rubber: | Mickey Thompson front-runners (f), Mickey Thompson 275/50R15 (r) |
THANKS
My good mates who'd come around to help me drink beers and build this thing: Danny, Jye, Mitch and Foxy; Ray and the boys at Winford; Jason at Tunnel Vision; Mitch at Mackielec Industries for wiring in the Nexus; Phil at Progen for doing the plumbing; GJ Drivelines for always helping me out with shafts; Mark for helping out with the transmission; my parents for always supporting me; anyone who got pumped on the build and made me wanna finish it, and anyone who said you can't make an F-truck go that fast!