Byron Judd
Holden HJ Monaro
"My genuine 1975 HJ Monaro GTS is very rare as a standard car (one of 606), let alone with the body mods that were done back in the 80s when no one wanted 'stock'.
It has a WB Statesman front and rear, 383 crate engine, upgraded TH400 trans with B&M shifter, and a Ford nine-inch diff.
I've had her for around six years and had an all-new interior fitted back to standard, as the custom black and red corduroy was tattered and torn. The genuine Cragar wheels, Pacemaker extractors and three-inch exhaust top her off nicely!
There will be many haters, and people say, 'How could you do all that to a classic?' Well, back then, customisation showed individuality and craftsmanship – anyone who knows anything about bodywork will understand the skill and hours required to graft that rear end to look like it was a factory option."
Trevor Tate
Volkswagen Beetle
"I bought this '67 VW Beetle Deluxe in 2016. My dad Maurice (aka Popeye) and I got right into it. The restoration was going really well, as my dad was a welder/fabricator, but unfortunately he got very sick and passed away just as my family moved into our new home.
We were extremely close; he meant the world to me and was my best friend. Things got very hard, but the show must go on, so, being a spray painter, I repaired and painted the car with the help of my beautiful little boy, Oliver.
I called out to Tin God Solutions for a helping hand, and six years later, I have this beautiful little car with beautiful memories of my dad.
At the end of the day, it was never about the car but the journey with my best friend – my dad, Popeye."
Josh Potts
Holden LJ Torana & Ford TC Cortina
"Hi guys, here are two of our cars. My missus's LJ Torana has a 308 (soon to be a 355), five-speed Supra 'box and a shortened Commodore diff.
My TC Cortina wagon has a 347 Windsor, C4 and a nine-inch diff with a 3.7:1 Truetrac. We would love to see our cars in your magazine!"
James Sapurmas
Dodge Custom Royal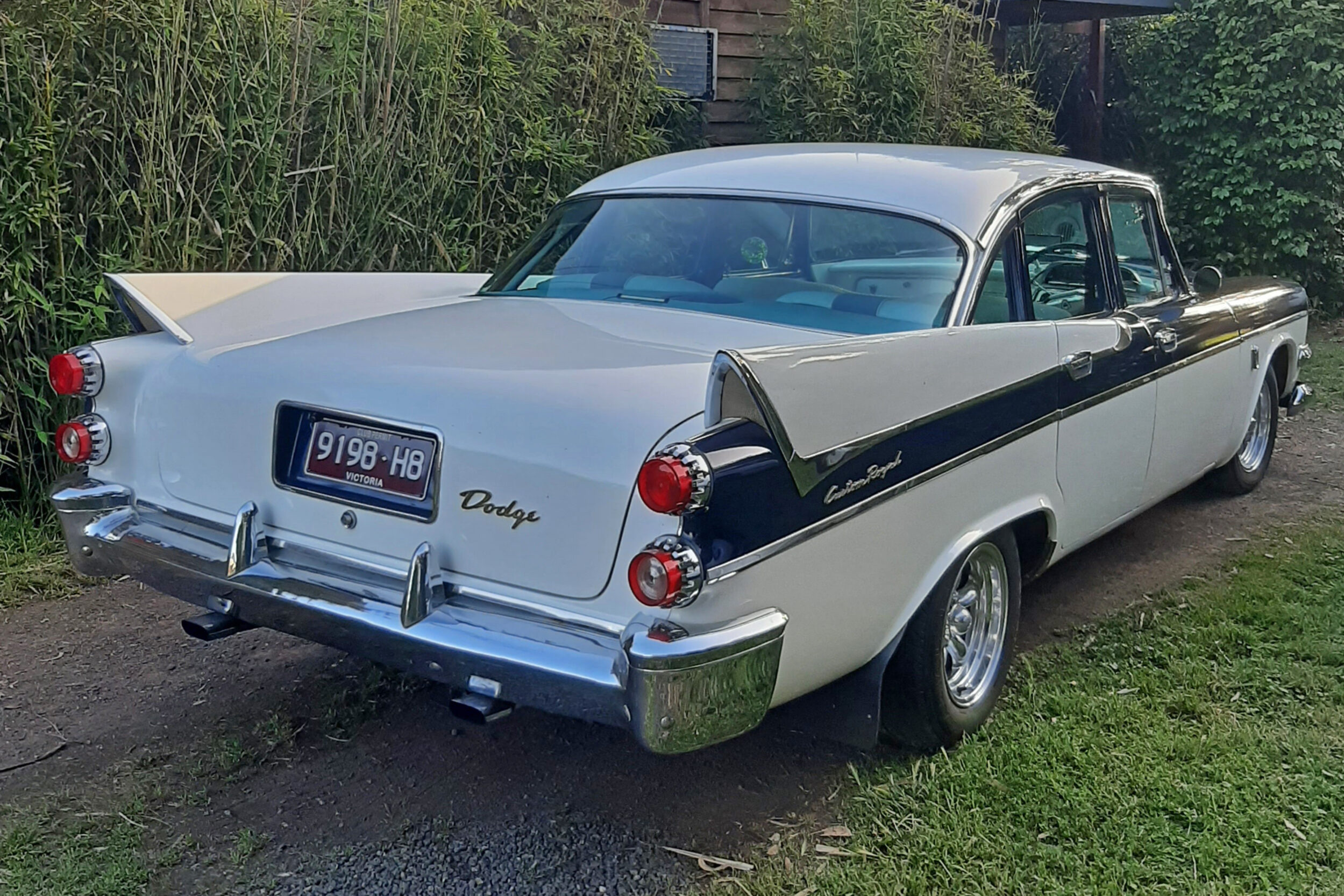 "This is my old man's 1958 Dodge Custom Royal four-door sedan – factory right-hand drive and Australian-delivered. It's powered by a Dodge 350ci big-block V8, backed by a cast-iron early Torqueflite push-button transmission.
Only 214 were ever built for this country. We bought it to cruise around in as a family; it turns heads and is as rare as hens' teeth!"
Matt Turner
Ford Bronco
"This is my 6/71-blown 1985 Ford Bronco, a 2WD car with airbags. It has a 351 Clevo built on a black block, with AFD heads and custom chambers. Behind the engine is a built C6 auto, and a nine-inch rear end with all the fruit and custom anti-roll bars.
Up top is FAST EFI and a Joe Blo injector hat. I'm chasing the 10-second quarter-mile bracket; I'm currently in the 11s."
Steve Pacey
WB Holden panel van
"Here's my orange panel van. It's a WB with an HZ Prem front end, a 350 Chev, T5 manual, and a VN SS rear axle. It rolls on period-cool Aunger Triden wheels with Eager rubber.
I've been bashing the headers since she got on the road, so I may have to commit the sin of un-lowering the front!"
Steve Hynard
1961 Chevrolet Bel Air
"Here is my 1961 Chev Bel Air, purchased from California in 2018. It had a 500ci Cadillac big-block and TH400, but the car had had a lot of dodgy work done to it in America.
I have spent the past few years rebuilding and replacing a lot of parts. It now runs a 305ci small-block and TH400. I also sanded all the flat black off and two-pack-cleared the lot."
Ben Ward
Ford XC panel van
"G'day, this is my 1977 XC Sundowner. It runs a 295hp AU XR8 roller motor with a five-speed 'box and an AU disc-brake LSD shortened to suit. I'll have it on the road in the next month or two."