Mark Sgaravizzi's 351 XD Falcon '88NATS' was originally featured in the July/August 1987 issue of Street Machine magazine.
THE BICENTENNIAL Authority stiffs reckon they've lined up some pretty wonderful stuff for '88. Hah! Have we got another thing coming for them … the big noise (literally) of the New Year will be this injected road/race XD Falcon. Those pen-pushers in Canberra oughta get off their butts, forget about sleep-inducing static displays that only pensioners or mental defectives would find exciting, and honk on down to Natex. When this Falc cuts loose in the burnouts, it's gonna make the rest of '88 seem pretty dull.
Mark Sgaravizzi takes his car pretty seriously – understandably, considering he's offloaded 70 grand in four years! Yeah, it's one hell of a car, Methanol Madness. What you're viewing is a testicle-tearing strip runner clothed in a homely Australian family car body. With additions. It'd want to be a tough car, 'cos Mark's not backwards in proclaiming "on the street at the moment I don't think there's anything bigger in Fords". With close to 800 gee gees straining under his right foot, Mr Sgaravizzi's boast isn't idle…
Methanol Madness is Mark's second car. The first was a Cortina that was a more customised unit than a no-crap hi-po heavy. He'd been involved with a mate's drag Anglia, and built up a wealth of nitrous-injected 351 knowledge. Sgaravizzi Snr owned a Phase IV-ised XA GT, and this convinced the young fella that Ford was a moving experience. With a headful of good ideas and a bank account fit to bust his pocket, Mark rocked up to Sydney's Westline Ford. The dealership was tricking up XDs with a Phase V bodykit, but leaving the six-pack in place.
"That was a bad place to start," says Mark. "Virtually everything in the car was scrapped. I could do the project again for half the cost. I was mad to buy new." Speaking of mad, he wasn't too cheery when one of the front guards was injured in an accident. It was the start of a new life for the Broadmeadows machine.
To remove factory and aftermarket bruises, Mark's friend Felix Delasanta gutted and stripped the Falc. Felix had done this sort of thing before because he owns Delasanta Smash Repairs at Kirrawee, in Sydney's south. What he hadn't counted on was thieves. They busted in and flogged all manner of stuff, including Mark's Phase III Top Loader gearbox. The insurance company coughed up for a replacement, but more of that later.
Felix worked magic on metal – and fibreglass. While he was busy stripping, repairing, priming and applying Budget Green colours, he was also modifying. The guards were cut out three inches, de-lipped and the inner guard enlarged. A Freedom Fibreglass Bathurst bodykit was screwed on, as well as a Phase V bonnet scoop and a roof spoiler.
Mark and the lads had originally bolted together a nitrous-fed 351, but it bit the dust at Bathurst when the boys got a bit too zealous pulling a burnout … this time he was really going to make sure the backslappers who privately bagged his six-pack Phase V would eat their words. And the Falc's dust. Then Mark met Pete from Pete's Performance. This was just before the Top Loader was knocked off, before the Recaros Mark slaved to buy were pinched from the trimmers. But just at the right time to fill a vacant space in the XD's green engine bay.
A Boss 302 engine with the works was going to provide the motorvation. That is, until Pete suggested Mark should buy and install his de-stroked 351, which was no ordinary motor. It was an out and out drag engine formerly run in Pete's own competition car – as was the super-trick clutch and auto tranny. It was perfect timing, for Mark wanted an engine that'd be special for burnouts. And for that you need a powerplant that'd pull plenty of revs, and keep 'em coming.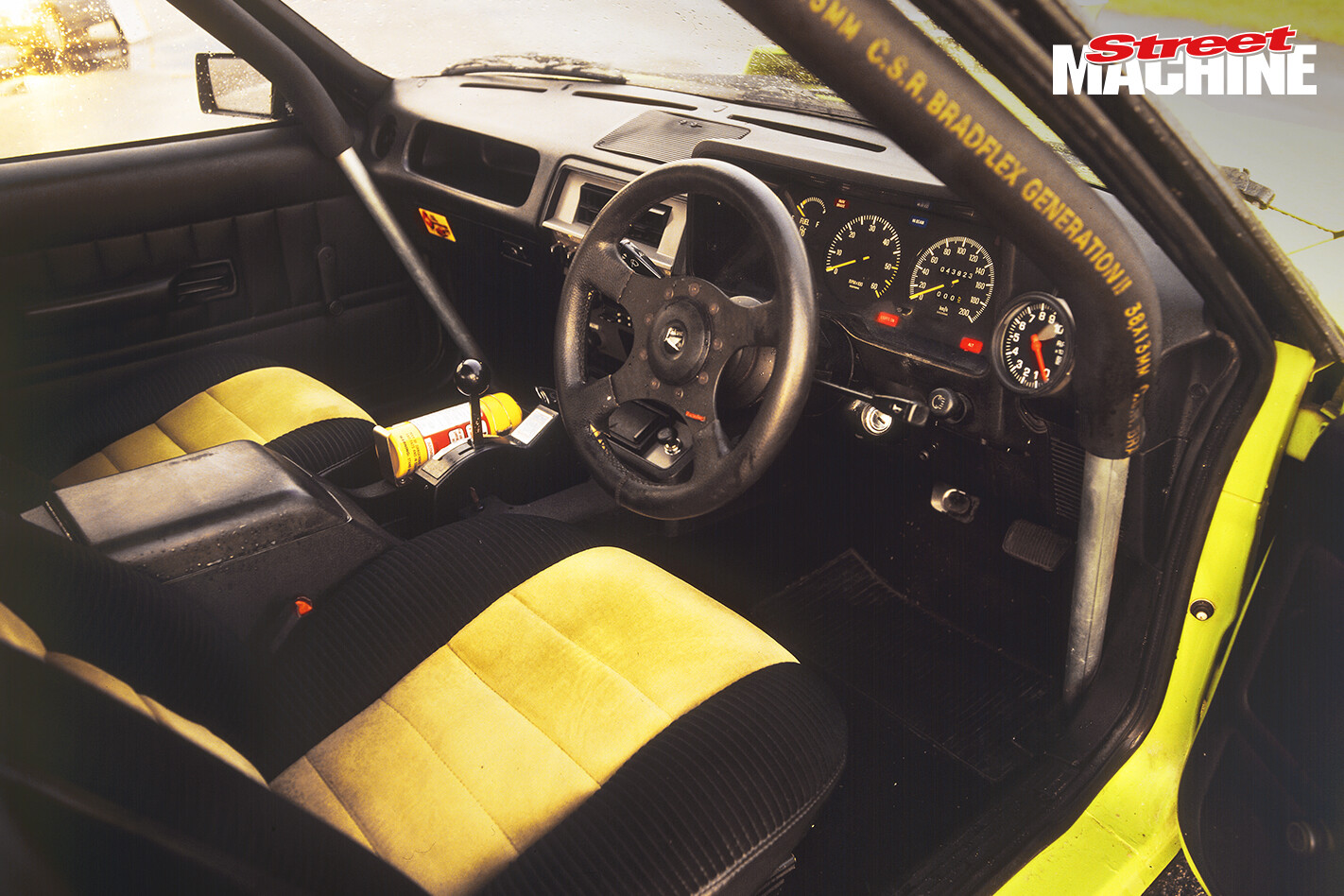 So while Felix was organising the body, a high-powered business deal took place and Pete started to rebuild the 340-cuber. Take a deep breath, folks, this engine is a ripper! Focal point is, obviously, the injection trumpets. Fuel injection wasn't common on Aussie streets back then, and Mark's Falc was one of the first to take really advantage of it. A Hillborn system was chosen to feed the engine its fuel/air mix accurately. Boss 4V heads were enlisted and cleaned up.
Titanium TRW intake and Manley exhaust valves, Isky triple valve springs, toughened Harland Sharp Chev rockers, Competition Cams solid lifters and eight-inch Ford pushrods were deemed tough enough top-end hardware. A Competition Cams mechanical camshaft was lumpier, even, than the one Pete had in the drag car! The choice of pistons was important, because both Pete and Mark knew they'd be rushing up and down the bores pretty quickly on regular occasions.
That's why 30-thou-over TRW 12.9:1 slugs were selected, then accompanied by a double-ring (two rings in each groove) arrangement. Toughened Carrillo rods were bolted on the bottom and swung from a 302 crank. That's how come this formerly 351-inch mill now only registered 340 cubes. Why? A shorter stroke means more revs – sacrificing a little torque, admittedly, but we're talking about a burnout beast here, remember. So what's the rev gain? Try spinning an out-of-the-box 351 to 11,000rpm. Eleven grand. Yep, it's a toey li'l thang, all right.
Ancillaries read like a hot-car handbook. A custom-made triple-core radiator and twin thermo fans ensure coolant doesn't turn to steam. And to stop the blood supply from overheating, an engine oil cooler and – get this – an eight-tonne truck transmission oil cooler were both installed. Still on the subject of cooling, Pete recommended and bolted on an aluminium water pump and Boss 302 impeller. To feed either methanol or Avgas (depending on the driving conditions) from the Sgaravizzi-built drop tank, a single Holley red pump is used to prime the injectors, whereupon twin Holley blues take over. Pumping the good stuff along is helped with a Gilmer belt fuel pump drive. An Accel racing ignition system and Accel II coil provide spark.
Filtering nasty business out of the fuel and lubrication systems are twin in-line fuel and twin remote oil filters. The extractors are rippers. They're 2¼-inch custom units, with each pipe separate and equipped with a slip-on collector. Talk about a free flow! When he'd finished, Mark decided it was time for some sparkle. He wandered into that well-known sheen agent, the Chrome Exchange. The lads tickled up the extractors with aluminium spray, and gave the sparkle treatment to bolts, alternator, pulleys, brackets and a million other items. Then they hand-polished the trumpets. And, finally, Mark handed over a few more bucks for the necessary braided hose. Looks great, dunnit? When Mark says he spent more than 30 grand on the engine and driveline, you can see he's not telling fibs.
So Pete had built a 780-horse firecracker capable of 11,000rpm. That's tyre-fryin' stuff in anyone's language. Transmitting that power was a whole new ball game. Easiest way out of the trans problem was to drop in Pete's full drag-clutch auto, behind a lightened and balanced Ford 11-inch flywheel and Zoom clutch. The Turbo Hydro 400 had been fitted out with extra clutches to take the strain, while a B&M Quick Click shifter snaps up when Mark commands. Front and rear tailshaft loops prevent disaster.
The rear end is where the fun really started. Mark's a mechanical engineering whiz kid, finishing in the top five percent of the state at high school for that subject, and now completing a tech course. He spent six weeks at the drawing board with a calculator and T-square, constantly figuring a suitable arse-end arrangement. Also a top-notch fabricator, Mark built box-section strengthening for the Falc's bum – real Pro-Street stuff. Then he devised a four-link rear end to put all the power Pete had created to the ground.
The two bottom links run most of the length of the car, finishing behind the front seats. A Panhard rod prevents excessive movement of the rear axle. And those axles are shortened Ford Motorsport units, stuffed inside a Fairlane nine-inch with LSD and 4.11 gears. Mark says when he gets grunting, this green meanie really lifts the body – and will pull wheelies when fitted with slicks. Mark's work was worth it. The Falc will break traction – as you'd expect – but it puts enormous power down in a most effective manner.
To keep pace with those dynamite dynamics, Mark opted for BFG T/As (245/50) at the front and 14×12 Kellys out back. Compomotives (14×10 front, 14×12 rear) are used all round. And there's more – Mark has outlaid folding stuff on new 15×15 Compomotives for the power end! Suspending that striking metal are Selby SSS shocks, while Ford discs all round stop the show.
The interior of Methanol Madness has been tastefully retrimmed in black and green velour, with additional black vinyl. With the Recaros having been flogged, Mark returned to the XD buckets. They were repadded, retrimmed and look a treat. With so much money solidly mounted in the engine bay up front, Mark keeps a close eye on events with a mixture of Ford and Stewart Warner gauges. Doubt he ever would, but if Mark ever got tired of that sweet engine note, he'd simply twiddle the volume knob on the Alpine stereo. And it's all cosy, with a full cage providing a ring of confidence.
And now, all roads lead to Canberra for Summernats. That's why the car was built – and why Mark bought those ingenious number plates. Both are for sale. Mark reckons he's gonna build a big-block injected Falcon next, to keep ahead of the pack. But for now there are two things on his mind. One is to get a good price for Methanol Madness – somewhere around 50 grand would do – the other is to win the Summernats burnout comp. "I want that for sure," he says. "I've told everyone that's what I'll do; if I don't, I'll blow the motor in the process." We can't wait to see what will happen.