DO YOU own your dream car? If the answer's a reluctant no, don't fret, you are still in with a chance. See, Mal Apps has clocked up seven decades on this earth, so he had to wait very patiently to own his – this jaw-dropping FC dubbed Intrepid-C.
Originally featured in the February 2016 issue of SM
"I have always loved FCs and owned my first sedan at 21. I took on a tram with that one and came off second-best," he laughs. A number of other early Holden models kept his interest, but it was nearly 50 years before FC number two found its way home.
"I bought this in 2010 as an unfinished project from a bloke called Rob Conjaeger," Mal says. "He'd owned the car for 25 years and had been building it as a neat streeter with a 350/350 combo, disc-brake nine-inch and two-tone white and blue paint. It pretty much just needed glass and an interior and I would have been cruising Easy Street. Then a big green spanner was thrown in the works."
The 'spanner' in question was in fact Peter Fitzpatrick's SMOTY-winning FC, which Mal spied at the Victorian Hot Rod Show. "I had to have one," he says. "The finish and look of Peter's car just blew me away, so my plans immediately changed."
Mixing it with the Elite boys takes more than a can of Fiddly Bits and eBay mags, so Mal tapped into the skill set of Glenn O'Halloran to create his ultimate Holden. Glenn is a spray painter by trade, but has evolved into a master jack-of-all-trades, with high-end panelwork, metal fabrication, electrical and mechanical skills to his credit. For proof of his abilities, just check out these pics.
"Car magazines were my Xbox," Glenn explains. "I'd pore over them as a kid then draw up cars I wanted to build. As a 15-year-old apprentice in the mid-80s I helped with the roof chop on Marty Brennan's white MADNES Holden ute. It really opened my eyes to the hands-on fabrication side of cars, while custom panel vans gave me an appreciation for the artistic elements of design and conceptualisation."
Glenn spent more than three years weaving his magic on the FC, working out of O'Neill's Motor Body Works in Mal's hometown of Echuca.
The car had led a fairly charmed life so was a great starting point. It was completely stripped and the factory floorpan and firewall were cut away for Glenn to start afresh. "I knew in my head how it was going to look before a spanner was laid on it," he says. "We thoroughly planned every aspect of the car so there'd be minimal afterthought, with every part made specifically for a purpose."
A full chassis was fabricated that mounts a Rod-Tech front end, tucked up into the rails to satisfy Mal's desired ride height. Out back there's a custom nine-inch housing filled with a Truetrac centre in a Strange hemisphere, located via a four-bar set-up. An Air Ride airbag system dampens each corner and is controlled with a touchpad.
Steering has been modernised with a modified Rod-Tech rack and billet column, while Ford Territory discs for the front and Mustang items in the rear are all controlled by a Wilwood master cylinder and reservoirs, which are hidden by the dash. The right wheels were paramount for fulfilling Mal's vision, so Pro Wheels Killer rims were chosen, measuring in at 18×8 and 20×10.5 and wrapped in Goodyear F1 rubber.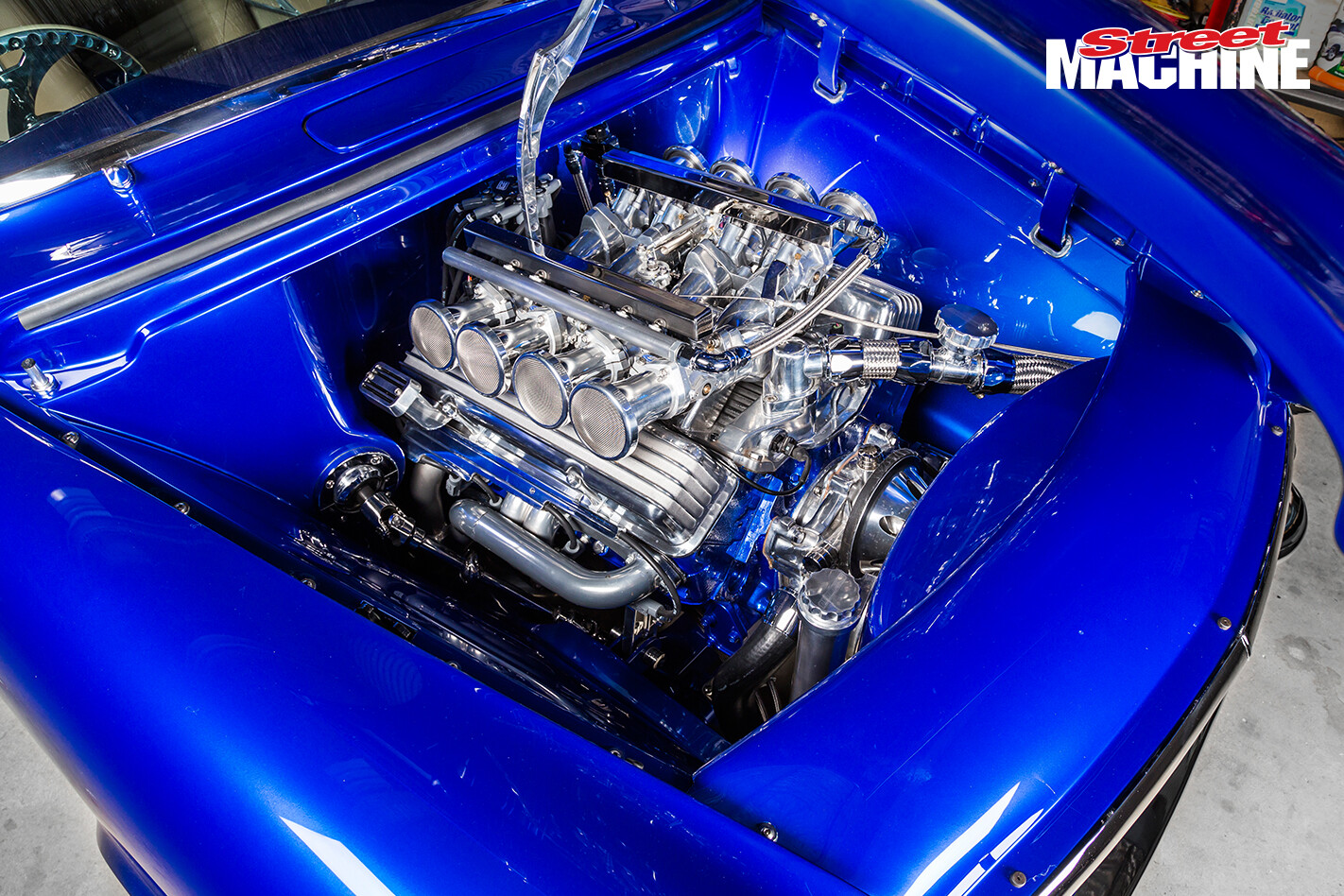 James Young Race Engines pieced together a 425hp 350 Chev, based on a factory block with balanced internals. The short motor is topped with ported cast heads and a horn-worthy crossram EFI controlled by Autronic SM4 engine management. A Crow camshaft works in conjunction with Comp roller rockers and valve springs, with the resultant exhaust gases sorted through 1.75-inch headers and a twin 2.5-inch system. The original Turbo 350 was retained, albeit treated to a shift kit and fronted with a 2500 converter.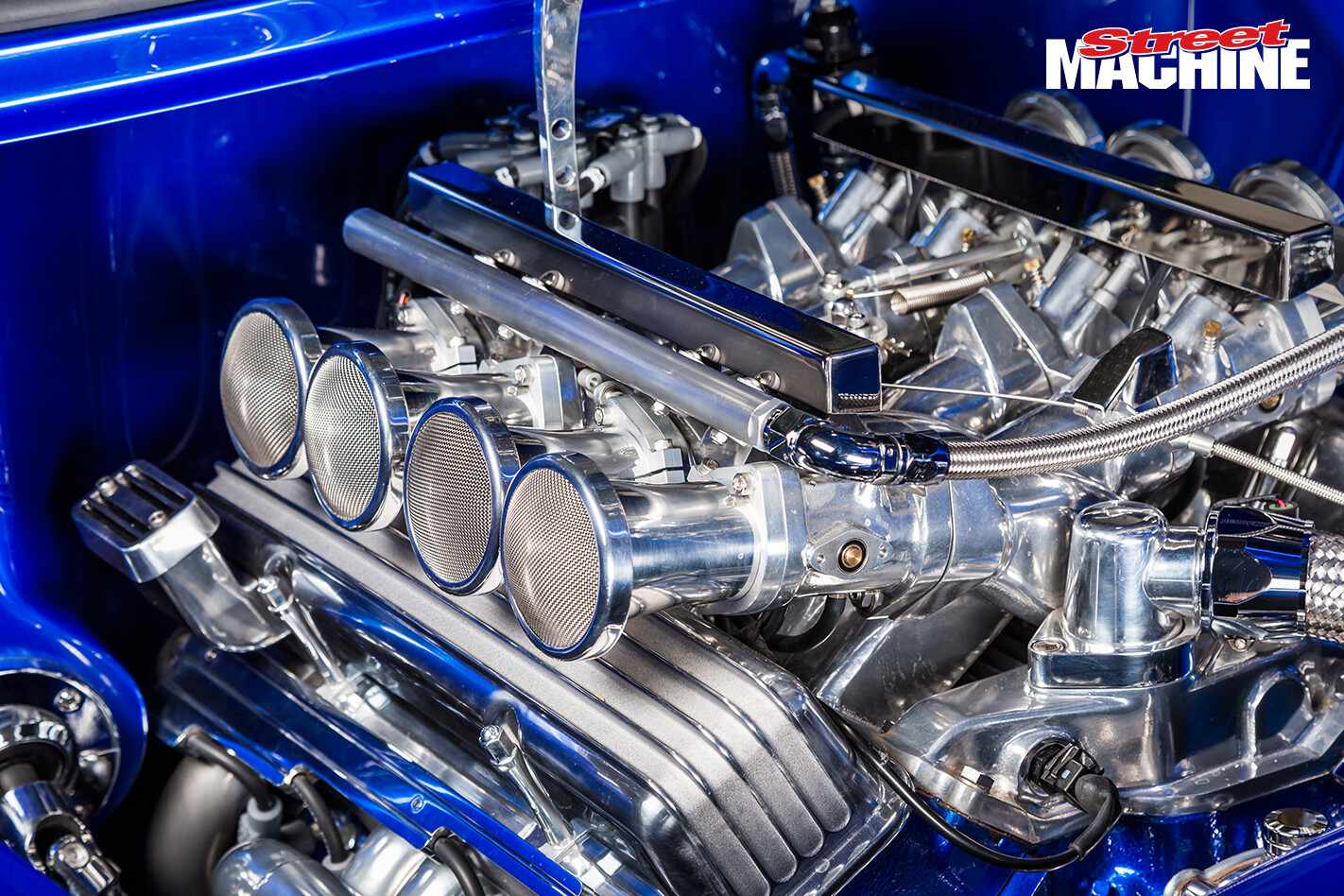 Aussie Desert Coolers custom-fabbed a four-core radiator, while an MSD 6AL ignition and ICE distributor provide plenty of spark.
When it came to the bodywork, Glenn and Mal settled on a fairly straightforward plan. "We decided to simply clean up the lines of the car without losing its factory style," Glenn says. "It was originally a Special, so the accessory rear quarter fins and front guard spears were shaved, along with the door handles and any other superfluous chrome. I extended the front doors 10mm to delete the visible B-pillar metal and squared off the lower corners of each door for a cleaner appearance."
The side-tilting bonnet took a huge amount of planning to satisfy both form and function, especially when factoring in the curvature of the bonnet design. "It had to open and close correctly while maintaining perfect gaps," Glenn says. "The trick was the need to have it tilt through its full arc while sweeping away from the car to stop it tipping into the front guard. It tested me, no question, but it was something we felt was crucial to the innovative element and identity of the car."
Like all of the custom metalwork on this FC, the bonnet skin was hand-fashioned by Glenn using only basic fabrication tools – hammers, dollies and a beater bag – a testament to his skill, patience and eye for detail.
With the extensive bodywork and fabrication complete, it was time to lay down the paint, which revolved around one prerequisite: "The major colour had to be blue, no question," Mal says. "We worked closely with Owen Webb and went through four or five different shades before settling on HOK Oriental Blue Kandy topped with HOK Pearl White, to retain some of its Special lineage."
Glenn drew on his original trade and handled all of the spray work, estimating a total of 17 coats were needed to cover the FC's flanks. "It's heaps, I know that much, but that includes the silver base right through to the candy and clear coats."
The third musketeer in the build was Mick Stevens from Mickz Motor Trimming in Pakenham, who worked closely with Mal and Glenn to create the FC's interior. "Mick is like my long-lost twin," Glenn enthuses. "The fact that Mick, Mal and I were all on the same wavelength just made this project, plain and simple. I knew that the interior would make or break this car but Mick nailed it, no question."
Glenn firstly got to work creating a custom steel console and transmission tunnel, along with an all-metal dash based on a widened FC top mated to a custom bottom half. The doors were all converted to fully retracting fast glass – no mean feat considering their narrow dimensions – before Mick went to town trimming the modified Subaru seats and adjacent surfaces in a mix of Bridge Of Weir Sahara and Cashmere leather, complemented by caramel tweed cloth and Wilton carpet. Billet seat and door inserts match the similarly fashioned steering wheel, switching and seatbelt componentry.
Like many projects, finishing the FC for MotorEx 2015 came down to the wire, with the car completed on the preceding Thursday night. "We seriously cut it fine," Glenn says. "But to see Mal's infectious smile beaming through the hall when he accepted the Laurie Starling Excellence Award and Best Interior made it all worthwhile. Mal is a great bloke who pretty much gave me free reign to build the car how we would like it; they are the dream jobs for someone like me.
"He keeps threatening to build an FC ute, so maybe we're not done just yet."