My family car growing up was an XW GT, so I was always into Aussie cars, but didn't know a lot about American muscle beyond Camaros and Mustangs," admits Darren Wood, the owner of this sweet survivor '64 Corvette. The LS3-powered coupe's journey to become a pro touring blaster started almost a decade ago, when Darren was lucky enough to be living Stateside.
This article on Darren's Chevy Corvette was originally publsihed in issue no.4 of Street Machine LSX Tuner magazine
"I lived in the US from 2007 to 2013, and I started going to car shows and the big auctions over there, originally looking for a big-block Mustang before '60s Corvettes caught my eye. The first time I drove a C2 Corvette I was blown away! It was a solid-lifter 365hp 327, and I couldn't believe how it revved and turned like no other muscle car I had ever driven."
Called 'America's Sports Car', the second-generation Corvettes from 1963-1967 were technical marvels of their day, with independent rear suspension, four-wheel disc brakes, lightweight fibreglass bodies, and optional fuel injection. In both coupe and convertible, big- and small-block, they're some of the most highly sought-after classic cars worldwide today, and are something of a style icon. Darren had the itch for one, but he did far better than that.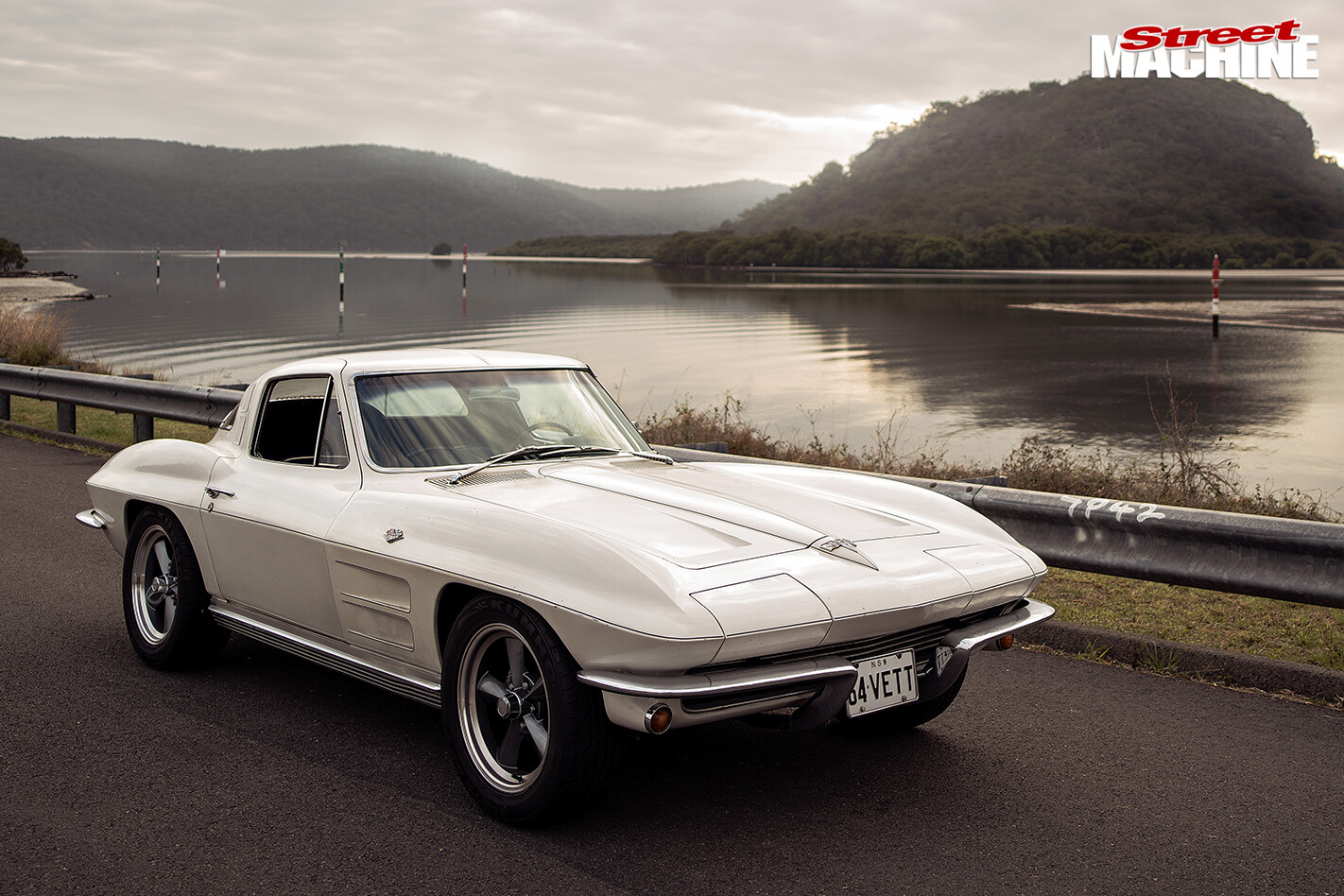 "I searched for three years and ended up buying a matching set of white 1964 Corvettes; one coupe and one convertible," he laughs. "The convertible was an all-original car in super-nice condition that I kept stock and drove as-is.
"The coupe was a little rough, as it saw a lot of abuse as a drag racer in the 70s and wound up under a series of blankets and tarps on a farm in Santa Rosa in California. As it wasn't a matching-numbers car (which is important to Corvette guys), I figured I would do an engine swap.
"I drove it with its 327 as my daily ride for two years before moving back [to Australia]. Soon after I got back I bought the LS3 new from a Holden surplus shop in Melbourne and started the conversion."
While some people's engine swaps are tales of woe, full of badly made, non-fitting parts, miscalculations or other calamities, Darren was shocked at how smoothly it all went for his project.
"I don't want to jinx myself, but I had fewer problems than I expected," he laughs. "I set out to make this a 'keep it simple' project that would yield a reliable car I could drive anywhere but still looked like a stock mid-year Corvette.
"A few things worked in my favour; it is a non-power steer car, which means even the Commodore sump cleared the steering and the engine dropped straight in on the $80 Dirty Dingo 'Double-D' conversion plates and Energy Suspension mounts. I only changed the sump because the large-capacity Commodore one was hanging a little lower than I liked, so I went with the smaller C6 Corvette unit, which bolts right up. It also has no a/c, which means the LS front-end belt set-up is very simple with just an alternator.
"The in-tank Walbro fuel pump conversion was probably the trickiest part as the Corvette tank is a pain to get out and has tight clearance to the rear deck. I had to put a four-inch hole in the top of it to install the module. You can buy a whole EFI-ready tank with a proper baffle for $1500, and I was sure my $300 home conversion was going to cause some kind of trouble, but it's been flawless.
"I did most of the work myself with an engine crane, ramps and hand tools in my garage," Darren continues. "The whole thing cost roughly $8000 in new parts and rebuilding originals, plus an extra $7000 for the crate LS3, so you could do something like this for easily less than $10,000 with used parts."
When it came to wiring – the bane of many street machiners doing late-model engine swaps – Darren looked to the huge aftermarket in the 'Vette's homeland. GM actually sells pre-made wiring harnesses called Connect & Cruise, with everything needed to bolt a late-model Gen III-Gen V donk into a range of classic US cars.
"I put the GM LS3 controller, wiring harness and fuse box in my luggage while on a work trip to the US," Darren explains. "Nobody was more surprised than me when I wired the two together, turned the key and it started right up!"
Castle Hill Exhaust whipped up a custom exhaust system with 100-cell cat converters, but also a pair of fully functioning HSV Bi-Modal mufflers. Just like a brand new ClubSport, Darren can choose if his 'Vette whispers or shouts via a pre-set rpm limit in the stock ECU or an override switch in the cabin. The stock computer also runs the SPAL thermo fan on the back of the DeWitts shrouded aluminium radiatior.
"I expected the stock four-speed Muncie M21 gearbox to last five minutes, so I originally planned to ship out a Tremec TKO600 five-speed conversion, but I got impatient and decided to try out the original gearbox," Darren admits.
The original stock close-ratio 'box was rebuilt to stock specs and paired to a Keisler titanium conversion bellhousing that hides an 11-inch big-block Chev RAM clutch.
"As it turns out the M21 'box does pretty well as, ultimately, the car is traction-limited and it is also very light," Darren says. "This probably saves the transmission from the full brunt of the LS3, but I am still going to get the five-speed to lower freeway rpm and allow me to get a friendlier clutch."
The rear end is also original, with the rebuilt 3.7-ratio centre copping a fresh Eaton Positraction LSD and three-inch oversized half-shafts, while Spicer supplied upgraded yokes and solid U-joints.
"The goal of the car was to get something with a classic look that I could drive daily and not worry so much about getting dinged up at the car parks," Darren says. "It is such a good driving car, I can see myself keeping it a long time. Perhaps one day in retirement I will try my hand at fibreglass repair and prepare the car for some decent paint."
Hopefully that doesn't happen for a while, as it's great to see such a classic shape wearing its age gracefully. America's sports car reimagined by an Aussie – perfect!