It might not drive him to drinkin', but Norm Hardinge's 1934 Ford Coupe has got 12 cylinders and uses them all
This article on Norm's Coupe was originally published in the no.17 issue of Hot Rod magazine
PLENTY of old machinery has gone through Norm's shed over the years, starting back when he was 17 with a 1958 'tank' Fairlane Ranch Wagon followed by no less than 20 EH Holdens. But it's as owner of renowned radiator specialists Aussie Desert Cooler that Norm has really hit his straps. "I wanted a '34 shaped like the Pierson Brothers' coupe," explains Norm, referencing the famous 1950s Flathead saltlake race car. "So I asked Elvis at Rod Bods to sort me out."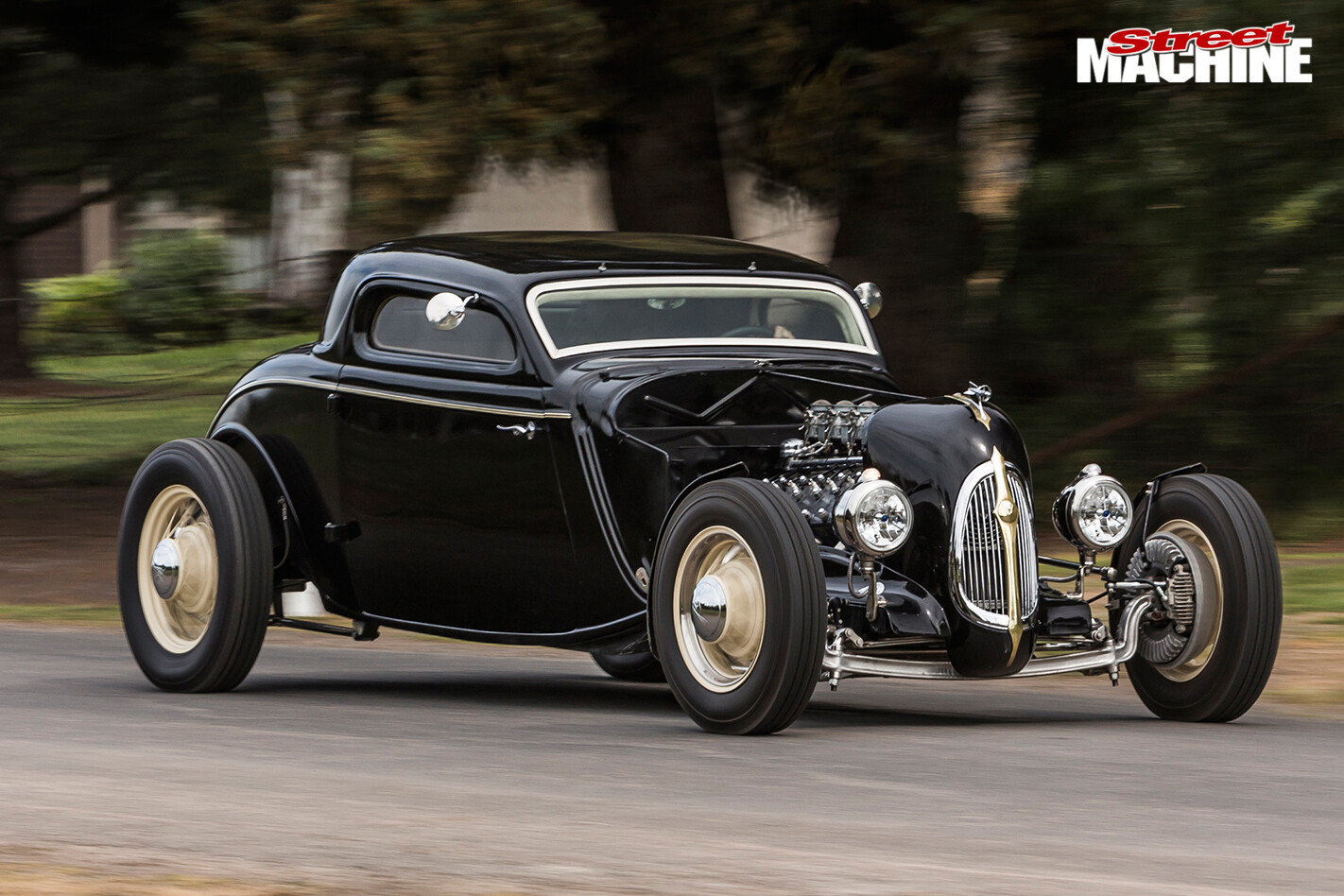 If you know anything about Ian 'Elvis' Davis, it's that he's a busy man. It took two years and a lot of radiators, but Rod Bods delivered. They even had a new product line, 'The Bonneville Special' to show for it. The Pierson Brothers' coupe was flathead powered and so is Norm's, but there's more to it than that — especially cylinder-wise. "I was over in the 'States with Elvis and Rod Hadfield back in 2008 and they brought back three Lincoln-Zephyr V12s, I helped load them in the container!"
A few years later, Norm bought one of the V12s off the first Aussie owner. "I actually already had a V12 with an engine bloke, but he was having trouble sourcing parts and taking too long, so I bought another V12, sent it somewhere else and the same thing happened!"
Then Norm came across a third V12, one that he'd helped Elvis and Rod load all those years earlier. It had been treated to a no-expense-spared rebuild, but the owner had stumbled at the same point and he sold his project before his engine was ready. From that, Norm had an epic win, picking it up for half of what the guy spent on it and selling the other two incomplete donks.
"It's been fully balanced and blueprinted; the tolerances between this and that are really tight. You can put a glass of water on it and not spill a drop," he says of his smooth-as-butter Lincoln-Zephyr.
Being flathead-based, there's not a lot that can be done to increase airflow; the V12 came with a mystery hop-up manifold ready for a trio of brand new 97 Strombergs. "At 306 cubes, they're not a big motor. This is bored to 310. I've dynoed it — it made 98 horsepower!" he laughs, acutely aware that 1930s technology ain't exactly cutting edge. "First time out, I took it to the Geelong Revival. Slow cars were pulling 17s. I did 19.8! For this car, it's all about style; it's a really classy car."
He's not wrong; the raked screen is certainly something else and is accentuated by the bullet-like, speedway-spec track nose up front; hand fettled from scratch by master metalsmith Tom Peach. "Tom made the grille, nose and all the metalwork below the bonnet, which is an original '34 item. He's a genius!" Norm comments, clearly in awe. "I've seen him build a complete Rolls Royce body in two weeks with nothing but an English wheel, some hammers, a couple of wheat bags and a tree stump!"
Brilliance runs in the family, as Tom's son Stephen knocked up the nifty V12 grille bar as well as a scale replica Buick rocketship to plonk on top. "He's one of our top welders at Aussie Desert Cooler and handled all the jewellery; all the shiny stuff."
Elvis married the bespoke body to the original ex-USA 1934 chassis, but it was Norm who bolted the engine in and got it running. He also painted the car himself, going for a traditional straight black duco, with pinstriping by Miks Signs.
Although it gives the appearance of a traditional rod, there are a few concessions to the safety wowser. The front brakes are actually Falcon discs clamped by Commodore calipers, hidden within replica Buick finned drums, specially cast by Al Fountain. Down the back, retardation is handled by a huge pair of F100 drums; as the engineer quipped, it stops much better than it goes.
It doesn't need to do fast; Norm's got plenty of other machines to handle that; his 1940 small block Ford truck ate up the Nullarbor last Easter without complaint, while his blown, Hemi-powered '32 coupe puts out 685 horses and has visited every state in Australia. His Big Knob Racing 1934 Ford roadster is a dedicated salt lake competitor and has hit 212mph, and his FJ Holden ute only has a little V6 in it; with twin turbos attached!
Given so many disparate projects, it makes sense that Norm's latest rod would again be something completely different but I have to ask if he's on-sold any of these machines: "Oh no; when I build 'em, I keep 'em!" I like his thinking, but wonder where his wife stands on this. He leans forward, elbow on the table, stroking his long, grey beard and eyeballs me. "Vicki will take any of these out and drive them hard. She's driven on the salt; she's even driven speedway!" And that answers that! She's a keeper, Norm; just like your cars.