You can keep your Golf GTi or Civic Type-R. George Cooper's Vortech-blown 10-second Torana is well worthy of the hot hatch title
This article was first published in the August 2011 issue of Street Machine
WHEN George Cooper bought this tough Torry as a bare shell finished in Kawasaki Green, all he needed to do was bolt up an engine, driveline and interior and let the good times roll. But good things take time and he spent the past four years carefully piecing the car together.
And boy does it show. George took the time to refresh every nut, bolt, bush, ball-joint and brake line on the car, powder-coating the under-car components for optimum durability as he went. He then sourced an entire SS hatch interior and had the lot beautifully restored to concours condition.
As for the engine, the truth is he's still building it. Rather than rush that particular job, he built the current engine — a "slapped together" 308 with a blower hanging off the side — as a stop-gap while he finishes the much angrier 355ci donk which the plates allude to. But that's not to say it doesn't make the numbers.
Before all that, the hatch needed a set of mini-tubs to accommodate 15×8 Weld Pro Stars wearing 255/60 Mickey Thompson ET Streets, so he escorted the shell to Sean Mullins who enlarged the guards and set up the nine-inch diff housing to suit. George's buddy Grant then set up the Strange 4.11:1 diff centre and Moser axles, and built up a you-beaut fully manualised Powerglide with a transbrake and 3800rpm converter.
In the meantime, George was busy assembling his interim engine. Running a standard VN crank and rods and a set of ACL pistons, it's fitted with a mild Clive Cams bumpstick, Crow pushrods, Chev LT1 valve springs, a JP oil pump and a set of VN heads. That's it, inside. But while bolt-on blower kits for injected Holden V8s in Commodores are a dime a dozen, much of the hardware to mount and plumb the Vortech V2 S-Trim supercharger on George's donk had to be fabricated.
The blower bracket is a Commodore unit he once had on a VP, now modified to suit the Torana bay. Topped with a COME twin-throttlebody inlet manifold loaded with 700cc injectors and instructed by a tweaked Delco ECU, the blown and intercooled motor gives better than 350hp at the bags.
In the cockpit, he knew the look he was after. "The goal was to stick as closely as possible to the SS but with a few additions. I sourced the stock seats and had them redone by Eastern Auto Upholstery. Aside from the shifter and gauges, it's all stock."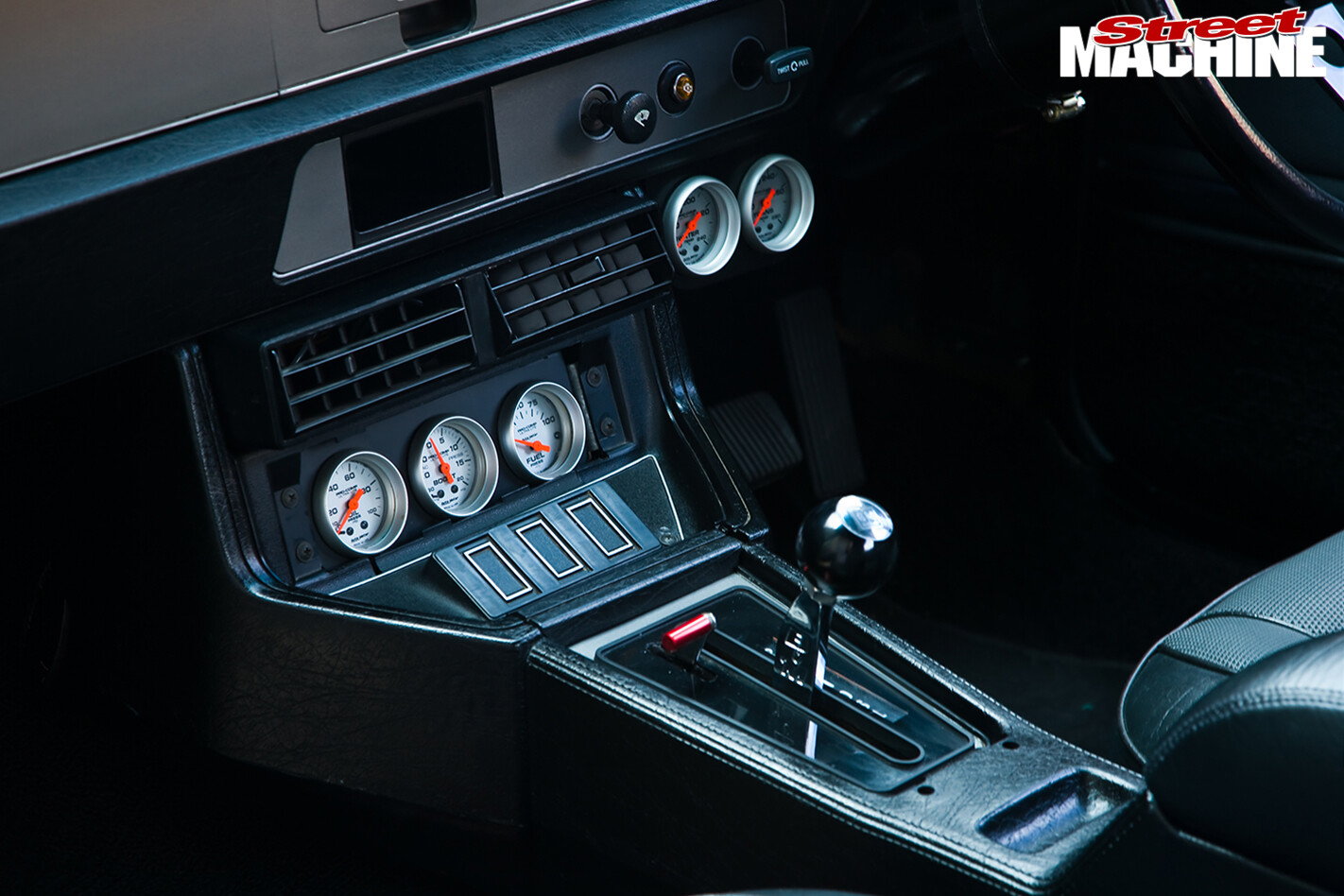 That shifter is a B&M Pro Ratchet but a fair bit of work went into integrating it with the standard hatch console to get it looking as close as possible to the stock stick.
"I mucked around a fair bit to get the height right and then had to modify the gear indicator plate so that it lined up properly with the Holden one."
With the car complete and ready to race, it was time to hit the Calder Park blacktop, and with the exception of some initial torque converter dramas that led George to bin his previous stally in favour of a more reliable TCE unit (thanks Dwayne), it's been all good news. It's not often in drag racing circles that a new car or combo will meet — let alone exceed — your expectations straight off the bat, but he's stoked with his stop-gap engine.
"I wasn't expecting it to make this much power or run the times that is has but it's one of those combos that just seems to work," he shrugs. "I thought it might run a high 11 on this motor and was hoping for 10s with the 355 but it's already gone 11.1@122mph at Calder as driven to and from the track, and would probably dip into the 10s with a little work. Now that it's run those times, I wouldn't mind running a low 10 with the 355 but I'm going to have to put a 'cage in it."
George's immediate plans include fitting the 355ci stroker he's been toiling away at, along with a larger V7 or T-trim Vortech blower to fill it full of boost. From there it's back to the track to shoot for that ten, but with only a tenth to shed and a whole lot of extra horsepower to do it with, something tells us it'll be a fairly safe bet.