Vince Padanis has owned this LJ coupe LOCITO since before he was old enough to drive it
This article on Vince's LJ was originally published in the September 2012 issue of Street Machine
THIRTEEN-odd years ago, 14-year-old Vince Padanis was madly pedalling his pushy, delivering papers to raise the princely $550 asking price for a grandma-spec LJ Torana coupe.
A modern-day teenager would have to deliver a mountain of newspapers to purchase a rusty Torana shell but while the coupe was a dream come true for Vince, it's taken three ground-up rebuilds to transform it into the stunning tubbed, 'caged and turbocharged weapon it is today.
"My dad, Harry, was always tinkering in the shed building hot rods when I was growing up," Vince says. "In the 60s he had a '32 roadster with a flathead, then a '29 A-model full-fendered roadster and now two steel A-model coupes. Helping with his projects inspired me to start my own at such an early age."
The car looked reasonable on the surface but a closer inspection involving paint stripper revealed that the dreaded tinworm was living large, from the floorpan to the front guards, the left rear quarter and around both screens. While Harry got to work welding in repair panels, Vince spent his spare hours either straightening the body or on the treadlie treadmill, scratching up funds for parts.
"I remember paying $40 for a rechromed new front bar at a swap-meet — how times have changed!"
Four years later the LJ hit the road with the stock 173, extractors, a CIG locker and chopped springs. It was Vince's proud daily driver until it attracted the wrong kind of attention and copped a series of defects.
An air conditioning mechanic by trade, Vince bought a VG V8 work ute and tore down the LJ for a far more comprehensive rebuild. His timing was impeccable as a good mate was heading in a fresh direction with his own Torana, freeing up a stack of high-performance turbo Holden six hardware, including a prepped 179 block, steel crank, Yella Terra head, High Energy sump and low comp ACL blower pistons.
"I mounted the engine and intercooler and took the car to Jake Stewart at JDI Fabrications to get the intercooler piping, turbo manifold and exhaust built," Vince says. "I sourced a VK EFI inlet manifold and had JDI weld up the injector bosses so I could fit my Gas Research LPG set-up. LPG is colder and has a higher octane rating than pump fuel so it's perfect for winding heaps of boost into the engine."
At the same time Garry Mezzina hit the car with a fresh coat of paint, while Vince added Weld Prostar rims and a tough auto with billet internals and a 3500rpm converter from Pro Automatics.
The welded-up banjo arse remained but Vince knew it was living on borrowed time and after just six months he bit the bullet and pulled it off the road for its third rebuild.
The motor went to JC Engines where a knife-edged 202 crank bumped the cubes up to 207ci, while compression was also lifted from 7:1 to 8.5:1. Balanced rods and fresh bearings were added, as was a stud kit to ensure that the head stays firmly planted in spite of the 12psi on offer from the AiResearch T04 turbo.
Knowing that traction would become an issue, Vince hacked out the rear inner guards to the rails and delivered the shell to JDI Fabrications with a BorgWarner diff, a set of 10×26 rear hoops, and instructions to "make it happen". He wanted the tyres buried well inside the rear guards for a businesslike Pro Street stance.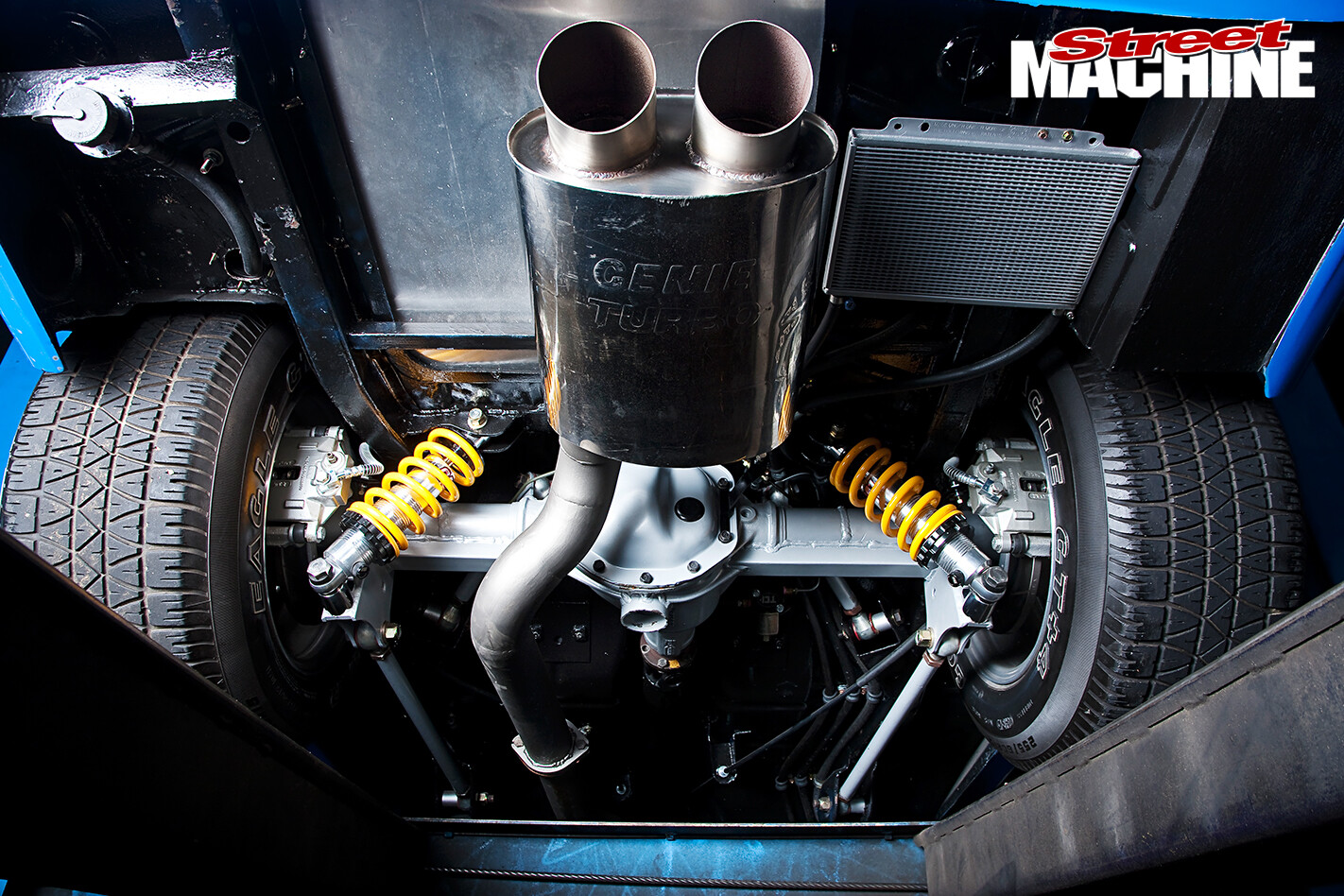 "Jake laughed at first but with his skills he made it happen with ease," Vince says.
Achieving that meant stretching the rear guards by two inches and tubbing not only the inner guards but also the tailshaft tunnel.
Jake chopped and braced the diff, adding 28-spline Moser axles before mounting it in an adjustable four-link with QA1 coil-overs.
It must have been upsetting to file, high-fill and rub such fresh paint but all's well that ends well, and the car's third respray, by Johnny Rosignoli in custom-mixed Glasurit blue this time, is superb. Vince wet-rubbed and then buffed the finished product himself.
That done, the beaut custom interior by Paul Tillot was added. Front seats are low-back SAAS buckets and the rear had to be modified to suit the mini-tubs. A host of Auto Meter Ultralite instruments is housed in a custom cluster that Vince and Jake created and billet furnishings put the finishing touch to the interior. Vince then trimmed the boot in matching Sunkissed vinyl himself.
As for the numberplates, they're in Spanish. "A Columbian mate, Max, organised the plates with a group of friends for my birthday. 'LOCITO' means 'a little crazy' because there are always crazier cars out there!" he explains.
With only 400km on the dial, the coupe is yet to see a dyno or track but both are on the cards. Vince says a similarly specced LPG turbo six has made in excess of 300rwkW, so the lightweight coupe should be a force to be reckoned with over the quarter.
Incredibly, by doing much of the hard work himself and thanks to the generosity of his mates who lent a hand along the way, Vince's car is a genuine budget build — he reckons an average of $10,000 was spent on each of the three rebuilds.
"One day I'll put a six-litre aluminium V8 in it with an under-bonnet blower so I can still use the intercooler, and I'm also thinking about a big set of Showwheels. One thing's for sure, it chews through the LPG — lucky it's cheap!"