This story was originally published in the December 2013 issue of Street Machine magazine
FIRST UP, I didn't build this truck," Craig Bayliss says. "My mate Tam Storer is the creator of this mad beast. After watching him finish this build, I had no hesitation in buying it when he decided to sell."
And why wouldn't you? With classic 60s styling wrapped around a massive 488ci Ford big-block, it's a hell of a truck. It was the first thing we noticed when we rolled into Supernats this year. It was like — Bam! — there it was, and everything around seemed to dim. If Hollywood makes a movie about the devil himself returning to Earth, we reckon this is the truck they'd have him driving. Add some flaming special effects, cut, print, roll credits.
Craig just loves it: "It's unbelievable to drive. I light this thing up in first and second, and hang onto it sideways up the road."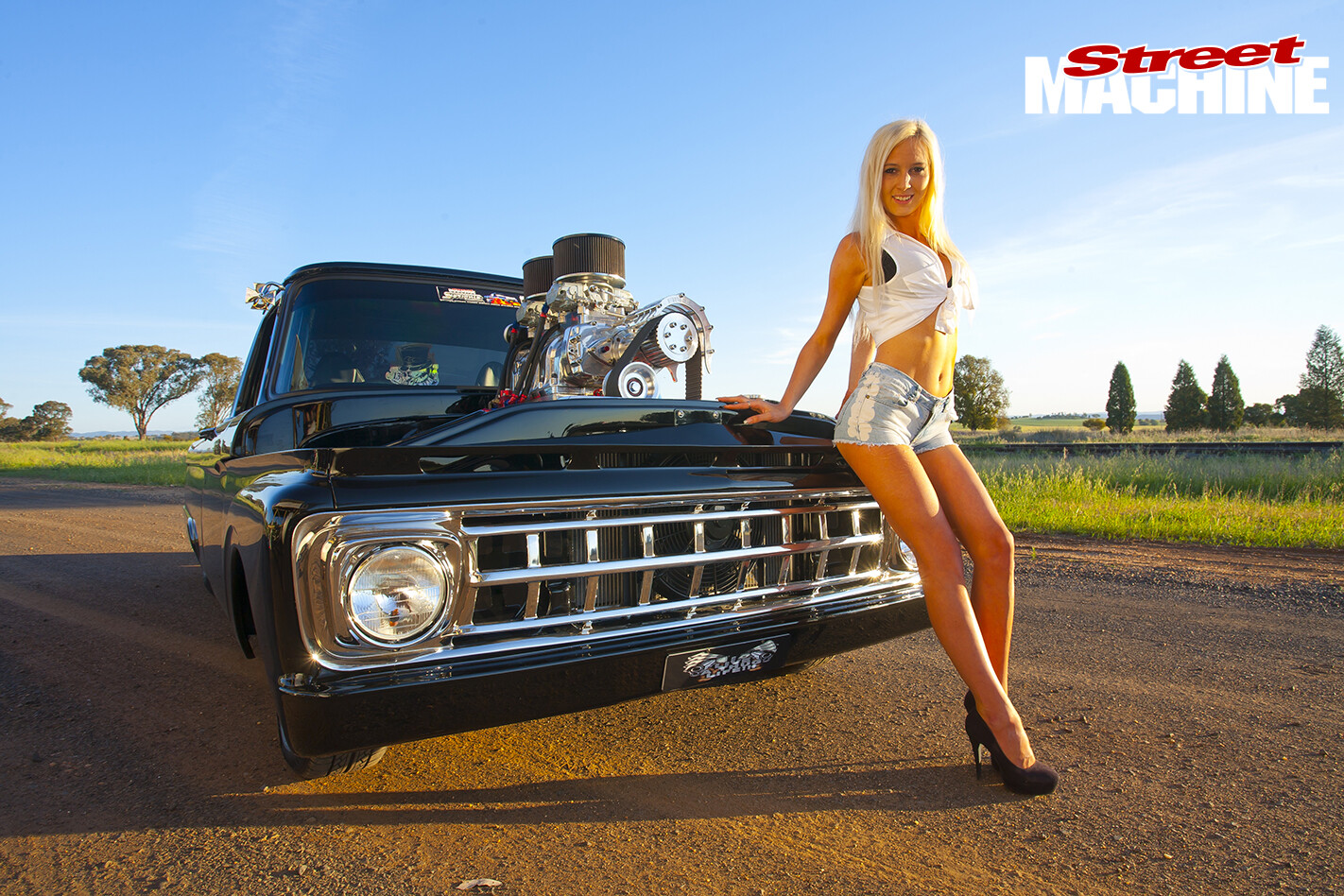 He's owned it for eight months now but it took Tam five years to turn a cab he'd imported from the US into this rolling homage to automotive excess. The idea was to take an old school F-truck and combine it with some newer technology so that it didn't ride, well, like a truck.
To that end, Tam mated the Ford cab to a WB Holden ute chassis, news that will have purists reaching for their heart medication. But it makes a lot of sense. What better way is there to take the good part of a foot out of the ride height? Channel the body and tray over the chassis and bingo, killer stance achieved.
Up front, though, it's pure Ford muscle — 488 cubic inches of it. Tam started off with a 460 big-block and gained a little extra capacity by offset-grinding the crank. It's not a huge gain but hey, every little bit helps as they say.
Talking about little bits helping, how about that 6/71 perched on the Newby intake. Kind of hard to miss, isn't it? It's topped by a pair of Demon 850 carbs with the air cleaners almost level with the roofline. No idea on the power output, but safe to say it's got more grunt than anything this side of a Bugatti Veyron — and even that'd be touch and go.
The driveline is pretty simple fare: a Powerglide up front and a shortened nine-inch sitting between 16in-wide Mickey Thompsons at the back.
The tray isn't much use for hauling hay or concrete anymore as it's only about eight inches deep. Throw in a pair of wheel tubs and an aluminium fuel cell and it's about as useful as gold-plated floaties. But hauling stuff around isn't this truck's primary function any more.
Pure unadulterated pleasure — that's what it's all about. "I'm still a big kid and I love my toys," Craig says. "I've been a mad Ford-head since I was 15. I bought an XR Fairmont when I was 17 and I sold it to a mate a few years later. He's still got that car, 20 years on. Now I've got a really nice black XY that I'm building a 700hp motor for."
His collection of fun toys already included a few bikes and stuff, but he didn't hesitate when Tam's truck came up for sale.
"Me and my mate jumped in the car and drove 13 or 14 hours to get there. We arrived at 3am and rolled out the swags in front of his shed," he says.
Despite the drive, he was like a kid on Christmas Eve, lying awake and waiting for the sun to come up. "It was killing me, I just wanted to get in the shed and see it."
When the doors finally creaked open, it only took a heartbeat for Craig to say: "I'll take it." But getting the beast on his car trailer wasn't so simple.
"Tam took one look and said: 'It's not gonna fit on that,'" Craig says. "We got it on, but it took 30 minutes to inch it onto the trailer. I wasn't going to leave it there because you could see it was killing him to see it go. If we hadn't come so far to buy it, I reckon he would have pulled out."
Back at home, Craig hasn't let it sit idle. He's been hitting the local shows, winning trophies like Best In Show and Top Street Machine. But the big one was Supernats where the truck acted as an iPhone magnet — it seemed like everyone in the vicinity was drawn to it. It scored Top Radical Street Machine, but the best bit by far was getting to drive it. Sadly, he didn't get to spend very long behind the wheel, however.
"It was a bit disappointing because we waited all day to cruise and only got one lap in before the video guy was hit," Craig says. After that incident, the cruise was cancelled.
At the moment the truck isn't registered so it's limited to events such as Supernats and Powercruise, but Craig plans to change that.
"We're going to get it engineered soon — we'll get it registered even if I have to take the blower off to do it," he insists. "My wife, Min, doesn't like it much. She reckons it's impractical as you can't drive it on the street and it's too loud. But my kids, Jacko and Maddie, love it. My wife hopes that I'll grow up soon but she reckons I'm getting worse as I get older."