The late Mario Colalillo is probably best-remembered for his pair of wild custom Cadillacs, WILD CAD and KING CAD. But while Mario was a fan of the low and slow life, he also built one of the toughest hot rods ever to prowl the streets of Sydney – the bad-arse '39 Plymouth you see here.
Mario's son Andy is currently giving the Plymouth a makeover, but for now, enjoy the original Street Machine feature from 20 years ago:
This article was originally published in the August 2002 issue of Street Machine.
Do not be fooled for one minute into thinking that just anybody could build a car like Mario Colalillo's 1939 Plymouth three-window coupe. It is, in essence, a street-driven Wild Bunch car that packs every power option from the 1000-plus horsepower blown small-block engine to the power windows and stereo. And if you reckon it's not street driven, think again. This black duck punches out enough kays every year to be called a street car and the workmanship and attention to detail are absolutely mind-blowing. Every single aspect of the car has been planned and developed to the nth degree and like all decent cars has taken years to build.
Mario bought the car back in 1977 when he was just a young fella, not that he's an old tart these days. He found the Plymouth parked under a tree at a property in Narellan and paid the old guy who owned it $400.
It was just a body and a chassis and had been an old hot rod from the 1960s. As an apprentice coach builder it had taken Mario four months to save for his dream machine.
For the next 10 years Mario toiled away to turn the car into a work of art and after years of hot rodding the car, winning trophies and having fun he took it to the opening meeting at Eastern Creek Raceway and got the reality check of his life. Pro Street was on the move in the United States and even here in Oz his tunnel ram, Muncie and Jag rear-end were way out of date.
So he decided to build Australia's first real Pro Street Wild Bunch car-cum-hot rod. He went back to the drawing board with a list of must-do jobs. The planning involved some talented people in the industry and Mario's first stop was at Terry's Diffs and Chassis to discuss it with Terry Cartright. Terry was instrumental in building the car, from the Wild Bunch-style chassis to the blown, injected small-block engine.
After stripping the car the original chassis was stepped and boxed, then fitted with HK front suspension and rack-and-pinion steering with drop spindles. A chrome-moly four-link was grafted to the rear-end and Ron Zelukovic rebuilt much of the steelwork in the car from the pinch-welded mini-tubs to the full reproduction floor pan. Other sheet metal changes to the car included running boards, door skins, power windows, rear beaver panel and Frenched '39 taillights.
The competition-style rear-end includes a Ford nine-inch housing with heavy-duty hydraulic-style tube ends, 35-spline Mark Williams axles and studs, Mark Williams nodular centre with full spool, 4.3:1 Richmond gears, Mark Williams pinion support and chrome-moly yoke. The chrome-plated wheelie bars are made from chrome-moly tubing with alloy billet machined carriers and custom-made billet five-slot wheels.
The wheels were replaced with fully polished Centreline 15x15s on the rear and 15×3.5s on the front with Halibrand knockoffs. Street tyres are Michelins up front and Hoosiers on the rear with an identical combination in Goodyear front and rear for track days.
The old engine was discarded, as were plans to fit a blown 392 Hemi. Cartwright talked Mario into fitting a blown small-block Chev and Graeme Silk Race Engines in Canberra was commissioned for the project.
Graeme began with a new Bow-Tie block with Ridgecrest splayed main caps and new 4340 Cola crank. The 377 -cube combo has Childs and Albert 4340 rods and Wiseco blower pistons with chrome-moly rings.
A Summers Brothers gear drive found its way onto the goodies list, along with a custom seven-litre pan with oil scraper, Dash 11 raised-port alloy Brodix heads, Crane roller cam and lifters, 3/8 Manley pushrods, Manley severe-duty valves, K Motion springs and Crane roller rockers.
The air/fuel mix is fired by a Supermag Ill and fed by a BG400 and Hilborn pump. A custom alloy sheet-metal intake manifold was fabricated by Cartwright and Mario with port nozzles and a Kuhl burst plate.
It was then fitted with a new 6/71 BDS blower running 12 per cent overdrive topped off with a polished four-port Hilborn injector. The engine is bolted in with 6mm alloy engine plates and a Griffin alloy radiator is used for cooling purposes.
Backing up the 1000hp mill is a Powerglide complete with Deadenbear case, Vasco internals and 4000rpm Dominator stall converter with a Mark Williams chrome-moly shaft running back to the diff.
All of the fuel, brake, water and trans lines have been replaced with KB alloy fittings, and polished and braided stainless steel lines. Shocks are Spax coil-overs all 'round with ventilated discs on the front and EA Falcon slotted rotors on the rear.
The interior, like the rest of the car, is an absolute work of art and has been finished in brushed anodised aluminium with grey tuck-and-roll leatherette by R&R Classic and Custom Upholstery. Cartwright fitted a tig-welded eight-point chrome-moly cage.
Extras include a red Simpson safety harness, window net and parachute. The CNC-machined billet dash has Pro Comp Auto Meter instrumentation. A B&M Pro Ratchet shifter finds the new levels of speed.
The body is still full steel. Bonnyrigg Smash Repairs were given the nod to apply coat after coat of Dulux Black to the coupe, creating a mile deep, silky smooth finish. Did we mention the car was street driven?
Yep, fully engineered and street registered as is, and 100 per cent street driven on methanol, says Mario.
With just three years of road work under its belt Mario's slick '39 has already won Top Street Rod at Street Machine Summernats 12, Top 10 at Summernats 12, Top Competition vehicle at the Melbourne Muscle Car show, Top Competition at the Sydney show, Top Competition at Rickshaws, Grand Slam Champion Show and Go for the last three years at the Supernats and a six-foot trophy with it each year. Then there's the prizemoney and 50 other trophies and awards from bike and rod shows.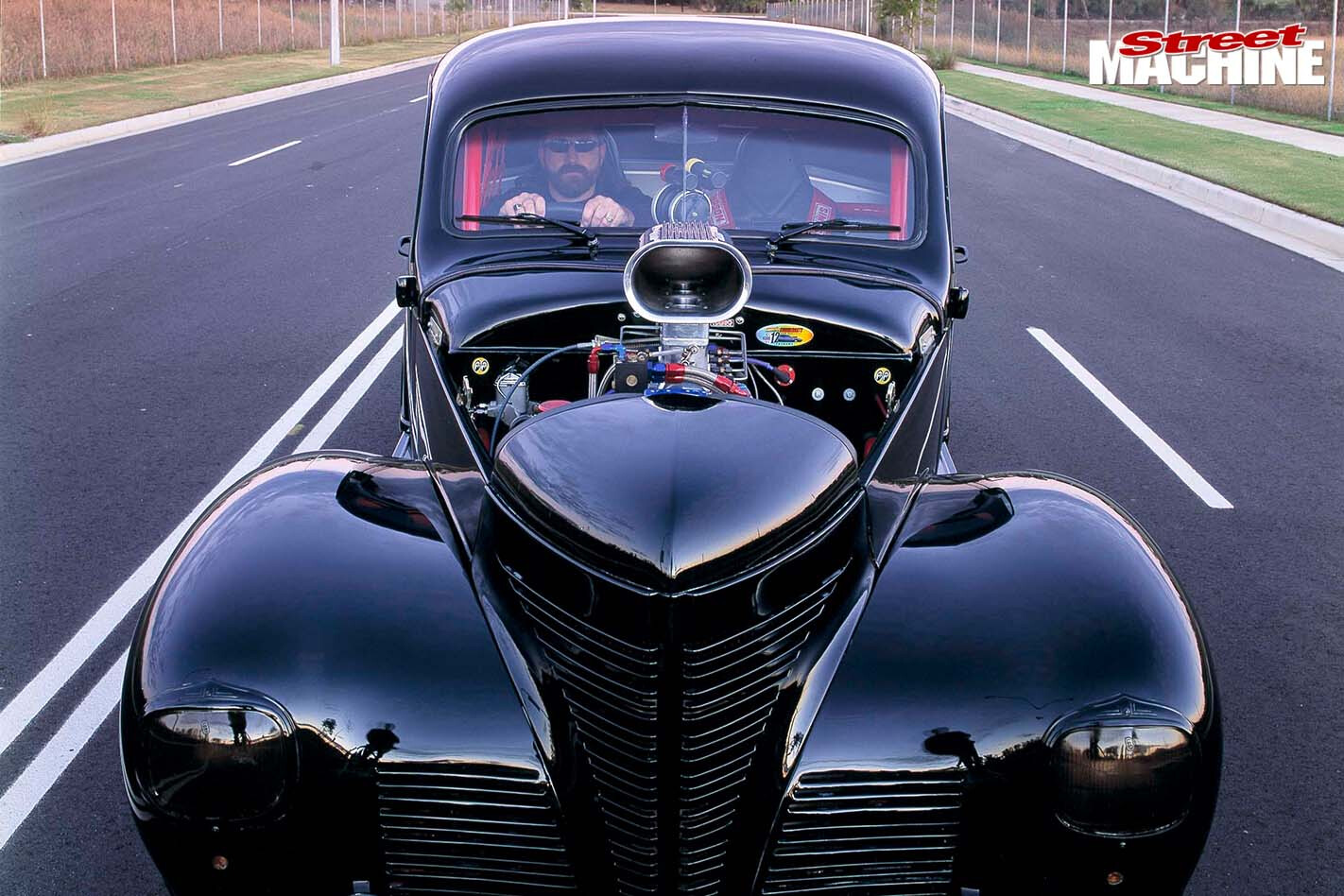 Best ET to date has been a 9.7sec@150mph with street mufflers at Eastern Creek, with a 60-foot time of 1.32. Don't be surprised to see the coupe coming to a set of lights near you.
MARIO COLALILLO
1939 PLYMOUTH COUPE
Colour: Dulux black
DONK
Engine: 377 Bow-tie Chev, Cola crank
Heads: Dash 11 raised port Brodix
Conrods: 4340 Childs and Albert steel rods
Manifold: Sheet metal with port nozzles
Induction: BDS 6/71, Hilborn four port injector
'BOX
Gearbox: Powerglide with Dandenbear case, Vasco internals
Converter: Dominator 4000rpm stall
Diff: Mark Williams nine-inch
INTERIOR
Seats: Tuck and roll bench in leatherette
Belts: Simpson
Shifter: B&M Pro Ratchet
SPINNERS & TYRES:
Rear: 15×15 polished Centrelines with Hoosier Quick Times
Front: 15×3.5 wrapped in 145/15 Michelins