It takes balls to plonk a near-new VE SS-V ute on a chassis table and chop the floor out of it, but Dustin Goldsmith is a man of conviction. An ex-professional Superbike racer, fabricator by trade and proprietor of Goldy's Trailers on the NSW Central Coast, Dustin is adept at going fast and has always been handy with a welder, but 14LOZ was an undertaking the likes of which he'd never before attempted.
This feature on the late Dustin Goldsmith's ute was originally published in Street Machine LSX Tuner #3.
"I raced Superbikes for 15 years and won multiple championships at different levels, but after a while it got too political and it just wasn't fun anymore," he explains. "I did a Powercruise event in my road car and it was a hell of a lot of fun. The car broke down and one of the boys went and got me an alternator and everyone else was helping out, having a beer and a good time. It was so much better that way."
The bug bit hard and Dustin decided to build something far more bespoke than his blown and stroked VE Maloo streeter. Under the influence of his good friend, the late, great Laurie Starling, Dustin hatched a plan for an HT Holden with current-model Commodore underpinnings and a big-block Chev. Laurie tragically passed in 2014 and, reeling from the loss of his mate, Dustin was forced to reassess the project.
"I had the HT, the VE and the big-block, but I didn't have the level of skill Laurie did, so I decided I couldn't build that car by myself," Dustin says.
"I drove a mate's HT at Summernats and it didn't handle or stop that good; I wanted something modern. If I'd just put the motor in the HT it would have been just another Kingswood with a big motor that didn't really do anything purposeful. So that's why I decided to build the VE."
And build it he did, in the truest possible sense of the word. With the help of his ever-present offsider George Geomelos, Dustin hooked in and completely reconstructed the car in just six months, starting with the custom hand-built chassis. "Originally we were just going to do a rear clip but it got too hard, so I cut everything out and decided to do it properly."
The chassis is built around 75x50mm rails that run from the rear of the ute right through to the front K-frame. There's a McDonald Bros four-link out back with Bilstein shocks, and a six-point chrome-moly rollcage tying it all together. Stick a jack under the right rear corner and the right front will lift off the deck, such is the torsional stiffness.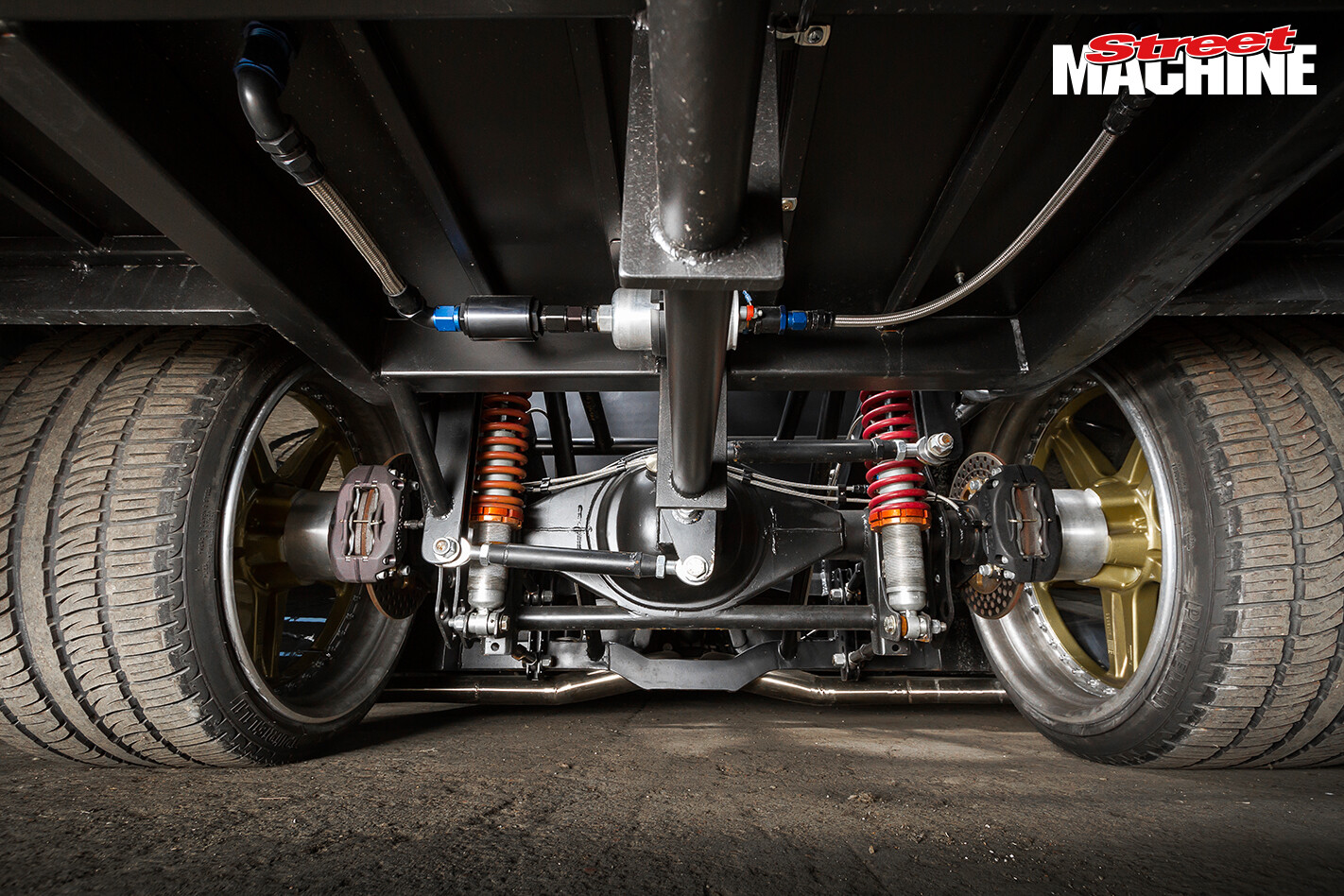 "I'm pretty meticulous and I had some good guys helping me; they made all the difference," Dustin says. "George worked on it with me for months; he kept pushing even when I was over it. He made it happen. But then Phil Bond and Norm Stewart would come 'round, poke their heads in and say: 'Ya dickheads, you've done that wrong. Cut it out and do it again!' Advice from old drag racing guys like Bondy and Norm was just what we needed as rookie car-builders. They were interested and always keen to help."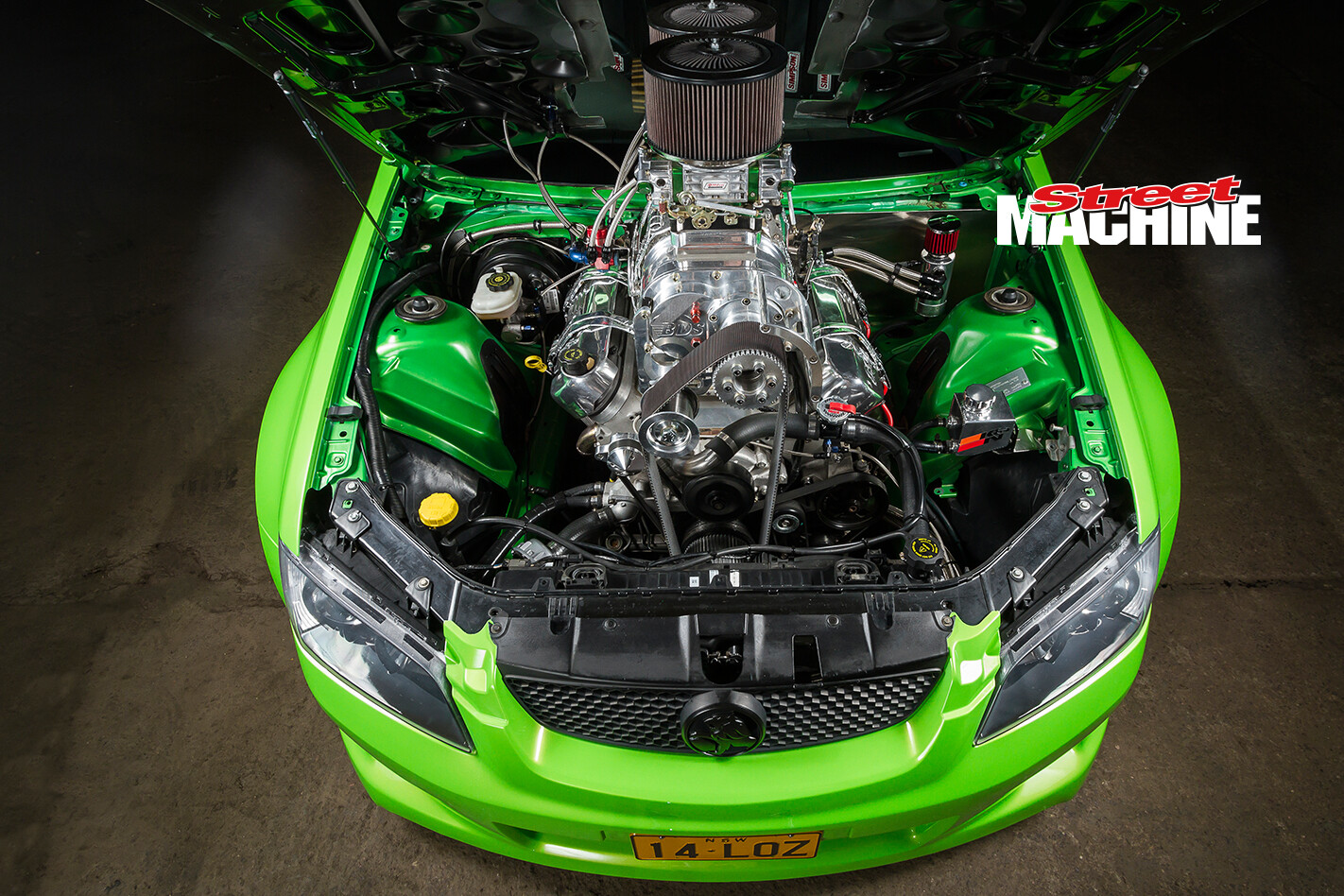 Phil also took care of the engine build, and it's a bit of a ball-tearer. Weighing in at 408ci, the cast-iron LQ9-based combo runs a Callies crank, Oliver rods, JE pistons and a Howard cam, topped with ported heads running titanium valves. But it's the 8/71 BDS blower that really gets the party started. Dustin elected to go with carbies for simplicity's sake (twin 950cfm E85 Quick Fuels to be specific), with an MSD 6LS in charge of ignition duties.
Dustin's yet to really let it eat, but preliminary dyno results are encouraging. "We ran it up before Summernats just to make sure it was all good, but the breather on the gearbox was set up wrong and when it got to 5000rpm it pissed transmission fluid out everywhere," he says. "That being said, it made 513hp on 3.4psi boost with plenty of revs to go. The secondaries are boost-actuated at 6psi, so they hadn't even opened yet. Phil estimates that it'll make 1000-1100hp on methanol. Anything up around 1000hp is good enough, I reckon."
The blown mill is backed by a Reid-cased Powerglide with a 3500rpm converter and a Strange sheet-metal nine-inch with 3.5:1 Pro Gear gears and 40-spline axles. "Phil made the engine a lot more powerful than it was meant to be, so we had to step things up with the diff and gearbox; it destroyed the budget," Dustin laughs.
The ute is one purposeful machine, dripping with trick hardware and well-thought-out additions. Worthy of particular note is the cooling system, which runs the factory mechanical water pump, radiator and thermo fans, with the addition of a supplementary Davies Craig electric in-line water pump and pump controller. This allows Dustin to keep the cooling system circulating after the engine is switched off to get it safely back down to operating temperature.
The hydraulic handbrake operates via its own independent Wilwood rear calipers and looks killer, but it also serves a purpose. The drum in the transmission is so big that the park mechanism had to be deleted, and with the standard VE handbrake long gone, the hydraulic set-up was necessary to stop the car rolling away!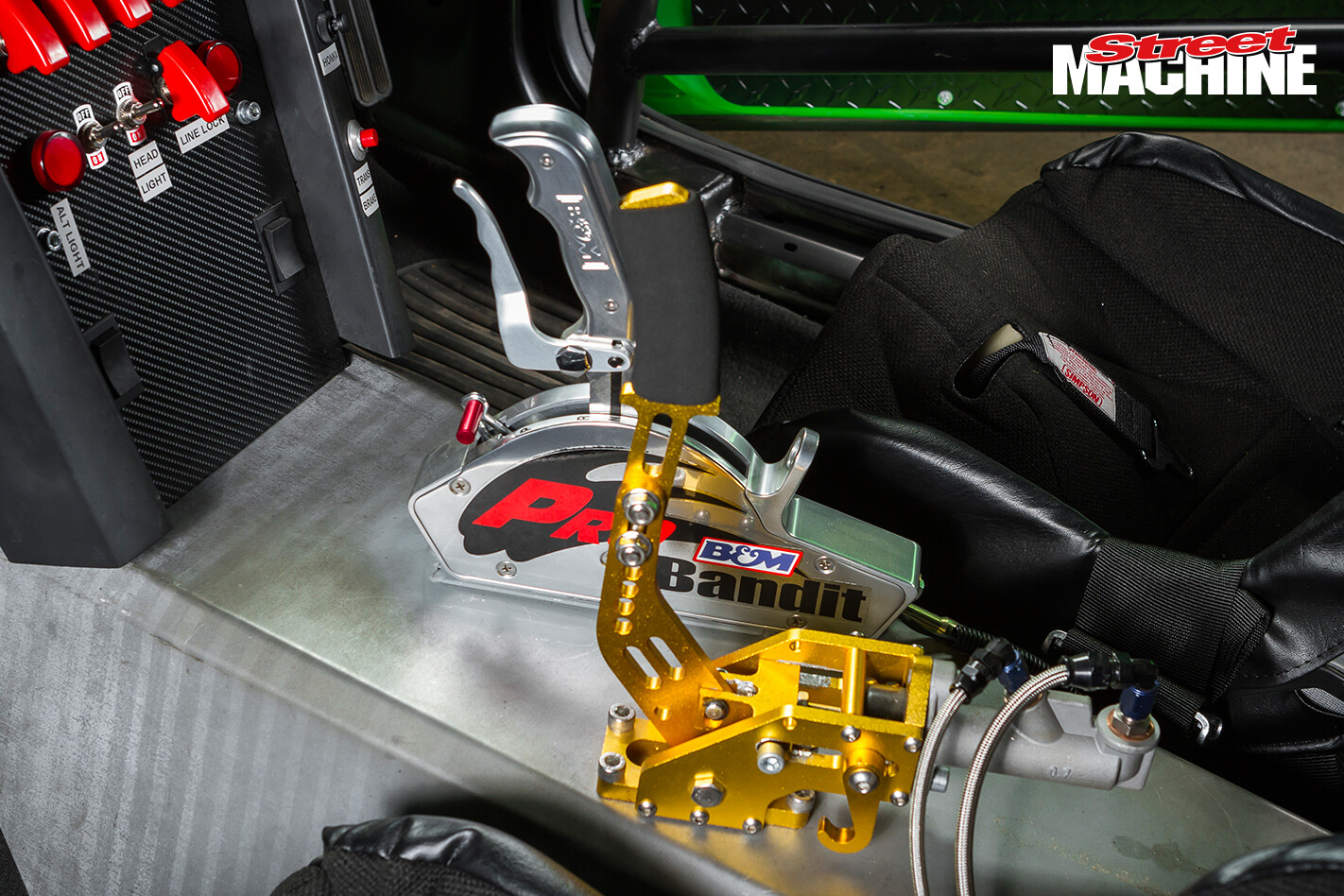 The handbrake is just one of many highlights in a cabin that is clearly built for business. Kirkey seats, Simpson harnesses, a B&M Pro Bandit shifter and a shit-ton of instrumentation all scream 'racecar'. Which is perfect really, considering Dustin intends to send it down the quarter at his earliest possible convenience.
"It has 22×13.5-inch Simmons rims at the moment, but the rear end is set up for 15-inch Welds with 35-inch tyres, because I'm going to race it really soon. It should run mid-to-low eights over the quarter, and I used all the right shit so I wouldn't have any dramas."
The final piece of the puzzle was the body and paint, which Dustin's mate Russell Newcombe tackled just four weeks out from Summernats! "He did all the panel beating, shaved the fuel filler and pumped the guards, then painted it Ford Focus RS green in record time," Dustin says. "I built the car the way I thought Laurie would have built it, and I just hope my tribute to him is up to scratch."