Damien 'Chubby' Lowe's VB Commodore is an icon on the Commodore scene, much like the bloke himself. The car has not only taken out the Best Street Overall at Summernats 21, but it also completed a pilgrimage from Sydney to Perth for Motorvation in 2009. The VB is currently stripped to its jocks for a full rebuild, which will include the use of Chubby's new independent front suspension amongst many other innovative features.
For now, let's check out the feature from Street Machine, March 2008 and we'll get that epic cross-country cruise story up in the next few days.
IT'S been a long time coming but I finally got there!" says a proud Damien Lowe as he lounges in the shade a few metres from his VB Commodore sedan. Today is Sunday and his car is lustrous in the invitation-only PPG Supreme display. Yesterday, Damien bullseyed a prize he's been aiming at for almost a decade: Summernats Best Overall Street.
An hour later Damien had finished loading up the boot and back seat of his trophy-winning Commodore and was driving it home to Sydney, just as he's done from dozens of shows — Summernats, Kandos, Moruya, Dubbo, Rickshaws — in the eight years since the Toreador Red paint went on. If there is a better example of 'street' going in front of 'machine', we'd like to see it.
"MY OLD man got me into Commodores," Damien says. "He had a VB SL/E back in the 80s and put a VK kit on it. Yella Terra heads, Supra five-speed, Simmons, Holley — all the usual 1980s mods. He traded it in on a VL HDT Group A, then that was traded on a VR Senator. What a mistake that turned out to be! Anyhow, now he has a VH Group III. He loves his Brock Commodores."
But Damien didn't pick anything so flash for his build. Despite its trophy-winning looks now, it started as a base-model Commodore he found in a car yard. "It was the full poverty-pack," he says of the six-cylinder 1979 VB. "But it had the option of a 202, rather than the standard 173, and intermittent wipers! Three and a half I paid for it; it was quite clean and I drove it that way for nearly four years."'
Then Damien began the decade-long transformation from factory standard to Best Overall Street, Top Engine Bay, Sponsor's Choice, Top Retrotech and PPG Supreme Finalist at the Street Machine Summernats 21.
The stocko six was turfed for a carb-fed V8, backed by an M21 four-speed. The carby didn't last long, however, with Damien being an early flag-waver for EFI conversions. He bought the complete top end from an EFI Commodore engine out of another early Commodore that was being sold as an unfinished project. Though he only wanted the late-model engine bits at the time, he later regretting not buying the whole car.
"The bloke had tried to get it running with an aftermarket computer," he says, "but he couldn't sort it out. I turfed it and put a standard Delco on it, using a wiring harness made by a bloke in Melbourne. I'd read about EFI in Street Heat and I wanted it.
"After the injection went on, I guess I started going nuts on it. The M21 four-speed lasted about three weeks with the grunt of the EFI so I got a T5. I put on some VN SS wheels, lowered it, had it painted, then a retrim, then some MOMO wheels, then another paint job, which is the paint that's on the car today."
So that means the paint the Summernats judges saw — and what you're seeing now — is nearly a decade old. Not bad! Except that it's not quite true. Over the years, it's been touched-up for the smoothed passenger door lock, the de-badging, comp-style filler cap and the filled aerial hole as well as, Damien admits quietly, one or two crashes.
Happy with the general concept of the car as shown at Summernats for several years, Damien knew what was required to earn a better score with the Summernats judges. So during 2007 the car was taken off the road while he put a lot of effort into smoothing his engine and engine bay, and modifying his interior.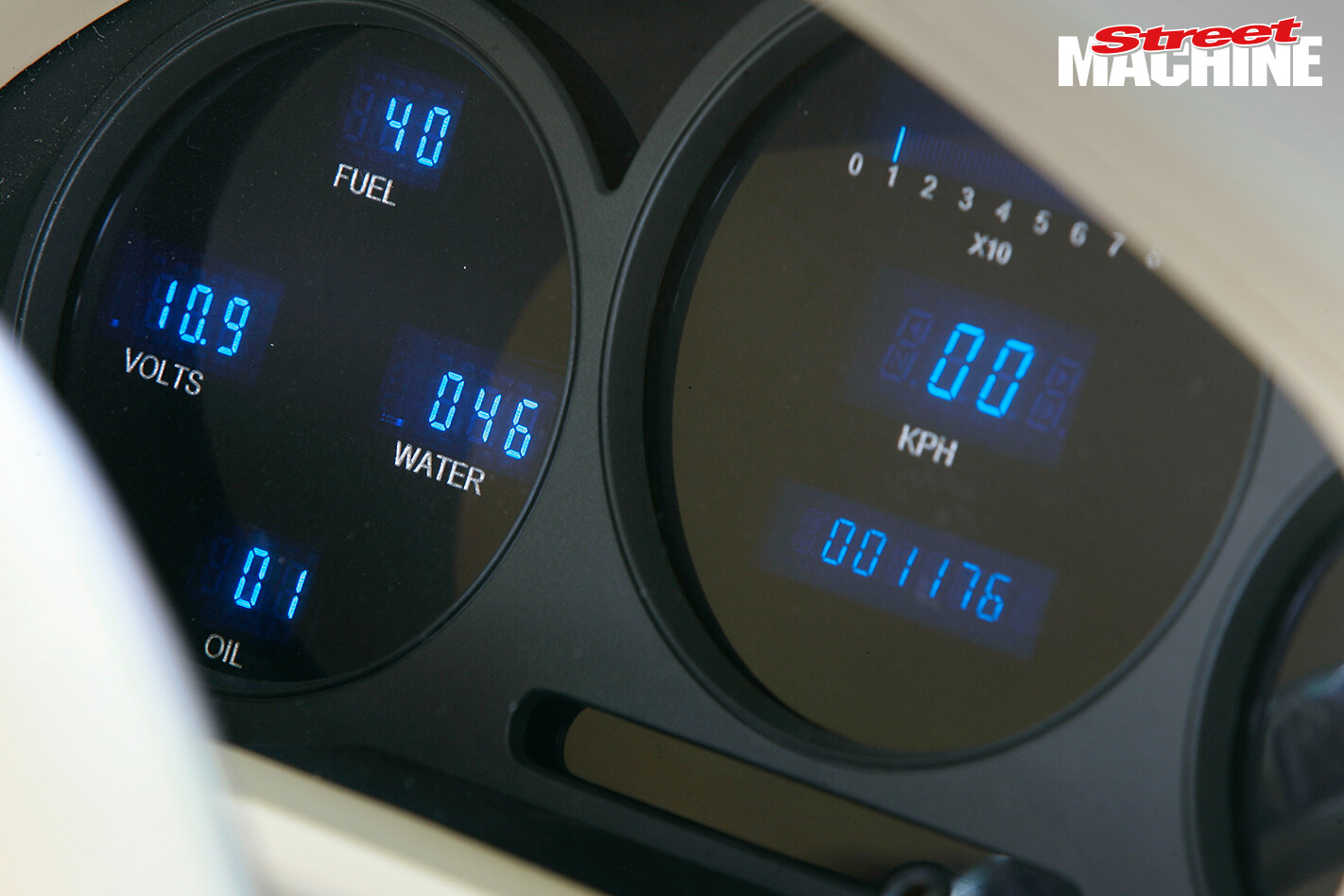 "There's a lot of flat sheet in the engine bay," he explains. "The radiator is capped — it installs from underneath — and we've boxed out the backs of the headlights. Plus, we've put the brakes up under the dash."
Damien's mate, Matt Sims, specialises in such work through his business Hi-Tech Modifications and he performed most of the engine bay layout and design. The Holden alloy EFI intake manifold has been Extrude-Honed and a Corvette TPI-spec throttlebody with twin 58mm throats installed to the front of the intake. "I wanted the intake and air cleaner in the middle for symmetry," Damien says. Under it all, the engine is the same red 308 he installed all those years ago but it carries a few hottie parts such as Yella Terra rockers and an upgraded cam. Visually, the block has been deburred, the rocker and engine dress covers smoothed and the intake manifold sprayed in chrome paint by Newcastle Custom Colour.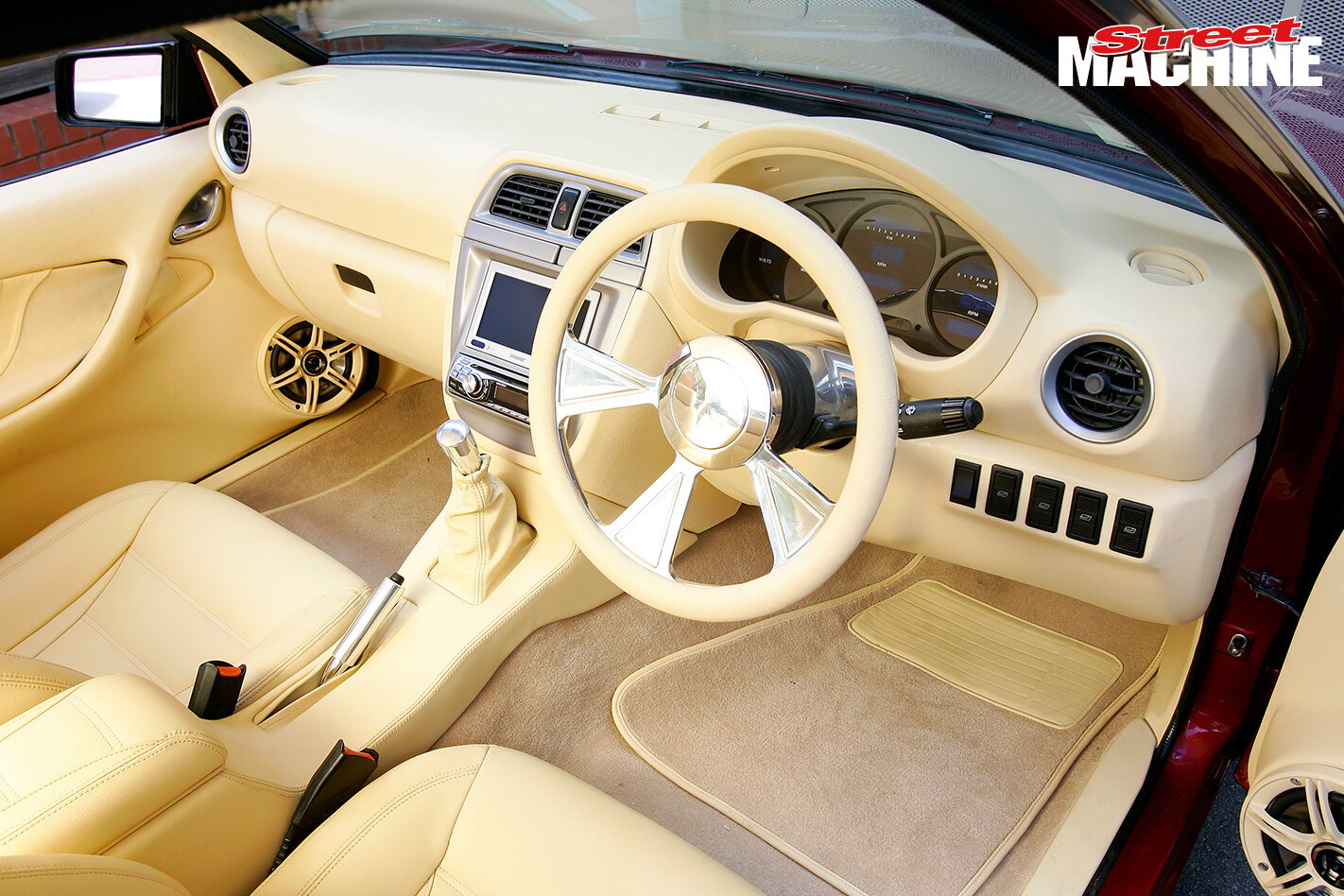 The T5 gearbox also dates from the 90s but has been reconditioned by Mal Wood in Qld. "He installed one of his centre-mounted throw-out bearings, like a T56's. It means there's no slave cylinder hanging off the side," Damien explains. The rear axle is the classic Aussie BorgWarner from a VL and will soon be home to a set of 3.9:1 gears in place of the 3.45s in it now. Brakes behind those 19×8 Intro Ram wheels are VT-VX HSV specification PBRs and Damien raided the Wholesale Suspension catalogue for coil-over struts, Bilstein dampers, lowered rear springs and two fat sway bars.
The interior is inspiring. There's no need to be ashamed if you don't immediately recognise the dash; it was pulled from a wrecked Subaru WRX then stretched and tweaked to span the space between the Commodore's A pillars. Standing front-and-centre are Dakota Digital instruments and hidden forward of the hand-built centre console is a modified Nissan heater box.
The front seats are an amalgam of VB bases and modified VT backs with the fixed rear seat styled to mimic the fronts by Sydney's Dept of the Interior. The door trims are also based on VT with — Damien says — a lot of imagination, cutting, glue and filler involved. Overhead, the headlining is solid under smooth trimmed suede. The final touch for Damien's biggest-ever makeover of the Commodore was the stainless steel grille that he made with his own hands.
So will he aim even higher and build a car for the Elite class? "I'm not sure about that," he says. "It'd be difficult going from hero to zero, and I really enjoy driving this to all the shows. I couldn't do that with an Elite car."