A hell-tough Holden V8 and home-grown carbon fibre make this tonner a tribute to Aussie know-how.
This article was originally published in the June 2014 issue of Street Machine.
The line between drag cars and the elite show car scene seems to get blurrier every year – just check out Brad Cox's WB tonner for example. A member of the Thirlmere Fryers on the NSW South Coast, Brad bought his tonner at the tender age of 17 and turned it into a seriously tough street car. By Summernats 22, it was looking pretty slick and running an injected 308-based combo.
Yet it wasn't quite enough for Brad, who signed up for a five-year, ground-up rebuild. When the covers came off the tonner at last year's Meguiar's MotorEx, plenty of seasoned car builders were impressed at what Brad had put together, almost entirely in his own shed – or more precisely, his grandparents' shed.
The catalyst for the latest rebuild was a clearance issue between the big rubber and the tray. "After Summernats 22, I thought: 'Stuff it, I'll build a full carbon tray with bigger tubs and pull some weight out of the old girl.' Once I had the old tray off, I thought we might just move the diff back a little and try to make it drive a bit better. It just went from there and the car was totally torn down again and rebuilt from scratch."
That includes a carbon-fibre one-piece nosecone and doors. Yep, you read that right: every panel on the tonner bar the cab is made from real-deal composite – that ain't no wrap you're looking at! Brad learned that particular skill in the course of his boat-building trade, constructing high-end composite yachts. He's a dab hand at fabrication, too, and did a bunch of it on the tonner. Out back, he knocked up the four-link, wheelie bars, sway-bar and tubs, as well as relocating the chassis rails inboard by 200mm and narrowing the diff housing. At the pointy end, Brad built a new set of pipes and engine plates, as well as the fuel tanks and catch cans.
For power, our man stuck resolutely to the venerable Holden V8. "I've had a few engine combos in the tonner and they've all been 308-based," he says. "Years ago there was a VK Commodore with a tunnel-rammed 383 Holden stroker in it that used to run at [Eastern] Creek a fair bit. The sound of that thing at 9000rpm was amazing! That is where it started for me.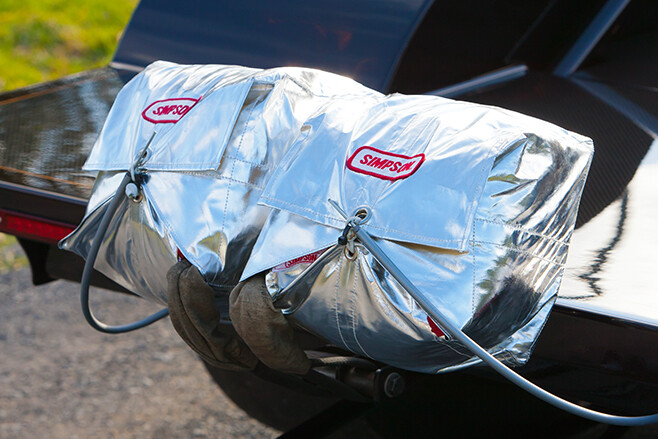 "You can't get much off the shelf for them at this level, so we had to custom-make the crank support, fuel pump drive, mag drive and the sump. I think it is worth the effort. We have done all the right things in all the right places, so it'll be interesting to see how it goes once we start winding it up. The car is light, the running gear is there – the only limitation we really have is the block."
Luckily, Brad has some pretty cluey blokes in his corner, including Top Alcohol pilot Aaron Hambridge, who dreamed up the combo and machined all the necessary components, with Geoff from Engine Craft assembling the mill with Brad's assistance.
The prepped block received a COME stroker crank to up the capacity to 383 cubes, and works in with Eagle H-beam rods and custom CP pistons. A solid roller cam from Camtech was added, along with a Peterson oil pump and nine-litre sump. "We've grout-filled the block," Brad says, "and done lot of work to the internal oiling system as well as the main cap and lifter area to help it live."
A pair of Yella Terra's finest –3 high-port alloy heads were given the full treatment, before a complete set of Ferrea valves and Manley springs, titanium locks and retainers were added to the mix. A modified Newby blower intake fills the gap between the heads and holds that polished pump and hat high in the sky for all to see. The custom headers unwind to finish at the collectors, providing an undeniable blown-alcohol sound. Yeah, it's loud.
Brad took no chances with the driveline and filled a Dedenbear-cased Powerglide with the right gear to reduce the chance of being caught red-faced with a mechanical failure. The trans-braked two-speed features a 10-pack clutch, external oil pump and 5600rpm converter courtesy of TCE. Down at the business end, the shortened nine-inch runs Strange 35-spline floater axles and Pro Gears in a Strange Ultra case.
Tough the tonner may be, but she's also super-pretty inside and out. After Brad got the lightweight body perfect, he shipped it off to 2SUS Custom Resprays for the House Of Kolor Wild Cherry duco and graphics. Similarly, Brad fabricated a bunch of interior pieces – including the carbon-fibre seats – and then took the whole shebang to Nowra Motor Trimming to be finished in Montana leather, which contrasts nicely with the Wild Cherry roll cage and custom dash fascia.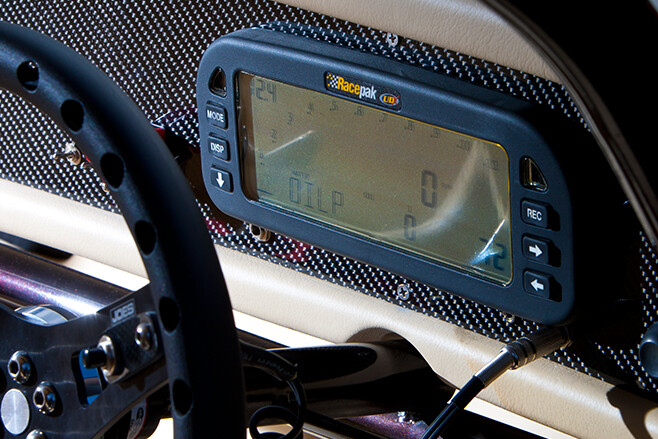 It is not so pretty, though, that Brad is scared to race it. "I can't wait," he says. "I've got to recharge the bank account first, but hopefully in a few months I'll be out with some 10.5s on it. Once I get a feel for the car and the tune sorted out, I'll switch to Outlaw Radial."
BRAD COX
WB HOLDEN ONE-TONNER
Colour: HOK Wild Cherry
ENGINE:
Brand: 383ci Holden
Blower: Blower Shop 6/71
Injection: Enderle Big & Ugly injector hat
Intake manifold: Modified Newby blower
Heads: Yella Terra –3 alloy high-port
Camshaft: Camtech solid roller
Pistons: Custom CP
Crank: COME Stroker
Fuel pump: Enderle 110
Cooling: Custom alloy radiator, Davies Craig pump
Exhaust: 2¼in primaries into 4in merge collector
Ignition: Pro Mag 20A with programmable controller
TRANS:
Gearbox: Dedenbear Powerglide, Rossler ringless shaft, 1.80 planetaries, 10-pack clutch, external oil pump, transbrake
Converter: 5600rpm TCE
Diff: 9in, narrowed, floating Strange 35-spline axles, Strange Ultra case, Pro Gears
SUSPENSION & BRAKES:
Front: Holden crossmember, coil-overs
Rear: Four-link
Brakes: Strange discs, Wilwood calipers
WHEELS & TYRES:
Rims: Spindle-mount Weld Magnum 15×3.5 (f), Weld V Series 15×12 (r)
Rubber: Moroso 15×5.5 (f), M/T 31×10.5W (r)