This article on Dave Guilfoyle's Purr-Pull HQ Monaro was originally published in the December 2015 issue of Street Machine magazine
STARTING a custom build with any kind of Monaro these days is guaranteed to raise the purists' ire, but Dave Guilfoyle didn't build his stunning HQ with others in mind – after all, he's going to keep this one forever.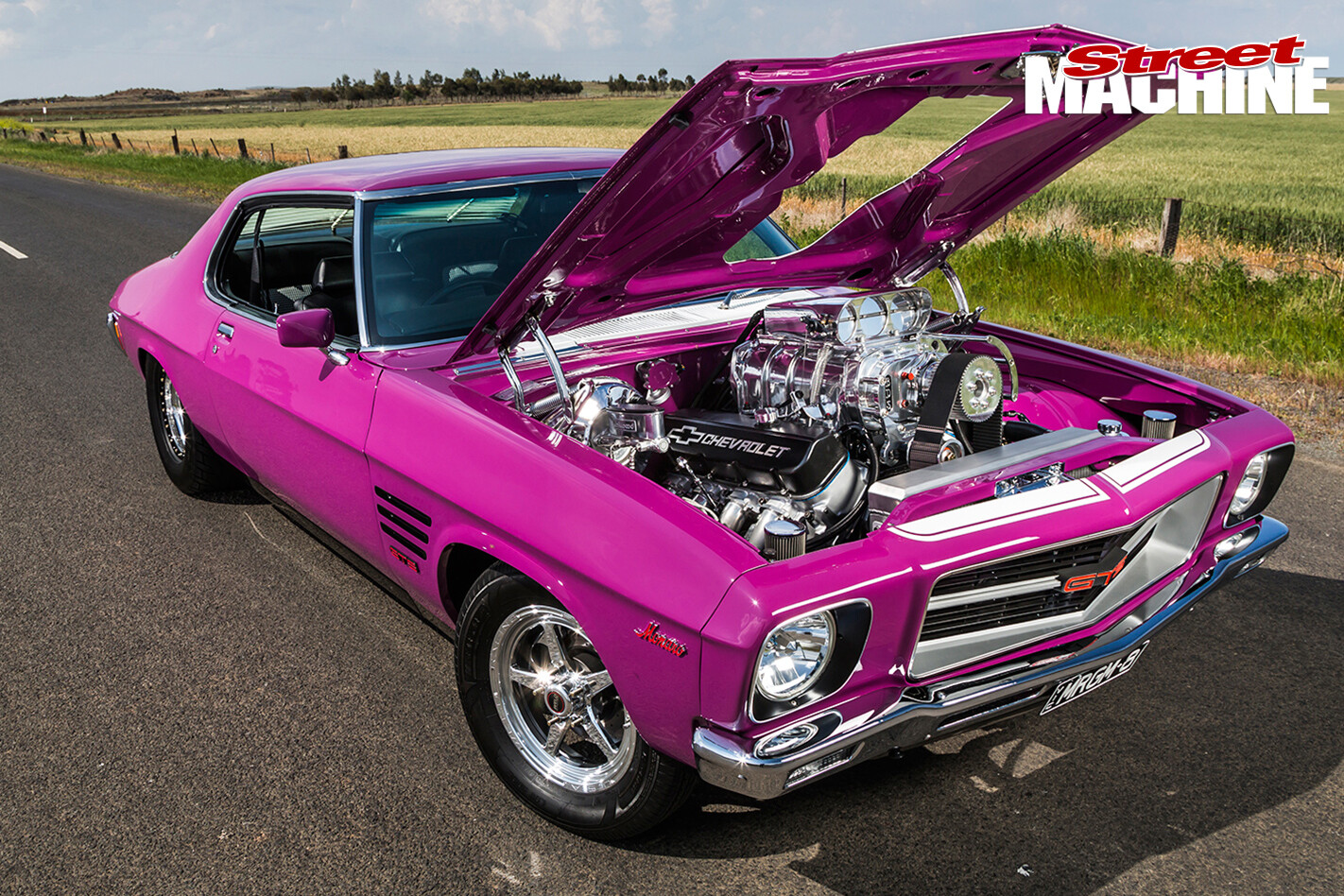 Dave snapped up the coupe in 2009; it was red then. "It was a tidy streeter when I got it – tunnel ram, grey velour interior, Skyline seats," the Victorian says. "But it screamed '90s', and badly! It just wasn't how I wanted it."
Building cars for a living has given Dave mad skills, but precious little progress occurred on the Monaro over the following year, as the customer cars that came through his business, DJ Automotive & Towing, took precedence. "We did a bit here and a bit there," he explains. "I stripped it back, sodablasted it and fixed some dodgy repairs."
It was then he found telltale signs of the Monaro's original – and rare – Purr-Pull colour. "I knew it was Purr-Pull from the tags – and the fact the previous owner raved about it. Buggered if I know why it was ever painted red!"
Dave originally had visions of a clinical white Monaro in his head, but he now knew he had to pay homage to the vehicle's history, so his tough streeter started morphing into a semi-resto. "I left it as a bare shell in etch primer for another year; no hang-ons, no chassis. I pushed it out into the sun on hot days and let it bake."
Dave's brother Shane was more than happy to store it in his shed, but when Dave started making noises about selling it unfinished, Shane had to step in.
"He said he wouldn't let it back to my place if the plan was to sell it!" What a great brother!
"So we prepped the body and left it in high fill, and it stayed that way for another year!" Dave chuckles.
Fortunately Dave had a nine-second Calais to play with in the meantime, and as wife Jodie shares his passion for fast Holdens, he spent time working on an 11-second VH SL/E for her. "Once I'd finished Jodie's VH, I started to cop pressure from her to finish mine!"
Progress was being made in the engine department, at least. "I normally get another bloke to build my engines, but everything else I've got is Holden; I wanted a Chev expert."
Dave says he wanted the big-block to be 100 per cent ready to drive, so Chris the tune guru came out with his laptop and put a start-tune in the car
Fortunately Dave could count on mate Rod Camilleri to screw together a stout combination. Starting with a bare Chevrolet Gen VI Vortec big-block, Rod added Scat rods and crank, file-fit moly rings, Mahle forgies and a healthy Comp Cams bumpstick. Bowtie Signature Series alloy heads were fitted either side of a BDS 6/71 large-bore blower.
"People think it's a methanol engine," Dave says, "because you can't see the injectors!" That neat trick is courtesy of Joe Blo Engineering, who supplied an EFI kit that hides the injectors, wiring and fuel rails. The ECU is a Microtech LT16.
Of course, no engine comes with that level of bling straight from the suppliers. "I had a bunch of stuff polished and chromed," Dave says of the stout donk. "And I've got a mate with a CNC machine, so that's handy!" All up, the motor took six months to piece together, but it was still ready three-and-a-half years before the body!
Although the codes show it as a straight black vinyl interior, you can't go past houndstooth and it certainly fits the restored theme
Once the body was finally up to par, it was time to return the HQ to its original Purr-Pull splendour. "I've painted all my cars in the past, but I wanted the touch of Matty Petrovics," Dave says of his decision to outsource the work. It helped that Matty gave him a friendly nudge – pressure to finish the car was starting to come from all angles! "The colour looks amazing," Dave says of the end result. "And after waiting patiently on an engine stand all that time, the big-block was installed the next day."
With the car finally looking closer to finished, Dave then took a step that few take on an already-painted car and tubbed the rear end. "My brother was in my ear again; I thought I'd be satisfied with a narrowed nine-inch, but with the axle out we stuffed a fat wheel behind the guard and I knew he was right."
Pro9 was tasked with building a combo suitable for both street and strip.
Dave's desire to balance the need for a tough streeter with the car's provenance as one of only 10 factory Purr-Pull Monaro GTS coupes shows through in the interior, which has been restored to near-stock specifications. However, the switchgear under the column includes one for the transbrake; does Dave plan to race it?
"We've done some small shows and we're definitely hitting Summernats," he says. "Once it's not so fresh I might take it racing; it should be good for nines, easy. But mate, if I really want to go racing, I can take the Calais!" Lucky man indeed!