BEFORE the absolutely bonkers 2000hp ATRISK XR Falcon burnout rig, Peter Grmusa built this insane show-quality XA Falcon – also for burnouts. Check out the original feature story we published in the February 2011 issue of Street Machine magazine.
WHEN we met Peter Grmusa years ago, he told us about an XA Falcon ute he was building, with a massive big-block, for burnouts. We looked at his then-purple blown small-block XR Falcon and asked: "If that's your burnout car, what's this?" He replied; "Ah, it's just something to muck around with, you know?"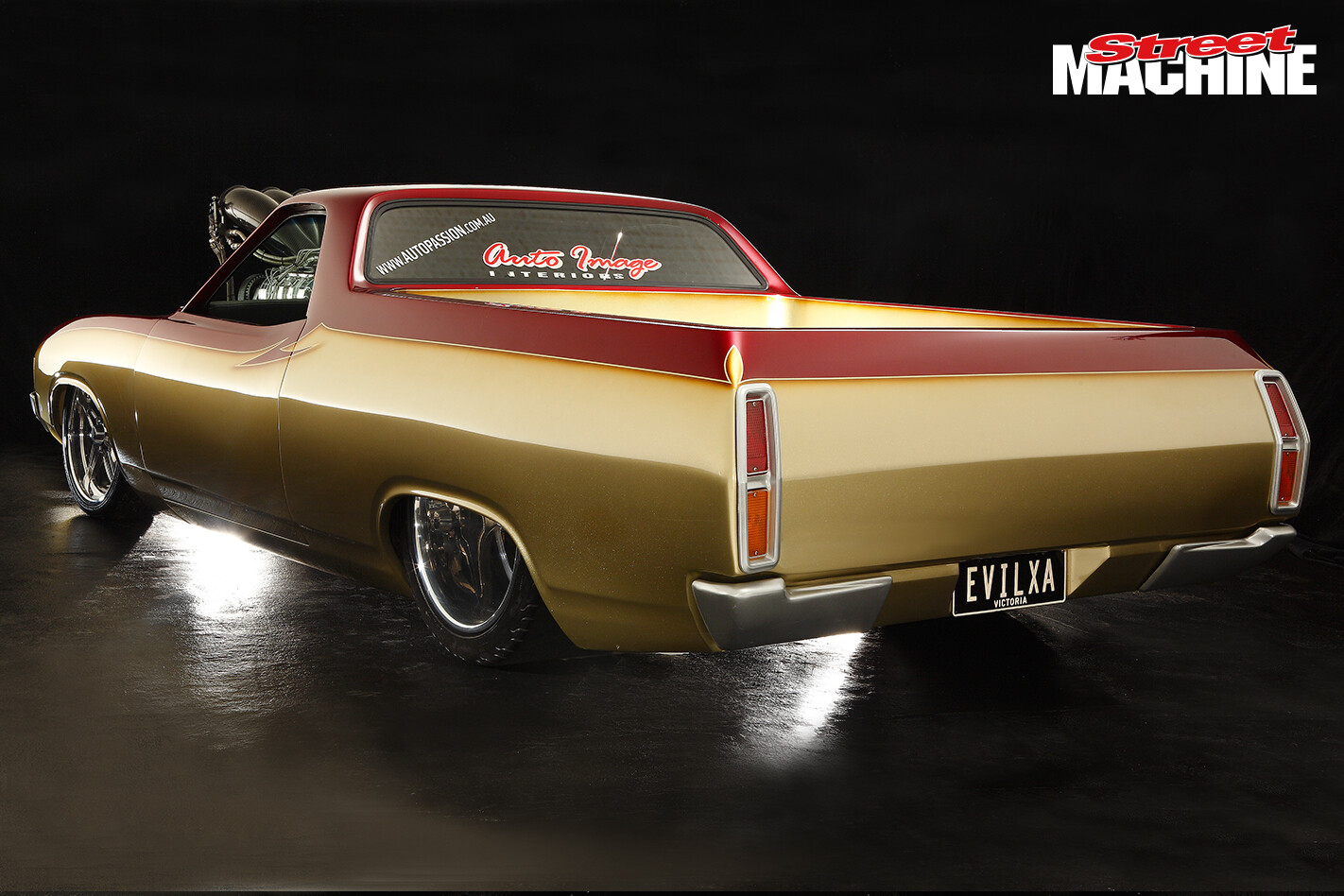 Two Summernats burnout wins, a Street Machine cover (Feb '08), and a mountain of trophies later, that 'muck around' XR is legendary. And Peter's set to do it again — with the original XA. "I had it before the XR, six or seven years, but it's only had 10 or 11 months of work on it," he says. The idea was to buy something half-decent and fit a tough 572ci big-block Ford in the engine bay to destroy some tyres. He found the perfect ute in the Trading Post.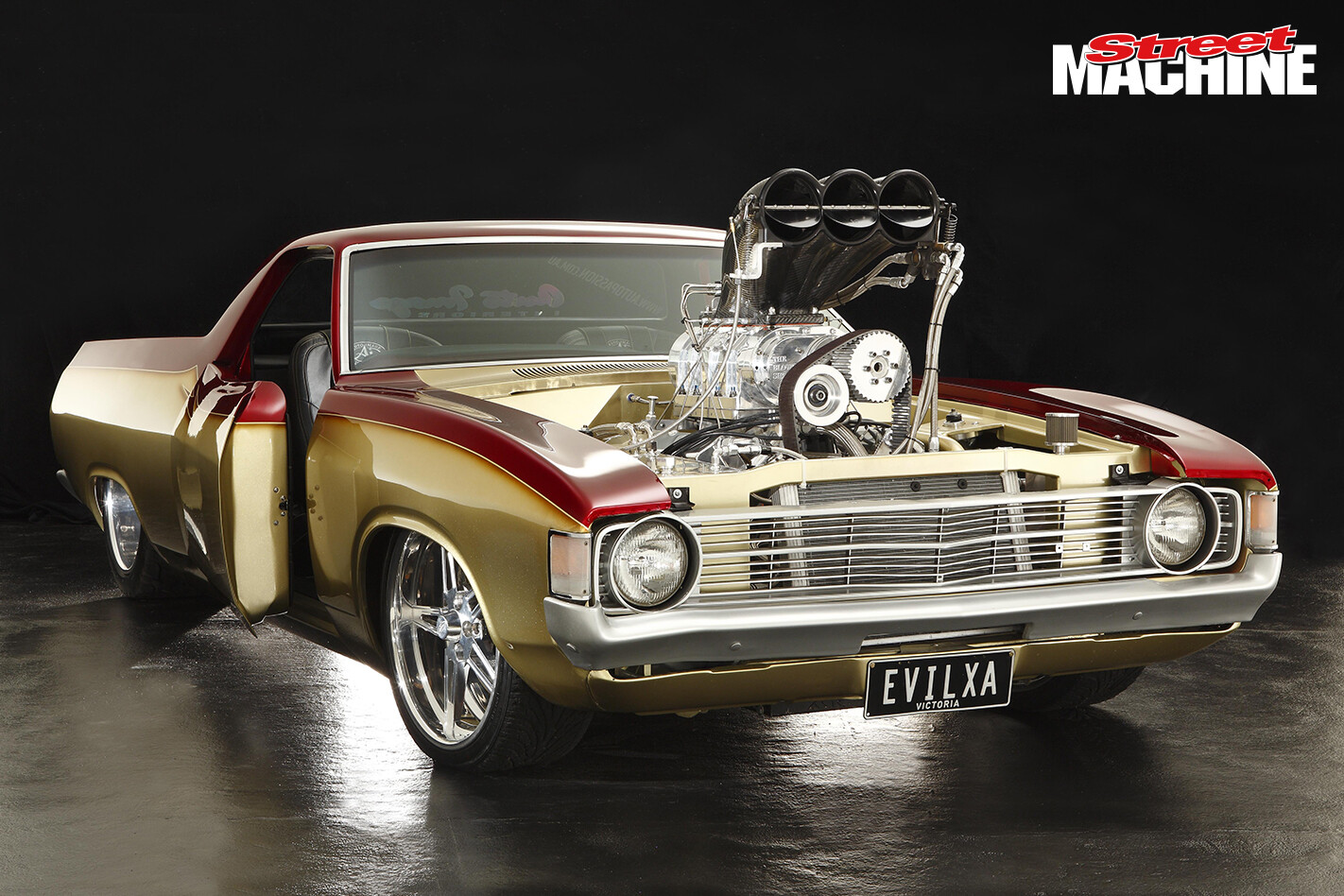 "I paid top dollar but I wanted a nice clean one. I drove it around for a couple of months before I took it down to Junior's to tub it." Junior is Johnny Taverna Jr. He cut the butt out of the ute, installed tubs and a four-link rear then added some engine bay work. But Peter didn't do anything with the ute straight away. "After Junior finished, it sat around for a year and the more I looked at it, the further I wanted to take it," he says.
Though he only wanted a neat burnout car, Summernats success meant Peter felt the pressure to build something better than average. "I wasn't worried about rushing it because I wanted a show car." Cory at Rod & Race offered to help bring the XA up to that level. He sliced out the firewall and stepped it back for extra room around the big-block, flat-sheeted the underside of the car and built a steel console into the interior. Meantime, Peter was building and rebuilding other rides, which kept him away from the ute. They included his ATRISK XR, an orange XD known as XBACON, and 1TUFXA, a blown purple XA sedan.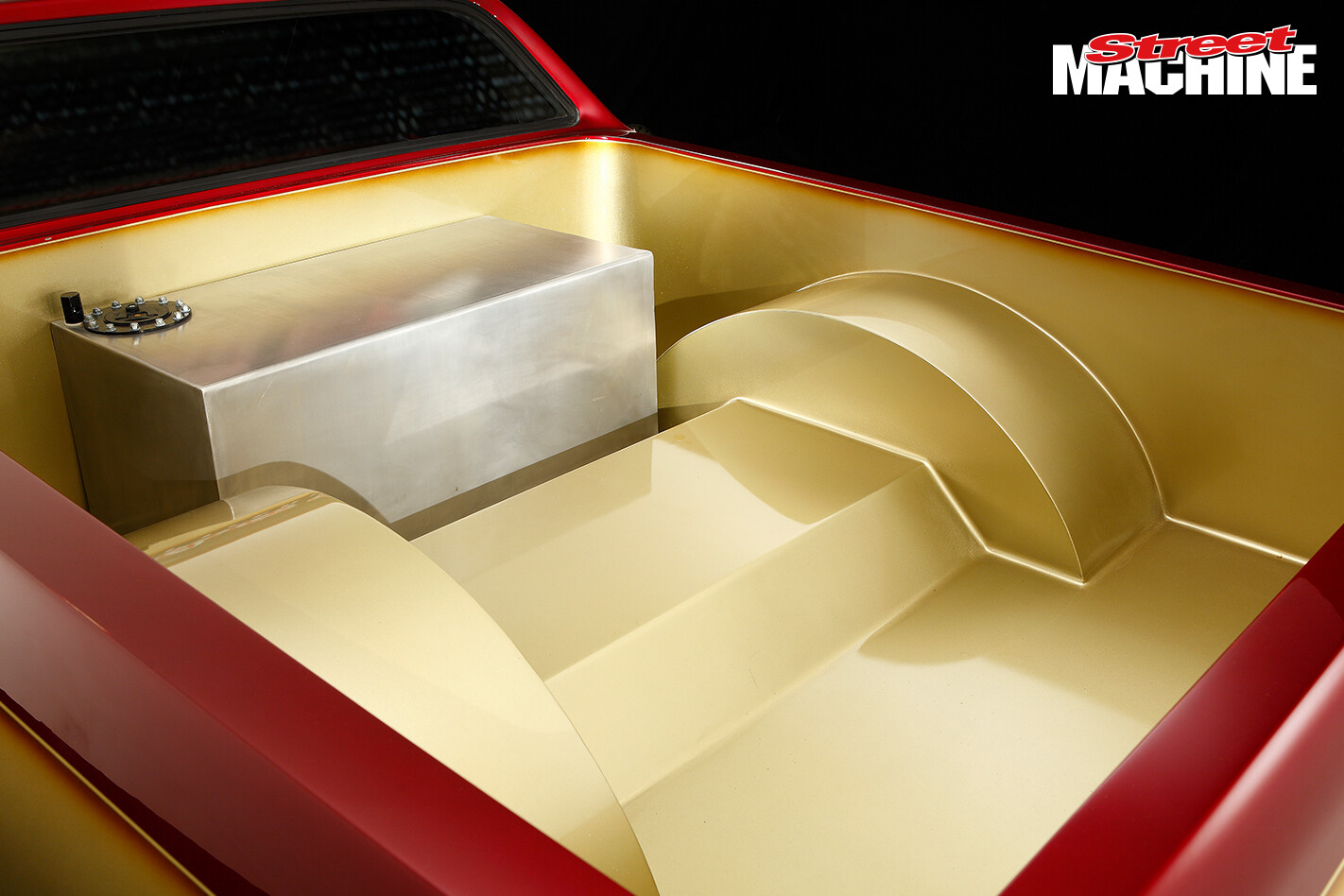 When he got back to the ute, he moved it to Dave's Kustoms to finish the bodywork off — and decided to add suicide doors and seal the tailgate. "The sides were flat, the back of the cab was flat, so I thought it would be an even look all 'round."
A hellish amount of metalwork has gone into this radical ride. Both rear quarters have been replaced and the side-mounted blinkers, mirrors, badges, door handles and fuel filler have been deleted, along with the side glass, window winders and the door handles — inside and out. There have been some issues with the driver's side suicide door, mainly keeping it shut during burnouts, but new latches have fixed that — high-speed doughnuts while holding a heavy XA door shut and driving one-handed aren't fun!
The shell then went to Vince and Kyle at Auto Passion where House Of Kolor Zenith Gold was laid over the lower half and Brandywine with Ice Blue Pearl was added on top. In bright sunlight this colour combo really shines.
Peter decided to debut the car at Gazzanats 2010, in South Australia. That was two weeks away and the car was just a painted shell, so the build went into overdrive. With limited space at home, he took the shell to his mate Paul's 21×12-metre shed. The engine and 'box still hadn't been in the car, there was no glass or interior, the dash and bars hadn't been painted, the airbags and lines weren't installed and there was no tailshaft.
"The first week I was on my own because Paul's wife was in hospital. I would come home from work, kiss the missus and kids, drive to Paul's and work on the car until 2am, then get home at three. Then get up and go to work in the morning." For the second week Paul was back and they worked even harder: "We probably averaged two hours' sleep a night."
Instead of the planned 572ci big-block, Peter had Mick Collett from M&M Racing build up a 510ci combo — he's keeping the mega-dollar bad boy for ATRISK. But the 'small' motor is no slouch, with 1200-1500hp thanks to a Blower Shop 8/71, Blue Thunder heads and a high-lift solid roller cam plus that 14in-tall carbon fibre injection hat. Naturally it runs straight methanol — from a 100-litre tank in the tray. Peter wanted a tank behind the seats to keep the tray clear but the required capacity knocked that idea on the head. A burnout consumes 30 to 40 litres and cruising isn't much more economical.
"At Gazzanats we'd get two or three laps and have to come in," Peter says. Yep, they made it to Gazzanats but it was a crazy two weeks and everything just fell into place. Take the interior for example: Sam and the guys at Auto Image dropped everything to tackle it. The car went away on a tilt tray in the morning and arrived home all trimmed later that night. "We were so exhausted," Peter admits, "I fell asleep waiting for the tow truck to take the car to the trimmers. But yeah, we set ourselves a goal and we made it."
With half a dozen burnouts under its tyres, Pete's happy with the car and confident it's ready for Canberra. "I didn't want to debut this car at Summernats — I wanted it sorted before then." After all, this is a burnout car and the last thing you want is for everything to fall apart in front of thousands of screaming fans. In a long build there's a cast of thousands to thank but Peter reckons he couldn't have done anything without the support of his wife, Samantha. "She's really good about it all. She just said: 'Do what you've got to do.' Without the missus' support, you've got nothing."