BY now you've probably seen Harry Haig's latest build, the Hot Rod Drag Week conquering twin-turbo big-block Aussie Chevelle. This XR Falcon skid ute featured in the February 2013 issue of Street Machine is one of his tidier builds.
WITH headlights piercing the smoke-filled parking lot, the blown XR Falcon ute inched forward through the crowd ringing the small square of tarmac between the sheds. There wasn't much room with a couple of hundred people surrounding the makeshift burnout arena, and most were well into their third and fourth drinks. A recipe for disaster or awesomeness.
Harry brought the revs up and the rear end erupted in smoke as he swung the back around in a controlled doughnut. With the left foot planted on the brake, he played with the throttle and flicked the ute around a second time, then changed direction for more smoke rings. It was masterful work in such a confined space, and the crowd roared its approval.
That was 2005 and we were at a not-so-secret shed party in Shepparton, Victoria. The invite list was a who's who of the southern street machining scene, with burnout masters, drag racing record holders, well-known airbrush and tattoo artists, and engine builders standing shoulder to shoulder, drinks in hands.
The ute was Harry Haig's blue '67 XR which he'd just bolted a blower to the week before. "I'd dropped a valve in my good engine," he says. "I had some spare cash and I had an EB five-litre with some good heads on it. My mate had a blower, so we slammed it on. The ute finally went the way I always wanted it to go."
Until then it had been naturally aspirated. Found behind a hayshed in Kyabram, Vic, the ex-government hack was a rusty dunger when a 17-year-old Harry got his hands on it. "The tray was full to the top with empty stubbies," he recalls, adding: "I couldn't afford an XR GT so I bought this instead." As rusty as the old girl was, it had a few bonuses — a 302 Windsor up front and a top loader shifter sticking up between the seats. Obviously someone had played with it but deemed it too rusty for street use.
Harry disagreed and talked a mate into giving him a roadworthy so he could hit the B&S ball circuit, as so many young country blokes do. But that didn't last long. "I got done coming home a bit quick one night and the cops put it off the road," he explains. It was the kick in the arse young Harry needed to give the tatty old girl a thorough makeover. With the ute ensconced in his good mate Painter's shed, they set about cutting the cancer out.
"Every night after work for eight months we'd be working in the shed," Harry says. "It was crap. Everyone laughed when we started but we got halfway through and thought: 'Shit, we better finish this!' The paint was still wet on the bonnet when we loaded it up for Summernats 2000. Not much worked on it but it didn't miss a beat all weekend."
Over the next few years Harry tweaked and prodded it here and there, and did a few road trips, but things didn't really get crazy until the blower and that shed party. After that, Harry's mate Dorraj tubbed and four-linked the rear and he had Mongrel Motors build him a stout 302. "Something that could handle the punishment," Harry says. "That won the first UBC."
Yep, he put his driving skills to the test, came out on top and took home a cool $10,000. He tried to back it up the second year but things didn't exactly go to plan. "It didn't kill the engine like all the 'experts' say on You Tube. The roll pin in the dizzy let go and put the timing way out," he explains. It was a shame because up to that point, Harry was looking good for a second win thanks to insane revs and skilled wheel-work.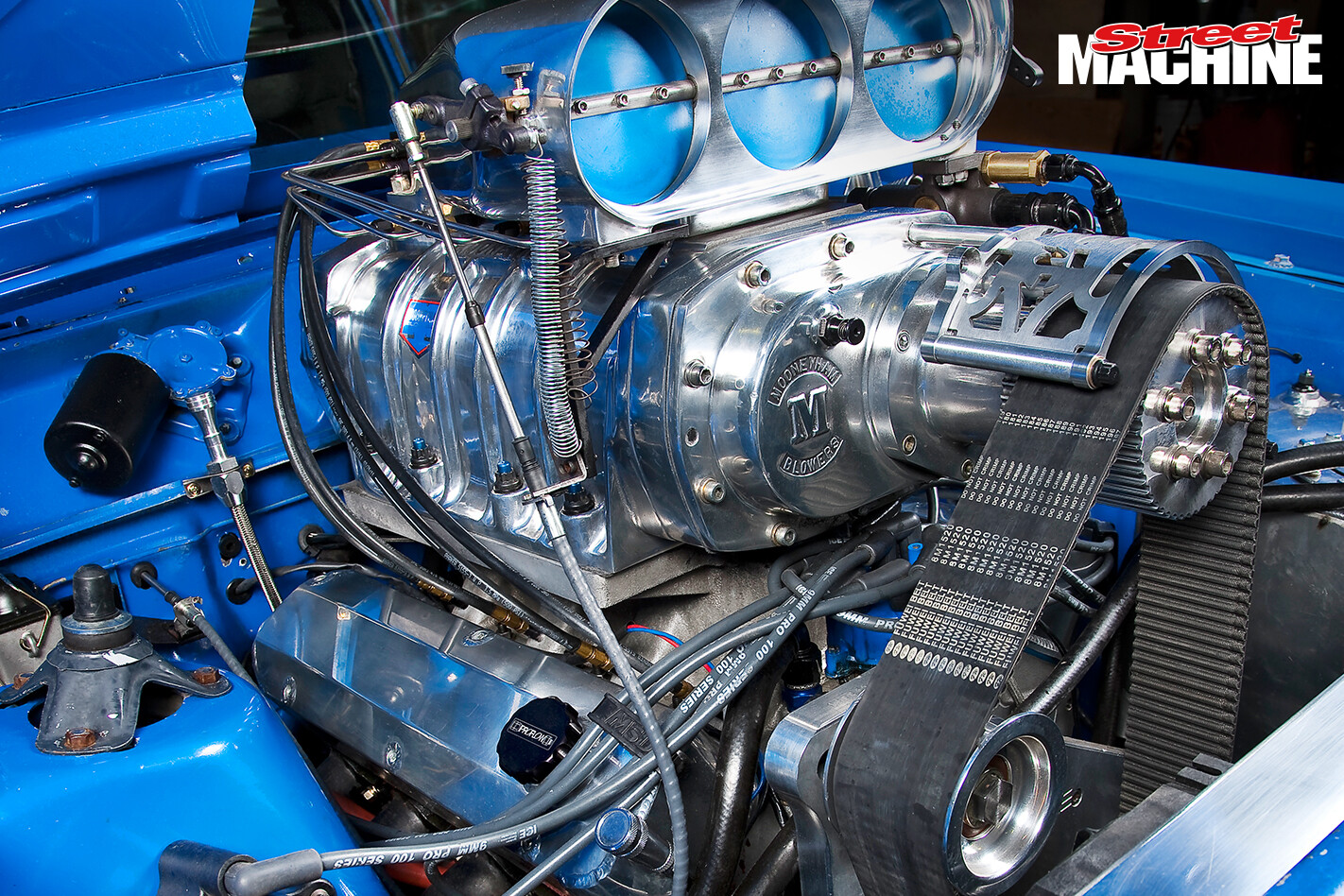 "The tacho showed 11,200rpm when I hit the recall! So many people came up and said that's the best burnout they've ever seen. We did another three or four shows after that, and when we pulled it out, the engine just needed bearings and valve springs." The plan was to bolt that donk back in for more shenanigans but then Harry stumbled across another motor, something he just couldn't pass up.
"It was out of a drag car — it'd gone 7.86@184mph. And it all got out of hand from there," he explains. Meaning that the new motor deserved a car to suit. With 10 years of battle scars, the old girl needed a freshen-up so the body was sent to Pyro at Pro Finish. It was ready for paint when Harry's mate Spud threw a few doughnuts in the shed with a postie bike.
"He slid into the rear quarter-panel and fucked it," Harry laughs. The boys got it sorted again and coated in Boxcar Willie Blue — a custom hue. Harry doesn't know where the name came from: "Too many beers I think." XR GT silver stripes add a nice touch with the contrasting gold Weld wheels.
Inside copped a tune-up too, thanks to good mate Kwaka. Harry ditched the old XW GT buckets because as comfy as they were, "they didn't hold you for shit — you'd end up in the passenger's lap all the time". They kept it simple, with trimmed Jaz buckets, an XR GT dash and fresh carpet, plus a TCI Outlaw shifter. "I wanted to keep the manual but everyone said it would just be a pile of shit on the ground the first time I dropped the clutch," he laughs.
Instead it now packs a Powerglide built by Barry Adams in Geelong and a bulletproof 35-spline nine-inch whipped up to match by Bubby Meccarol.
But the engine is where it's all at. Featuring a Bryant crank and rods, the Ford Motorsports block measures up around 302 cubes. Harry found a Mooneyham 10/71 blower during an epic US roadtrip and brought it back, with Enderle injection, in his suitcase. Al Farrar, the bloke who sold him the engine, set the injection up. "I told him I didn't care what it made; it just had to sound clear," Harry says. Mission accomplished, because it's one of the sweetest-sounding engines I've ever heard.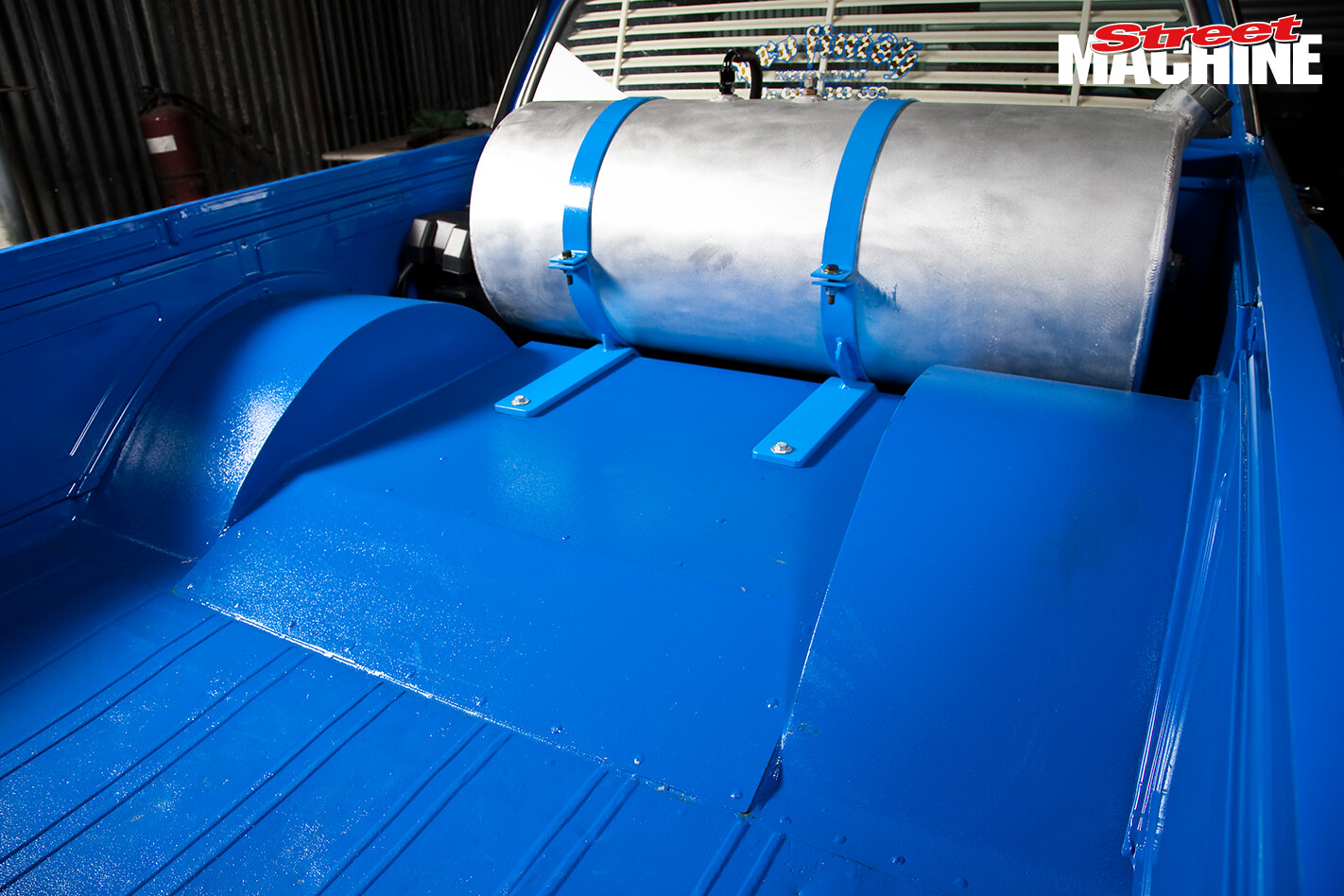 "I don't know what it makes," Harry says, "but it's twice as much as it used to. More than enough to melt the Mickey Thompsons at 140km/h." Harry gave the combo a good test at Winton's Performance Car Mania and discovered it's thirsty. "I went through 800 litres of methanol at Winton — it takes 180 litres to do 50 kays."
And that's a problem. "The pub is 25km away so it doesn't make it there and back on a tank," he says. "I'd also like to pick the kids up on the last day of school." Other than that, he wants to give it a run down the quarter, the ex-race motor's natural home. "No idea what it'll run, but if I can get down the other end without hitting the wall I'll be happy."
HARRY HAIG
1967 XR FALCON UTE
Colour: Boxcar Willie Blue
GRUNT
Engine: Windsor 302
Block: Boss 302M
Blower: Mooneyham 10/71
Injection: Enderle Bird
Heads: AFR Outlaw
Pistons: Probe
Crank: Bryant steel
Rods: Bryant
Cam: Solid Roller
Ignition: MSD 10amp
Exhaust: Custom headers, twin 3½in system
SHIFT
Transmission: Powerglide
Converter: TBR 4000rpm
Diff: Nine-inch, 4.89 gears, full spool, 35-spline axles
BENEATH
Brakes: Wilwood discs (f&r) four-spot calipers (f&r)
Springs: Sean's Race Springs (f), coil-overs (r)
Shocks: Walter 90/10 (f), Walter 50/50 (r)
ROLLING
Rims: Weld Magna Gold, 15×3½ (f), 15×15 (r)
Rubber: Michelin, 185/60 (f), MT Sportsman 405/50 (r)
THANKS
Pa, Badd, Jett, Corty, my mistress Evon, Al Farrar, Richard from VPW, Kwaka, Dorraj, Scoondog, Pyro, Sarge, the bad asses at TB, Pro Finish, Rocket, Skitzo, Stinky, Polky, Cleatus, Vincent Genio, Shlong at CD, Race, Niko's Auto Electrical, Peza, Jimmy, Westy, Hoops, Bellend, Big Red Ray, Burson's Shepparton, Scotty Nind, Bubby Meccarol, Twister, Bailey and everyone else that helped. A huge thanks to all — peace out