THE toughest test of street cars on earth – Hot Rod Drag Week – has kicked off for 2016 with the scrutineering day at National Trail Raceway in Hebron, Ohio. Almost 400 cars have entered, ready to take on over 1000 miles of road driving, punctuated by racing at five tracks. There are racers from Canada, Mexico and Europe, and at least five teams from Australia.
While it is always difficult preparing very powerful street cars for this event, the Aussie team of Harry Haig and friends took an extra-difficult path. Harry's 1969 Chevelle was left in the States after its adventures at Drag Week 2015, and had copped a few upgrades during the year, including a rollcage and a nine-inch diff. But otherwise, it was essentially a bare shell when Harry, Terry Seng, Pyro Jennings and Ryan Jones arrived in Leavenworth, Kansas to prep the car for Drag Week.
The boys didn't bring much in the way of luggage, but they did have the twin-turbo 540ci big-block Chev that Terry and Robby Abbott built back in Australia. Luckily, the boys had Dustin Gardner's Kansas workshop at their disposal. It was a mad thrash to marry engine to car in just a few days, but with a lot of help from the locals and plenty of beer, the job was done and the car made it to Hebron today.
And while the highway patrol in the US seem a lot more tolerant of creative engineering than their counterparts in Australia, it will be interesting to see how they cope with two 72mm BorgWarner turbos sticking up proudly through the bonnet – and with the exhaust doing the same!
You can check out our series of videos on the build here, but they say a picture paints a thousand words, so we've got a gallery of images here for your consideration as well.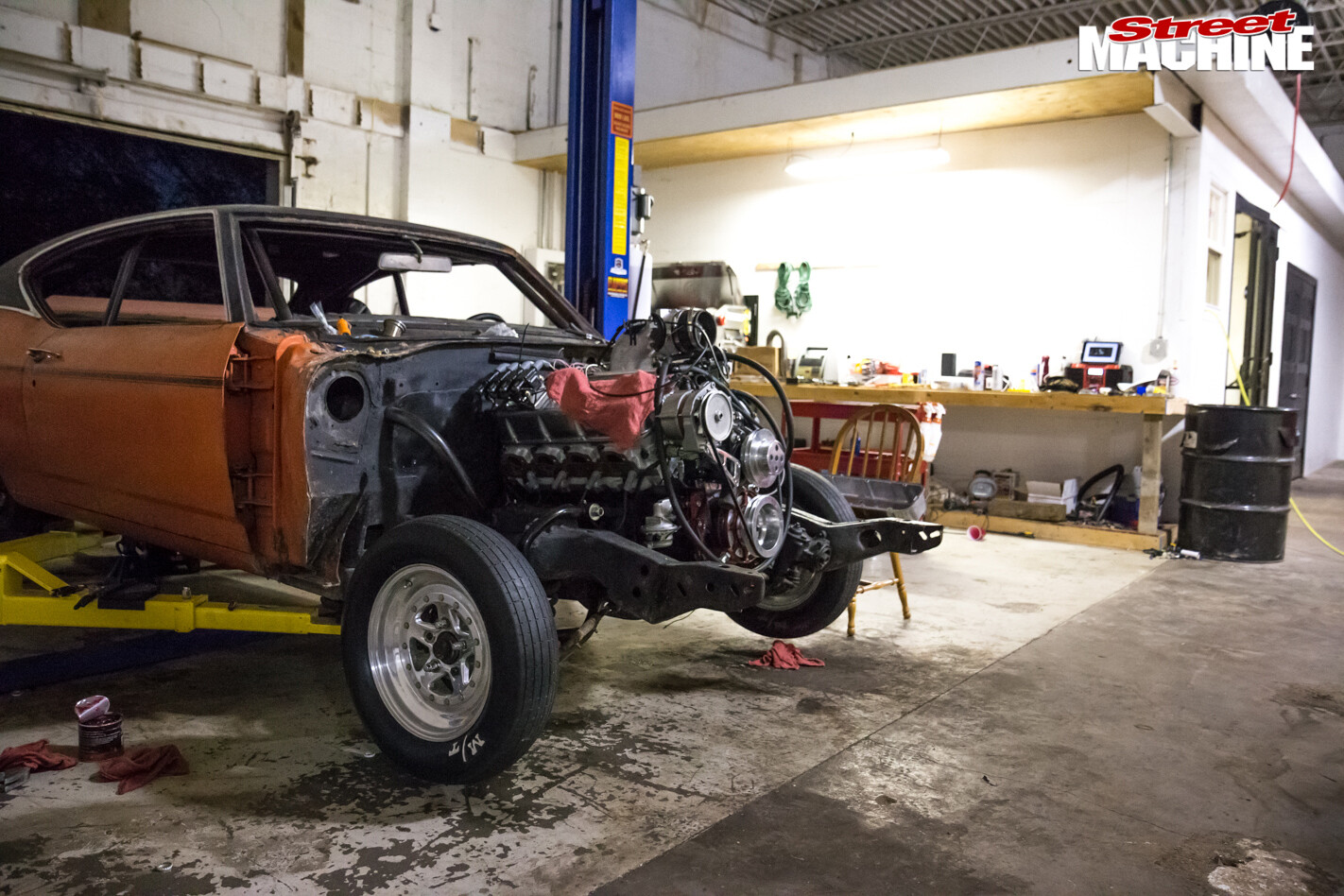 Dustin Gardner's workshop was home for a few days as the Chevelle came together
Getting the job done in time was a big ask, but Harry had some capable helpers with him, including paint guru Shannon 'Pyro' Jennings and Terry Seng from Paramount Performance
Geelong's Ryan Jones is the fourth member of the crew and worked his clacker off, despite coming down with a heavy flu a couple of days in
Harry knows that drag racing at its best is as much about putting on a show as it is about going fast, and boy, is the Chevelle going to put on a show!
Engine in, but there's still a ton of work to do in just a few days
Compared to the roadside repairs the Chevelle crew will inevitably face during Drag Week, Dustin's shed was pure luxury
Dustin's mint '63 Thunderbird is a stocker, but he also has a Chevelle drag car in the build
Edelbrock kindly kicked in a swag of goodies for the project, including heads, intake, EFI elbow and more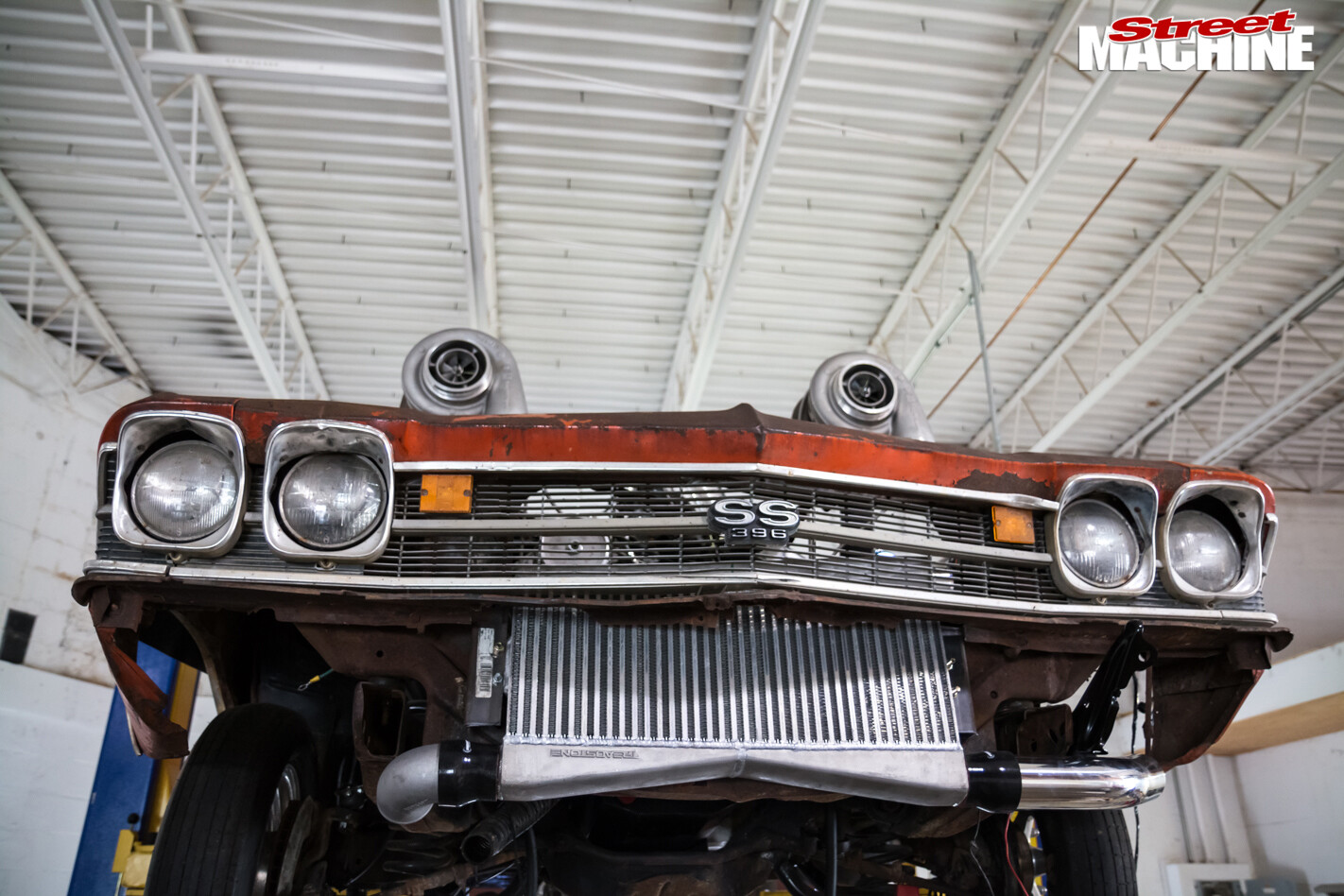 The intercooler hangs a long way down, so the boys later painted it black for extra stealth
The two turbos sit even higher than Harry planned, because the sump wouldn't clear the crossmember, meaning the whole engine had to sit higher. The exhaust comes straight off the turbos and blows directly out the sides of the engine bay!
The Chevelle now wears a set of fibreglass bumpers, but Pyro treated them to a bunch of patina to keep them looking on-theme
Dan Roberts kept the doors of his shop open late so Terry could use his TIG. Dan's Malibu will be on Drag Week as well, running low nines
Terry Seng's TIG-welding skills came in handy
Garry 'Grandpa' Ross, damn handy with the spanners
Great to see some fine Aussie product being used on the Chevelle
Fans of all ages love the Chevelle!
Pyro makes the necessary adjustments to the Chevelle's bonnet
Aussie artist Ryan Ford sketched up the art for the Chevelle project. Who knew that the finished product would be even more outlandish than the cartoon?
Scary stuff! Wiring duties fell to Terry Seng
Voila! Ready to start, but not quite ready to race
Just over a year ago, this unsuspecting factory-big-block '69 Chevelle SS was languishing in a field. Next stop, Drag Week!